We all recognize the voices – some of us even know these people by their faces – but they're often remembered because of the stories they share with fans of the game of hockey. In a way, they are storytellers themselves – sharing experiences from each and every game with those watching or listening to them as they tell it.
Well, what if I told you there's a book filled with these stories. It's a book sharing some of the greatest moments in the game's history through the voices that called them.
Let me introduce you to Kirk McKnight and his book – The Voices of Hockey: Broadcasters Reflect on the Fastest Game on Earth.
About the Book
With over 300 pages of stories, McKnight breaks the book up into 30 chapters – one for each of the existing NHL teams when the book was published. He includes 53 interviews and over 30 broadcasters – each sharing some of their greatest moments with the author and readers of this book.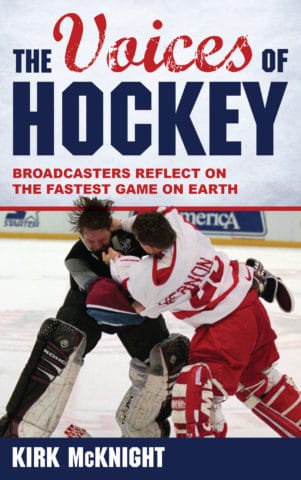 While it's not his first time writing about broadcasters – having also written The Voices of Baseball – McKnight shares his passion for both the game and the voices behind it. But it wasn't just about the author's passion – rather a sort of respect for those who could keep up with such a quick game as well.
"When I was writing The Voices of Hockey, I found myself listening more to the hockey broadcasters, thinking to myself, 'How do these guys do it?'" he wrote to me via email when I asked why he covered the broadcasters from the game. "I always said – tongue in cheek – their lungs are better reserved for the lead role in a Gilbert & Sullivan production. Hockey is non stop. There aren't visits to the pitcher's mound, seventh inning stretches, or two-minute warnings."
But McKnight also wanted to pay homage to those who've been doing it for such a long time.
"These hockey broadcasters have been doing this just as long – if not longer – than most of the baseball broadcasters with whom I spoke. People like Bob Cole, Doc Emrick, and Jiggs McDonald are STILL doing it. Who can contest the intensity and excitement which is a game called by Emrick?"
And what's better than a story about the tales behind the game? The people behind the curtains – the wizards to hockey's Oz? So that's exactly what McKnight did. He interviewed and gathered their stories and put it all together.
"The players are the ones we go to watch, but the announcers are the ones who provide the voice, the story, and the back drop for those players," said McKnight. "Do you have a soundtrack for Wayne Gretzky's 802nd career goal? If you're like everyone else (at least THIS side of the U.S./Canada border), it probably features Gary Thorne."
While the book isn't a novel with a made-up plot, characters and a happy-ever-after ending, it is an accumulation of stories that does have a lesson within them. Sure, it's not the same kind of lesson we find in fictional tales, it is something that allowed even McKnight to take something away from the book.
"After conducting the interviews with these 42 gentlemen, I realize how much Hockey Night in Canada was part not only of these broadcasters' lives, but the millions of other hockey fans tuning in who didn't become broadcasters themselves," he wrote in his email. "Learning about Foster Hewitt, Danny Gallivan, Dan Kelly and Lloyd Pettit gave me a very clear idea on how broadcasting accompanied the lives of people in hockey cities. After gathering up these experiences, I realized there was no better way to encapsulate hockey history for those wishing to either be enriched with it or reminded of it than through the broadcasters. What a testament to story telling and the preservation of the sport's history and annals."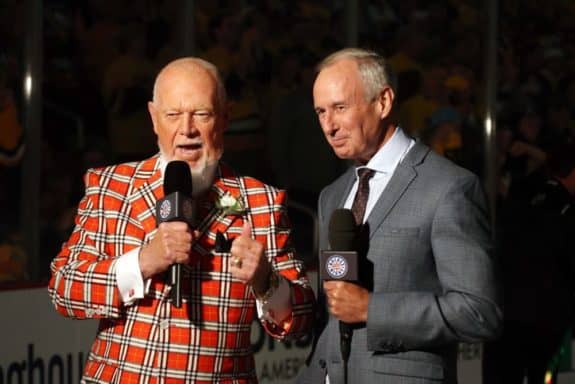 But let's say you're not just interested in the history of the game and want to know more about the broadcasters and how they see the game. Well, this is the book for you.
Tales from the Voices of Hockey
From the Marty McSorely slash on Donald Brashear to Brett Hull's toe and its impact on Dominik Hasek's career, McKnight captures a plethora of stories from those who see it on a day-to-day basis.
For Ottawa Senators fans, radio play-by-play broadcaster Dean Brown described a number of moments he's experienced with the team since their inception into the league. What was it like to be a part of an expansion team – trying to win over fans? He described what it was like calling the Senators and Flyers game on March 5, 2004, when the two teams combined for the most penalty minutes in modern league history.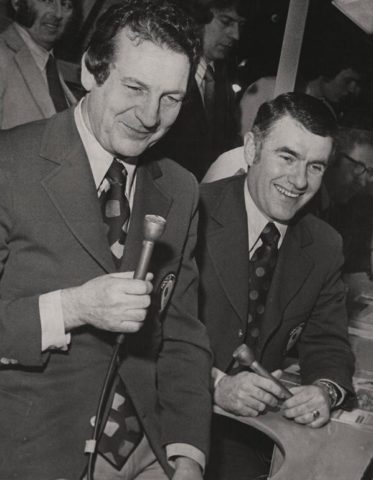 Rick Peckham, television play-by-play broadcaster for the Tampa Bay Lightning, recalled their first game against Chicago at Expo Hall. Peckham also took readers back to the team's Stanley Cup win over the Calgary Flames in 2003-04.
Every fan can relate to this book with stories from current and former play-by-play broadcasters reminiscing about some of the worst and greatest moments in their team's history.
Heck, even McKnight could recall one story that stuck with him after writing the entire book.
"The rivalry between the Detroit Red Wings and the Colorado Avalanche truly stood out about all," he said. "Seven years over which five Stanley Cup titles were shared between the two teams from 1996 to 2002. Five playoff series over that time, the winner of which usually advancing to and winning the Stanley Cup Final. On unforgettable night for the sport: March 26, 1997. Claude Lemieux, with his face on 'most wanted' posters throughout Detroit, ends the night with the image of a 'turtle' resonating for fans inside and outside Joe Louis Arena."
"What that night did to incite the fans, inspire the team, and exact revenge on Lemieux for his hit the previous season on Kris Draper is a great example of what can be found in several sections of this book," he continued. "It's why hockey fans are such a special breed of spectators. They take it personally, and their memories are anything but short. Ken Gal describes that March night as helping to get the Red Wings 'over the hump.' The team would win their first Stanley Cup in 42 years within three months of that bloody night so often revisited in hockey fight websites and hockey forums across North America."
I could write an entire series on the different stories that McKnight recounts in his book with the help of these broadcasters, but I would be rewriting what he's already spent time putting on paper.
These are the people inside the game who don't get paid for what they do on the ice. These are the people who tell the stories that we listen to on NBC, Sportsnet and have listened to for years on Hockey Night in Canada. These are the people who McKnight has put into one book – in one place.
And it doesn't matter who you're a fan of. I guarantee there's a story for you in McKnight's book – The Voices of Hockey. You might even find other ones you forgot about as you read them from the perspective of the broadcasters that lived them.
Visit Amazon to purchase your copy of The Voices of Hockey.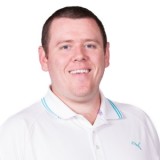 Andrew is in his 8th year reporting for The Hockey Writers covering the Toronto Maple Leafs. He began his broadcasting with CBC's Hockey Night in Canada team as well as being part of their coverage of the 2014 Winter Olympic Games in Sochi. He's the former play-by-play voice of the London Jr. Knights for Rogers TV and currently hosts the Sticks in the 6ix podcast. You can follow him on Twitter at @AndrewGForbes.