For every NHL team, prospects are always coming and going. As they finish off their junior, college careers or make the jump over from their European leagues, they are poised to make the transition and continue to make their mark in the NHL. These players become even more magnified if they are going to be a real crucial piece for their respective franchises for years to come.
At the half way point of the 2021-22 season, some have continued to keep the title as their team's top prospect. Others have moved on or have been dethroned by another within their system and are now at the top. As with the Top 100 prospects I will use Corey Pronman's break down of what constitutes as a prospect.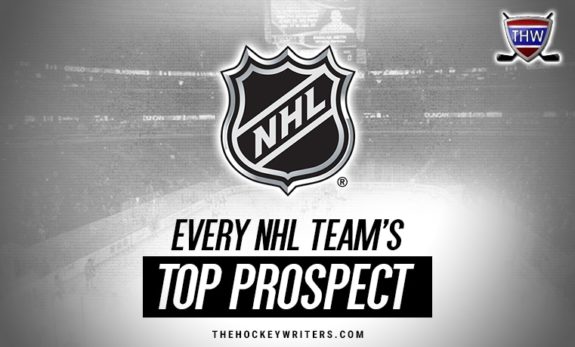 A prospect is defined as: "A skater no longer qualifies as an NHL prospect if he has played 25 games in the NHL in any campaign, regular season and playoffs combined, or 50 games total; or reaches age 27 by Sept. 15. A goalie no longer qualifies as an NHL prospect if he has played 10 games in the NHL in any campaign, regular season and playoffs combined, or 25 games total; or reaches age 27 by Sept. 15." (From: "Pronman: 2019-20 NHL Farm System Rankings").
Related: THW's Wall-to-Wall Prospect & Draft Coverage
This list will be done alphabetically by team and not by rank. Without further ado, let's get into every team's top prospect.
Final Note: If there's no "Previously," that player remains the team's top prospect.
Anaheim Ducks: Mason McTavish
Previously: Trevor Zegras (Surpassed)
With Trevor Zegras making highlight reel plays as a rookie, McTavish easily becomes the next best prospect in their system. He looked really good in his nine-game stint at the beginning of the season tallying three points before being sent back to the Peterborough Petes of the Ontario Hockey League. Since returning, he scored five goals in three games, including a hat trick in his first game. He was then traded to the Hamilton Bulldogs and picked up where he left off with two points in his debut. McTavish is everything that you want in a forward. He has the size and strength, excellent speed, great hands and a wicked shot. He's extremely hard working and is always giving it his best every shift. He was making an immediate impact for Team Canada with five points in two games at the World Juniors before it was cancelled due to COVID-19.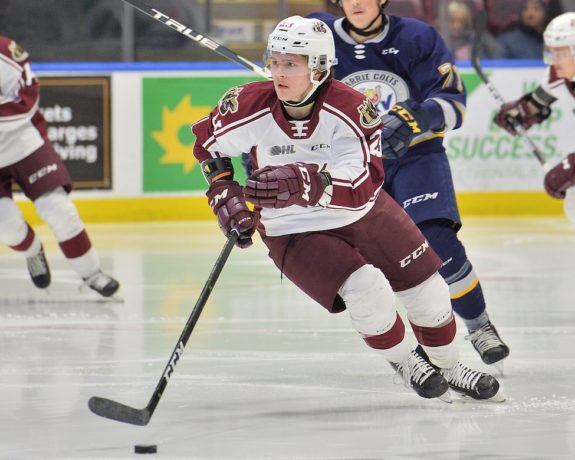 Arizona Coyotes: Dylan Guenther
The Vancouver Canucks made a major mistake trading away their first-round pick in 2021. Their loss is the Arizona Coyotes' gain. In the Western Hockey League this season, Guenther has an impressive 36 points in 27 games played, averaging two points per game. He possesses a strong and powerful shot and IQ to be a force in the offensive zone. He's always in the right spot to receive a pass and wire it on net. He's got great hands as he can be extremely dangerous in tight areas. The Coyotes needed some goal scoring in their system and Guenther brings just that.
Boston Bruins: Fabian Lysell
Fabian Lysell is a shifty winger that plays with a high level of pace as he's always in motion. He has soft hands and a quick, smooth skating stride that makes him a dangerous player in the offensive zone. There were talks of "character issues" surrounding him during the draft. It was reported he was unhappy with his ice time and requested a transfer as well as being viewed as "overconfident" and "arrogant". While nothing else is known publicly, general manager Don Sweeney did address this and there's nothing of concern. He has made a seamless transition with the Vancouver Giants in the WHL putting up 28 points in 23 games. He could be a real game-changing prospect.
Buffalo Sabres: Owen Power
Selecting Owen Power first overall in the 2021 NHL draft is a step in the right direction to give Buffalo Sabres hope. Power has the size and strength that makes him tough to go up against. He has great mobility as he has a smooth skating stride and awareness to make him a top pairing defenseman. He can play in all situations and has the smarts to read and execute each play perfectly. After playing extremely well at the World Hockey Championships, winning a gold medal for Canada, Power has taken a major leap forward in his development. He was proving to be a top defender for Canada at the World Junior Championship before the pause and is a stalwart for the University of Michigan with 23 points in 20 games. Heading back to Michigan was definitely the right decision.
Calgary Flames: Connor Zary
Connor Zary is a versatile offensive threat. He has no problem using his powerful shot for a prime scoring opportunity as his release is very deceiving and has great accuracy. While that's his main strength, Zary is also very capable of setting up his teammates making crisp clean passes. He's got great speed in transition as he is always dangerous off the rush. Having a promising centre like him in the fold is going to benefit the Flames down the line.
Carolina Hurricanes: Ville Koivunen
Previously: Seth Jarvis (Surpassed)
With Seth Jarvis making the jump to the NHL, Ville Koivunen takes over as the Carolina Hurricanes' top prospect. A second-round pick in 2021, Koivunen displays excellent smarts and vision. He's always one step ahead of his opponent and rarely makes a bad decision with the puck. He's a strong playmaker, but also has a very underrated shot and scoring abilities as well as the drive to constantly be involved with the play. He definitely doesn't look out of place in the Liiga as he has 22 points in 32 games.
Chicago Blackhawks: Lukas Reichel
Lukas Reichel is always displaying a high amount of energy with every shift he plays. He's always determined and does a great job on the forecheck to provide a great amount of pressure in the offensive zone. That drive is what's going to make him a successful player in the NHL. Given the Blackhawks lack depth in their prospect pool, there's a lot to look forward to when Reichel makes the jump to the NHL.
Colorado Avalanche: Bowen Byram
A smooth, puck-moving defenseman, Byram is always utilizing his speed and his edgework weaving around opponents and cycling down low in the offensive zone. He's always in motion and is extremely difficult to contain, as he's always able to break from any sustained pressure. He handles the puck with ease and he's extremely dangerous with his shot. All of this promise is clouded by a concussions, where symptoms still remain. As a result, he's taken a leave of absence to focus on his health. I truly hope that he recovers and that he comes back better than ever.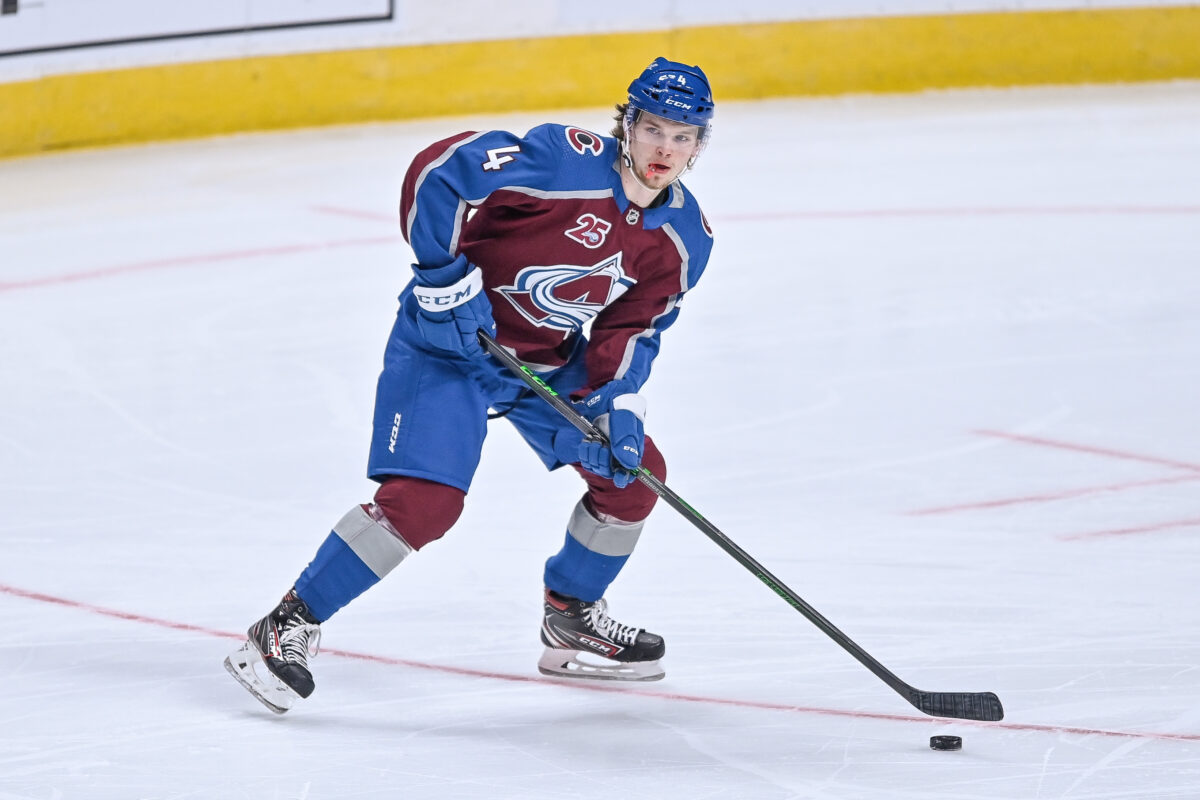 Columbus Blue Jackets: Kent Johnson
Selected fifth overall in 2021, Blue Jackets fans better get excited when Kent Johnson makes it to the NHL. Johnson is a dangerous and offensive driven playmaker. He's extremely creative and shifty when he has the puck on his stick, being able to make moves in an instant. He can make the most difficult moves look easy and always executes them perfectly. His speed always has defenders on edge as he can blow by them in a flash. He's dominating the NCAA level on a juggernaut Michigan team with 23 assists (second overall in NCAA) and 28 points.
Dallas Stars: Maverick Bourque
Previously: Thomas Harley (Surpassed)
After finishing with 43 points in 28 games in 2020-21, Shawinigan Cataractes captain Mavrik Bourque has been limited to only 10 games played, but has produced 20 points. Bourque has a strong hockey IQ and the ability to make plays at a quick pace. He can protect the puck extremely well and is elusive in tight spaces, making him hard to contain. He's brings a very refined game to the table as he can be relied on in any situation and to lead an offensive attack.
Detroit Red Wings: Simon Edvinsson
Previously: Lucas Raymond (Surpassed)
With Lucas Raymond and Moritz Seider in the running for Rookie of the Year, the Red Wings will eventually have another prospect to battle for the award in the future. At 6-foot-5, 207 pounds, Edvinsson has a great ability to box out players and keep the opposition to the outside. He has an active stick and long reach to break up plays and force turnovers. As a result, he has great awareness to know when to jump up and get in on the attack and blow by the opposing player with his strong and smooth skating stride. He's just another promising defender the Red Wings have in a very deep prospect pool.
Edmonton Oilers: Xavier Bourgault
Previously: Philip Broberg (Surpassed)
Bourque's teammate on the Cataractes, Xavier Bourgault is another player that brings a balanced game along with a scoring touch, averaging a 1.75 point per game pace. Bourgault possesses great smarts as he has excellent awareness on how the play is going to develop, whether he has possession or not. He's very deceptive with his movement, being able to catch his opponents off guard and the paths that he takes on the ice. His strong, two-way game is something the Oilers really could use.
Florida Panthers: Spencer Knight
Drafted 13th overall in 2019, Spencer Knight went 4-0-0 with a .919 save percentage and a 2.32 goals against average in a small stint during last season. Serving as the backup this season, Knight's numbers did drop as he has a 3.39 GAA and .896 SV%. Representing the next wave of promising goaltending prospects, Knight does display excellent vision, great movement and poise in the crease and will be a thorn in scorers side for many years.
Los Angeles Kings: Quinton Byfield
The Los Angeles Kings are stacked with talented prospects and Quinton Byfield is leading the way. Holding onto The Hockey Writers' Top 100 top prospect title, he has yet to play due to a leg injury he suffered before the start of the season. Since returning, he has three goals in eight games for the Ontario Reign in the American Hockey League. Byfield has the size and skillset to be an impactful number one centre in the league. He's an excellent skater, a smooth puck-handler and has a great release. He has no problem getting into the corners and easily push his opponents off in order to gain control of the puck. He's definitely going to learn a lot from playing with Anze Kopitar when he gets into the lineup.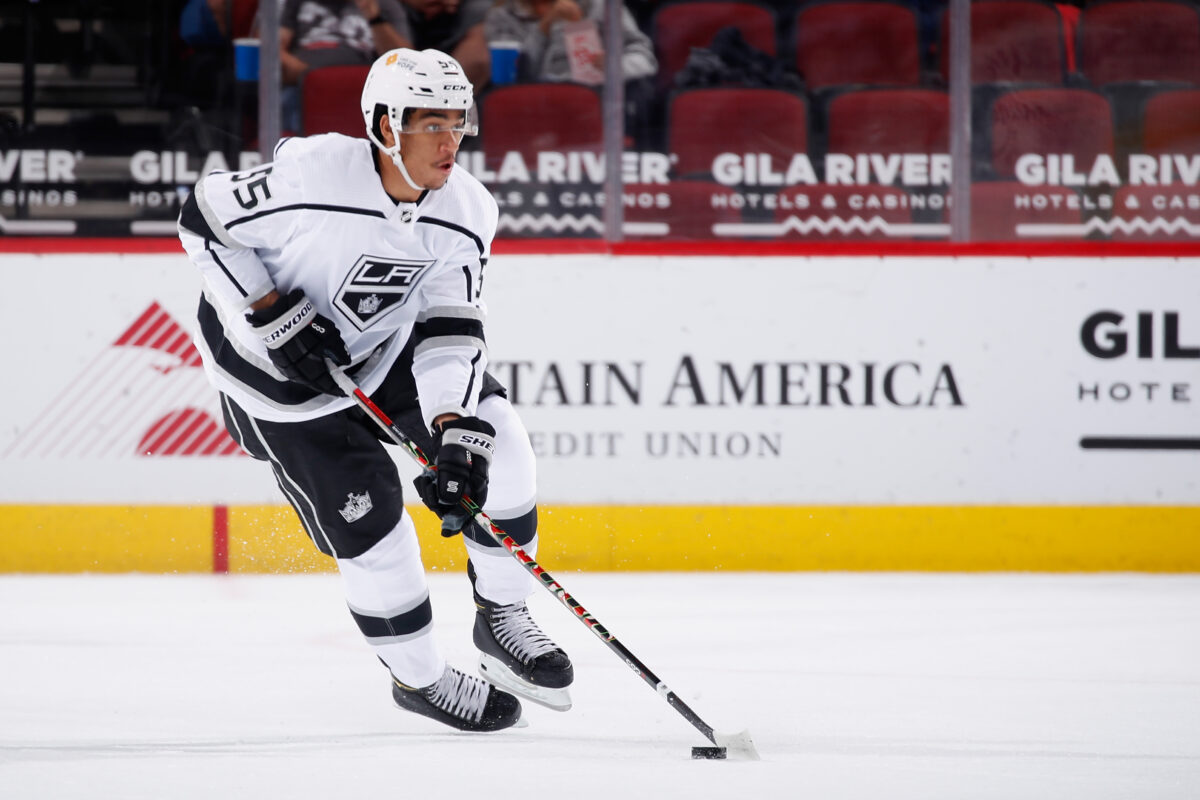 Minnesota Wild: Marco Rossi
Drafted ninth overall in 2020, Marco Rossi is an extremely energetic centreman who is always chasing down the puck but has shown to be responsible defensively. He plays a bigger game than what his 5-foot-9 size suggests, as he has great strength in his lower body that allows him to protect the puck effectively. After dealing with COVID-19 related complications, the crafty playmaker absolutely dominated the AHL as he has 16 assists and 23 points in 21 games with the Iowa Wild this season. After his career came into question, it's really great to see Rossi back and thriving as a top prospect.
Montreal Canadiens: Kaiden Guhle
Previously: Cole Caufield (Surpassed)
Things could be looking a lot better for the Canadiens and previous top prospect in Caufield. However, the team has to be impressed with the play of their 2020 first-round pick. Guhle is a physical force when he is on the ice, not even hesitating to make an open ice hit. He possesses great two-way abilities, defending on the rush and not afraid to jump in or lead the rush. He's already displaying the qualities that Shea Weber possesses and will definitely be a welcoming addition as a second pairing defender.
Nashville Predators: Yaroslav Askarov
Yaroslav Askarov is right behind Knight as part of the new wave of young goaltenders who could potentially take the league by storm. Askarov has great vision to track the puck and positioning. His reflexes are top notch as he's able to stretch out and make saves where he has no business making, where the most difficult ones look easy for him. He's dominated at every level he's played in and now the NHL is next on his checklist.
New Jersey Devils: Alexander Holtz
With Jack Hughes increasingly getting better and his younger brother Luke being drafted in 2021, Alexander Holtz holds onto the top spot. Holtz fits the description of what a sniper should be. The seventh overall pick in 2020, easily has one of the best shots in that draft class as he has great power in his release and the vision to always get to the open ice. He has looked great in his first pro season in the AHL, where he's scored seven goals and has 13 points in 12 games. Seeing him on the top line is going to be really fun with Jack Hughes.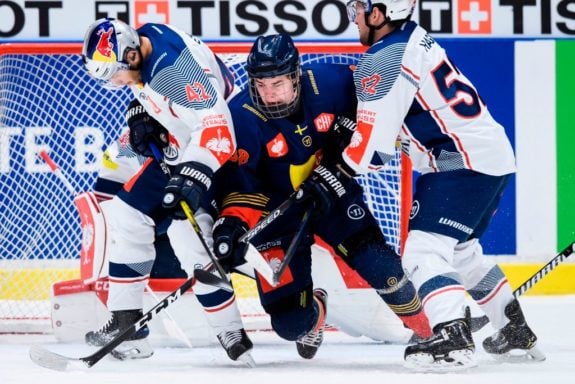 New York Islanders: Aatu Räty
Aatu Räty was once regarded as the top pick in the 2021 draft. After an inconsistent season with his play and production, he was selected by the Islanders 52nd overall in the 2021 draft. He looks to have regained his confidence since being drafted as he's averaging a point per game with Jukurit in the Liiga with 17 points in 17 games. Offense is always on his mind as he displays a strong and accurate shot. The Islanders are a little thin up the middle and Räty could be a great option in the future.
New York Rangers: Brennan Othmann
Previously: Braden Schneider (Surpassed)
Ever since his days in the GTHL with the Don Mills Flyers, Brennan Othmann has always been a dangerous goal scorer. Othmann has a lot of power behind his shot, he drives hard to the net and has quick hands to make in tight on the goaltender. He has great speed to get around defenders and has the ability to find the open to wind up for a one-time opportunity. He ranks 10th overall in points in the OHL and is tied for third in the league lead in goals with 23. While he has a lot of offensive upside, he has a tenacious side to him, being aggressive and physical when he needs to.
Ottawa Senators: Jake Sanderson
The Ottawa Senators pipeline is still strong despite some graduating to the NHL. Jake Sanderson remains the team's top defensive prospect. Another strong and mobile defender, Sanderson has great vision knowing when to attack and know when to prioritize defense to break plays up and prevent zone entries. It might be some time before he makes it to the NHL, but his potential is sky high for a team that's slowly becoming more competitive.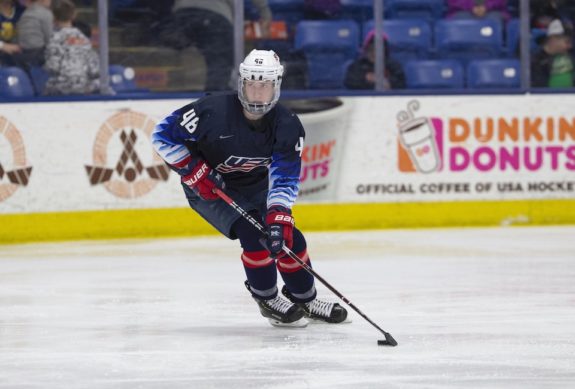 Philadelphia Flyers: Morgan Frost
A strong two-way centreman, Morgan Frost might be inching closer to earning a roster spot with the Philadelphia Flyers. With the Flyers dealing with injuries at centre, he was called up and has looked very sharp in the 16 games that he's played, scoring twice and having six points. He has great smarts as a strong playmaker and he's very composed when he's on the ice as he rarely panics.
Pittsburgh Penguins: Samuel Poulin
The Pittsburgh Penguins prospect pool isn't as impressive as some of the other teams, but Samuel Poulin stands out at the top. Poulin excels both offensively and defensively and plays with a high level of intensity. He has great strength that allows him to win puck battles and very tough to go up against.
San Jose Sharks: William Eklund
The San Jose Sharks lucked out selecting William Eklund seventh overall pick in the 2021 draft. He won the SHL's Rookie of the Year in 2020-21 award finishing with 23 points in 40 games and made a strong impression at the Sharks' development camp before being sent back to Djurgårdens IF in the SHL. Eklund probably has the highest ceiling as he has excellent IQ, vision and work ethic on both sides of the puck. He never takes a shift off and is always one or two steps ahead of his opponent.
Seattle Kraken: Matthew Beniers
The first pick for the NHL's newest franchise is a great one as Matthew Beniers has the potential to be a top-line centre with strong two-way abilities excelling on both sides of the puck. He could very well be a versatile threat in all situations. He's a strong skater but his vision and his decision making with the puck are outstanding. He's always dialed in and rarely makes a poor decision. A second season with Michigan in the NCAA it's benefitting him greatly as he has 26 points in 22 games. Seeing him play in another major tournament at the Olympics will be a treat to watch.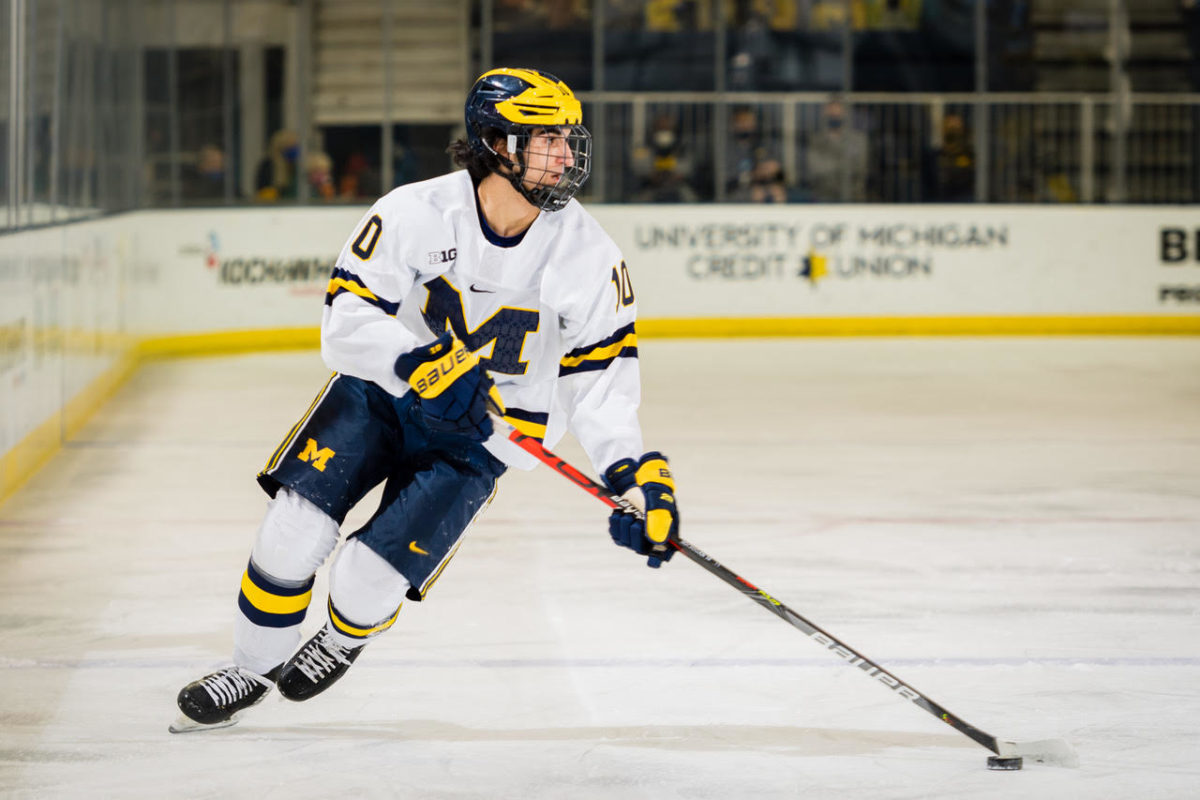 St. Louis Blues: Scott Perunovich
Scott Perunovich could be replaced by Jake Nieghbours or even Zachary Bolduc, but he remains the Blues' top prospect for the time being. The 2019-20 College Player of the Year and Hobey Baker winner put together his most productive season at the University of Minnesota- Duluth with 40 points in 34 games. After a hot start in the AHL with 20 points in 12 games, Perunovich has continued to be a factor offensively as he has six assists in 18 games in the NHL.
Tampa Bay Lightning: Jack Thompson
Previously: Hugo Alnefelt (Surpassed)
Jack Thompson is a smooth skating, excellent two-way pivot. He's a responsible defender in his own end breaking up plays, but isn't afraid to jump into the rush or get involved in the offensive zone. He has a powerful slapshot and makes a strong first pass to stretch the play quickly. The Lightning have done a good job at drafting talent in the late rounds. They may have found another key piece in Thompson.
Toronto Maple Leafs: Nick Robertson
Even though Rodion Amirov, Topi Niemelä and Matthew Knies are getting a lot of attention, Nick Robertson still remains the Maple Leafs' top prospect for the time being. He's relentless on the forecheck, has great speed and an excellent shot. Robertson has the talent to be a very effective goal scorer, but injuries have been a real issue for him. His 2020-21 season started off with an unfortunate injury in his first game against the Senators. When he healed, he had a strong showing with the Toronto Marlies in the AHL with 16 points in 21 games. He recorded two assists in two games to start 2021-22, but suffered a fractured fibula that forced him to miss 10 weeks.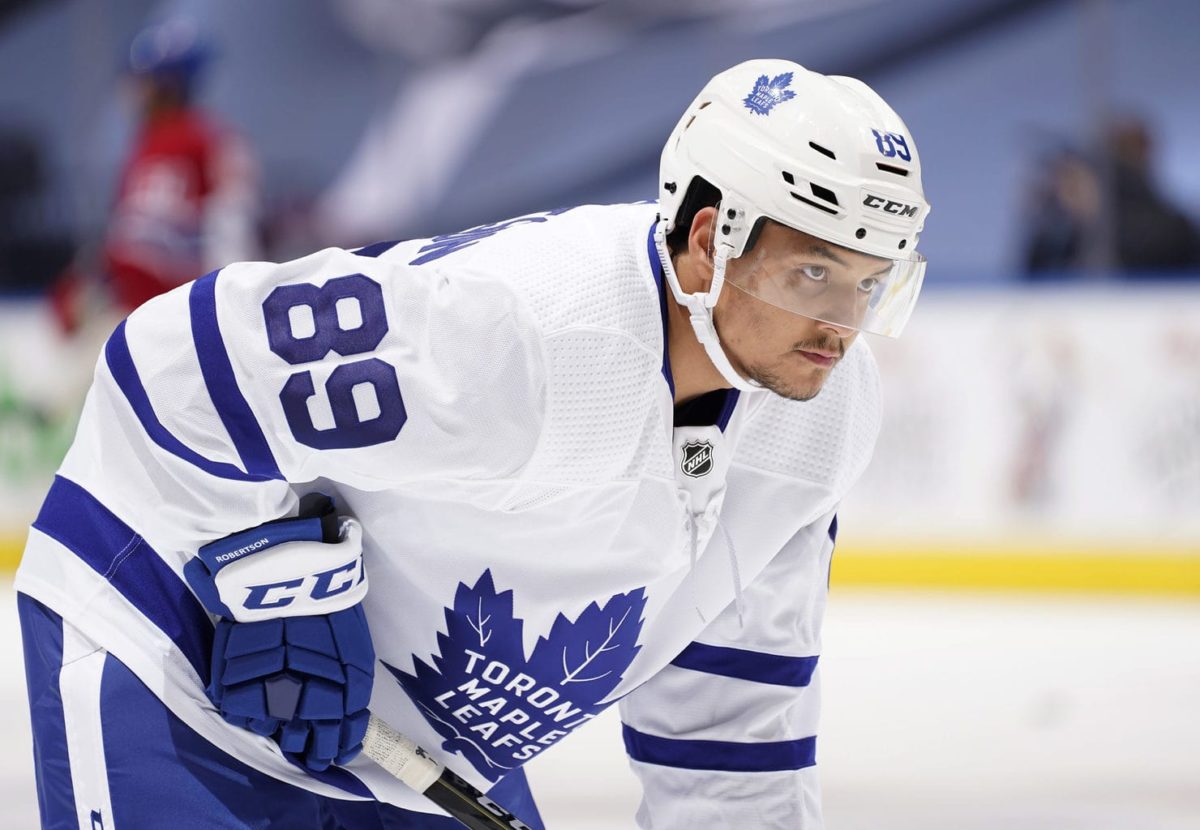 Vancouver Canucks: Jack Rathbone
Previously: Vasily Podkolzin (Surpassed)
With Vasili Podkolzin graduating to the NHL and the Vancouver Canucks prospect system being very bare, Jack Rathbone is most likely their next best prospect in the system. It seemed as if Rathbone would make a smooth transition to the pro level after looking sharp in his first eight games as a Canuck in 2020-21. After not recording a point this season, he's been producing for the Abbotsford Canucks in the AHL where he's recorded six points in seven games. He plays a reliable two-way game and should be a huge piece for a team looking to improve on their defense.
Vegas Golden Knights: Brendan Brisson
Previously: Peyton Krebs (traded to Sabres)
Another U. of Michigan player on this list, the Golden Knights selected Brisson 29th overall in 2020. In his second collegiate season, he's already surpassed his 21 points from last season as he already has 27. Brisson possesses a strong work ethic and motor where he never quits in any situation. He's constantly engaged in the play and can think his way out of tough situations. With Krebs out of the system, Brisson becomes the team's top prospect.
Washington Capitals: Hendrix Lapierre
Previously: Connor McMichael (Surpassed)
Even though he's dealt with concussions in the past, Hendrix Lapierre is proving to the Capitals that he was worth the selection at 22nd overall, even though he had top-15 potential written all over him. Lapierre is an excellent playmaker with high IQ and vision along with being a responsible centreman. He managed to earn a spot to begin the season with the Capitals as they dealt with injuries and looked great in his stint before being sent down to the Acadie-Bathurst Titan.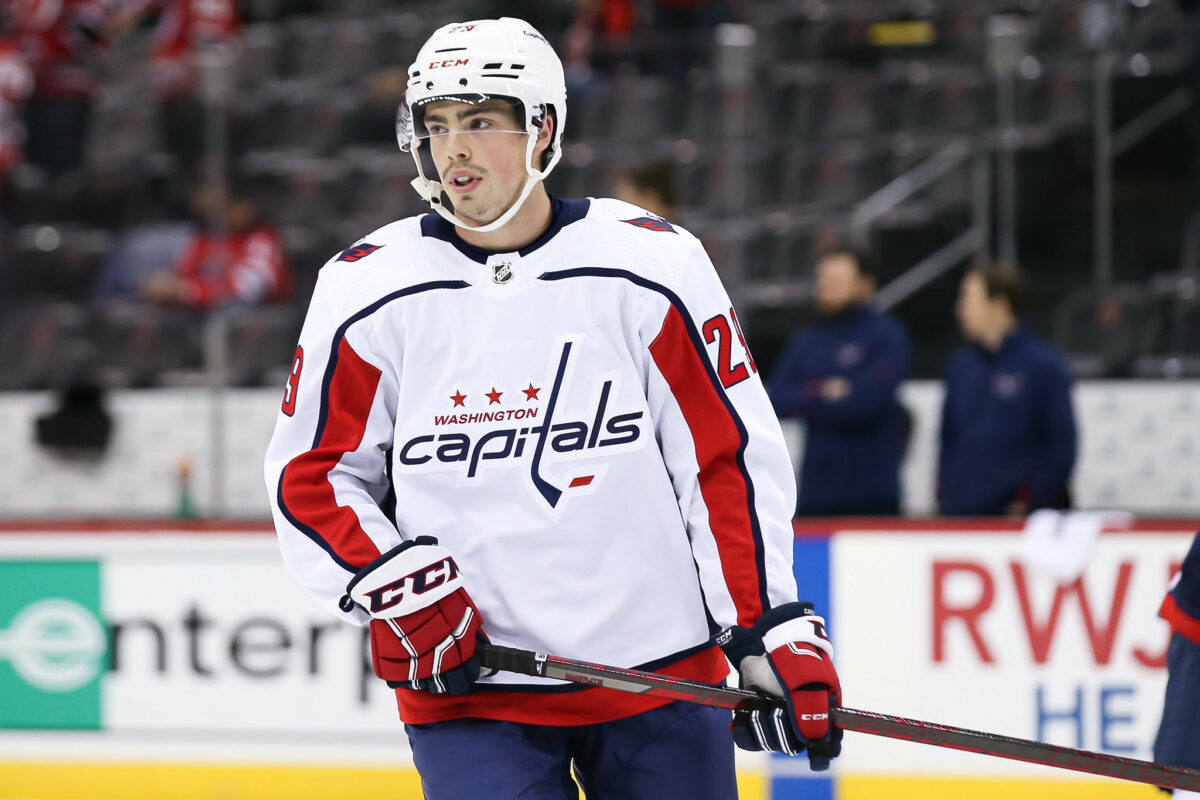 Winnipeg Jets: Cole Perfetti
Cole Perfetti is a highly gifted offensive talent. The Winnipeg Jets 10th overall pick in 2020, displays excellent IQ and quick hands to be a high-end puck distributor in the league. Perfetti hasn't looked out of place in the AHL. After recording 26 points in 32 games last season, he's having another strong season with the Manitoba Moose in the AHL with 15 points in 17 games. He's just another offensive weapon that's going to greatly benefit the Jets for years to come.
---
Any prospect decisions that you disagree with? Make sure to leave your comments below!
---
---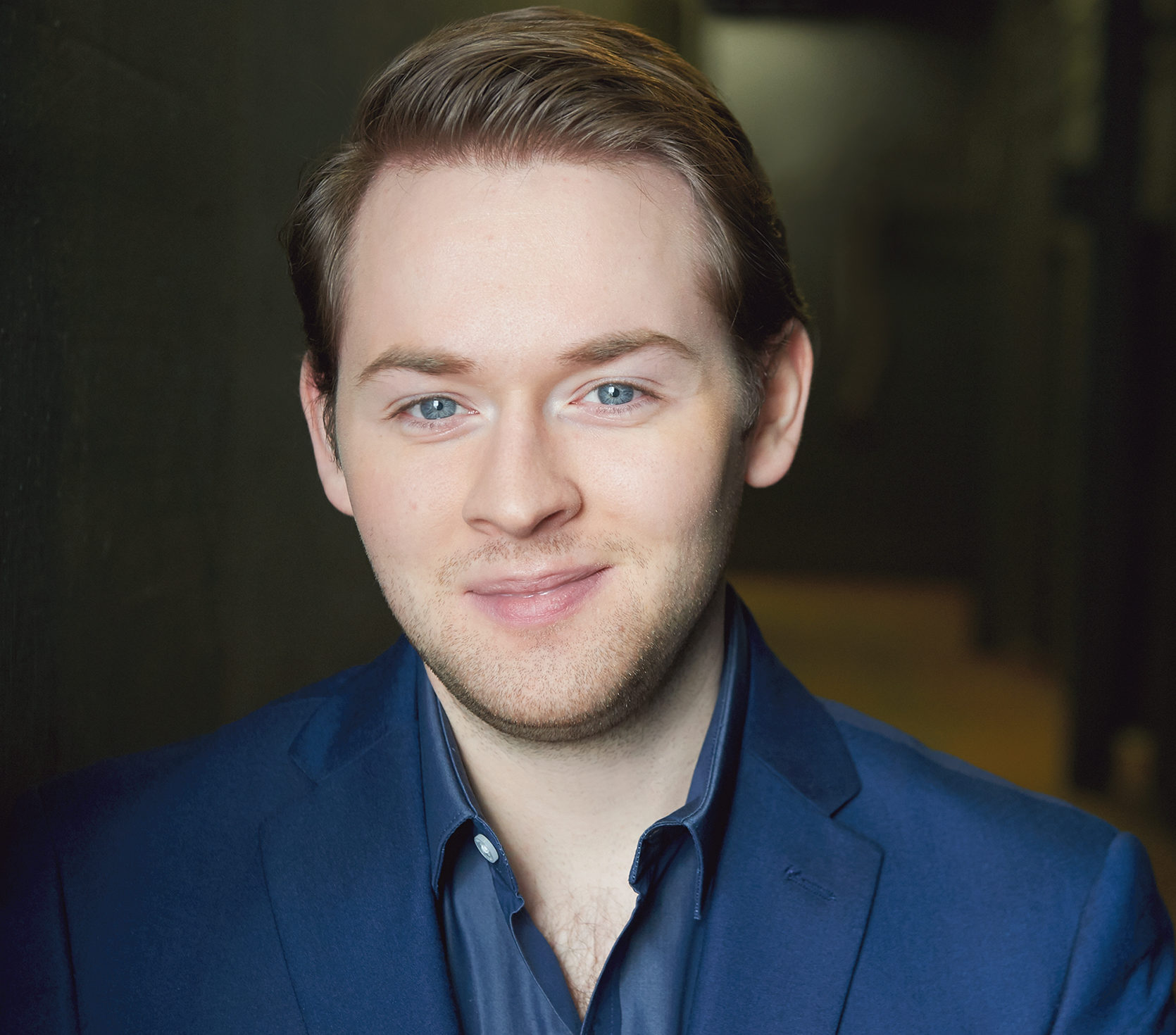 Peter is in his third year with The Hockey Writers, covering the Toronto Maple Leafs and heading the Draft and Prospects section. He has previously interned at The Hockey News and worked on Toronto Marlies broadcasts for Rogers TV. He currently is the co-host of the podcast Sticks in the 6ix and a frequent guest on Maple Leafs Lounge. Aside from hockey, he also enjoys drumming, animation and impressions/ voices.