With all the uncertainty surrounding the 2021 NHL Draft in terms of ranking prospects, one thing that is certain is the talented goalies eligible for this draft. While Jesper Wallstedt has been getting most of the attention and for good reason, there are still many good goalies that have yet to be talked about as much.
One of these goalies is Ben Gaudreau. Drafted in the first round, seventh overall in the 2019 OHL Priority Selection by the Sarnia Sting, Gaudreau did not put up the best numbers in his rookie season (he posted a record of 10-13-2 to go along with a 4.34 goals against average and a .890 save percentage) but that was largely due to the fact that the Sting were one of the worst teams in the league in 2019-20.
With the addition of players like Max Namestnikov to the team, the Sting should be better off compared to last season. Gaudreau is going to be a major part of ensuring that they do well, and I have full confidence that he will continue to improve as the OHL hopefully gets underway in some shape or form over the next few months. Here is why Ben Gaudreau is one of the goalies to watch for the 2021 NHL Draft.
Athletic Ability and Positioning
One of Gaudreau's best features is his athletic ability. Standing at 6-foot-2, he has good size for an NHL goalie in today's game, and he moves really well in his net. His lateral movement is one of the stronger aspects of his game, and he is able to routinely make highlight-reel saves. When an opponent has the puck in the defensive zone, Gaudreau is great at reading the play and limiting the angle at which the opponent can get a shot off.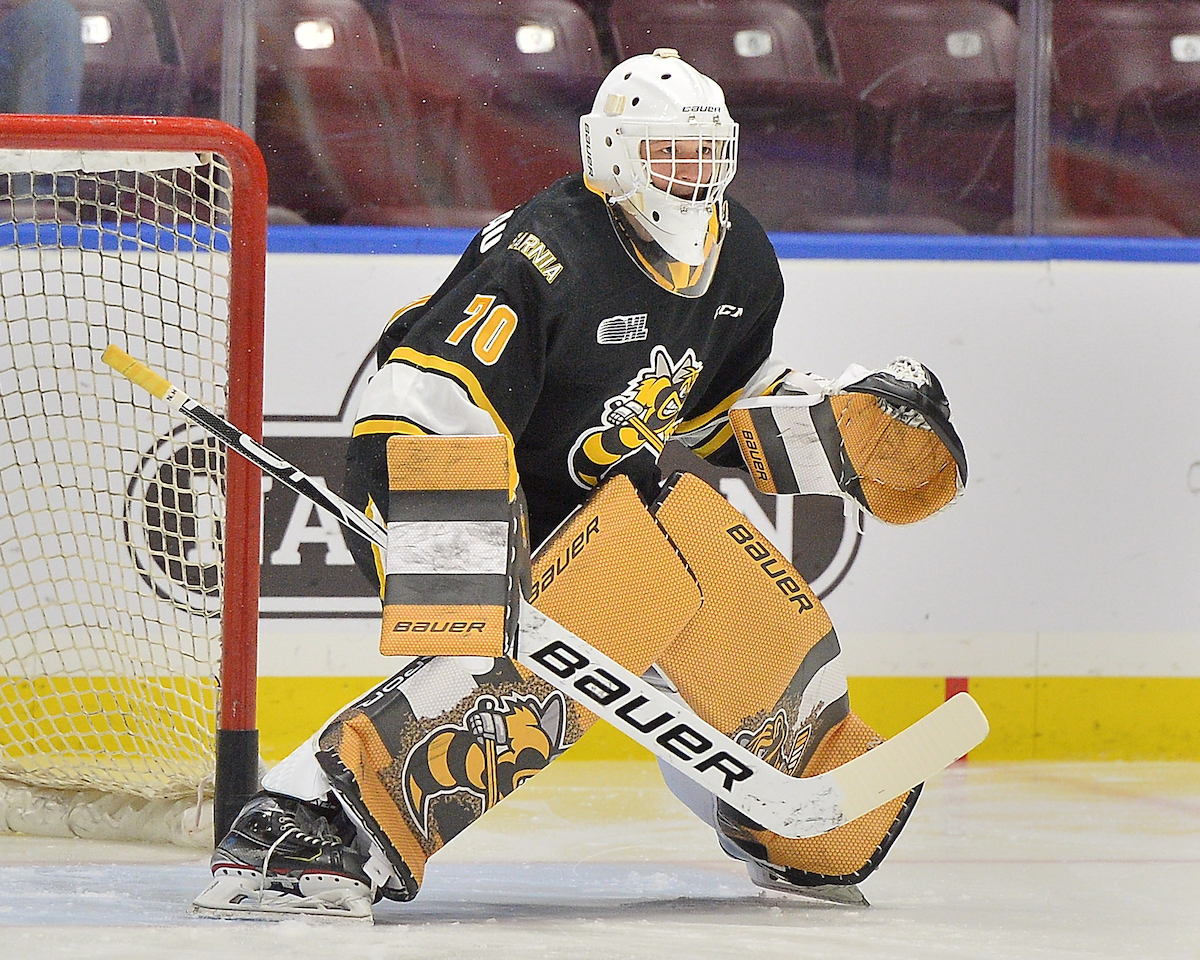 His positioning is also really solid. He is really good at tracking pucks and improved his rebound control as the season progressed. One game that stands out from last season was when the Sting were playing against the Kitchener Rangers. A Sting defender turned the puck over to Francesco Pinelli. Pinelli found a teammate in the slot for a great scoring chance, but Gaudreau was right there to rob him of a goal. It is plays like these that really made him stand out, albeit on a bad team, and what has made him one of the better goalie prospects for the 2021 NHL Draft.
Poise
Another really strong aspect of Gaudreau's game is his poise in net. While he is still really young, his poise in the net was incredible to watch last year. On multiple occasions last season, his team would fall victim to a bad goal, but he was never fazed and continued to play a great game. He is so calm in the net, and that is one thing that coaches and development staff cannot teach.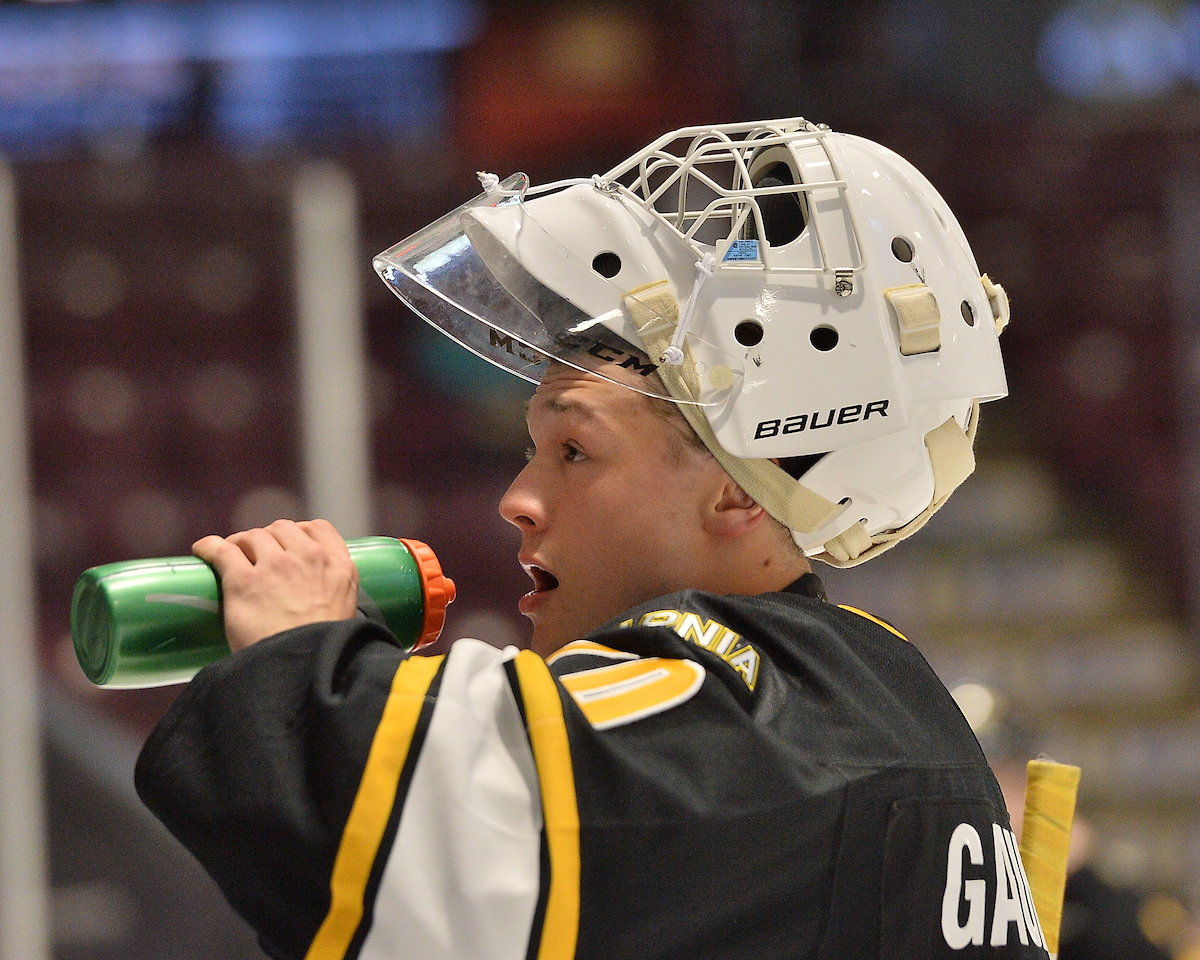 When the puck goes into the corner, Gaudreau is not afraid to come out and play the puck. Even under pressure, he does not panic and makes the right play most of the time. While it is almost certain that Wallstedt will be the first goalie off the board come the draft, Gaudreau is going to attract a lot of teams due to his poise.
Projection
While Gaudreau might not go in the first round, I can easily see him being a second-round pick at this point. Although he hasn't played in almost a year, many scouts have him ranked near the end of the first round or the beginning of the second. His style and composure in net remind me of Carey Price. While this is by no means saying Gaudreau will turn out like Price because that is impossible to predict, he has a lot of similarities to him. The team that gets the goaltender will be getting a guy that definitely has the chance to be a future NHL starting goalie, and I'm excited to see how he fares in the upcoming months.
---
---
My name is Mathieu Sheridan. I am a writer here at THW who covers the OHL and prospects in general.