The Nashville Predators have done a lot to shake up their roster this offseason. They traded their beloved captain Shea Weber to the Montreal Canadiens for the dynamic P.K. Subban. The team also managed to lock up pieces like Filip Forsberg and Calle Jarnkrok.
The Predators also added some depth to the bottom-half of one of the league's best defense by getting Yannick Weber and Matt Carle. Nashville also said goodbye to longtime backup Carter Hutton, and will let Marek Mazanec and Juuse Saros slug it out for the backup job.
Analysts have been impressed with the work general manager David Poile has done in the offseason. The Predators could be a dark horse pick to take the Central Division crown and challenge in the Western Conference.
However, there is still time left before training camp kicks off in September, and the team may not be done with making moves. Are the Nashville Predators done this offseason?
Finding Forward Depth
Poile admitted that the team was a "piece or two away" from taking the next step up the playoff ladder. The trade for Subban was a big and shocking step that frees the team from the burdensome Weber deal. The move also makes them a lot younger and faster.
The main concern is trying to add some forward depth to add to a very good top six. The team is hoping to get something from older players like Mike Ribeiro and Mike Fisher (both are in the last year of their respective deals). They are also banking on young guys like Kevin Fiala and Viktor Arvidsson to develop offensively.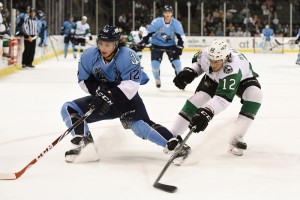 However, there might be an opportunity for one of Poile's bargain-basement specials. Antoine Vermette might have been someone that was getting consideration, but he signed a two-year contract with the Anaheim Ducks.
That could leave some other possibilities like Brandon Pirri or Jiri Hudler as cheap depth forwards that could take pressure from the group of young skaters. Hudler is a veteran that can score and it's baffling that he's still on the open market. Nashville will have to battle it out with teams like Minnesota if they want either forward.
The Predators also need Colin Wilson to show some of that playoff form that made him a scoring threat. He had an injury-riddled season last year, so the pressure is on him. If he can bounce back, it could make the team even more dangerous on offense.
The Backup Plan
Pekka Rinne will most likely start the season in goal an injury, but there's uncertainty when it comes to who will be his deputy after Hutton signed with the St. Louis Blues. The battle will be between Mazanec and Saros, who were the duo for the Predators' AHL affiliate, the Milwaukee Admirals.
Mazanec has more experience, but Saros started to put it together last season in the AHL. It's likely that Mazanec will be the backup so Saros can get some more seasoning down in the minors. However, what happens if Mazanec struggles or Rinne gets hurt?
RELATED: Clearing Up the Nashville Predators Backup Goalie Situation
Nashville did add Jonas Gunnarsson, but he's still a project. Could someone like Karri Ramo or Jhonas Enroth be called upon if either nightmare scenario happens? It's an issue David Poile hopes that he doesn't need to address.
The Best Defense
It looks like the blue line group is set to go with arguably the best group of defenders in Subban, Roman Josi, Mattias Ekholm and Ryan Ellis. Carle and Weber add veteran depth and Petter Granberg and Anthony Bitetto can be called if needed.
http://gty.im/475447951
RELATED: Upside to Signing Matt Carle
Nashville's flexibility on defense looks to be what coach Peter Laviolette will rely on to trigger the offense. Guys like Subban, Josi and Ellis will push the tempo and be allowed to join the rush as long as they can recover to play defense.
There most likely won't be any additions, but injuries can change that. However, the depth they have will help take care of most problems.
Will the Nashville Predators Make a Move?
The need for another forward is the most pressing issue or Poile. Hudler or Pirri would be a great low-risk move for the team, and Poile has struck gold with these type of deals like he did with Ribeiro.
The Predators can really solidify themselves as a contender if they add that forward or find scoring from another outlet. Something like that could be the move to put them over the top.
Covered hockey since attending SUNY Oswego in Upstate New York in the early 2000s. Has written about college, major junior and professional hockey for the last five years.
Resides in Watertown, NY.