It certainly has been refreshing to catch up on all the current activities around the league this past week. NHL training camps are in full stride, with the Chicago Blackhawks welcoming a plethora of new faces when they hit the ice this past Monday. Today in news and rumors we discuss a rejuvenated Andrew Shaw, Duncan Keith's mentoring role, and the latest on Corey Crawford.
A New Shaw
One of the biggest feel-good stories coming out of training camp is the return of Shaw after being out over a year with concussion issues. The feisty winger's last game with the Blackhawks was on Nov. 30, 2019. Ever since then, he's been recovering from the latest of many concussions he's sustained throughout his nine-year career. And it's been a long and tough road, for sure. Many purported Shaw had seen his last days on the ice, and he admitted that did cross his mind. But once he finally started to feel better Shaw realized he didn't want to be done with hockey, or the somewhat reckless way he plays.
Andrew Shaw: "How I play is why I'm here. I'm going to stick to that as best I can without putting myself in vulnerable situations."

Says "it crossed his mind" whether he would ever play again. But his first goal was to feel better and like himself. "Grinded every day."

— Ben Pope (@BenPopeCST) January 6, 2021
So it's quite the success story for Shaw to be where he is right now, at camp preparing for a hockey season. He says his time off has allowed his body to heal as well as his mind. And he realizes life without hockey is pretty good too, when that time eventually comes.
Related – Blackhawks Who Need to Make Their Mark on the 2020-21 Season
The 29-year-old is ironically now the shrewd veteran. He was 20 years old when he first came into the league, the same age as many of the newbies who will be his teammates. Whoever would've thought the fresh-faced smart aleck that came on the scene way back in 2011-12 would eventually become the mature voice of reason?!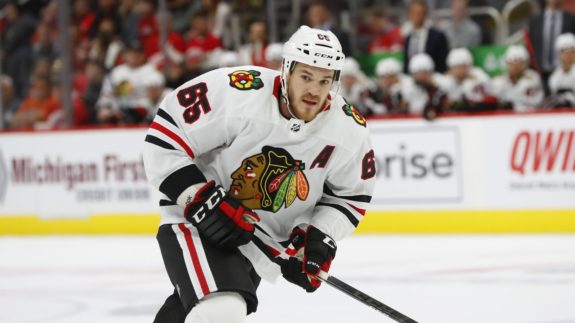 I sincerely hope Shaw can stay healthy and in the lineup this season. His energy, experience and never-say-die attitude could go a long way for this Blackhawks' group.
Keith on Board With Mentor Role
Speaking of veterans, 37-year-old defenseman Keith is the eldest member of the Blackhawks. He's also refreshingly honest and quite deadpan when he speaks with the media. Hence the following quote.
"We only have a few old guys, so we're going to have to play young guys, and they're going to have to be good players."

— Ben Pope (@BenPopeCST) January 5, 2021
Yes, the youth movement is definitely here. So where does Keith fit in? As a mentor, of course. Keith embraced this role with former Blackhawk Henri Jokiharju, and then Adam Boqvist last season. Then he was pitted against 18-year-old prospect Michael Krutil in a drill during the first day of training camp. Needless to say, it didn't go so well for Krutil. But Keith took it upon himself to give the young defenseman a few pointers after practice.
Duncan Keith working with defenseman prospect Michael Krutil after practice. pic.twitter.com/L8ViJddfVC

— Scott Powers (@ByScottPowers) January 4, 2021
Last time we checked, the two-time Norris Trophy winner and three-time Stanley Cup champion knew a thing or two. He also spoke about coaching his son Colton's youth team during the offseason.
When you coach your son or younger kids, you see the different perspective. It helps you as a player in a lot of ways, because you're having to explain what you're doing. Sometimes it can just be natural or an instinct or things you've learned. But putting it into words brings a lot more clarity and understanding for myself, as well.

(from 'Duncan Keith shouldering mentor role once again in Blackhawks camp flooded with prospects' The Chicago Sun-Times – 1/5/2021)
Keith seems to have the right attitude about the young guys.
I do realize that you [should] talk to some of these young guys . . . so if I can help them out and maybe speed up their development, that's going to help the team win and help the organization. I'm trying to do that.
It appears Keith is doing his very best to contribute to the development of the youngsters this coming season.
Crawford Rumors
Some disturbing news comes to us from the New Jersey Devils about their new goaltender, Corey Crawford. Apparently, Crow hasn't participated in training camp for the past four days.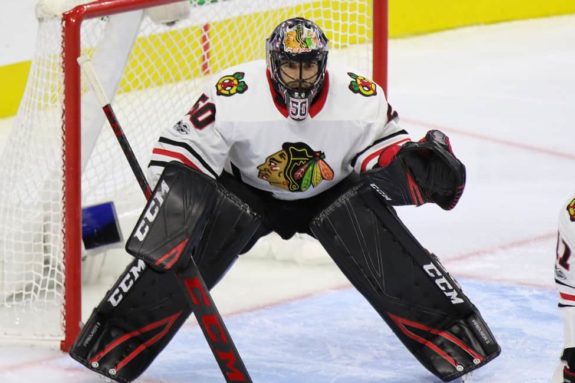 The first three days it was referred to as maintenance days, and just yesterday, head coach Lindy Ruff said Crawford was taking a personal day. Teammate Kyle Palmieri had this to say after yesterday's practice.
.@ChrisRyan_NJ also asked #NJDevils Kyle Palmieri about Corey Crawford. Palmieri's full answer: pic.twitter.com/sSlzRnHfb9

— Corey Masisak (@cmasisak22) January 7, 2021
Something certainly seems amiss right now for the Blackhawks' former goaltender. Hopefully we will find out more in the coming days.
Update: The Devils organization officially announced Friday that Crawford is taking an "indefinite leave of absence from the club due to personal reasons."
What's Next
The Blackhawks resume practices on Friday after taking Thursday off. We shall further see how Shaw and Keith will impact the team moving forward, and much more. Stay tuned to The Hockey Writers for additional analysis as the rest of training camp unfolds. The Blackhawks look to secure their opening night roster against the Tampa Bay Lightning on Jan. 13.
---
---
Looking for more Blackhawks coverage? Tune in to our YouTube Channel for Blackhawks Banter every Monday night at 7:00 p.m. CST (8:00 p.m. EST), or on our Facebook Page. Episode 9 is featured below.
Gail Kauchak has covered the Chicago Blackhawks as a content writer since 2014. She previously wrote for Fansided's Blackhawk Up, and has been part of The Hockey Writer's team since 2017. It's not always easy to balance life's responsibility's with one's passion, but Gail's doing her best to make it happen. Quote to live by, "Follow your dreams, and good things will happen." Wait, maybe it's "Good things happen when you shoot the puck!" You get the idea.
Follow Gail for her unique commentary about this storied franchise. And be sure to catch her and the rest of the Blackhawks' crew on their weekly Blackhawks Banter show, as well as follow her on Twitter.