The Chicago Blackhawks conceded a heartbreaker on Thursday, giving up the lead and falling to the Columbus Blue Jackets late in the game. For starters, it broke their three-game winning streak. It was also only their second outright loss (without taking at least a point) since a 2-1 loss to these same Blue Jackets on Jan. 29.
Some revenge was in order. The Blackhawks did just that on Saturday, grabbing yet another overtime win in their second half of the two-game series. Overtime is become a thing for the Blackhawks this season. They've required overtime seven times in their 16 season contests so far. The good news is after losing the first four (two in a shootout), the Blackhawks have won their last three games that went to extra time. Let's get to the highlights from the latest two-game series against the Blue Jackets.
Blackhawks' Game Results
Vs. Blue Jackets, Thurs. 2/11, Loss 6-5
Vs. Blue Jackets, Sat. 2/13, Win 3-2 (OT)
Blackhawks' Overall Record: 7-5-4
Kane Keeps Producing
This will undoubtably come as no surprise to anyone, but it deserves recognition nonetheless. Compared to previous seasons, Patrick Kane doesn't have much of a supporting cast this season. Sure, there's Alex DeBrincat, and the two of them have definitely benefitted from playing together. But he doesn't have the luxury of hopping over the boards with Jonathan Toews when the game is on the line, or being centered by the dynamic and talented Kirby Dach as he became accustomed to last season.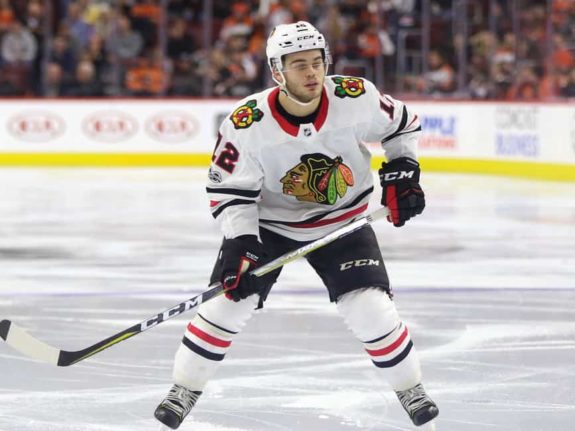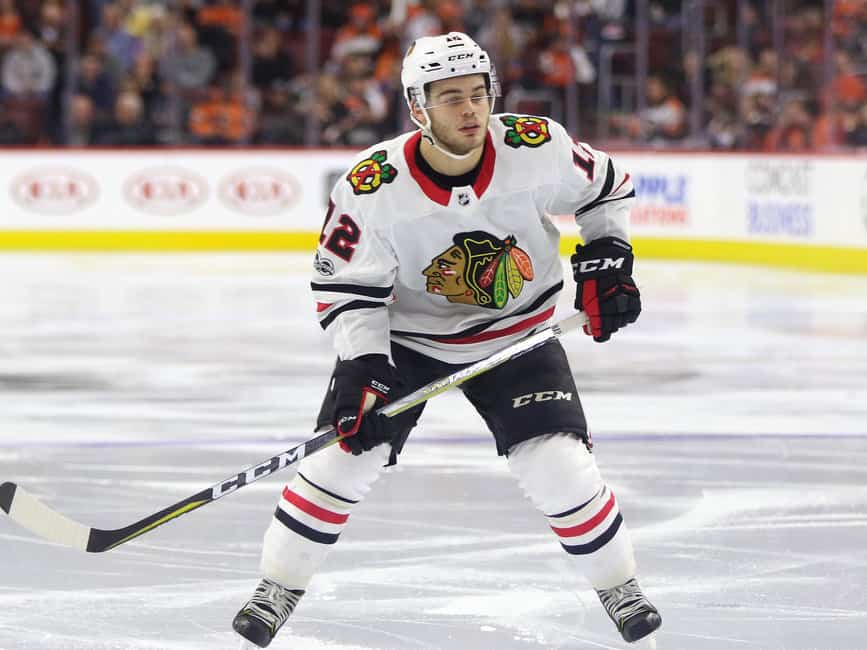 Instead, the 14-year veteran is breaking in two new rookie centers in Pius Suter and Philipp Kurashev. Players being out due to COVID have resulted in Mattias Janmark being a regular linemate for Kane. No disrespect to Janmark, but he's probably better suited in a bottom-six role.
Related – Blackhawks News & Rumors: Shaw, Murphy, Boqvist, Playoffs & More
No matter. As always, Kane makes everyone around him look better, adjusting to their talent levels and finding ways to make it work. All while continuing to produce on his own. On Thursday, with a goal and two primary assists, Kane recorded his 90th career three or more point game.
Patrick Kane recorded his 90th career regular-season game with 3+ points to pass former @NHLBlackhawks forward Jeremy Roenick (89) for the fourth-most in NHL history among U.S.-born players. #NHLStats pic.twitter.com/wAo0mc98B9

— NHL Public Relations (@PR_NHL) February 12, 2021
He also became the fourth player in the league to reach 20 points on the season. On Saturday, Kane nonchalantly added two more primary assists to his resume. His seven goals, 15 assists and 22 points is currently tied with Toronto Maple Leafs' Mitch Marner for third in the NHL.
The youngsters might be coming into their own, but Kane is still leading the way.
Blackhawks' First Goal Alerts
Defensemen Ian Mitchell and Nicolas Beaudin have been earning their stripes at the NHL level. Mitchell has suited up for all 16 games with the Blackhawks and become a mainstay alongside Duncan Keith. Beaudin joined the team when Adam Boqvist was sidelined due to COVID-19. The 21-year-old has now appeared in eight contests, mostly playing alongside Nikita Zadorov on the third pairing.
But it was their lucky night on Thursday, as they both collected their first NHL goals just 56 seconds apart.
2 #Blackhawks rookies score their first NHL goals in the same game for the first time since 1989! #Blackhawksin60 @ChevyDrivesChi pic.twitter.com/veIt9rw8CW

— Blackhawks Talk (@NBCSBlackhawks) February 12, 2021
Beaudin went on to assist on Pius Suter's goal for his first NHL two-point game, AND score again on Saturday. He currently boasts two goals and two assists on the season, while 22-year old Mitchell has a goal and an assist.
35-year-old Carl Soderberg also potted his first goal with the Blackhawks on Saturday night. The veteran joined the team after being acquired around Christmastime from the Arizona Coyotes. He admitted he's had trouble acclimating to his new squad.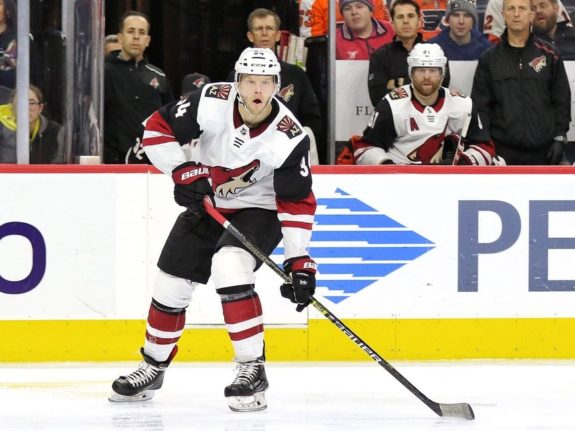 But his first goal came at the perfect time, late in the third period to tie the game and eventually force overtime. Soderberg has also been excellent at the faceoff circle. In these last two games he's won 21-of-27 faceoffs for a 78% success rate. This comes as a welcome contribution in light of the absence of Jonathan Toews, who always led the team in that department.
Lankinen Finds Redemption
Saturday's game was Kevin's Lankinen's 11th outing between the pipes for the Blackhawks. If you take out his first-ever NHL contest on Jan. 19 when the Blackhawks lost to the Florida Panthers 5-4 in overtime, Lankinen had a .943 save percentage and a 2.13 goals against average in his next eight games. He was calm, cool and collected in the crease, and had established himself as the No. 1 netminder for the Blackhawks.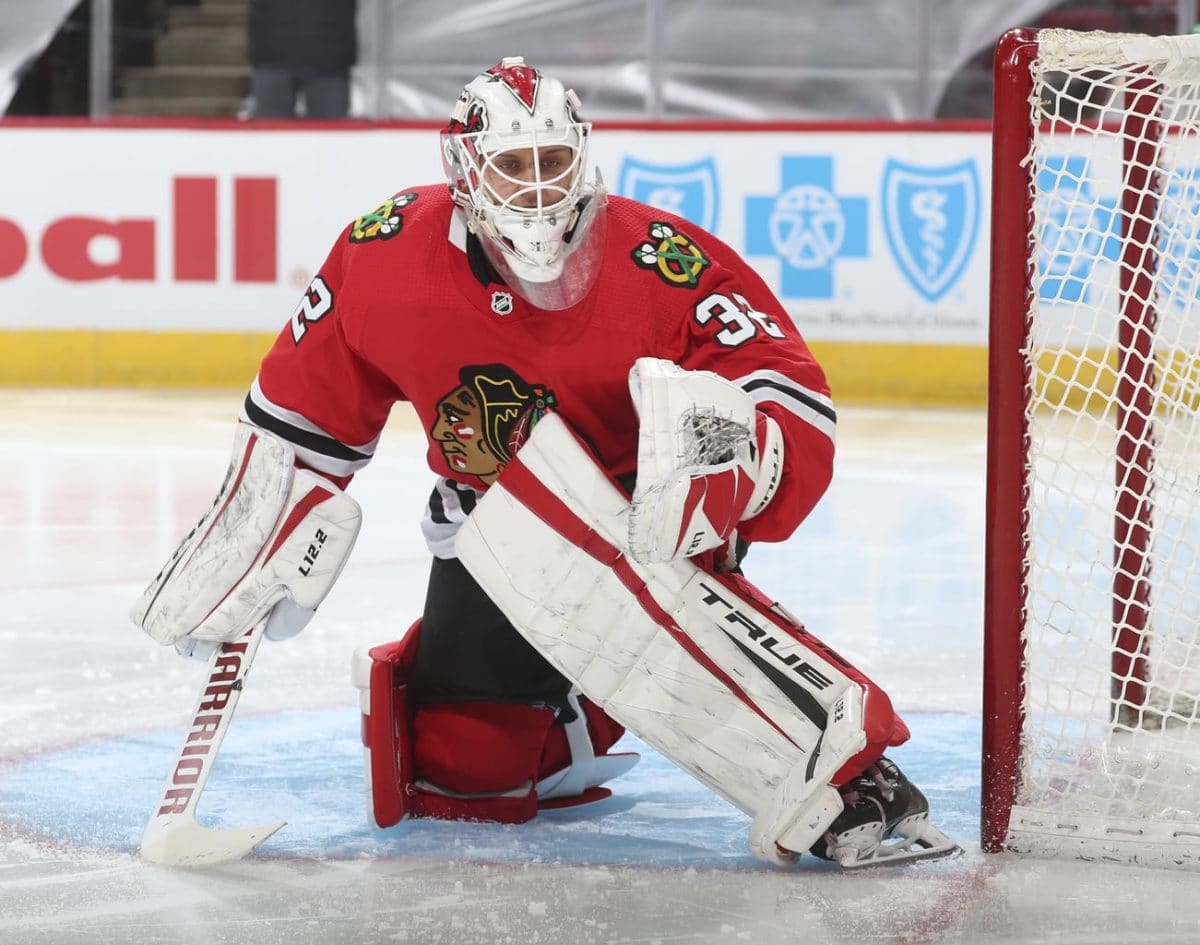 Then there was the tilt against the Blue Jackets on Thursday night. The Blackhawks were up 4-2 in the third period and a fourth consecutive victory seemed imminent. But then Lankinen promptly gave up four goals, which led to the eventual 6-5 loss. Upon review, they were four tallies Lankinen arguably should have stopped.
But instead of calling on Malcolm Subban for the next contest, head coach Jeremy Colliton decided to go with Lankinen again. When asked about his decision, here was Colliton's response.
Colliton on Lankinen's response to his 1st bad game: "It's a hard league, so you're going to be tested every day… Love his composure, his demeanor, how he carries himself. I wanted to give him a chance to respond to it right away instead of sitting on it a bunch of days."

— Ben Pope (@BenPopeCST) February 13, 2021
Turns out Colliton made a good bet. Lankinen bounced back from his off night, stopping 29-of-31 shots for a .935 SV%. DeBrincat summed it up best when discussing Lankinen after the game,
It's 2-1 there for a long time and he keeps us in long enough where we can get a turnover and bury that one. … He's been huge for us and he's a big part of why we've had these wins and why we're surprising some people.
Lankinen faced first real adversity of the season, and came out with flying colors.
Other Blackhawks' News & Notes
Speaking of DeBrincat, in the absence of alternate captains Andrew Shaw (concussion protocol) and Connor Murphy (right hip), the feisty sniper has deservedly been wearing the "A" on his sweater. DeBrincat played alongside Kane on the top line these past few contests, and has contributed two goals (including Saturday's OT winner) and two assists.
Related – Chicago Blackhawks' Top 5 Rookies in the 2020-21 Season
Forward Brandon Hagel might not have that elusive first NHL goal yet, but he's getting kudos from his coach for his overall approach to the game. Said Colliton, "He seems to lift whoever he plays with to play with a little more urgency. … He's got some rat to his game." Oh, and he got the best of 6-foot-5 Patrik Laine in a fight Saturday night.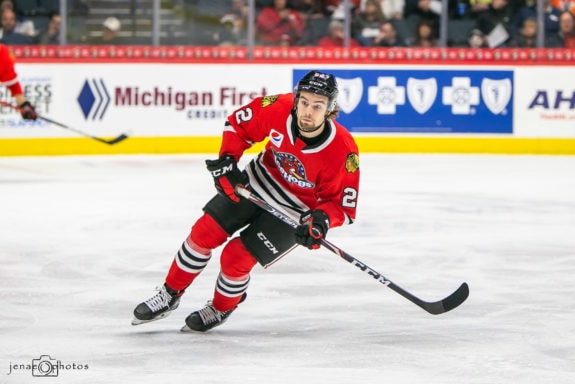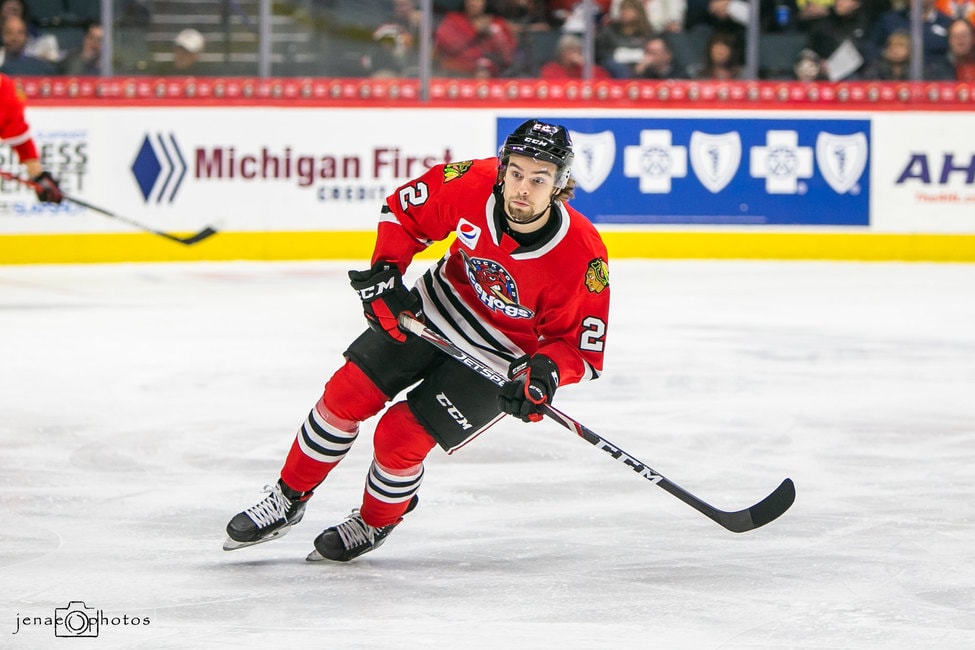 Lucas Wallmark was released from the COVID protocol list this past Wednesday, exactly 2 weeks after being placed on it. Ryan Carpenter was also taken off the list on Saturday. Coach Colliton confirmed that like Adam Boqvist, both tested positive and will need time to get back into game shape. Incidentally, Boqvist practiced with the team for the first time on Friday, and was placed on the active roster on Saturday.
---
There's a very short turnaround for these Blackhawks, as they head to Detroit to take on the Red Wings this Monday and Wednesday. Then they travel to face the Carolina Hurricanes over the weekend, and the Blue Jackets yet again the following week. This six-game road trip will be the longest of the season to date, with another six-game trip in March.
How many games can the Blackhawks win on the road?!
---
---
Looking for more Blackhawks content? Tune in to The Hockey Writers YouTube Channel for Blackhawks Banter every Monday night at 7:00 p.m. CST (8:00 p.m. EST), or on our Facebook Page. Episode 14 is featured below.
Gail Kauchak has covered the Chicago Blackhawks as a content writer since 2014. She previously wrote for Fansided's Blackhawk Up, and has been part of The Hockey Writer's team since 2017. It's not always easy to balance life's responsibility's with one's passion, but Gail's doing her best to make it happen. Quote to live by, "Follow your dreams, and good things will happen." Wait, maybe it's "Good things happen when you shoot the puck!" You get the idea.
Follow Gail for her unique commentary about this storied franchise. And be sure to catch her and the rest of the Blackhawks' crew on their weekly Blackhawks Banter show, as well as follow her on Twitter.