From starting the season with their lowest expectations in recent memory to a respectable 4-4-4 record 12 games into their schedule, the 2020-21 Chicago Blackhawks continue to surprise.
RELATED – 4 Bold Blackhawks Predictions for the 2020-21 Season
However, bracing for the type of storm the Carolina Hurricanes are capable of isn't quite the same as finding a way to squeeze out a split series against the more mediocre Columbus Blue Jackets. Fortunately, that which was already proving effective for this rebuilding roster continued to, while Chicago's leaders complemented the impressive efforts of their newcomers.
Summarizing the Workweek
Carolina entered this series 5-1-0 as a clear contender for the top spot in the division. And although that may be where they end up as the postseason approaches, the Blackhawks didn't let such a thought intimidate them out of earning three of the possible four points up for grabs. Chicago closed out this set 1-0-1.
Tuesday, Feb. 2 vs. Carolina Hurricanes: 4-3 (SOL)
Thursday, Feb. 4 vs. Carolina Hurricanes: 6-4 (W)
Every time we anticipate Chicago facing a challenge throughout their current campaign, they find a way to remind us that they should never be taken lightly. Despite their obvious and ongoing rebuild, both their developing prospects and proven veterans alike continue to show up for every game as though they belong. And their results against the Hurricanes indicate that, indeed, they do.
Blackhawks' Offensive Onslaught
Although rookie goaltending sensation Kevin Lankinen saw his goals against average inflate following this series, the nine that the Blackhawks tallied at the other end were enough to compensate. While they've enjoyed production throughout the depths of their lineup, Chicago's established stars stepped in to control the team's fate this time around.
"We've done a good job of battling each night, giving ourselves a chance to win. We kind of took those first few games and threw them out. We knew we had better than that. I don't think we're a team that's going to beat other teams by skill, but we've been playing the right way, working hard, buying into the system and it's been working out well.

– Alex DeBrincat
Patrick Kane, Dominik Kubalik, and Alex DeBrincat combined for 14 points against the Hurricanes. Illustrating exactly why they are relied upon to carry the load of this offense. The three now sit in first, second, and third, respectively, as Chicago's top producers thus far throughout 2020-21.
RELATED – Blackhawks Get 1st-Round Talent in 7th-Round Kubalik
Chicago's 35 goals scored puts them atop the Discover Central Division in that category, for the time being. Although they should expect that lead to slip as their counterparts catch up in games played, working their way up to averaging 2.92 goals per through 12 matches is no small feat. Especially when you consider that pace being at a mere 1.67 following their first three games.
Kane Maintains His Reputation
Despite Kane appearing somewhat disengaged at times, not parading the same type of passion fans have come to expect from his play, he still found a way to earn 10 points in his first 10 games. Regardless of how onlookers interpreted his demeanor while doing so, that's a more than respectable standard to have set early on in the year.
With that said, racking up five points through his next two contests would certainly help curb any doubt in his desire to compete. To no one's surprise, Kane now leads his team with 15 points. Even as an established veteran presence throughout Chicago's lineup, the 32-year-old continues to prove that he has no plans of slowing down any time soon and remains amongst the NHL's best.
Kane not only found his way into sixth place all-time for production by a US-born player, his four-point performance against the Hurricanes got him that much closer to fifth on the list. Through 985 games, Kane has accumulated 1,037 points. Needing only 27 more to climb up another spot, it's safe to assume he ends this season in the top-5.
DeBrincat Dominates Upon Return
As a welcomed surprise, DeBrincat re-joined Chicago's lineup prior to their first of two meetings against Carolina. He wasted little time returning to form, finishing the contest with two assists and a plus-1 rating, despite the Blackhawks losing 4-3. As Chicago's next in line to take over wherever Kane leaves off, seeing DeBrincat back to doing what he does best this quickly was important.
RELATED – Patrick Kane Trade to Sabres Makes Sense for All Involved (Hear Me Out)
Clearly, it was beyond just a temporary spark that fuelled DeBrincat's production upon his return. He followed up that performance with a two-goal night, including the game-winner, to secure the victory in their second game of the set. It's as though he didn't miss a beat, and that's exactly the type of rhythm the Blackhawks hope to rely on moving forward.
Despite four fewer appearances than most on their roster, DeBrincat sits in third for total points with 10 through eight games. Maintaining this pace of 1.25 points per would not only mean he successfully rebounded from a down season through 2019-20, but also that DeBrincat's bar will raise from his previous high established in 2017-18. He achieved 76 points in 82 contests that year.
Chicago's Special Teams Surged
For a team that wasn't supposed to cause much damage throughout this uniquely structured season, Chicago's power play has been surprisingly potent. Heading into their set against Carolina, they were already converting on 33.33% of their attempts, placing them amongst the league leaders in that respect. Then they decided to take things up a notch.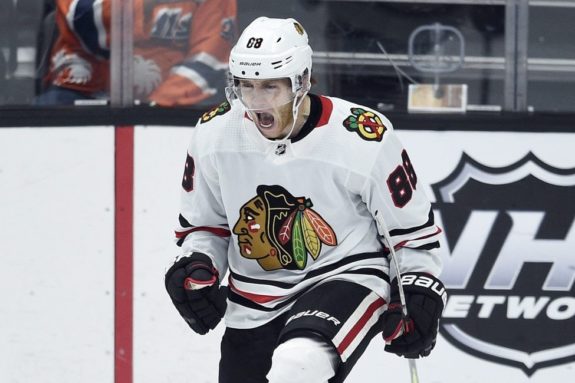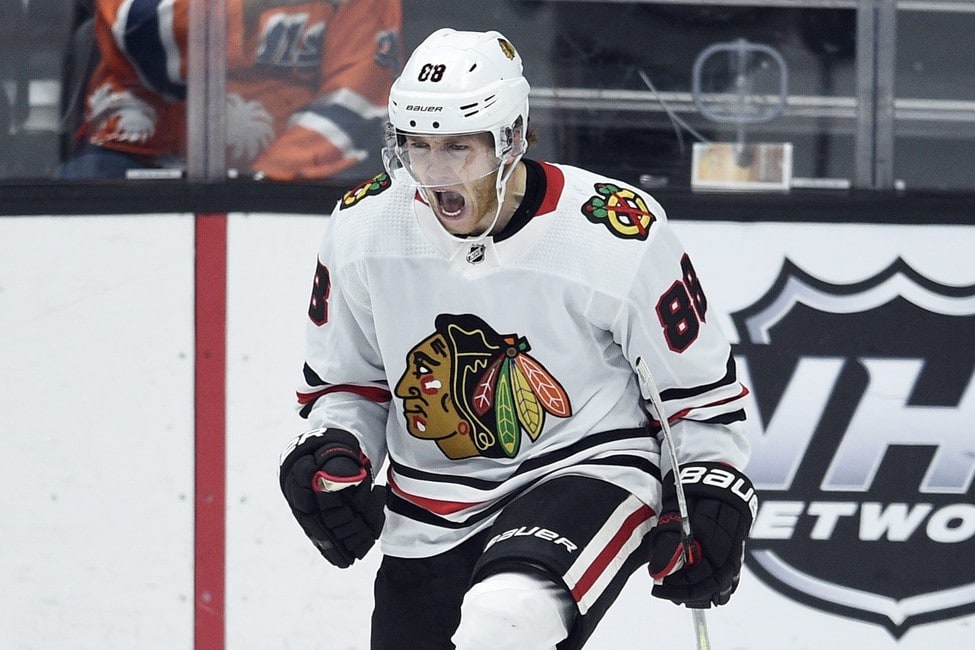 Through seven extra-man scenarios in their past two games, the Blackhawks capitalized four times for a power play percentage of 0.57. They're now 14 for 37 on the year, improving their conversion rate to 37.84%. Regardless of any struggles they can chalk up to growing pains through this rebuild, if Chicago's special teams continue to perform this effectively, then they'll always maintain at least that advantage over most opponents.
RELATED – Chicago Blackhawks' 'Untouchable' Prospects
In a series where the Blackhawks could easily have escaped no further ahead and with two additional losses to their name, the combination of their proven performers and prolific power play was simply too much for the Hurricanes to handle. We'll see if there's another elevation to their play when they meet last year's Stanley Cup runner-up, for what's sure to be another intense two-game set against the Dallas Stars.
Catch Us Live on Blackhawks Banter
Our Blackhawks crew with The Hockey Writers connects every Monday at 8:00 p.m. EST/7:00 p.m. CST for Blackhawks Banter. Watch us live on our YouTube Channel and follow our Facebook Page.
---
---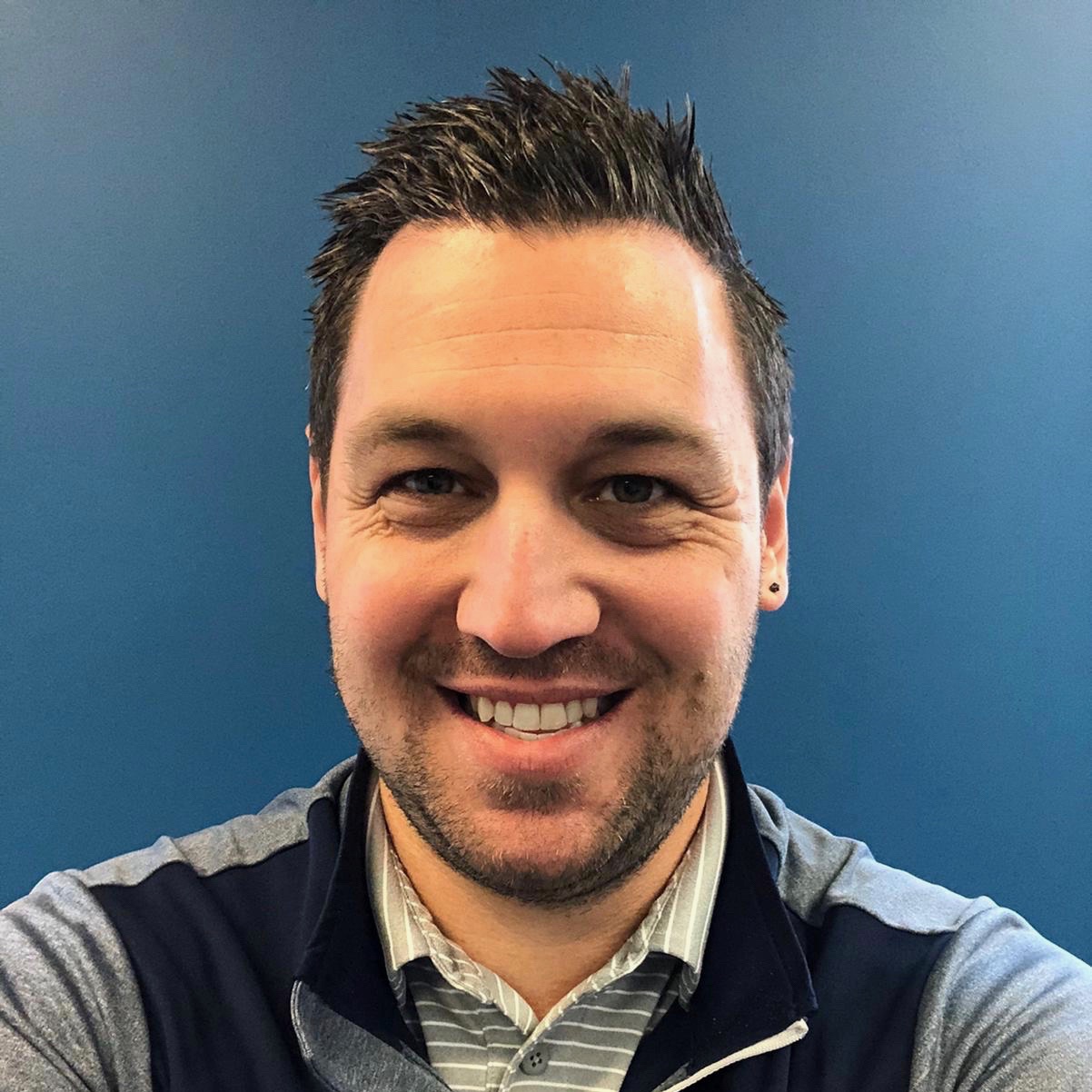 Freelance thinker, paying too much attention to digital aesthetic. Oxford comma enthusiast. Spider-Man supporter. Sports fan, with two favourite hockey teams. If the Blackhawks and Maple Leafs ever meet in the Stanley Cup Final, you can find me wherever they're playing that night.
Find me and more of my work at mralwayswrite.com and find me at @MrAlwaysWrite.