The Columbus Blue Jackets are still looking for consistency in their game. They're especially looking for it on their blueline. Have you noticed a subtle change to the pairs in recent games? If it holds, it's pretty significant and a sign of where the team is trying to go.
Setting the Scene
If there's been one area that the Blue Jackets have struggled with as a whole this season, it's been in their top-four. Zach Werenski and Seth Jones have played far below what's expected of them. The same can be said for Vladislav Gavrikov and David Savard. That pair has had their share of struggles too.
Head coach John Tortorella took the step earlier in the season to split Werenski and Jones in an effort to shake up the defense. That experiment didn't last long. With Werenski returning from injury Saturday, he and Jones played together. But it seems Tortorella is trying a different experiment.
Gavrikov and Savard have been split up.
That pair was good last season and consistency played together. But in these last couple of games, they have played on different pairs. Gavrikov played with Jones on Thursday and with Andrew Peeke Saturday. Meanwhile Savard played with Scott Harrington Thursday and with Michael Del Zotto on Saturday.
This is not an insignificant development. This could last for some time.
The reason this could last is what a change like this does to the pairs. On tape, it looked like Gavrikov and Savard were struggling with the speed of the game. Tortorella earlier in the season admitted he wanted to put a "skater" with Savard. Saturday night postgame, Tortorella discussed some more into this decision.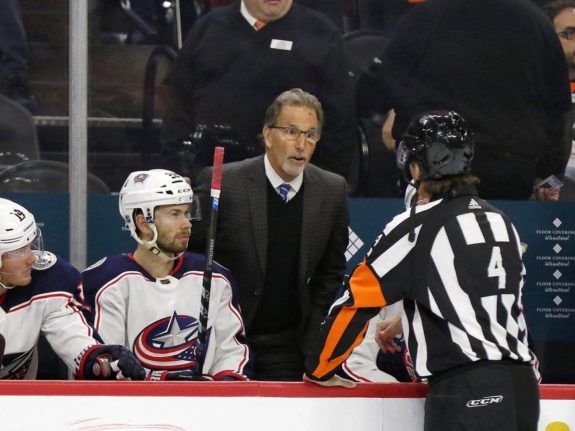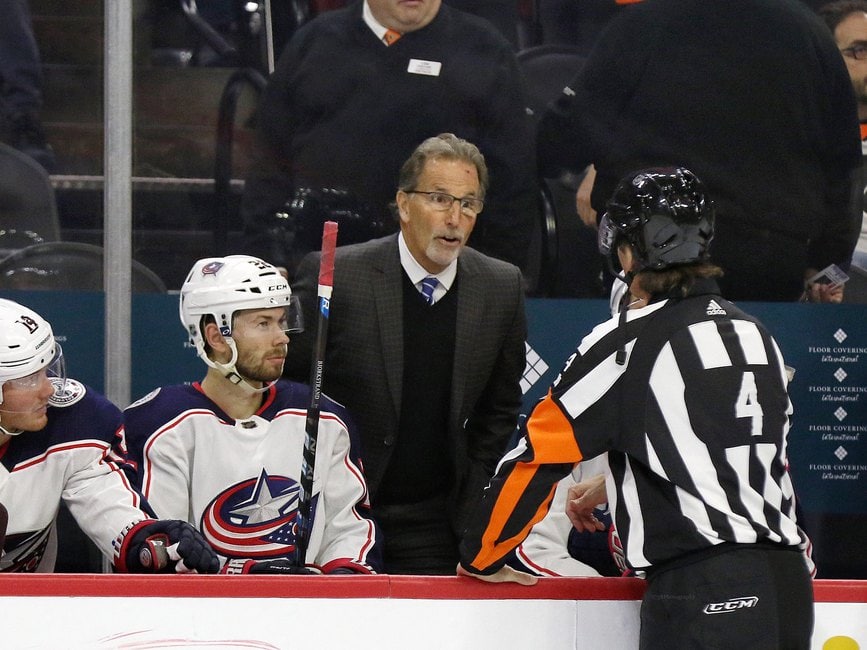 "We just felt it was a little sluggish with those two together as far as the pace of the game so we split them up," Tortorella said. "Michael's (Del Zotto) come onto the scene. He's a guy that can move a puck quickly and just adds some pace to a pair. And that gives a chance for (Gavrikov) to play with (Peeke)."
With Del Zotto's emergence in the early going, it's allowing Tortorella to balance the pairs and put at least one player on each pair that can play with pace. With Peeke in the lineup, it also allows Tortorella to maintain three lefties and three righties.
The thing to watch though will be Savard. It's been said on multiple occasions that pace has been an issue. He's as good as it gets when it comes to blocking shots and playing a style Tortorella likes. We'll see if putting him away from Gavrikov will give him a jolt or if the struggles will continue.
The Blue Jackets will have a decision to make on Savard. He's a pending UFA. He's a Blue Jackets' lifer and has poured everything into the franchise. But with so many young players looking to move up, there's a chance he might not be back next season.
For now though, we'll see if this change in the pairs results in more consistency on the blueline. At least so far in a very small sample size, some good things are happening.
The GBU: The Chicago Games
Good: Patrik Laine's impact. The Blue Jackets finally have their difference making forward. Laine scored an incredible goal in which he called it "Textbook Top Cheese." That is my new favorite saying by the way.
While the goal scoring was expected, what has been encouraging to see is just how competitive Laine is. He saw his teammate Jack Roslovic take a huge hit on the boards Saturday night. Not only does Laine deliver a hit to Brandon Hagle, he drops the gloves for his first career fighting major. That was just in the first period.
That jolted the bench. That's the kind of thing that can bring much needed energy and camaraderie to a team desperately looking for sources of energy. Laine gives the Blue Jackets a much different element to account for. As such, we can reasonably expect his teammates to benefit. Cam Atkinson had six points in the two games against the Blackhawks. Teams are going to have to focus on the top line. Other lines should get their chances in the future.
Laine will be a fun player to watch. That first period on Saturday is a glimpse of what it could be like.
Bad: Blowing a late lead. The Blue Jackets were up 2-1 late in the game on Saturday night. They consistency broke up Blackhawks' chances throughout the period. They were above the puck in a good way and in good position. But it all changed in a flash thanks to a critical turnover by Werenski. That quickly went to the back of the net and that good third period went for not on the scoreboard. They got a point but they wanted two. Better puck management is required in that situation. Werenski knows it. Tortorella said postgame that he didn't think the game should have went to overtime. He's not wrong. The Blue Jackets locked it down. But in a one-goal game, one mistake is all it takes.
Ugly: Overtime. This part of their game has been UGLY. There's two things that stand out here. First, this is where you have to win a faceoff at the start of overtime. More often than not, the Blue Jackets lose this draw and immediately have to defend. Games have ended quickly for them. On Saturday, it took the Blackhawks just 35 seconds to win. Nick Foligno made a great play on Patrick Kane to get the puck, then he made a backbreaking play when his pass went right back to the Blackhawks. Kane found Alex DeBrincat and he batted the game winner in. Possession is key and it starts with winning the faceoff. But then that leads to the second point, situational awareness. Foligno has to complete that pass. It's an odd-man rush for the Blue Jackets if the pass is completed. Instead, it's more defending and you're more tired. When the Blue Jackets have the puck, they have to prioritize making good decisions with the puck. Mistakes are only amplified in three-on-three play. Get your shot on net. Make the right pass when presented to you. Whatever it takes, this part of their game must get cleaned up. Those missed points could cost them later.
Side Dishes
The Blue Jackets placed defenseman Gabriel Carlsson on waivers. You had to wonder if this was going to happen at some point. The team has nine defensemen on their roster and only one, Peeke, does not require waivers. But Peeke has played very well in these two games. I would expect he continues to play for the foreseeable. Carlsson needs to play games. He must pass waivers in order to be assigned to the Cleveland Monsters.
Carlsson's path to a lineup spot is very murky at best. Peeke has passed him. Harrington got into a couple of games. Dean Kukan played the first part of the season. Carlsson has been passed on the depth chart. It would not surprise me if some teams take a look at him. He's got some size and is an intriguing player. If he does pass through waivers, he'll get much needed games in the AHL. But we may not hear from him unless there's a huge rash of injuries.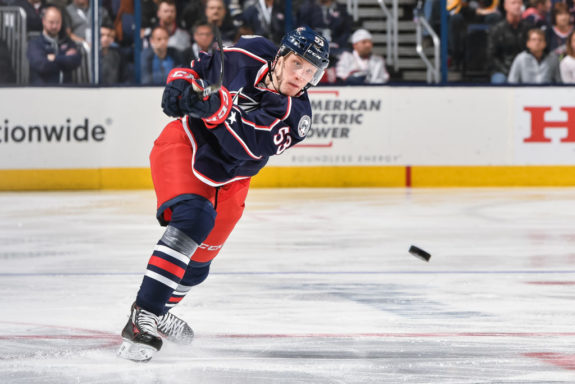 The Blue Jackets completed a trade with the Carolina Hurricanes on Saturday acquiring the rights to Gregory Hofmann for a 2022 seventh-round pick. This is an interesting trade. Hofmann has played his entire pro career in Switzerland but was never able to get an agreement on a contract with the Hurricanes. The expectation is that the Blue Jackets will try to bring him over once his season is over. The scouting report on him is he has some good offensive instincts but needs work defensively. He does project as an NHL player at this point in his career. For a future seventh rounder, that's a good gamble to take.
Related: Making Sense of the Blue Jackets First 15 Games
What's Next?
The Blue Jackets play the Hurricanes at PNC Arena on Monday night. I would expect the same skaters from Saturday barring injury or illness. The goalie is still up in the air as it's unknown if Tortorella will resume his goalie rotation with Elvis Merzlikins back. Tortorella will meet with the media from Raleigh around 11:15 A.M.
Afterwards, the Blue Jackets get to go home and get multiple days off before hosting the Nashville Predators Thursday and Saturday.
A personal note. I will be making my in-person season debut Thursday for the Predators' game. I am scheduled to receive my first dose of the Covid vaccine on Tuesday. I made a decision to allow a month of the season to go by before jumping back in live at the arena. As for the rest of this season, the plan is to do a handful of live games all from Nationwide Arena but no road games. That is expected to resume for me next season. In the end, the goal is to be safe. This series of decisions for me has had safety as the top priority. I'm stoked to get back to the rink for the first time in almost a full year. It'll make things start to feel somewhat normal again. I cannot thank you enough for reading and following along.
---
---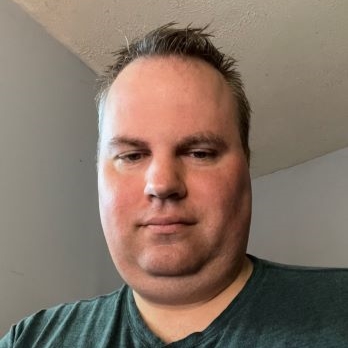 I am a fully credentialed writer who covers the Columbus Blue Jackets, Cleveland Monsters and Erie Otters as well as the Ontario Hockey League and NHL Draft. The 2021-22 season will mark eight seasons with the Hockey Writers. I am also the site's Credentials Manager.