Almost every drop of ink spilled over the St. Louis Blues this week will be used to write about the potential departure of team captain Alex Pietrangelo. But as important as those negotiations are, general manager Doug Armstrong must have two focuses in the days ahead. While re-signing Pietrangelo is critical to the immediate future of the team, the upcoming NHL Draft on Oct. 6 and 7 are just as vital for building the franchise's longterm future.
With former team assistant general manager Bill Armstrong now the top boss with the Arizona Coyotes, Doug Armstrong (no relation) has lost the biggest influence on his recent successful drafts. So big is Arizona's Armstrong's influence, in fact, that in order to interview him for his new role, the Coyotes had to promise the Blues that he could not participate in their 2020 Draft (from "Blues assistant GM Bill Armstrong leaves for GM job with Arizona," STL Today, Sep. 17, 2020).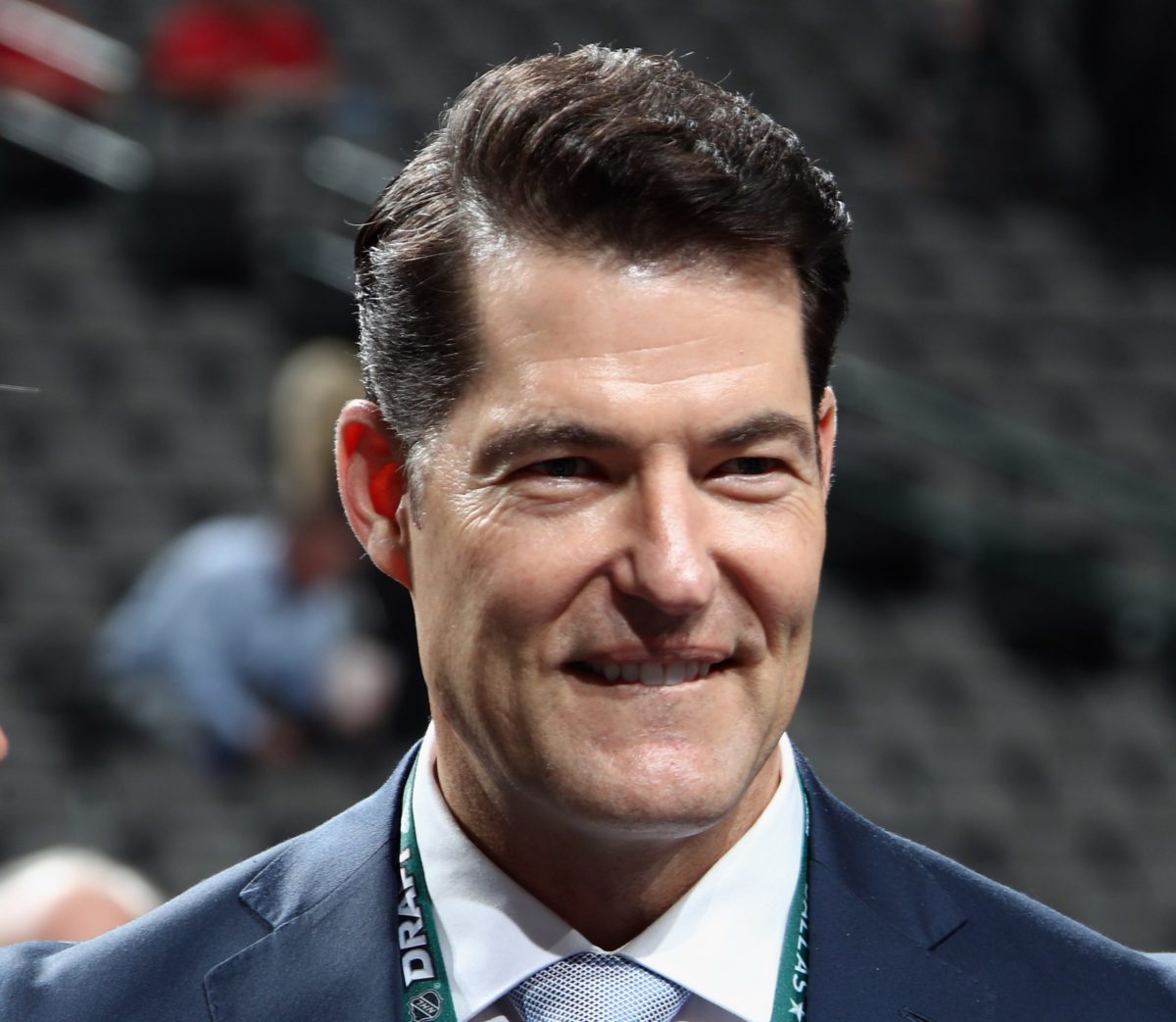 With or without the departed Armstrong, the Blues have several clear needs for the upcoming draft. In this article, we'll examine the needs, and briefly touch on a few potential draft choices that might be available in the first three rounds (the Blues have no second-round pick, but two third-round picks) that could fill that need.
Need 1: Right-Handed Defenseman
Whether or not the Blues retain Pietrangelo, the biggest deficit in their organization longterm is right-handed defensemen. Their professional depth is strong, particularly if Pietrangelo remains, with Justin Faulk and Colton Parayko both on the right side. They'll have one of the strongest and most expensive right sides in the NHL. But their prospect depth is thin. Currently, they have only Mitch Reinke, a college free agent signed in 2018. Reinke shows a lot of promise, but the Blues will want options behind him to develop for the longer term.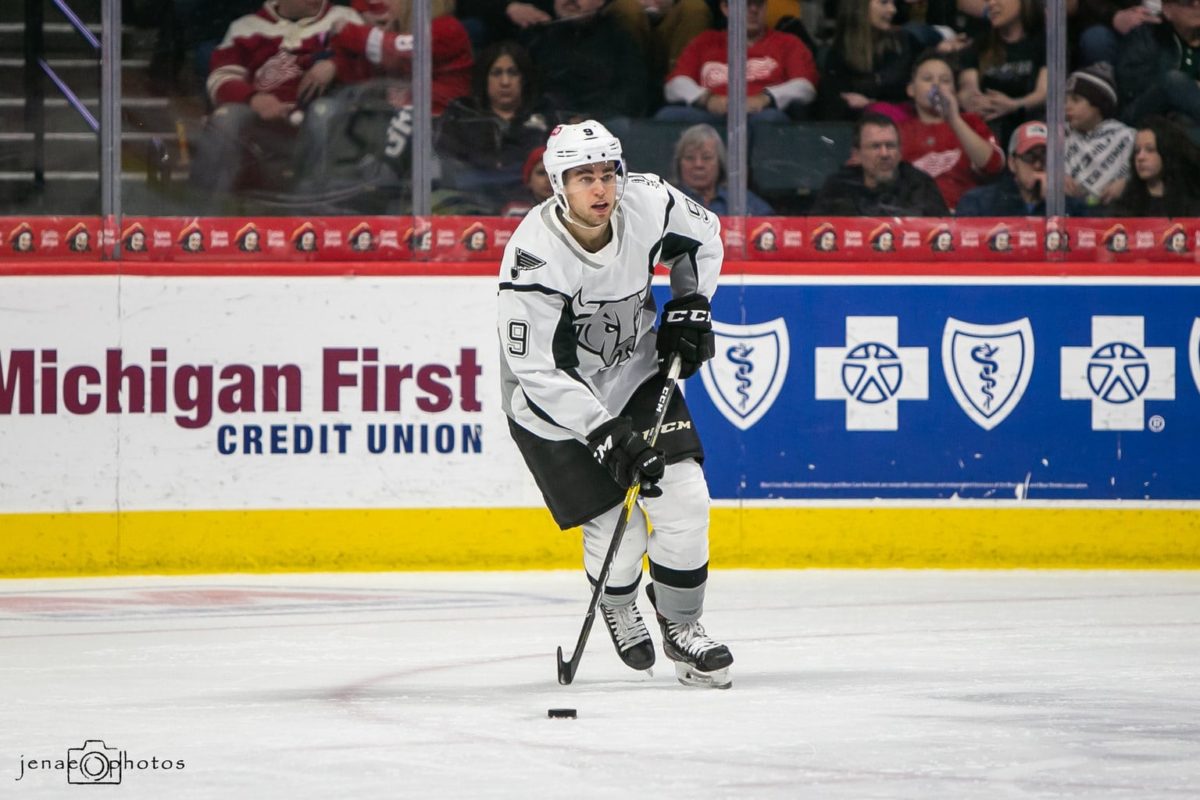 Even if the captain departs, no player the Blues would select in this Draft could immediately make an NHL impact. But their depth at the position, a critical one in any organization, is thin. They have an abundance of left-handed defensemen, but no one on the opposite side beyond Reinke. Here are some of the prospects they could target.
Braden Schneider, WHL, Brandon Wheat Kings
Braden Schneider is a 6-foot-2, 202 pound defensemen from one of the WHL's consistently successful programs, the Brandon Wheat Kings, the same team that produced Brayden Schenn (those two should be easy to differentiate in the future.) According to The Athletic's Corey Pronman, "[Schneider is] a player with a lot of assets and few holes in his skill set" (from "2020 NHL Draft Board: Corey Pronman's final top 131 prospects," The Athletic NHL, Sep. 29, 2020). The offense isn't elite, but there isn't much else lacking in his toolkit.
Kaiden Guhle, WHL, Prince Albert Raiders
If the Blues want to reach a bit with the 26th pick (or trade down), Kaiden Guhle could still be there in the early second round. Alan Millar, GM for Canada's U18 team, told Pronman: "he's a high-end skater. He has a solid well-rounded game. He's smart, he's competitive, he plays with an edge. He's a high character type." The Blues have always been drawn to high character, high-IQ type players, and it's worked well in the past. Guhle could be a good fit.
Brock Faber, U.S. NTDP – USHL
Faber should still be around with one of the Blues' two third-round selections. The young American is a fantastic skater and a dogged defender. The questions about him are in the offensive zone. No one is certain whether he'll develop the puck-moving instinct of a top NHL defenseman. But he has the tenacity and the skating, and in the third round, those are attributes worth taking a shot on.
Need 2: Scoring Wingers
After his third shoulder surgery in the last few years, the future of superstar sniper Vladimir Tarasenko is in serious question. In the five seasons before 2019-20, which he largely missed, Tarasenko scored an average of just over 36 goals per season. That is a serious deficit the Blues need to prepare to fill. And while top prospects Jordan Kyrou, Klim Kostin, and Nikita Alexandrov all have some scoring ability, the Blues should continue to look for a high-end scorer with Tarasenko's future cloudy.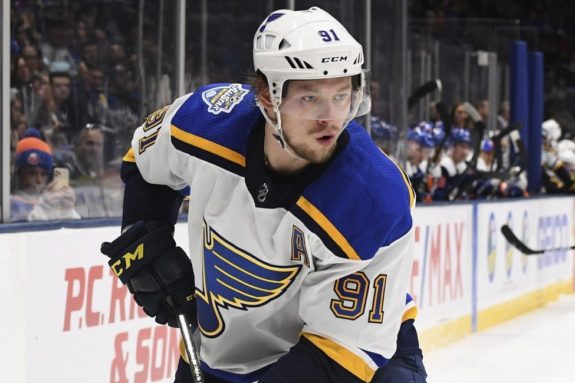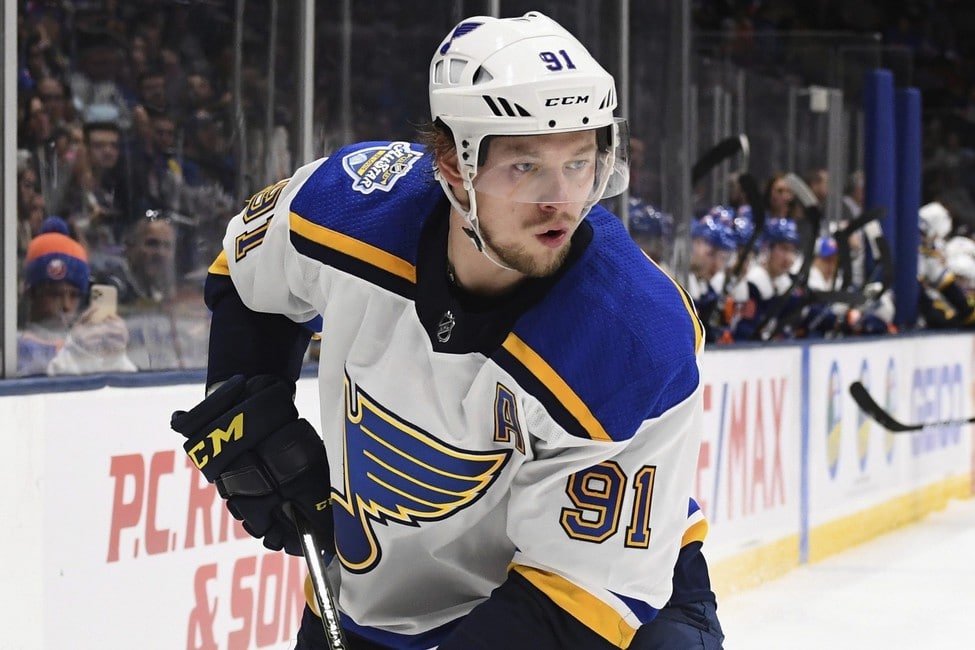 Fortunately, wingers, even wingers with high scoring acumen, tend to slide beneath top centers and defensemen in the Draft. Consider Cole Caufield's slide to the middle of last year's first round, despite his 72 goals in 64 games the season prior. Obviously, the Blues will need an even further slide than that, but there should be plenty of potent scorers available to them late in the first round.
John-Jason Paterka, RW, DEL, EHC München
John-Jason Paterka is an interesting player who got limited exposure at the highest levels of German hockey last season. But he looked great at the international level, scoring 16 points with nine goals in 17 games at the U20 level. According to Pronman, his coach said: "with the puck he's a threat. He has good speed and very good skill." Because of the uncertainty about his draft year, there's a good chance Paterka slips to their pick. Will Armstrong take a chance on a high-skill, unproven player? It would be reminiscent of their 2018 selection of fellow German of Dominik Bokk.
Sam Colangelo, RW, USHL, Chicago Steel
Sam Colangelo didn't have extensive power play time in the 2019-20 season, but his 28 goals and 58 points ranked third and second in the USHL respectively. According to Pronman, "[Colangelo] is a very talented player… has great skill and is a high-end goal scorer. He can pick corners from bad angles and is a mid-distance shooting threat." That's exactly the kind of threat the Blues could use, whether Tarasenko returns to full health in the future or not.
Carter Savoie, LW, AJHL, Sherwood Park Crusaders
there are always questions when selecting a player from below the CHL level, but Carter Savoie was the first Canadian U18 player to score 50 goals in the last two decades. That alone could be enough for the Blues to take a shot on him in the third round. But for a smaller player, he is hardly a great skater, and he fetches criticism for his effort off the puck and in the defensive zone. The elite offensive skill is there, but Savoie is certainly a project. Then again, the same criticisms have been lobbed at Tarasenko in the past.
Need 3: Centers
At first glance, a reader might question this as a need. With Schenn, Robert Thomas, and Ryan O'Reilly, it seems like the Blues are set down the middle for many years. But the Blues need centers at the draft for two reasons: one, because every team needs centers at the draft, and two, because behind Alexandrov, they don't have many promising prospects at that position in the pipeline.
Fortunately for the Blues, every team at every level of hockey has four centers, and some good ones are bound to fall to them, at least with their first pick at 26. Even O'Reilly himself was a second-round pick, and the Blues took Thomas at pick 20 in 2017. If you know what you're looking for, you can still find great center talent after the first ten picks are off the board.
Marat Khusnutdinov, MHL, SKA-1946 St. Petersburg
Russian players scare a lot of NHL general managers, but Armstrong has never been deterred, as evidenced by the selections of Tarasenko, Kostin, and Alexandrov. Marat Khusnutdinov is undersized, at just 5-foot-10, 176 pounds, but he's gritty and determined, playing in the dirty areas on offense but still killing penalties. "He sees the ice very well and can make tough dishes to teammates," says Pronman. "He's a great skater too." At his size, and still in Russia, Khusnutdinov is a bit of a gamble late in the first round. But he's the kind of gamble Armstrong has made before.
Vasili Ponomaryov, QMJHL, Shawinigan Cataractes
If Armstrong hasn't shied away from Russian forwards in the past, he certainly has not done so when those players were already in the QMJHL, as was true when he drafted Alexandrov and before him Ivan Barbashev. Vasili Ponomaryov comes from that same mold, and had 49 points in 57 games with Shawinigan last season. Pronman labeled him "one of the most talented players in the draft,"and a hard worker, but worried about the subpar point production (less than a point per game is low by QMJHL standards).
Typically, the Blues have not taken big gambles in the first round. In fact, Armstrong's tendency has been to prize polished players who may not have the obvious elite upside. But he's been known to surprise before, and his draft group certainly seems to have a penchant for Russians in Quebec. Ponomaryov could appeal to the Blues, particularly if they move back in the draft for any reason.
Evan Vierling, OHL, Barrie Colts
When Ethan Carter of the Hockey Writers looked at potential Blues third-round targets, Evan Vierling, a former number-two overall OHL pick, was his second choice. Carter said "[Vierling] exemplifies what the Blues like to do on offense. He does dirty work, gets pucks in deep, and does that all while being a point per game player in the OHL." Even though he is undersized, that is precisely the kind of player you could see the Blues taking in the third round, similar to their 2019 selection of Mississauga Steelheads forward Keean Washkurak.
Where Armstrong Shines
the Blues enter the draft with seven picks — one in the first round, none in the second, two in the third, one in the fourth, two in the fifth, none in the sixth and one in the seventh. If they use all of them, it will be the first time Armstrong has utilized seven-plus draft picks since 2016. But even with limited resources, the Blues have made a habit of succeeding through the draft. And Armstrong deserves a lot of the credit.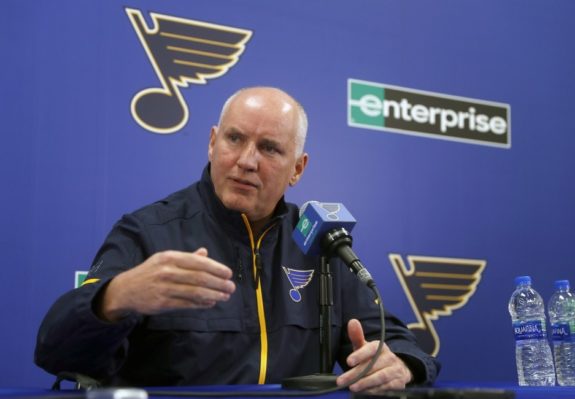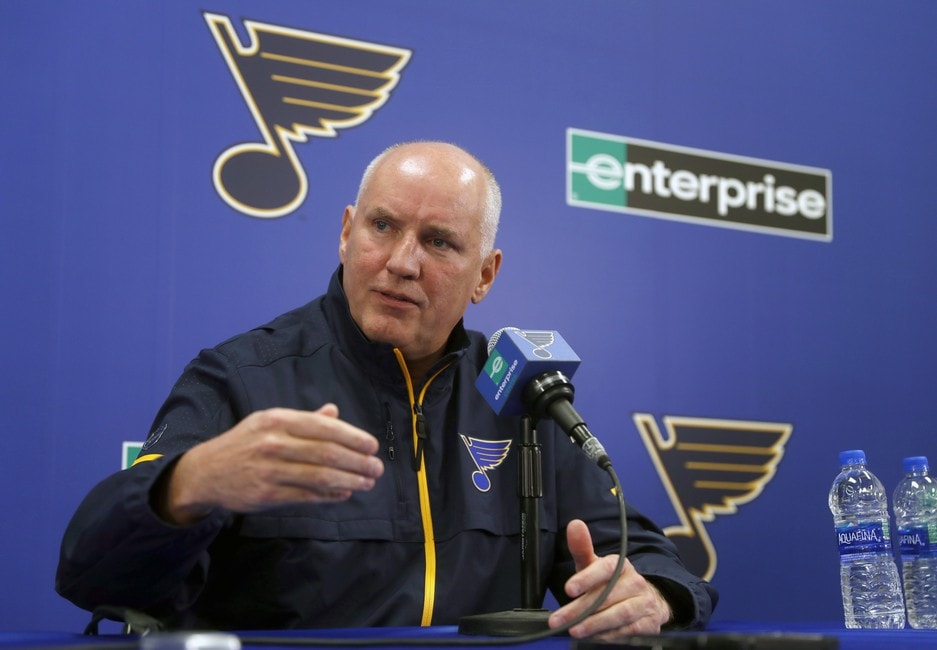 We'll know in a week's time who the next crop of Blues prospects are. In the meantime, you can refresh yourself with the team's recent draft history by surveying our series "Revisiting Doug Armstrong's Drafts" starting with 2010. Before we get to the draft, the general manager has work to do. If he doesn't re-sign his captain before Oct. 9, it changes the present and the future for the Blues considerably.
---
---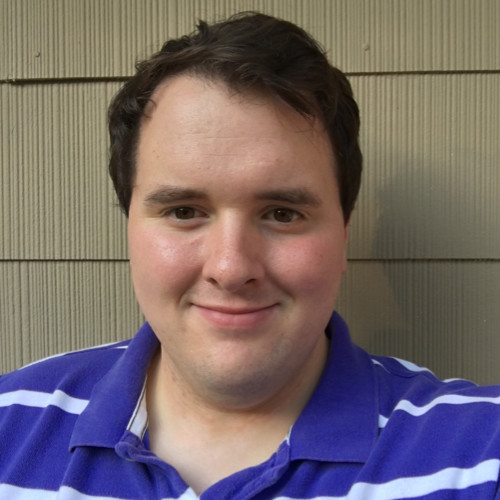 Stephen Ground is a veteran of over three years at THW, focusing on the St. Louis Blues, NHL goaltending, and the annual World Junior Championship. He is the co-host of the Two Guys One Cup Podcast, a hockey podcast focused on the Blues.