It was quite the week for the Arizona Coyotes, as they played a pair of 4-3 games against the 2019 Stanley Cup champions and also dealt with some scheduling uncertainty as a result of the COVID-19 pandemic. Let's dive right into it:
Coyotes' Late Rally Isn't Enough
Following their 3-2 victory over the Anaheim Ducks back on Jan. 28, the Coyotes enjoyed a few days off from game action before traveling to the Show-Me State for a two-game series against the St. Louis Blues, beginning on Tuesday night.
For two periods, this one was a back-and-forth affair – Arizona's Christian Dvorak, who is in the midst of a breakout season and was celebrating his 25th birthday on the evening, collected his fourth of the year off of a nice feed from Tyler Pitlick off of the rush. He was able to tap Pitlick's pass past Blues netminder Jordan Binnington, and the Coyotes established a 1-0 lead 10:15 into the game.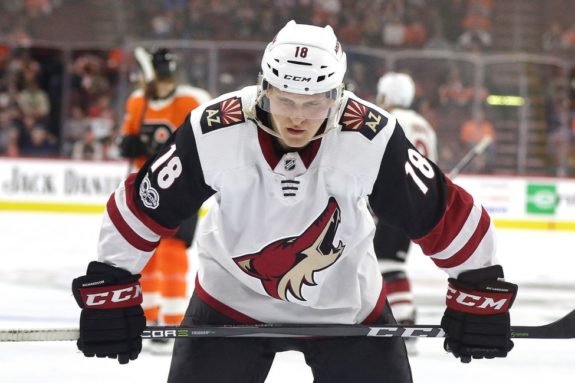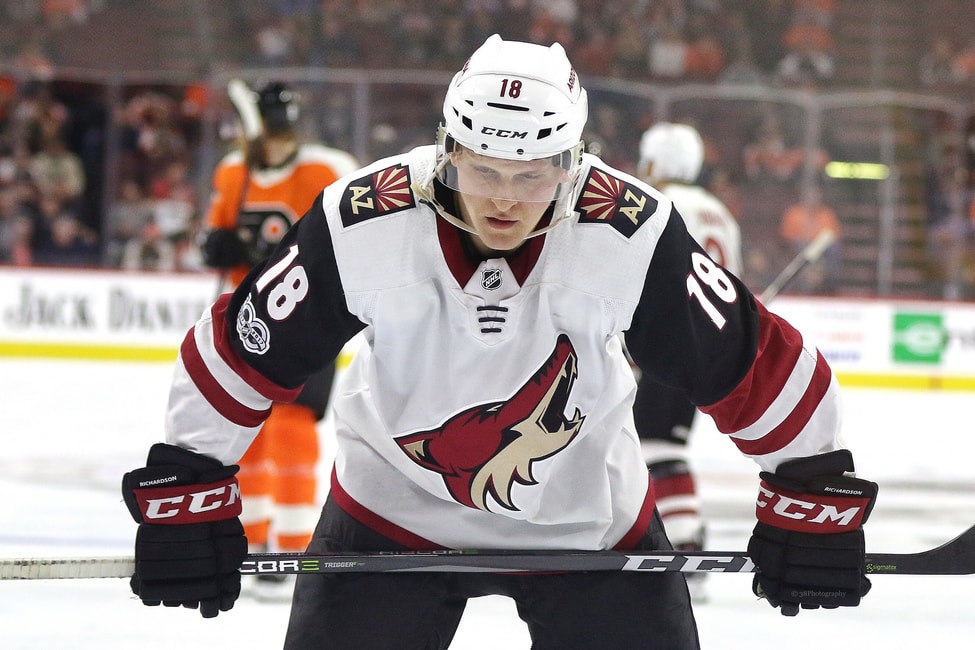 The lead did last long, though. With under three minutes left in the period, St. Louis' Mike Hoffman gained the puck at the top of the faceoff circles in his own zone and carried it all the way up the ice. Arizona's Alex Goligoski, the covering defenseman on the play, lost an edge in the neutral zone and fell to the ice, which allowed Hoffman to skate in unimpeded and rip a wrister past Darcy Kuemper from the right faceoff dot to tie the game at one apiece.
In the second period, the tables were turned as St. Louis got on the board first and took the lead with a goal from mustachioed defenseman Justin Faulk, who deked his way past two Arizona defenders and beat Kuemper five-hole from in close. The Coyotes answered on the power play less than three minutes later, though, as Dvorak finished off a pretty passing play by Phil Kessel and Nick Schmaltz for his second tap-in of the night.
The Blues would again regain the lead in the second period, as a misplay by Arizona's Jordan Gross allowed St. Louis to keep the zone. A few seconds later, Jordan Kyrou found the late man, Vince Dunn, who was wide-open in the slot and beat Kuemper to give his team the 3-2 advantage. In the third period, the Blues were able to double their lead early on – during 4-on-4 play, St. Louis captain Ryan O'Reilly found some quiet ice in the slot and blasted a one-timer past Kuemper, who had no chance on the play, to make the score 4-2.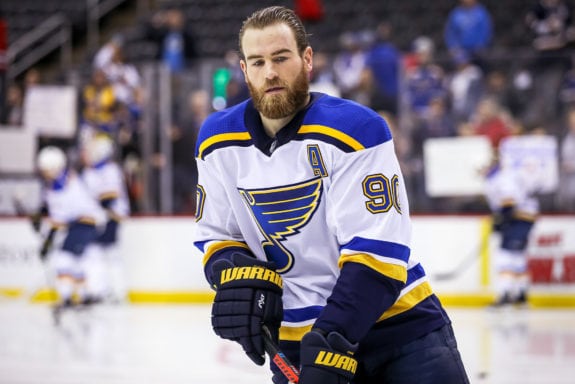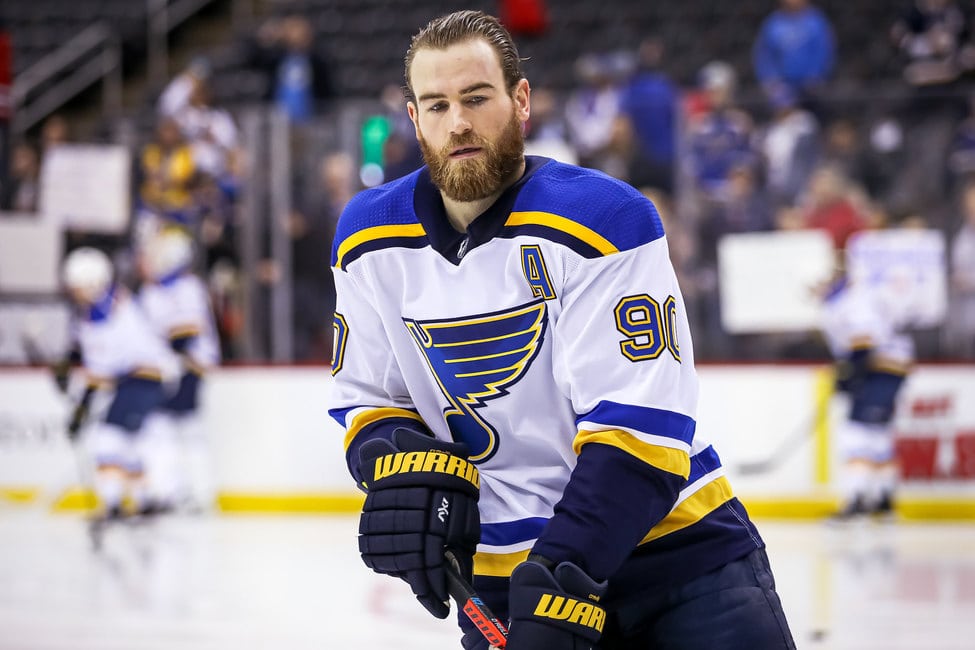 The Coyotes made things interesting late as Schmaltz put home his fourth of the season with 2:39 remaining, but Arizona would get no closer. Binnington shut things down the rest of the way, and he helped the Blues improve to 7-2-1 with a 4-3 victory.
Blues' Late Rally Isn't Enough
Two nights later, the same two teams were in action on the same ice surface, and we got another game that was decided by a 4-3 score after a late comeback bid by the losing team came up short. However, it was the Coyotes and goaltender Antti Raanta who were victorious in this one as they hung on for dear life in the final seconds.
This game couldn't really have gotten off to a better start for Arizona, as Pitlick cut to the net and put home a beauty of a pass from Drake Caggiula to put the Coyotes ahead 1-0 at the 9:32 mark. Later in the period, Schmaltz doubled the 'Yotes lead – Conor Garland nearly scored off of an unbelievable individual effort, but Binnington was able to keep the puck out of the net with an amazing skate save. However, the Blues were unable to clear, and Schmaltz was there to guide the puck the final few inches across the goal line for a 2-0 lead.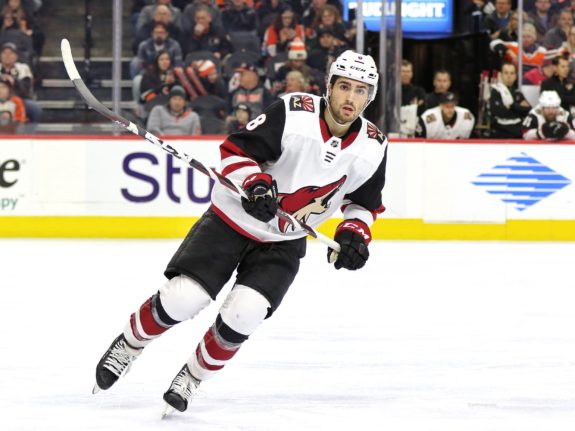 After his near-goal in the opening period, Garland was rewarded in Period 2, as he cleaned up the rebound from a Jason Demers one-timer for an easy tap-in, and his fourth of the season. The Coyotes led 3-0 at this point, and they rode exceptional goaltending from Antti Raanta for the rest of the way until things got crazy at around the 3:30 mark of the third period.
With an extra attacker out for St. Louis, Mike Hoffman hammered a one-timer that got through traffic and went post-and-in to break Raanta's shutout bid with 3:15 remaining. Dvorak seemingly iced the game with an empty-netter for his third goal in two games against the Blues, but St. Louis wasn't done. Ryan O'Reilly once again made it a two-goal game on a one-timer with 1:11 on the clock, and Hoffman scored again with 24.9 seconds remaining to really make it interesting.
The Coyotes made it harder than it had to be with their late collapse, as they allowed the Blues to score three times in 6-on-5 situations, but they barely held on for a 4-3 win after the puck found its way to a wide-open Hoffman, who was looking to complete the rare extra-attacker hat trick, a half-second or so too late.
Can Raanta Stay Healthy?
In a 4-3 hockey game, as we saw on Thursday, you typically don't see much overly-impressive play from either of the goaltenders, but that was not the case in this one. Raanta was absolutely outstanding for Arizona in his first action since Jan. 16 – he faced only two St. Louis shots through 10 minutes, but was absolutely bombarded over the final two and a half periods, finishing with 40 saves on 43 shots, including 31 saves over the final 40 minutes. He arguably deserved a shutout in this one, as he kept St. Louis off of the scoresheet for the first 56:45 and didn't allow any goals when five or fewer Blues skaters were on the ice, but he's surely happy to settle for a win and two points in the standings.
There's no doubt about Raanta's abilities in net, but the key for the Finn has always been his health. Whenever he seems to get into a rhythm in the crease, he suffers some sort of injury or ailment that keeps him out of action. If he can avoid injury in 2020-21 while remaining effective, it will make things a lot easier on Kuemper, which, in turn, should result in a better outlook for the Coyotes this season.
What's Next?
Upon wrapping up their two games in St. Louis, the Coyotes were originally scheduled to play a weekend back-to-back against the Minnesota Wild before heading to Denver to take on the Colorado Avalanche on Tuesday and Thursday. However, both of those clubs are dealing with COVID-19 concerns, and both of the Coyotes' upcoming series were postponed.
The Blues were also affected by these postponements, as they had been scheduled to host Colorado over the weekend in St. Louis. As a result of the Coyotes already being in Missouri after Thursday's game and also dealing with postponements, the league elected to keep Rick Tocchet's club there for two more games at the Enterprise Center, on Saturday and Monday. These games were originally scheduled for March 29 and 31.
Assuming there are no future COVID-19 issues for Arizona or St. Louis, this rescheduling means that the Coyotes will face the Blues in six consecutive games, as the teams are scheduled to travel to Glendale for a series at Gila River Arena on Feb. 13 and 15.
Per Coyotes' Media Relations Coordinator Jeffrey Sanders, this will be the first time in NHL history where one team will play six straight regular-season games against the same opponent.
It's safe to say that these games will be must-watch, as this has basically become a mid-season playoff series. Expect some bad blood to arise by Games 5 and 6 of this matchup.
To sum all of this up, the following Coyotes' game have been postponed due to COVID-19:
Saturday, Feb. 6 at MIN
Sunday, Feb. 7 at MIN
Tuesday, Feb. 9 at COL
Thursday, Feb. 11 at COL
The following games have been rescheduled:
Saturday, Feb. 6 at STL, 2:00 P.M. CT/1:00 P.M. Arizona (originally scheduled for March 29)
Monday, Feb. 8 at STL, 7:00 P.M. CT/6:00 P.M. Arizona (originally scheduled for March 31)
West Division Roundup
We're nearly a month into the 2020-21 regular season, and, in the West Division, things are beginning to shape up the way that most thought they would when the league announced their realignment – the Avalanche, Blues, and Golden Knights are the top three teams in the division, which presumably will leave just one spot for the five other clubs to battle for. Here's a look at Arizona's competition for this playoff spot:
Anaheim Ducks (4-5-3, 11 pts, 5th place)
Last week: 1-2-1 (6-1 L vs STL, 4-1 L vs STL, 3-1 W at LA, 5-4 SOL vs SJ)
Analysis: The Ducks entered the week with a .500 record on the season, but quickly saw that vanish with two lopsided defeats at the hands of the Blues at the Honda Center, where Anaheim was outscored 10-2 in a weekend back-to-back between the teams. Goaltender John Gibson allowed 7 goals on 29 shots (.759 SV%, 6.76 GAA) in the St. Louis series, but he rebounded on Tuesday to shut down the Kings, with 20 stops on 21 shots in a 3-1 win. If the season ended today, the Ducks would become just the sixth team since 1940 to average fewer than two goals per game in a season, so Gibson will need to continue playing well for Anaheim to have a chance to win on any given night.
Player of the week: Max Comtois – 2 goals
This week: Sat vs SJ, Tue at VGK, Thu at VGK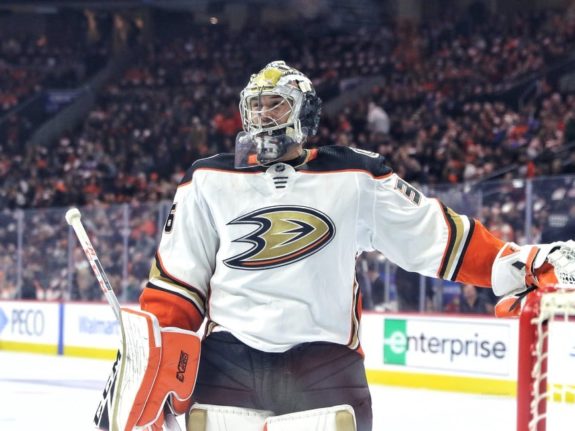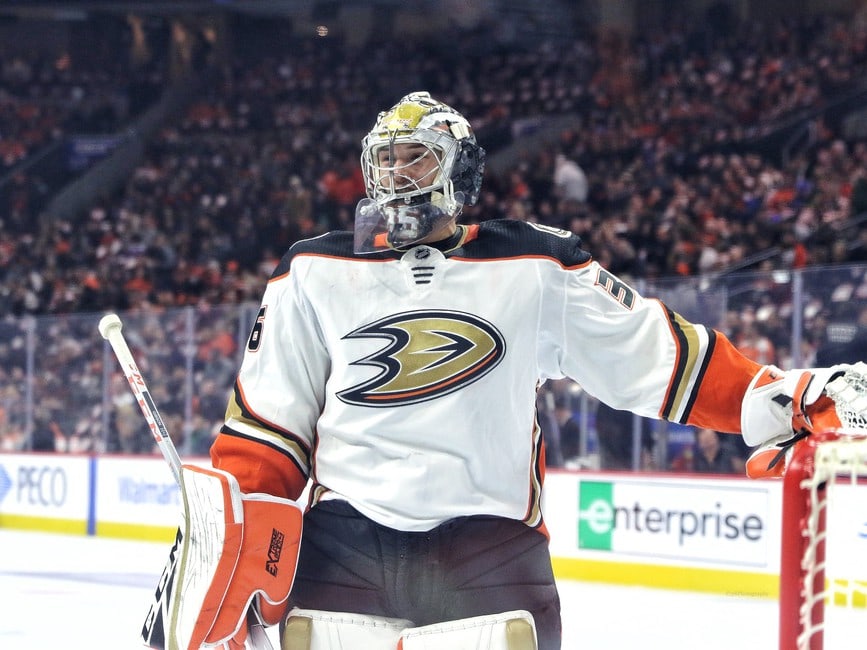 Colorado Avalanche (7-3-1, 15 pts, T-1st place)
Last week: 2-0-1 (5-1 W at MIN, 4-3 OTL at MIN, 2-1 W vs MIN)
Analysis: On the ice, it was a productive week for the Colorado Avalanche, as they managed five points in three games against the Minnesota Wild. However, it wasn't all good news, as leading scorer Nathan MacKinnon went down with a lower-body injury in Sunday's overtime loss and is considered week-to-week. Additionally, it was announced that all Avalanche games through Feb. 11 would be postponed due to COVID-19 concerns and that the team facility would be closed until further notice, meaning that the team won't play again until Feb. 14 at the earliest. Not an ideal situation.
Player of the week: Philipp Grubauer – 2-0-0 record, 46 saves on 48 shots (.958 SV%, 1.00 GAA)
This week: None – Sat/Sun at STL and Tue/Thu vs AZ postponed due to COVID-19
Los Angeles Kings (3-5-2, 8 pts, last place)
Last week: 0-2-0 (3-1 L vs ANA, 5-2 L at VGK)
Analysis: We wrote last week in this space that the Kings should begin transitioning the majority of the starts in net from Jonathan Quick over to Cal Petersen, and Petersen's play in Tuesday's losing effort (40 saves on 42 shots) should be another sign to head coach Todd McLellan that he's ready to take over for the 35-year-old Quick, who allowed 4 goals on 10 shots before being pulled just 21:35 into Friday's blowout loss to the Golden Knights.
Player of the week: Cal Petersen – 0-1-0 record, 40 saves on 42 shots (.952 SV%, 2.03 GAA)
This week: Sun at VGK, Tue vs SJ, Thu vs SJ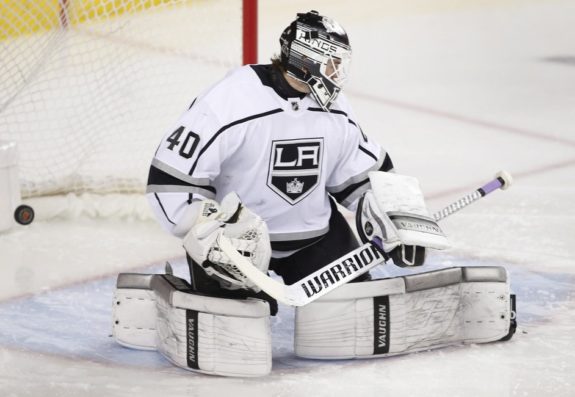 Minnesota Wild (6-5-0, 12 pts, 4th place)
Last week: 1-2-0 (5-1 L vs COL, 4-3 OTW vs COL, 2-1 L at COL)
Analysis: Contrary to the Colorado Avalanche, who had a productive week to offset later COVID-19 concerns, it was nothing short of a disaster for the Wild last week. They earned just two points in three games against Colorado and also saw five players be added to the NHL's COVID-19 protocol. They won't play again until Thursday at the absolute earliest, but this could be a good time for a break, as they've lost four of their last six.
Player of the week: Jordan Greenway – Goal, 2 assists
This week: Thu vs STL
San Jose Sharks (4-5-0, 8 pts, 7th place)
Last week: 1-0-0 (5-4 SOW at ANA)
Analysis: The Sharks returned to action after a week off on Friday, and picked up a 5-4 shootout victory over the Ducks in Anaheim. Despite the win, goaltending continued to be a problem, as Martin Jones allowed three goals in an eight-minute span in the second period, necessitating a third-period comeback from his teammates to force overtime.
Player of the week: Evander Kane – Goal, assist, +1, 5 SOG
This week: Sat at ANA, Tue at LA, Thu at LA
St. Louis Blues (7-3-1, 15 pts, T-1st place)
Last week: 3-1-0 (6-1 W at ANA, 4-1 W at ANA, 4-3 W vs AZ, 4-3 L vs AZ)
Analysis: The Blues' 8-0 loss to the Avalanche in the second game of the season looks like ancient history at this point, as they've managed to rack up a 6-2-1 record since then. Taking that loss out of the equation gives St. Louis a top-10 defense in terms of goals against per game, and, when combined with their ninth-ranked offense, this has all the makings of a team that will once again go deep into the postseason.
Player of the week: Brayden Schenn – 2 goals, 3 assists, +6, 15 SOG
This week: Sat vs AZ, Mon vs AZ, Thu at MIN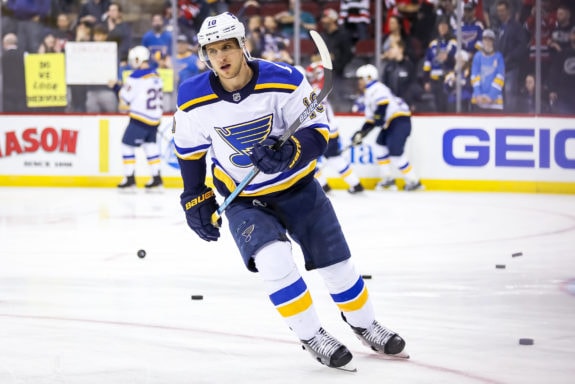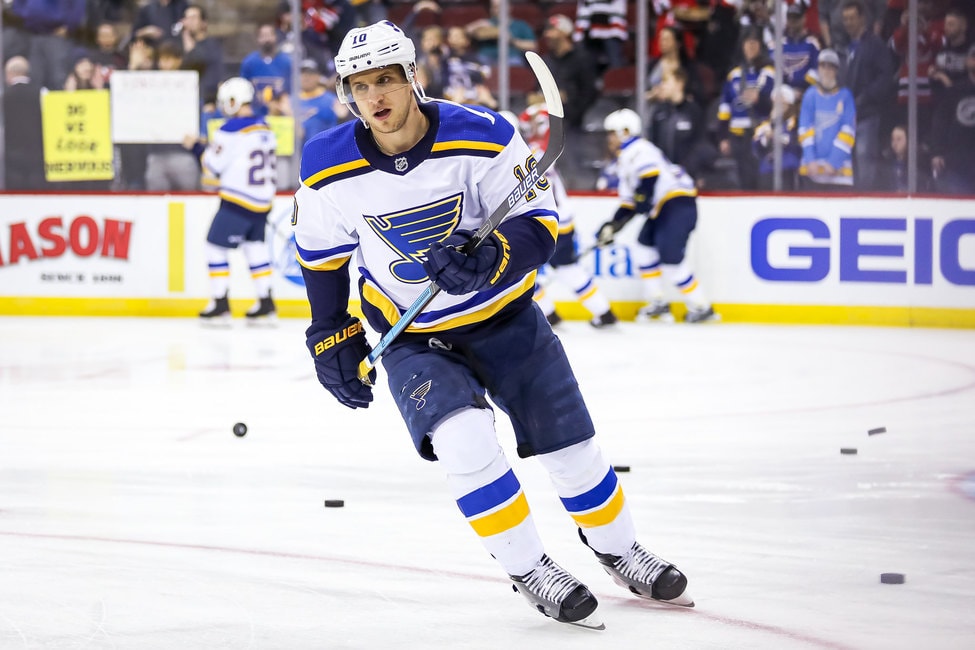 Vegas Golden Knights (6-1-1, 13 pts, 3rd place)
Last week: 1-0-0 (5-2 W vs LA)
Analysis: You may have read above that the Golden Knights sit in third place as of this writing, but we must note that they're just two points behind the West Division-leading Blues and Avs, and have three games in hand on both of them. This is due to COVID-19 postponements, which resulted in Vegas not playing a game from Jan. 26 to Feb. 4. They returned to the ice on Friday against the Kings, and it was very apparent early on that no rust needed to be knocked off, as they scored five goals in the first 27 minutes en route to an easy 5-2 win.
Player of the week: William Karlsson – Goal, 2 assists, +2, 4 SOG
This week: Sun vs LA, Tue vs ANA, Thu vs ANA
---
---
A lifelong Phoenix resident, Louis has been following hockey since 2010, has covered the Arizona Coyotes since 2015, and has been playing hockey since 2020. So far, Louis has visited eight NHL cities, and one of his personal goals is to eventually make it to all 31 NHL arenas. For any questions or concerns, contact the writer via Twitter @LouisPannone.