In keeping with the theme of their 2020-21 season so far, the Arizona Coyotes had an up-and-down week as they hosted four games at Gila River Arena. They got four great performances from goaltender Darcy Kuemper, who allowed just six goals, but they only got two good performances from their offense, who failed to show up in the middle portion of the homestand. Let's take a look back at the week that was in Arizona:
Coyotes Bounce Back Against Golden Knights
After suffering two brutal losses to the Vegas Golden Knights at T-Mobile Arena on Jan. 18 and 20, the Coyotes headed home to Gila River Arena and hosted Vegas for the back half of a four-game slate starting on last Friday night. The 'Yotes looked rejuvenated as they returned home from Sin City, getting on the board just 3:22 in as Christian Dvorak scored on the power play for his first of the year, burying a rebound from a Conor Garland try into a wide-open Vegas net.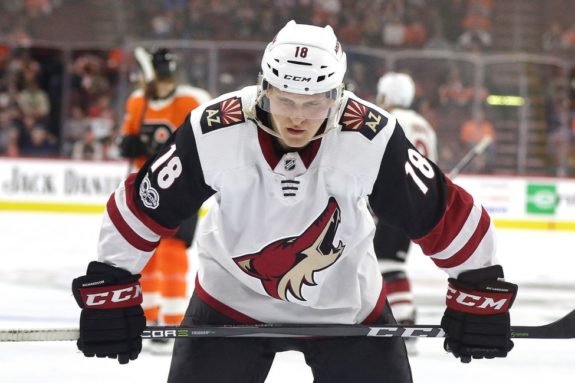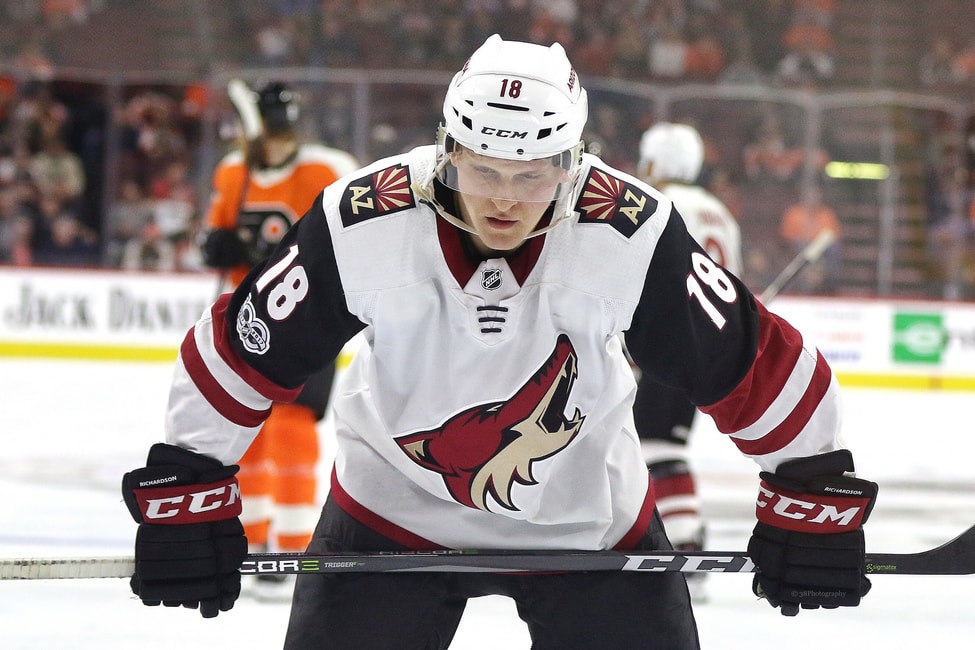 Shea Theodore tied the game 1:19 into the second period, but Arizona quickly regained their composure and took a 3-1 lead into the third period thanks to goals from Derick Brassard, who absolutely blasted a slapshot past Robin Lehner from the ladies tees for his first goal as a Coyote, and Nick Schmaltz, who waited out a down-and-out Lehner and roofed one past him for his third of the season.
The Coyotes blew a two-goal lead in Las Vegas in the Jan. 18 meeting between these teams, but there would be no Golden Knights comeback on this night in Glendale, as Garland provided an insurance goal 1:25 into the third period and Jordan Oesterle added an empty-netter as Arizona earned a 5-2 victory to get back to 2-2-1 on the year.
The Offense Disappears
The fourth consecutive meeting between Arizona and Vegas on Sunday afternoon was a far cry from the first three, which saw 20 total goals scored. Offense was at a premium on this day in Glendale, as both goaltenders were dominant. The Golden Knights' Marc-Andre Fleury wasn't tested a whole lot, though, facing just 16 shots in the game as Arizona's offense dried up.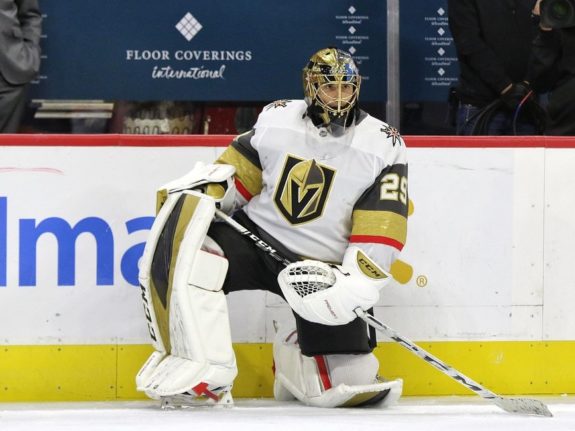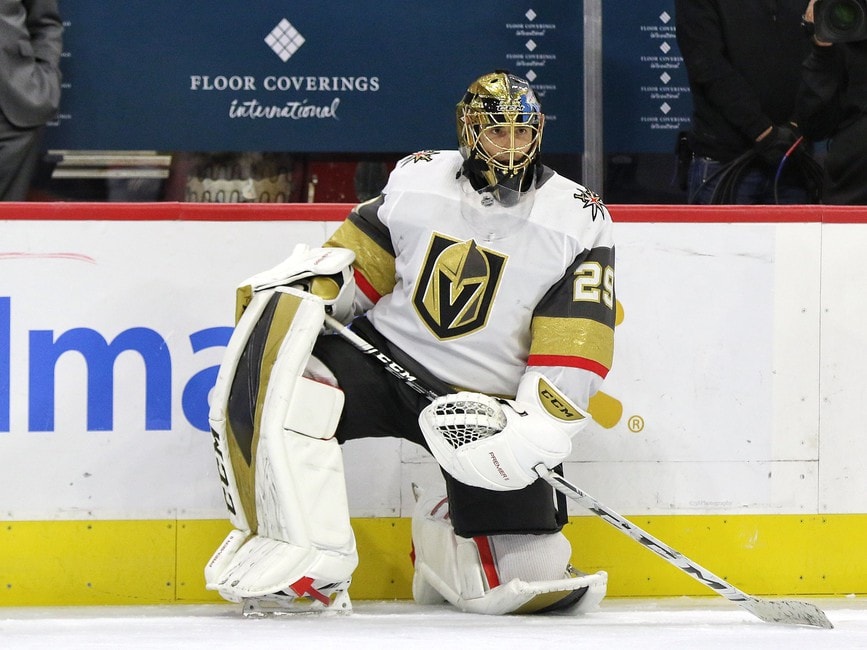 This one was scoreless in the final minutes and, with no pucks ending up in either net since warmups, it looked to be heading to overtime until a defensive miscue by Arizona cost them at least one standings point. Vegas' Alex Tuch dumped a puck in from the red line with about 45 seconds remaining, and a misplay by Arizona's Jakob Chychrun allowed Vegas' Jonathan Marchessault to collect the puck behind the net. He quickly fed a pass out front, where William Karlsson buried a one-timer past Kuemper after Alex Goligoski and Clayton Keller both failed to cover the man driving to the net.
Coyotes head coach Rick Tocchet protested to the referees that an icing call should have been made, but there was no call on the ice, and, since icing isn't reviewable, the goal stood. The Coyotes desperately attempted to tie the game after Karlsson's back-breaking goal, but they were unable to beat Fleury, who posted his 62nd career shutout in the Golden Knights' 1-0 victory.
Two nights later, it was more of the same in Glendale, but this time, instead of the Stanley Cup-contending Golden Knights shutting out the Coyotes, it was the Anaheim Ducks, who were one of seven teams left out of the Edmonton playoff bubble over the summer.
In contrast to the late game-winner allowed by the Coyotes on Sunday, the Ducks scored relatively early on Tuesday at Gila River Arena, with Danton Heinen opening the scoring at 10:59 of the first period after an offensive-zone turnover by Arizona's Drake Caggiula.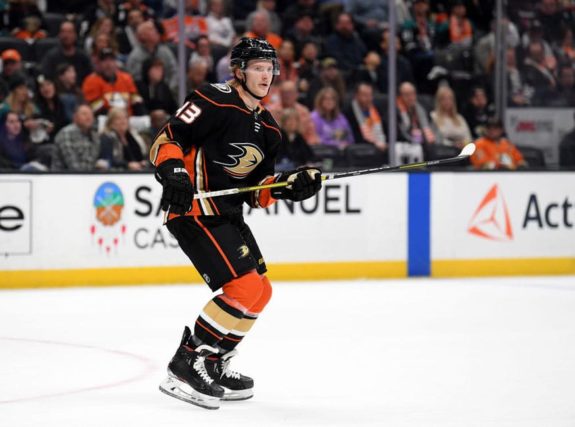 Arizona had plenty of time to rebound from this setback, but Ducks goaltender John Gibson wasn't having any of it. The Coyotes threw 31 shots his way, but he turned them all aside to send the Coyotes to their second consecutive shutout loss, and extend their goal-less drought to 120:59.
A Rebound vs Anaheim
After Gibson's phenomenal performance on Tuesday evening, the same two teams (and goaltenders) were back in action on Thursday in Glendale. It was another inauspicious start for Arizona in this one, as the Ducks again struck for an early goal after a Coyotes offensive-zone turnover. Jordan Gross threw a puck from behind the net out front to Schmaltz, who was well-defended on the play by Anaheim's Jakob Silfverberg. Schmaltz turned the puck over, and Silfverberg came up firing – he blasted a one-timer past a surprised Kuemper, and the Coyotes found themselves trailing 1-0 for the third consecutive game.
The remainder of the first period came and went, and the Coyotes again were unable to get on the board. By the start of the second period, it had been over 158 minutes since Arizona's last goal, and many were beginning to wonder if they'd ever score again. These fears were thankfully assuaged when Dvorak broke through with a greasy one at the 7:43 mark of Period 2, when his centering pass from behind the net hit the skate of Anaheim defender Kevin Shattenkirk and deflected past Gibson, for Arizona's first non-empty net goal in 166:18.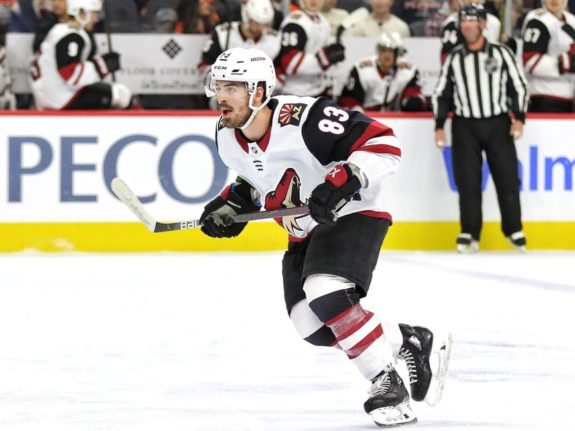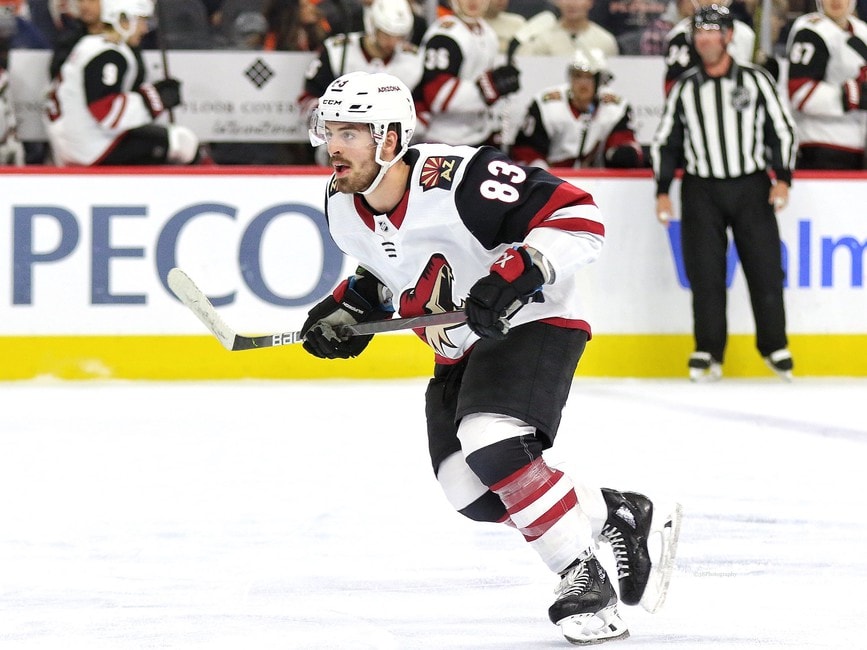 The Coyotes even managed to score another goal for good measure less than a minute into the third period, when Garland beat Cam Fowler one-on-one then managed to direct the puck towards the front of the net, where Keller was positioned. Anaheim's Jani Hakanpaa was defending Keller on the play, and, while he managed to disrupt Garland's pass, he deflected it top cheddar past Gibson in the process, giving the Coyotes a 2-1 lead off of two Ducks own-goals.
To the dismay of the 2,252 fans in attendance in Glendale, Anaheim answered with a power-play goal just over eight minutes later to tie the game. Tyler Pitlick sat for interference, and just 25 seconds into the penalty kill, Heinen scored his second in as many games off of a rebound from Fowler's point shot. Not to be outdone, the Coyotes answered with a power-play goal of their own with under five minutes remaining. They made it harder than it needed to be, though, as they failed to score on a 5-on-3 opportunity then allowed a breakaway to Shattenkirk as the power play transitioned to a 5-on-4 chance. Kuemper came up with a huge save to keep his team alive, and his offense rewarded him – Dvorak scored his second of the night as he was the beneficiary of a great display of tic-tac-toe passing from Schmaltz and Phil Kessel, who got the assists on the play. It's definitely worth another look:
The Ducks eventually pulled Gibson and pushed hard for the equalizer, but the Coyotes did not surrender another shot on goal over the final 4:26 en route to their third victory of the season.
What's Next?
With a four-game homestand in the rearview mirror, the Coyotes will have the weekend off before hitting the road for a six-game trip starting on Tuesday night in St. Louis. The Blues won the Stanley Cup in 2019 and are an outstanding team, but the Coyotes have been able to have success against their new division rivals in recent years. St. Louis won 12 straight in this series from 2014 to 2017, but the Coyotes have managed to go 6-2-0 against the Blues since then and will look to continue that trend in their only two contests of the week.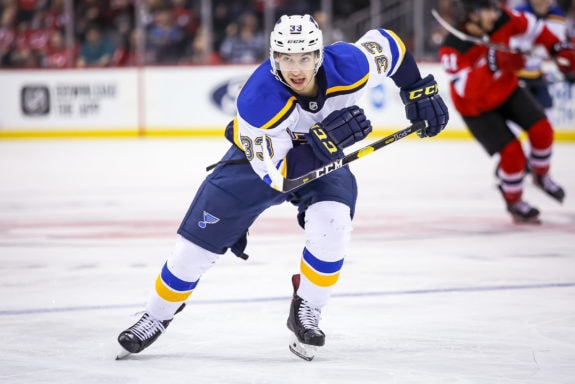 The puck will drop at the Enterprise Center for both the Tuesday and Thursday night contests at 7:00 P.M. local time in St. Louis (6:00 P.M. in Arizona).
West Division Roundup
After two weeks of play in the West Division, we have some surprising developments to report, along with some not-so-surprising results. The Avalanche, Blues, and Golden Knights are all in playoff position, and the California teams make up three of the bottom four spots in the division. However, one team could be threatening to put an early end to any potential playoff intrigue – here's your weekly look at Arizona's division rivals:
Anaheim Ducks (3-3-2, 8 pts, T-5th place)
Last week: 2-1-1 (3-2 OTL vs COL, 3-1 W vs COL, 1-0 W at AZ, 3-2 L at AZ)
Analysis: The Ducks still haven't scored more than three goals in a game this year, and have only reached that mark once, but they're hanging around in the West Division on the strength of John Gibson's goaltending. Backup Ryan Miller has only started once this season – can Gibson continue to excel even with this workload?
Player of the week: John Gibson – 2-1-1 record, 123 saves on 130 shots (.946 SV%, 1.76 GAA), 1 shutout
This week: Sat vs STL, Sun vs STL, Tue at LA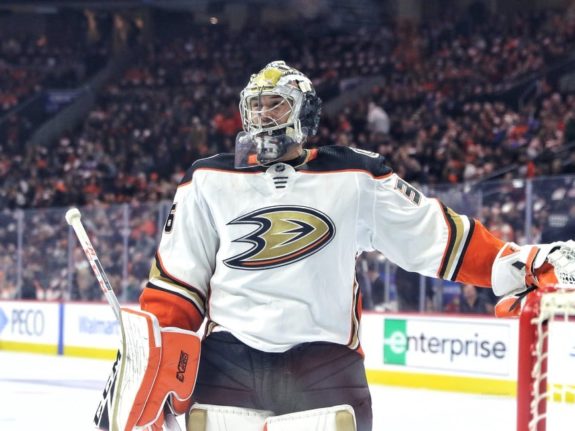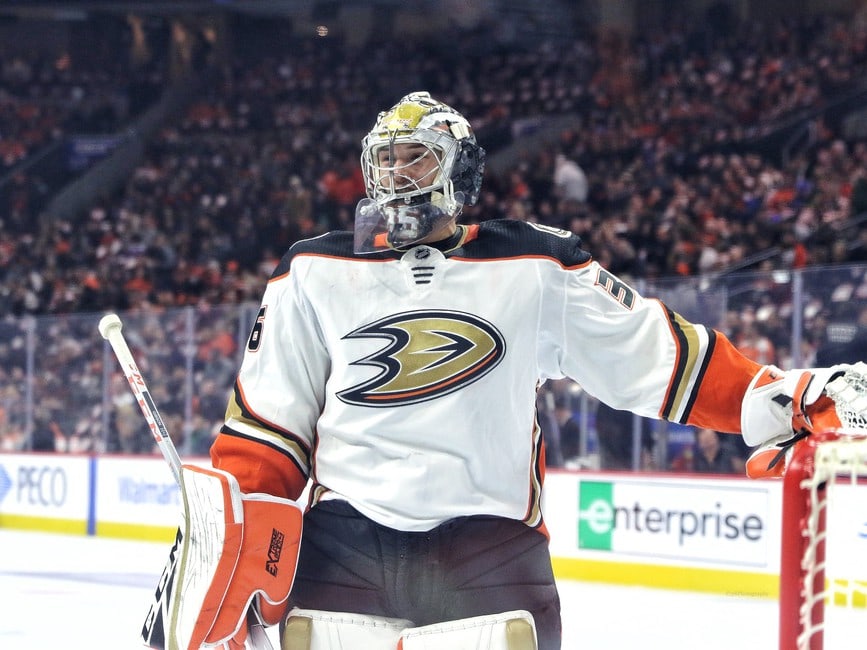 Colorado Avalanche (5-3-0, 10 pts, T-2nd place)
Last week: 3-1-0 (3-2 OTW at ANA, 3-1 L at ANA, 7-3 W vs SJ, 3-0 W vs SJ)
Analysis: The Avalanche are 5-2-0 in games started by Philipp Grubauer this season, but 0-1-0 when he doesn't go. Regular backup Pavel Francouz isn't expected to return "in the near future," meaning it'll be up to former Coyote Hunter Miska and his 76 minutes of NHL experience to hold down the fort when Grubauer needs a night off.
Player of the week: Cale Makar – 5 assists, +4, 10 SOG
This week: Sat at MIN, Sun at MIN, Tue vs MIN, Thu vs MIN
Los Angeles Kings (3-3-2, 8 pts, T-5th place)
Last week: 2-2-0 (4-2 L at STL, 6-3 W at STL, 2-1 W at MIN, 5-3 L at MIN)
Analysis: The Kings rebounded nicely from a difficult start last week, with wins in three of their five games after a 0-1-2 start, which included blown 3-1 third-period leads in both overtime losses. Los Angeles is in a transition phase as their veteran core ages out and is replaced by a top-notch group of prospects, but don't count the "old guys" out yet – Anze Kopitar leads the NHL in assists with 11, while Dustin Brown, Jeff Carter, and Drew Doughty all have six points in eight games. If Los Angeles ever moves Jonathan Quick – who has a .895 SV% in 93 games across the last three seasons – to the backup role and lets Cal Petersen get the majority of the starts, this team could make a run at a playoff spot sooner than expected.
Player of the week: Anze Kopitar – Goal, 5 assists
This week: Tue vs ANA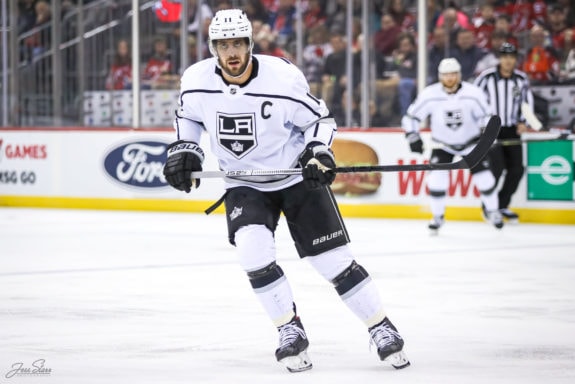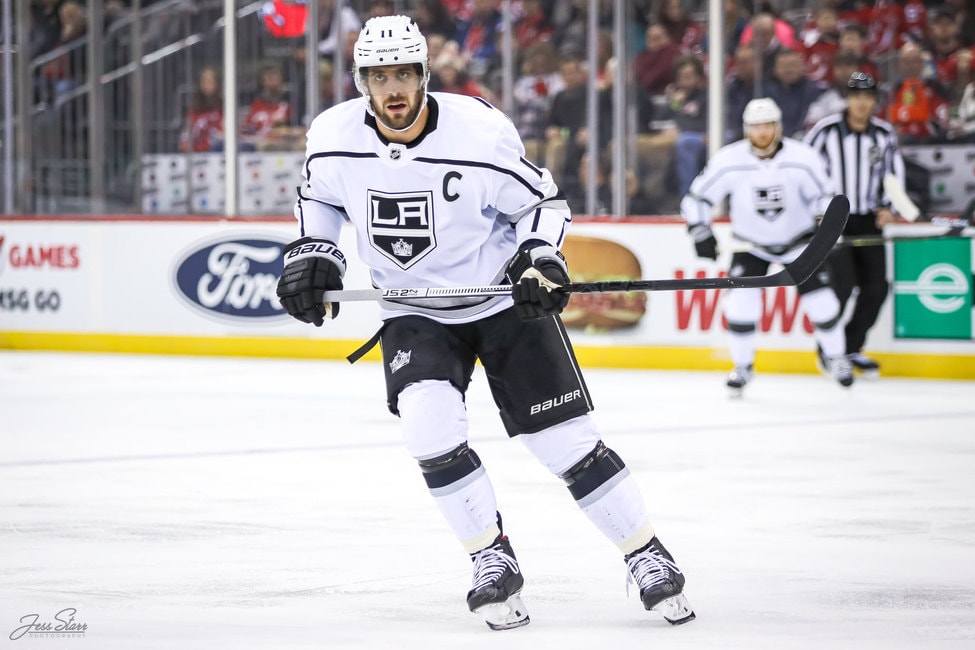 Minnesota Wild (5-3-0, 10 pts, T-2nd place)
Last week: 2-2-0 (4-1 W vs SJ, 5-3 L vs SJ, 2-1 L vs LA, 5-3 W vs LA)
Analysis: Could the Wild be the West Division's surprise team in 2020-21? We assumed going into the season that the Avalanche, Blues, and Golden Knights would take the top three playoff spots in the West, which would leave the remaining five clubs to battle for just one playoff spot. Judging from how Minnesota is playing so far, they could leave their competition in the dust. The Wild have both a top-15 offense and a top-10 defense at the moment. Only five clubs managed that feat last season – the Avs, Blues, Bruins, Flyers, and Lightning. That's good company for Minnesota to keep if they're able to sustain this level of play.
Player of the week: Joel Eriksson Ek – 3 goals, assist, +4, 10 SOG
This week: Sat vs COL, Sun vs COL, Tue at COL, Thu at COL
San Jose Sharks (3-5-0, 6 pts, last place)
Last week: 1-3-0 (4-1 L at MIN, 5-3 W at MIN, 7-3 L at COL, 3-0 L at COL)
Analysis: We've been doing this column for more than five years now, and it seems as if we've discussed San Jose's goaltending situation in most editions of this piece. That will continue this week, as the Sharks, though eight games, have allowed 31 goals. They've managed to hold the opposition to fewer than three goals only once and have allowed four or more goals in half of their games. It's hard to win games that way in the National Hockey League.
Player of the week: Ryan Donato – 2 goals, 2 assists, 11 SOG
This week: None – Mon vs VGK and Wed vs VGK postponed due to COVID-19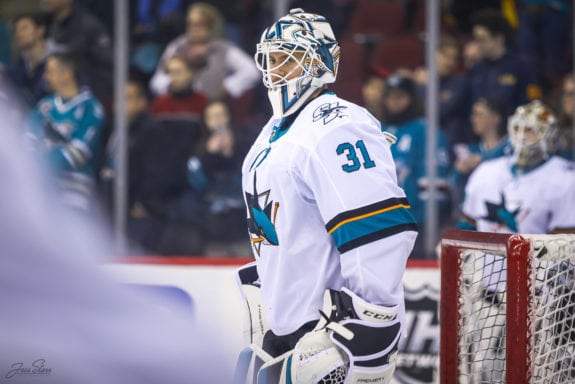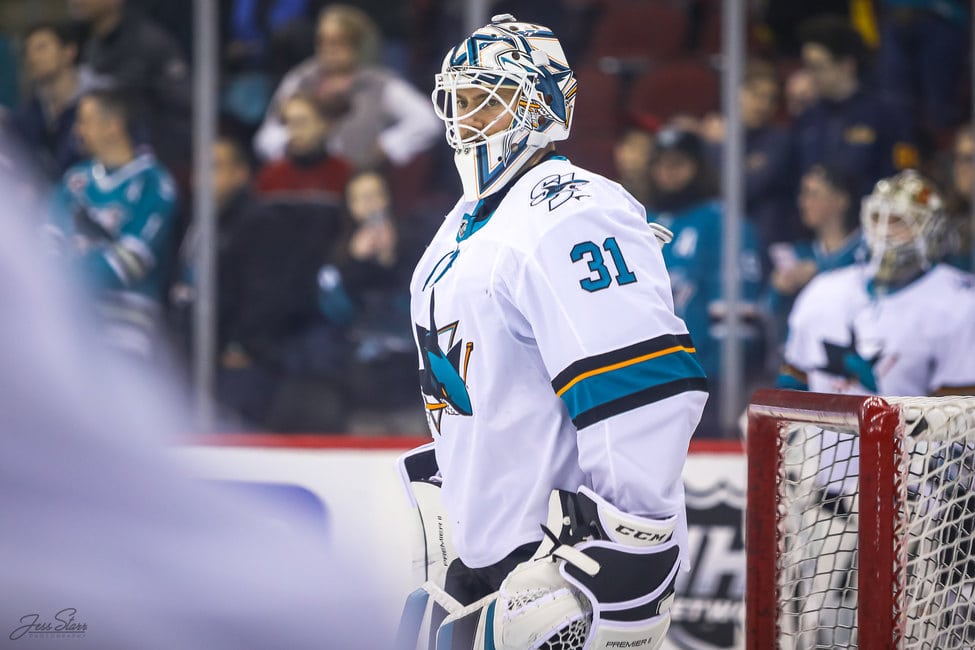 St. Louis Blues (4-2-1, 9 pts, 4th place)
Last week: 2-1-0 (4-2 W vs LA, 6-3 L vs LA, 5-4 SOW at VGK)
Analysis: The Blues have been the definition of inconsistency this season – they've alternated wins and losses through their first seven games, but are 4-1-1 when Jordan Binnington starts. With such a condensed schedule of games this season, the Blues likely will need backup Ville Husso to play more often in order for the team to keep Binnington fresh as the team looks to make a run at a second Stanley Cup in three seasons. Will Husso be able to show he belongs at the NHL level, or will general manager Doug Armstrong be forced to make a move?
Player of the week: David Perron – 3 goals, 2 assists, 13 SOG
This week: Sat at ANA, Sun at ANA, Tue vs AZ, Thu vs AZ
Vegas Golden Knights (5-1-1, 11 pts, 1st place)
Last week: 1-1-1 (5-2 L at AZ, 1-0 W at AZ, 5-4 SOL vs STL)
Analysis: Do the Golden Knights have a goaltending controversy brewing? They've alternated between Marc-Andre Fleury and Robin Lehner for the entire season, but Fleury has been much better, with a .951 SV% and a 1.00 GAA, while Lehner has posted a pedestrian .885 SV% and a 2.95 GAA. In such a tightly contested West Division, head coach Peter DeBoer might have to abandon his tandem plan and ride the hot hand in this short 56-game season.
Player of the week: Mark Stone – 4 assists
This week: None – Mon at SJ and Wed at SJ postponed due to COVID-19
---
A lifelong Phoenix resident, Louis has been following hockey since 2010, has covered the Arizona Coyotes since 2015, and has been playing hockey since 2020. So far, Louis has visited eight NHL cities, and one of his personal goals is to eventually make it to all 31 NHL arenas. For any questions or concerns, contact the writer via Twitter @LouisPannone.