The NHL draft is a high-pressure situation in which years of scouting and predicting come together. Unlike other sports, most players do not see their first NHL games right after being drafted. The entire organization takes high risks on these young players, and not all of them turn out as well as they had hoped. Let's take a look at how the Dallas Stars drafted in 2005 and who they might have missed out on.
Early Rounds
1st Round (28th Overall) – Matt Niskanen, Defense (Virginia H.S.)
Niskanen played four seasons in Dallas beginning in the 2007-08 season and played in nearly every game during that time. He had an excellent rookie season leading the team in plus/minus for most of the season and being invited to play in the Young Stars portion of NHL All-Star weekend. After the 2009-10 season, he was part of the blockbuster trade with the Pittsburgh Penguins sending Niskanen and James Neal to Pittsburgh in exchange for defenseman Alex Goligoski. He went on to play for the Washington Capitals and Philadelphia Flyers after that having a very successful career. He announced his retirement in 2020 after 949 career games and a Stanley Cup with Washington in 2018.
2nd Round (33rd Overall) – James Neal, Left Wing (Plymouth Whalers, OHL)
Neal scored his first goal in his first NHL game for Dallas in 2008 vs. the Columbus Blue Jackets. He would top that by scoring a hat trick in his first game back in his hometown of Toronto. Along with Niskanen, Neal was selected for the Young Stars game at the NHL All-Star weekend after setting a record for most goals by a Stars rookie with 24.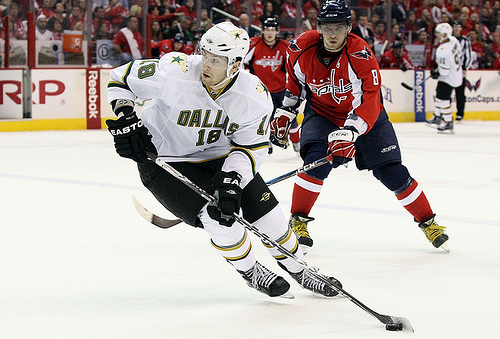 After a decent second season with the Stars, he looked to be a big part of the Stars' future. However, just before the trade deadline in 2011, Neal and Niskanen were both traded to Pittsburgh. Neal continued his career playing for the Nashville Predators, Vegas Golden Knights, Calgary Flames, and Edmonton Oilers, where he is currently.
Middle Rounds
3rd Round (71st Overall) – Richard Clune, Left Wing (Sarnia Sting, OHL)
Clune would never play a game for the Stars spending most of his time in the ECHL and AHL. He would be traded to the Los Angeles Kings organization in 2008 before finally making his NHL debut in the 2009-10 season. Other than a brief two-season stint where he played 47 and 58 games for the Predators, he played most of his career in the AHL across a few organizations. He is currently playing for the Toronto Marlies (AHL).  
3rd Round (75th Overall) – Perttru Lindgren, Center (Ilves Jrs, Finland)
During a successful opening season with the Texas Stars in 2009-10, Lindgren played in one NHL game with Dallas that turned out to be the only one of his career.
Most of his career has been spent in the Swiss-A league with Davos HC where he is nearly a point-per-game player. He is currently playing this season with Biel HC in the Swiss-A league. 
Late Rounds
5th Round (146th Overall) – Tom Wandell, Center (Sodertalje Jrs, Sweden)
Wandell was a highly skilled forward that had the potential to be a dangerous playmaker in the NHL. He made his NHL debut in the 2008-09 season with Dallas and went on to play five straight seasons with the Stars. He did not turn out to be as productive as they had hoped with a career high of only 15 points in a season.
He moved on to the KHL in 2013-14 where he played four seasons before moving to the SweHL where he currently plays. 
5th Round (160th Overall) – Matt Watkins, Right Wing (Vernon Vipers, BCHL)
Watkins never played in the Stars organization as he was moved around before finally making his NHL debut in the 2011-12 season. Unfortunately, that would be his only NHL game as he played in the AHL for five seasons before moving on to Austria and the SM-liiga in Finland. He retired in 2016. 
7th Round (223rd Overall) – Pat McGann, Goalie (Illinois Midgets)
McGann played three seasons with Quinnipiac University, but only appeared in a few games each season. He did not go any further with his hockey career after the 2010-11 season with Quinnipiac. 
Missed Out
Jonathan Quick, Goalie (Avon Old Farms HS, Conn) (72nd Overall)
Being selected 72nd overall by the Kings, Quick would quickly outgrow his potential. After debuting in three games in the 2007-08 season, he became the rock in the net for the Kings the next season. He would continue that role for the next 13 seasons and counting. He was a huge part of the team's success, leading them to two Stanley Cups in 2012, when he won the Conn Smythe Trophy, and 2014.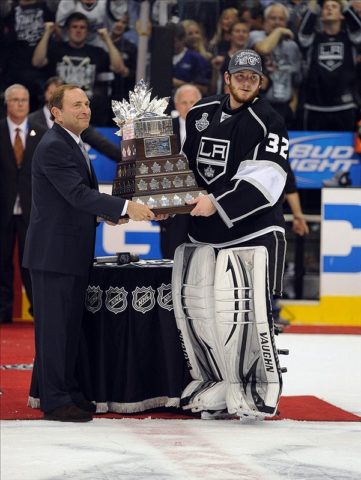 The Kings won both Cups on the back of their defense shutting down the opposition, and Quick was at the center of that. He seemed to be non-human as he racked up 68, 69, and 72-game seasons multiple times throughout his career. He is still playing at the age of 35, so he may only have a few seasons left of what should be a Hall of Fame career.  
Other Notable Players Remaining:
Marc-Edouard Vlasic (35th), Ondrej Pavelec (41st), Justin Abdelkader (42nd), Paul Stastny (43rd), Mason Raymond (51st), Kristopher Letang (62nd), Ben Bishop (85th), Keith Yandle (105th), Vladimir Sobotka (106th), Niklas Hjalmarsson (108th), Darren Helm (132nd), Ryan Reaves (156th), Anton Stralman (216th), Patric Hornqvist (230th)
---
---
Sam Nestler is a credentialed Dallas Stars contributor for the 'The Hockey Writers'. Growing up in New Jersey, Sam has been playing hockey since he was 7 years old. Developing a love for writing in college, Sam uses his hockey knowledge to create analyses and articles on every aspect of the game. Sam also hosts his own podcast on Spotify, the "Slapshot Sammy' podcast, breaking down action across the Stars, the NHL, and college hockey. Check out the podcast here, and give his latest article a read!