There's something wrong with the way the Pittsburgh Penguins treat certain young players. It seems if they step out of line, make a controversial remark or its perceived they have a bad attitude, they almost never get a legitimate chance with the NHL club.
And now look at Derrick Pouliot.
The 22-year old defender was the Penguins' first, first-round draft pick in the 2012 NHL entry draft at 8th overall. He came into the NHL as one of the most explosive and productive offensive defensemen in the draft.
In Pouliot's final year with the WHL's Portland Winterhawks he scored 17 goals and assisted on 53 more for a total of 70 points in 58 games, and did I mention he was a plus+40 skater that year?
Pouliot has enough talent to play at the NHL level and in the brief exposure he's been given, he's looked good and has been a productive defender. This season, Pouliot has played in 18 games with the Penguins and has six assists and is a plus+3 skater while netting a Corsi For percentage of 59.0 at even-strength.
Penguins Continue to Shun Derrick Pouliot
The Penguins have done this before and it doesn't look like they're going to change. When given the option to play a young player or a veteran, they choose the experience over the upside almost every time. And I'm really not surprised by this, many NHL scouts have described the Penguins management and ownership as "difficult to work with." If you look at the current roster, there's a lot of young players in the lineup, but they didn't get there by the choice of Penguins management.
Injuries forced Pittsburgh to call-up players like Conor Sheary, Scott Wilson and Bryan Rust and they've all played well. The young Penguins are playing at a high level that has forced management to keep them up even as some players, like Eric Fehr, have returned to the lineup again.
However, not every young player has been so lucky. Pouliot has remained in the Penguins dog house despite playing extremely well, here's his Corsi For percentage visualized.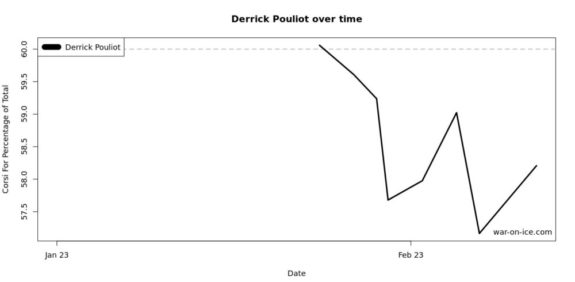 You might see a decline and think he wasn't playing well when he left the lineup, but look the scale and think again. Despite the decline, Pouliot left the lineup with a Corsi For percentage of roughly 58, and for some context Ian Cole has a 50.03, Ben Lovejoy has a 51.68 and Justin Schultz has a 51.81 for the entire season.
And if you're looking at point production, Pouliot has the second highest point production per-sixty of anyone on the team at even-strength.

At least from the outside, it looks like Pouliot has done everything the team has asked. He had a minor underage drinking violation while down with the Wilkes-Barre/Scranton Penguins and that seems to have warped his reputation in the organization. Does he have an attitude problem or is it something off the ice that keeps him off the ice? If there is a problem, it's being kept under wraps very tightly.
A common criticism of Pouliot is that he's poor defensively. But if you look at his body of work this season, he's been more than solid. Is he a perfect defender? Absolutely not, but the reason why his flaws and mistakes are exacerbated is because defenders like himself or the Flyers' Shayne Gostisbehere have the puck a lot. They're more prone to making mistakes because they carry the puck more often than other players do.
I fear that Pittsburgh hasn't learned from their past, Despres was wasted in Pittsburgh, Muzzin was never even given a chance and Pouliot is on the same path. He's excelled on the ice, but it clearly hasn't been enough for the Penguins. Hopefully he gets another chance shortly because he's a much better player than he's given credit for and he could really make a difference on the high-flying Penguins.
Michael Pityk is an analyst who has written for numerous sites since beginning his professional career. He's acted as a credentialed member of the media for the Philadelphia Phillies, Philadelphia Flyers, Pittsburgh Pirates and the Pittsburgh Penguins. His work has been featured in Sports Illustrated, The Sports Journal, MSN, PensLabyrinth, Montreal Hockey Talk, ESPN Pittsburgh, The Hockey Writers, Todays SlapShot and The Bleacher Report. He formerly was the editor of Pens Labyrinth and an analyst for The Sports Journal. Michael presently acts as an NHL Analyst for The Hockey Writers