The New Jersey Devils returned to play earlier last week after 16 days off due to a COVID outbreak. They came away with two impressive wins against the New York Rangers and Boston Bruins. But things took a downward turn this weekend with two regulation losses to the Buffalo Sabres and Washington Capitals.
There's plenty to take away from the last week of games, including their 3-2 win against the Bruins. Let's catch up on the last few days of Devils hockey and gear up for another week that'll feature four games in six nights.
Devils' Penalty Kill Has Been a Trainwreck
We'll get the worst of the Devils' last few games out of the way first. There's no way around it; their penalty kill has been an absolute disaster early this season. And it cost them dearly in their 4-3 loss to the Capitals yesterday, where they gave up three power play goals.
For the season, the Devils have given up 17 goals on 42 penalty kills, a success rate of only 59.5% percent. As you may have guessed, that ranks last in the NHL.
There are a lot of problems the Devils need to address on the penalty kill. For starters, they're giving up the fourth-most shot attempts per 60 minutes in the league. They're also allowing 9.16 expected goals per 60 minutes, ranked dead last in the league by a comfortable margin. Even with a goalie like Mackenzie Blackwood, there will be problems when giving up that many shots and quality chances.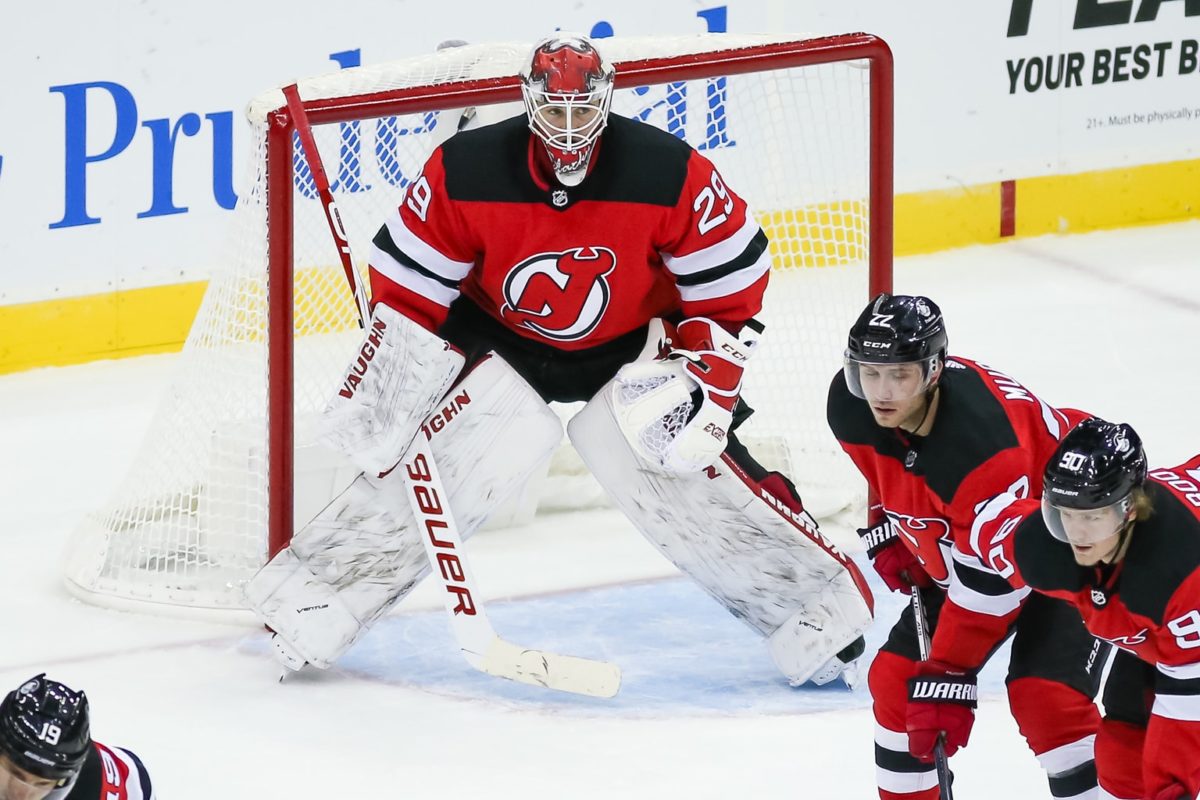 Part of the problem for the Devils is they're way too passive on the penalty kill. They're not winning one-on-one battles, and opposing players are getting way too much time and space to create chances. There have been a few goals against where opponents redirect shots past Blackwood or Aaron Dell without much resistance.
Assistant coach Alain Nasreddine is in charge of the penalty kill and has his work cut out for him getting it fixed. With a tight schedule and limited practice time available, it'll be quite the challenge getting it turned around in short order.
Palmieri Finding His Scoring Touch
Now to a more positive development. After a slow start to the season that saw Kyle Palmieri collect just three assists in his first eight games, he's gotten into a groove, and in a big way. With a two-assist performance yesterday against the Capitals, he has three goals and three assists across his last four games.
Related: Devils' Penalty Killing & Faceoffs May Be Historically Bad
Over those last four games, Palmieri has 11 shots on goal at five-on-five, as well as 18 shot attempts and four high-danger chances. A big reason for the uptick has been because he's found himself on a line with Jack Hughes and Andreas Johnsson since the Bruins game.
Since then, Palmieri has five points, while Johnsson and Hughes each have three. Their underlying numbers as a line at five-on-five aren't great, but it's a sample size of fewer than 30 minutes. It'd be a surprise if head coach Lindy Ruff broke them up, at least for the time being. And since it's gotten Palmieri going, it's worth keeping them together.
Smith, Severson the Devils' Best Defensive Pair
Damon Severson and Ty Smith had a couple of impressive showings before the COVID pause. But they've taken their game to another level since the team's return to play. As a pair, they had a Corsi-for percentage (CF%) of 61.9% and an expected goals percentage (xGF%) of 62.3% in four games last week.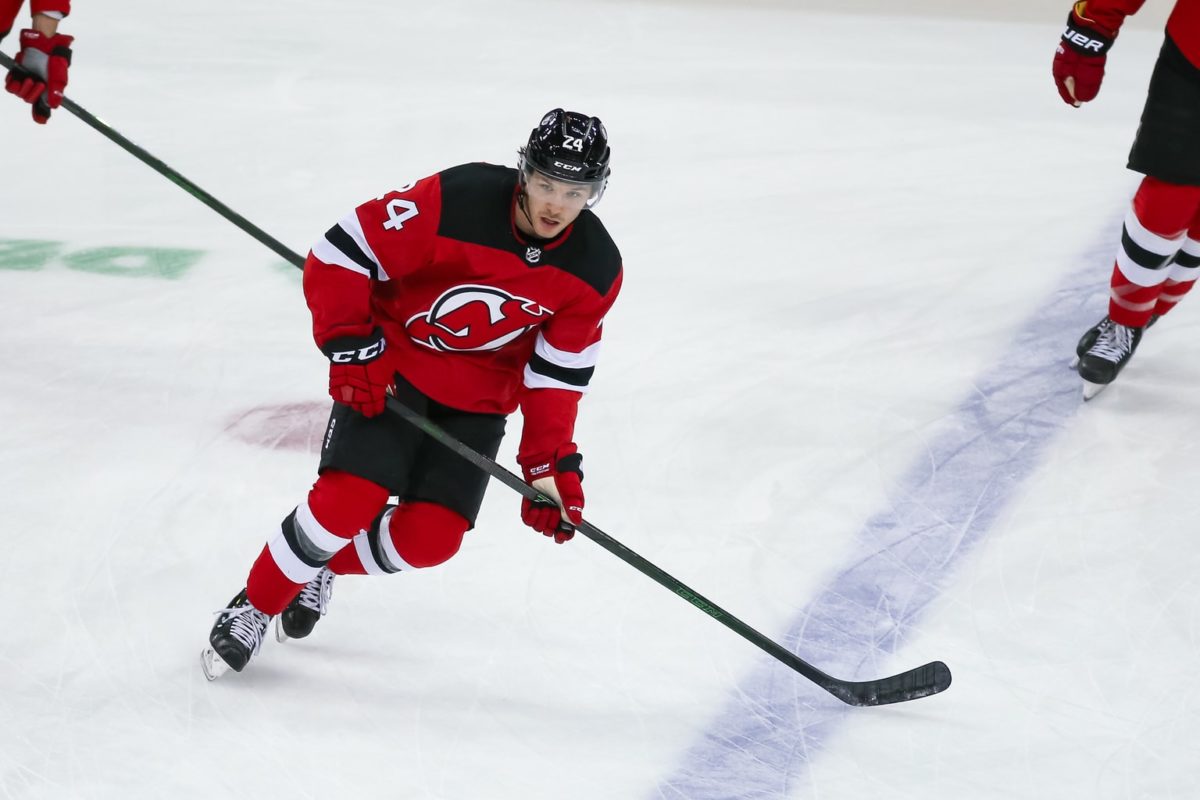 Smith's performance has been eye-opening to start the season. He's improved with every game and is now becoming more reliable in the defensive zone. He makes smart decisions with the puck and is incredibly effective in transition. Ruff seems to be noticing the improvement, as Smith has logged 20-plus minutes in each of his last four games. He may only be 13 games into his career, but he's showing why he's one of the game's top prospects.
Related: Devils' Ty Smith's Impressive Journey From Spokane Chiefs to NHL
As for Severson, it's pretty clear he's the Devils' best defenseman at the moment. He's had the most significant positive impact of any of their blueliners, both offensively and defensively. He led the team in CF% and xGF% this past week, and does so for the season among their defensemen. If he and Smith start getting tougher defensive assignments and post those kinds of numbers, then they'll likely be the team's first pair sooner than later.
Gusev Pots Much-Needed Goal
After a strong finish to the 2019-20 campaign, Nikita Gusev has had a tough go of it to start this season. He entered yesterday's 4-3 loss to the Capitals with just one assist in nine games. But in the final seconds of the contest, he scored his first goal of the season to make it a 4-3 affair.
It might not seem like a big deal. The Devils still lost the game, after all. But Gusev needed some kind of confidence boost, and perhaps that goal will get him headed in the right direction. He was one of the lone bright spots for them yesterday, and not just because of the goal. He finished with the third-best CF% and xGF% and had one of his better outings of the season, if not the best. Had he not hit the post earlier in the third, he would've likely finished with a multi-goal game too.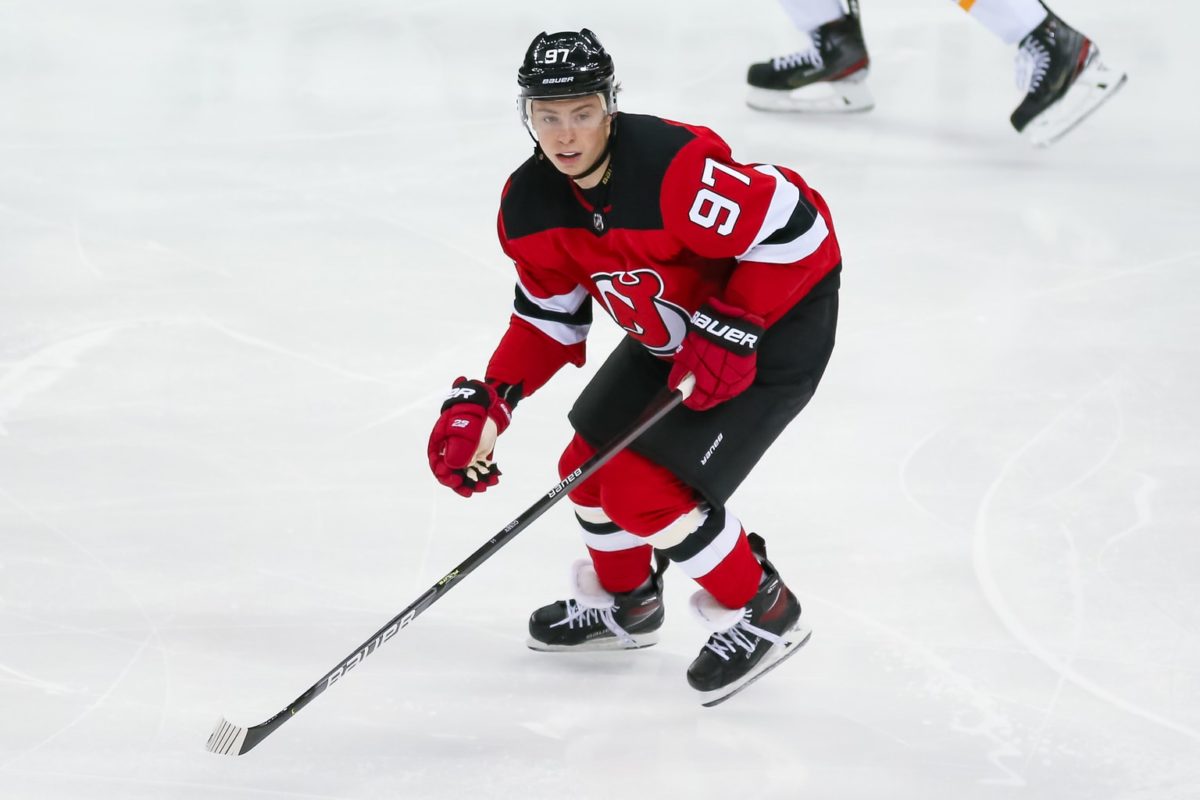 Gusev found himself alongside Mikhail Maltsev and Travis Zajac and looked good for the most part. Maltsev and Zajac are both responsible defensive forwards, which helps someone who has defensive shortcomings like Gusev.
With that said, Maltsev and Zajac don't have the offensive ability to help get the most out of Gusev. It might work for a couple of more games, but at some point, he needs to get some time on a line with Nico Hischier and Jesper Bratt.
Hischier just played in his first two games of the season after suffering a broken fibula training during the offseason. He'll need time to get up to speed and get into a flow, but he's the exact type of center Gusev needs to thrive. Hischier can score but also holds his own defensively and can carry a line. The same is true of Bratt, who's one of the Devils' best two-way wingers capable of driving a line.
Gusev isn't a play driver, so he'll need linemates that can do the heavy lifting. It makes sense to keep him on a line with Maltsev and Zajac until Hischier is closer to his usual self. But it'd be a mistake not giving him a look with some more skilled players like Bratt and Hischier at some point.
Zajac Reaches Major Milestone
It's not often you see a player reach 1,000 games played with one team. But that's what Zajac, the long-time Devil, accomplished yesterday.
Zajac was a Devils' draft pick, 20th overall, at the 2004 NHL Draft. He's been a regular in their lineup since the 2006-07 season and has been through it all. He began his career by playing in 408 consecutive regular-season games before suffering a torn Achilles during the 2011 offseason. When he returned late in the 2011-12 season, he played an instrumental part in helping them reach the 2012 Stanley Cup.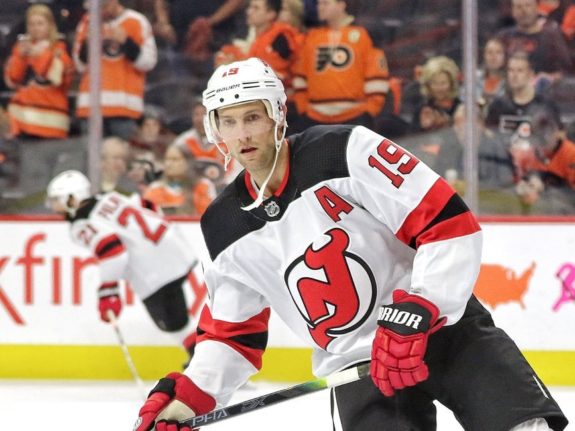 Things became pretty bleak for the Devils after that Cup run, but Zajac was still a constant. He remains the lone holdover from that team and still plays an integral defensive role today. He even helped reshaped the franchise's future by scoring the overtime winner against the Florida Panthers in the regular-season finale of the 2018-19 season that handed them the first overall pick at the 2019 Draft through some draft lottery luck. That pick would end up being Jack Hughes, who has 11 points in 13 games this season.
Zajac is in the final year of his contract, but it wouldn't be a surprise if he's wearing red and black in 2021-22. He's still a valuable defensive forward and is the type of veteran they'll want to have around as they transition to a new and younger generation of Devils. And at this point, he deserves to keep adding to his accolades with the team.
Looking Ahead
The Devils came out of their COVID pause with a 2-2 record and looked better than other teams in similar situations, like the Sabres and Minnesota Wild. Despite their two losses, there were things to build on, like Palmieri hitting his stride and Gusev showing signs of life.
They'll need to take those positives into another busy week that features a home-and-home with the Sabres, followed by a back-to-back against the Capitals at the Prudential Center this coming weekend. So make sure to stay tuned to The Hockey Writers for the latest coverage as the schedule ramps up.
* * *
Advanced stats from Natural Stat Trick
---
---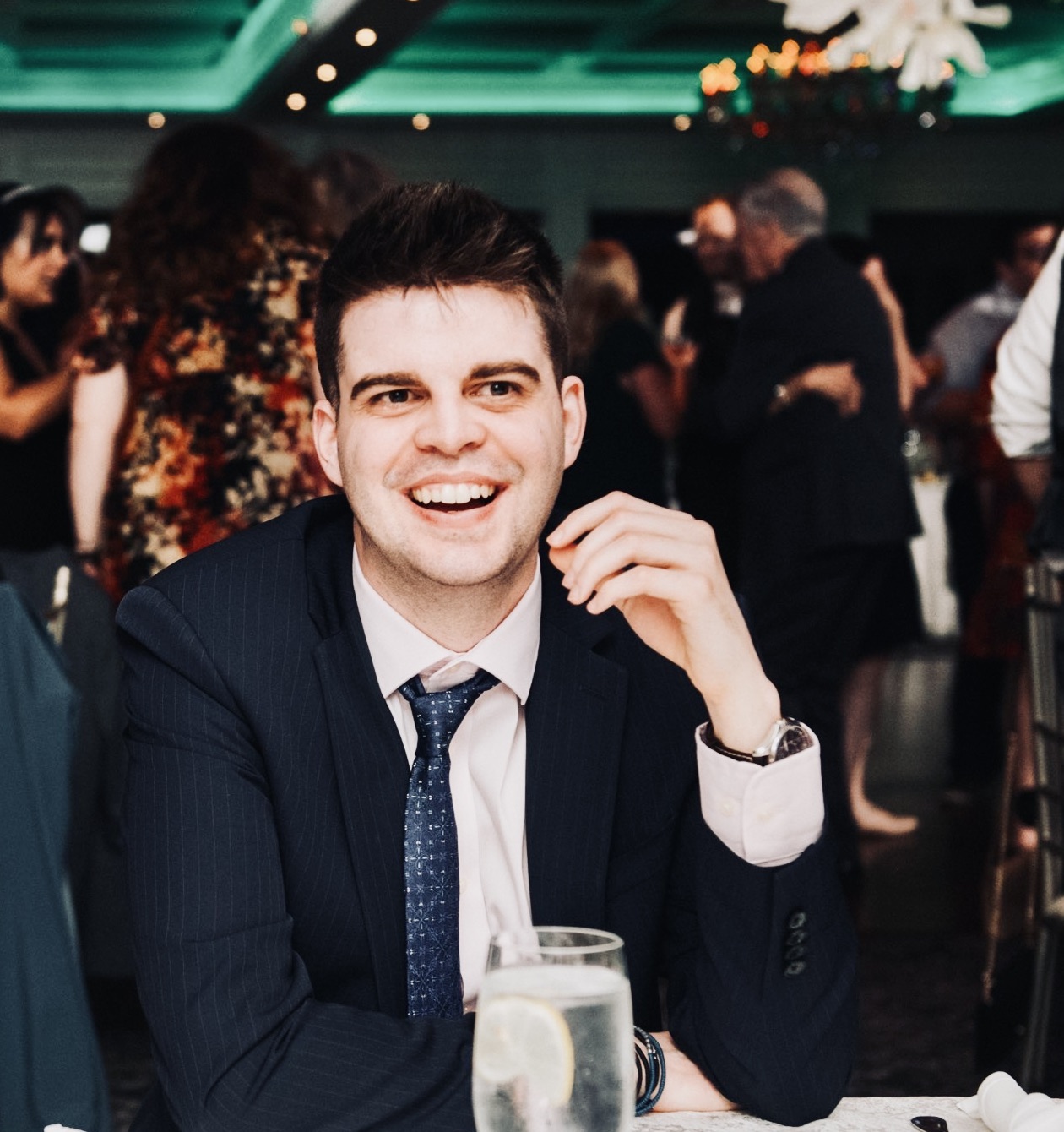 Alex Chauvancy is a New Jersey Devils writer for The Hockey Writers who has a penchant for advanced stats, prospects, signings and trades. He previously wrote for Devils Army Blog, a New Jersey Devils fan blog, from 2015-2017