* originally published in Jan. 2018
Scott Stevens can be considered one of the last of a breed of NHLer that wreaked havoc on other players. During a time when checks were seemingly more vicious than in today's game, Stevens threw his share of hits that rattled opposing players; some were injured, some were just angry, but there was never a doubt that Stevens played a hard, physical game. But, was that hard, physical game considered "dirty" when it came to his hit on Eric Lindros?

For 22 seasons Stevens played that type of game and helped the New Jersey Devils win three Stanley Cups. Some said he was dirty but others respected Stevens and knew instinctively not to cross the center line with their heads down. That was an invitation to get checked hard, as Lindros found out. It was a hit that changed his career, ended his time with the Philadelphia Flyers and ironically did some good for the sport.
Currently working with the NHL Network, Stevens brought attention to the issue of concussions in the NHL. In fact, he had to retire after he was diagnosed with Post-Concussion Syndrome.
Scott Stevens, the Beginning
Stevens was a defenseman drafted by the Washington Capitals fifth overall in the 1982 NHL Entry Draft. Having grown up in Kitchener, Ontario, Stevens was on the hockey road from an early age. In 1982, he won the Memorial Cup playing for the Kitchener Rangers. A respect for Canadian heritage, the juniors and a passion for the game moved Stevens along to his next natural step, the NHL.
Legends of Hockey has this written about the early stage of Stevens' NHL career:
Debuting that fall with the Capitals, the big, sturdy rearguard earned a regular spot with Washington, and so impressed that pundits that he was selected to the NHL's All-Rookie Team. Through eight seasons, including a selection to the First All-Star Team in 1987-88, Stevens helped turn around the floundering franchise. His fierce confidence on the blue line made him a favourite with both his teammates and the fans.
"Fierce confidence" is one way to describe a player who instilled fear into the hearts of opposing players. But, one hit, in particular, eventually defined Stevens much to his dismay.
The Lindros Hit
Tom Gulitti, staff writer at NHL.com wrote a piece in their top 100 players series about Stevens. There is no question that the defenseman was one of the NHL's all-time most effective and prolific hitters. But, it was this hit on Eric Lindros in Game 7 of the 2000 Eastern Conference Final that set Stevens apart as a player not to be ignored on the ice:
Of the hit Gilitti wrote:
"Although Scott Stevens always took pride in the physical part of his game, the Hockey Hall of Famer has never been comfortable with his devastating hit on Philadelphia Flyers center Eric Lindros in Game 7 of the 2000 Eastern Conference Final being one of defining moments of his 22-season NHL career. Lindros was knocked out of the game and sat out the entire 2000-01 season after sustaining a concussion on the hit, which was legal."
Some might have found it difficult to believe that Stevens was capable of remorse but it goes to show that he was not a "goon" or a dirty player. Lindros, on the other hand, seemed resigned about it. In a National Post story on January 16, 2018, by Michael Traikos, Lindros said:
I'm not a referee. But it happened. So, whether he got a five-minute major or not, I'm out and probably not available for the final. So what does that matter to me, whether he got penalized or not? It occurred.
The ESPN announcers said that the hit was legal but the question will linger as long as a puck slides across the frozen pond. Was it a dirty hit? Was Stevens a dirty player? I was with some friends recently who both said, "No" but added that the distinction was close.
Stevens Hits Led Concussion Awareness
Traikos notes that the larger issue, as time has revealed, is that Lindros was playing after his sixth diagnosed concussion and his fourth in five months. Under today's standards, he likely would not have been allowed on the ice for that Game 7. Traikos, however, asserts that the Stevens hit was dirty: "Heck, it was dirty by any standards. Except the lunging shoulder that Stevens delivered to Lindros' jaw wasn't ruled that way at the time."
Tim Panaccio wrote in May 2016, that at the time the hit was not deemed dirty or illegal:
"Just 7 minutes and 50 seconds into Game 7 of the Eastern Conference Final, Stevens, the most intimidating defenseman in New Jersey Devils history, caught Lindros in transition coming across center ice in the Flyer offensive zone … with his head down. In real time, measured against today's standards, Stevens' hit on Lindros is nothing compared to what seems to occur nightly in the NHL at breakneck speed. The difference is, back then, the Stevens' hit was deemed legal. Today, it would draw a five-minute major, game misconduct and possible suspension because the principal point of contact from Stevens' shoulder was the chin and forehead of Lindros."
So, times have changed and what was considered normal tough play a decade or so ago would now be penalized.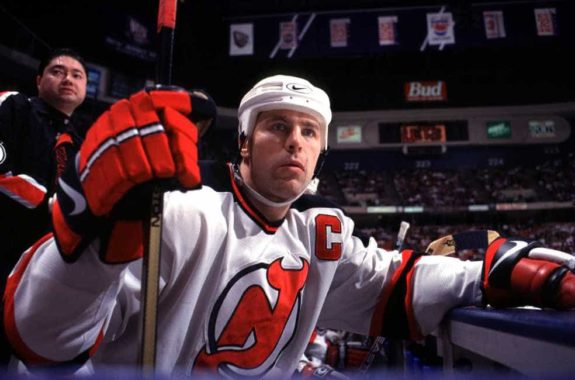 Whether or not you hurl profanities at the screen anytime you see the replay the hit on Lindros, or you look at it and acknowledge that hockey is a tough sport, the hit stands out as a defining moment in Stevens' career. But, in an odd way, it was all for good because it forced the NHL to look more closely at concussions.
Panaccio pointed out, "Medically speaking, this remains the biggest impact Lindros had on hockey — he brought much-needed focus to concussions." If Lindros had such an impact, it can be argued that it was the Stevens hit that served as a launching pad for the spotlight to shine on Lindros and his concussion history, and subsequently to further that focus onto the league as a whole.
Was Stevens a Dirty Player?
In May 2009, Matt Cullen wrote a tribute piece about Stevens. In it, he wrote about former Carolina Hurricanes goaltender, Arturs Irbe's thoughts on Stevens:
Arturs Irbe suggested during the 2001 Playoffs that his hits were dirty and that he was deliberately trying to kill players or knock them out for the playoffs.
That is quite the accusation. Of course, he had seen Hurricanes teammates Shane Willis and Ron Francis both get pummeled by Stevens during the Eastern Conference Quarterfinals.
Cullen noted Stevens' reply to those who criticized his play:
"What kind of respect do I get? Just because I'm a physical player, it's O.K. to come at me and do what you want? Hey, it's a hockey game. It's not figure skating. You know what? I can take a hit and I can give a hit. I don't care who it is. No one gets a free ride out there. I don't get a free ride, and no one gets a free ride from me."
Furthermore, Cullen agrees with Stevens' viewpoint:
He played hard and was very physical, but played the right way and certainly was not a dirty player. Only four elbowing minors in his entire career supports this.
Again, it comes down to perspective at some level, but the play of Stevens was not dirty or intended to kill or injure other players. He played tough hockey when hockey was a much tougher sport that it is today. And, because of his tough play, the NHL is trying to take better care of its players today.
You may also like:
Stevens and Lindros are both in the Hall of Fame, deservedly. They share a thread in time that is not remembered fondly. Lindros was hurt with another concussion and his career was inextricably altered. Stevens played a few more years but also had to hang up his skates due to concussions. Lindros seems resolved to gloss the hit with an, "It is what it is" response. Stevens says don't come across the line with your head down.
Tom Canavan wrote in December 2000, that Stevens was not thrilled about having made the hit on Lindros:
From the moment the topic turned to hitting and Eric Lindros' name was mentioned, it was obvious Scott Stevens was uncomfortable. His eyes seemed to glisten and it took a couple of seconds for the New Jersey Devils captain to decide on Sunday whether he wanted to discuss the crushing hit on Lindros.
Canavan also noted: "It's very hard, it's tough," Stevens said Sunday in recalling the play and knowing how bad he felt. "It's something I don't like to think about and I try to put it behind me and go on."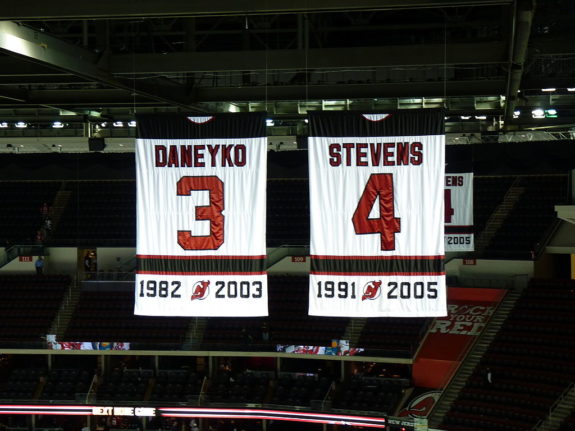 For me, this is sums up how I view the hit. Stevens wasn't gloating but actually felt something for Lindros. Sure, Stevens justified that hit and others by saying players should not come at him with their heads down. But, I don't think he had a thirst for hurting his opponents or possibly ending their careers. He played a tough game with a tough style and other players knew that. If they chose to come at him with their heads down, then they did so – likely knowingly – at their own risk.
In my opinion, no, Stevens was not a dirty player nor was the hit on Lindros a dirty hit. As Hurricanes television play-by-play voice John Forslund says, "That's hockey baby!"
Well, that used to be hockey.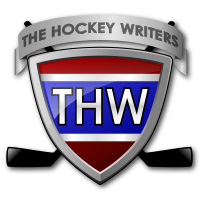 The archives of THW contain over 40,000 posts on all things hockey. We aim to share with you some of the gems we've published over the years.