NHL Draft season is finally upon us. The Anaheim Ducks have known their draft pick spots since June 26, but they had to wait until October to finally make their selections. The Ducks had picks No. 6 and 27 in the first round and were able to grab both a right-handed defenseman and a scoring forward on Day 1.
Drysdale Brings "D" to Ducks
To start off their 2020 Draft, the Ducks selected Jamie Drysdale from the Erie Otters with the sixth overall pick. There were rumors that winger Lucas Raymond of the Frolunda Indians was on the table but the Detroit Red Wings snapped him up with the fourth overall pick. In Drysdale, the Ducks are adding an extremely valuable asset to their barren cupboard of right-handed defensemen.
Related: Our Free NHL Draft Guide
With the Otters, Drysdale has recorded 87 points in 112 games over the course of two seasons, eating huge minutes and playing a large role on the power play. He was also part of the gold medal-winning Team Canada at the 2020 World Juniors this past winter, contributing three points in seven games. Drysdale was one of only two 2002-born players on Team Canada's roster.
Drysdale can be looked at as the "safe" pick in regards to the other players that were still on the board like Cole Perfetti and Marco Rossi who may be considered more dynamic, and while the Ducks are in dire need of more scoring forwards, they're just as needy for a top-four right-handed defenseman as well.
In an interview with The Hockey Writers, Drysdale said that three things he prioritized this summer were getting bigger and stronger, working on his shot and focusing on his nutrition. Drysdale also said that the player he wants to be is a reliable, two-way defenseman who can produce.
Over the past two years in Erie, I've been working a lot with B.J. (Adams) on my defense. We will continue to do that. That's the one thing I needed to work on and have worked on that is continuing to improve. I want to work on everything. I don't think there's one specific thing that I'd want to change. There's a lot of things I want to develop and get better with so I can become that complete player that I want to become so I can be successful at the next level.

Jamie Drysdale, Erie Otters
Perreault Fits Scoring Need
With their second pick of the first round at 27th overall, the Ducks selected winger Jacob Perreault from the Sarnia Sting in the OHL. Perreault's father, Yanic, played 859 regular-season games and 54 playoff games in the NHL. The younger Perreault is still a long way from the NHL, but he's already beginning to master one of the arts of hockey – scoring. The winger has scored 69 goals in 120 games for Sarnia and has been described as one of the best pure scorers in the draft. The Ducks have lacked scoring as of late and adding another forward to the pipeline that can consistently score is never a bad idea.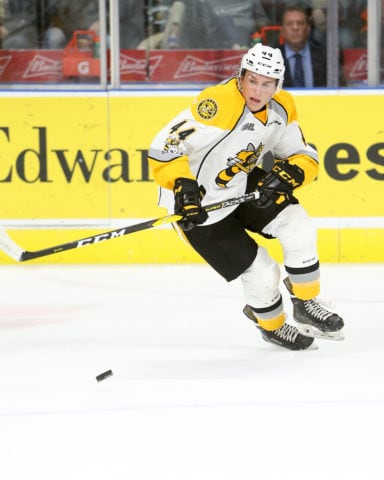 There's no mystery to Perreault's most impressive attribute — he owns one of the best shots in the draft and is easily one of the most lethal bad-angle scorers. Perreault can snipe it from anywhere; mostly via the wrister, but he has silky-smooth hands and a soft touch to help him roof pucks from in close.

Steve Kournianos, The Draft Analyst
The aspect of Perreault's game that he needs to work the most on right now is at the other end, on defense. For as he is good at putting the puck in the net, he'll never be confused with Mark Stone when it comes to defense. Ducks general manager Bob Murray brought in a player with a similar skillset to Perreault in Daniel Sprong just a couple of seasons ago. It didn't quite work out as envisioned because Sprong never improved on the defensive side and his scoring touch dried up. Continuing to work on his defensive zone coverage will do a lot toward Perreault rounding out his overall game.
Day 1 Success
The Ducks needed to add a right-handed defenseman capable of playing on a top pair. They did just that. They also needed to address their dearth of goal-scoring forwards. They did that as well. Day 1 of the 2020 NHL Draft went as well as it could have for Murray and assistant general manager Martin Madden. While it will take a couple of years before Drysdale and Perreault are donning the Ducks sweater in an NHL game, the pair fill two holes that Anaheim has been looking to fill for quite some time.
---
---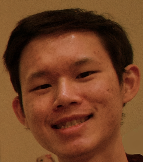 Derek has been a hockey fan for over 10 years and a sports fan in general for more than two decades.
Prior to graduating from UCCS in Colorado Springs, CO in May 2020 with a bachelor's degree in Sports Communication, he spent two and a half years as part of UCCS' on-campus student newspaper staff–both as a sports reporter and editor. He is now creating Ducks-related content from his home in Southern California.
In his free time he enjoys playing FIFA, watching video essays on YouTube and curating his Spotify playlists.