Mattias Janmark played 297 games with the Dallas Stars over the last four seasons. He came out on fire and exploded for 15 and 19 goals in his first two seasons. Then, due to the teams' transition to a more defensive mind, his role was shifted. He remained a huge contributor to the team but in a very different way. He became a dependable two-way forward that killed penalties. He could score once in a while, but his confidence in his offensive game was consistently decreasing with each season. He was a highly skilled and speedy player, but struggled to score even with plenty of chances.
After a couple of seasons in that role, his contract came to an end following the 2020 Stanley Cup Final loss. Janmark was eager for a more offensive role and Dallas had found plenty of young forwards to fill his spot. He signed with the Chicago Blackhawks on a one-year contract. On Super Bowl Sunday, he returned to Dallas for the first of two straight games against his former team. He wanted to make a difference in those games, and he did.
Right in the Middle of It
The Blackhawks jumped on Dallas early on Sunday and Janmark was immediately right in the middle of it. He was seen jawing with Jamie Benn and Jamie Oleksiak early in the first period. Oleksiak knocked him down on a step-up hit at center ice that led to even more talking between former teammates. Janmark found himself in another tough spot as he went into the offensive corner on the forecheck and was crunched hard into the boards by Esa Lindell. He was playing the same type of game that Stars fans were used to seeing as he weeble-wobbled his way all over the ice, always giving 100 percent.
The American Airlines Center showed a tribute video for Janmark in the first period thanking him for his time in Dallas, which was met with stick taps from all players and applause from the four thousand fans in attendance. He meant a lot to the Stars organization and was a huge part of their success.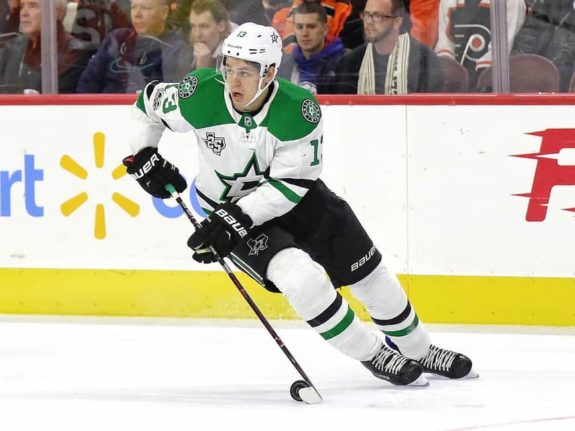 One of Janmarks' closest friends in Dallas is John Klingberg. He spoke about matching up against him for the first time before Sundays' game. "Me and Klingberg were pretty good friends, so that'll be fun," Janmark said. "Try to get a forecheck going on him, maybe get a hit in there."
He certainly did that as he had multiple hits in the game, including a couple on his old friend on the forecheck. Janmark found himself in the penalty box midway through the third period with his team holding a 1-0 lead. Just as his penalty expired, the Stars were able to sneak a bouncing puck past Blackhawks goalie Malcolm Subban and tie the game. Janmark finished the game with a minus-1 rating because of it, but his team found a way to win the game 2-1 in overtime. 
Round 2
In this strange NHL season, most teams get at least two shots at each other back to back before moving on to the next opponent. The Blackhawks and Stars were set for their rematch on Tuesday night in Dallas. Klingberg threw some verbal shots at Janmark in his interviews before the game.
"The only thing I see with Janny is that he can't really shoot the puck, so that's probably something he wants to work on," Klingberg said with a smile. He would end up regretting that trash talk.
Janmark went about his normal style in Game 2, making himself noticeable with hits, hustle, and some talking after the whistles with many of his former teammates. Late in the second period, however, he would really make a statement.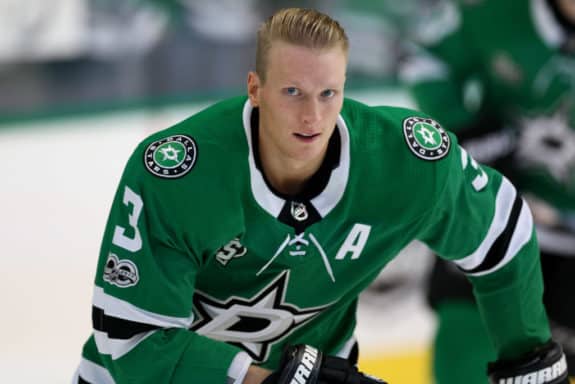 The Stars held a 1-0 lead which was nearly 2-0 until Jamie Benn's goal was reversed due to goalie interference. The Blackhawks were on the power play when a sneaky pass in front was deflected through the goalie's legs by Janmark. This was a huge goal for his team but an even bigger goal for Janmark, showing his former team that he could still score. This allowed his team to get to overtime where they were once again able to find the 2-1 victory and leave Dallas with a full four points. 
Nothing But Respect
Janmark has only spoken highly about his time in Dallas as most have in recent history. He knew it was his time to move on to a different opportunity and get himself back in a more offensive role and that Dallas could not afford to bring him back. He has taken full advantage of the new role with five goals, four assists in his first 14 games in Chicago. The Stars organization returned the compliments when speaking of him. Many players, coaches, and even media spoke about how he was one of the hardest-working players on the ice, and one of the most genuinely nice people off the ice. The separation was mutual and both sides have nothing but respect for each other going forward. 
---
---
Sam Nestler is a credentialed Dallas Stars contributor for the 'The Hockey Writers'. Growing up in New Jersey, Sam has been playing hockey since he was 7 years old. Developing a love for writing in college, Sam uses his hockey knowledge to create analyses and articles on every aspect of the game. Sam also hosts his own podcast on Spotify, the "Slapshot Sammy' podcast, breaking down action across the Stars, the NHL, and college hockey. Check out the podcast here, and give his latest article a read!