Since the 2008-09 NHL regular season, goaltending and concern rarely were used in the same sentence when discussing the Nashville Predators. The team's former eighth round selection, Pekka Rinne, has been a dominant force in net for most of his of his tenure as Nashville's starting goalie.
However, the goaltender's glory days appear to be coming to an end with recent declines in his performance. As a result, a position that the Predators felt the most secure about in years past appears to be the team's biggest concern moving forward.
Elite No Longer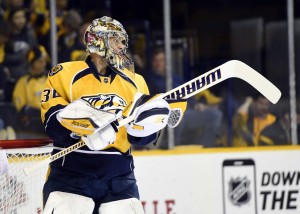 In Rinne's first four seasons as the Predators' starting goaltender, he never saw his save percentage reach .910 or lower. In addition, his goals against average only went higher than 2.50 once in that four-year span. However, three of the last four seasons, 2014-15 being the exception, have been a lot less impressive for the netminder. His save percentage has been at or lower than .910 in a time in the NHL where that simply is not going to cut it anymore.
Can Rinne bounce back another and have another "elite" showing in 2016-17? Of course, he can! However, all signs seem to be pointing in the other direction for the 33-year-old netminder. In the first period of the Predators' opening game against the Blackhawks, Rinne was displaying the jitters of a young, inexperienced goaltender which led to two goals. Yes, the second goal went in more because of a screen up front but the first goal could have simply been prevented if Rinne made the decision to cover up the puck instead of attempting to poke check it away. Throughout the game, Rinne struggled to reel in the puck which led to way too many rebound opportunities. Luckily these did not translate into more goals against.
Goalie mistakes are going to happen, it is simply part of the game. However, the Predators cannot afford for Rinne to be the goaltender making them. Their backup situation is suspect at best which means they need a stellar performance from their number-one guy night in and night out. This no longer a certainty in Nashville with Rinne in net.
Questions Regarding the Backup
After the departure of Carter Hutton this past offseason, the backup goalie situation in Nashville acquired a rather large question mark. For now, the job belongs to 25-year-old Marek Mazanec. Prior to this season, he played in 27 games and did not put up the kind of numbers that excite. In his one opportunity so far this season, he did nothing but make Predators fans cringe letting in five goals on 27 shots. This simply will not do.
You never want to look too much into one game but this performance has to be worrisome. If Rinne's career is truly on the decline, the Predators need a backup they can trust to put the team in a position to win games. This is simply an unknown regarding Mazanec and every other goalie in the Predators system. There is Juuse Saros who has one game of NHL experience and Jonas Gunnarsson who has none. In some cases, an unknown is okay because there is always the chance to be surprised. However, the Predators are not in a position where they can be uncertain about the abilities of their backup goalie and be fine with it. Not if they truly want to contend for the cup this year.
The Worry is Real
The Predators have a lot to be excited about this season. They truly have one of the best rosters in the league and anything but a deep postseason run would be a disappointment. With that being said, the team should have some substantial concern about their goalie situation.
Counting on Rinne to be the elite goaltender he once was, or even stay healthy for that matter, is just not going to cut it. This is not saying that there is no way that Rinne does not come back and have a phenomenal year. Nashville just cannot bank on it. They need to find a more reliable "Plan B" in net with a little more NHL experience. The current make-up of things will only result in absolute panic and bedlam should Rinne struggle or suffer a serious injury.
John Gove is an elementary school educator who writes about hockey in his spare team. Over the past five years, John has covered the game at various levels. Now, he exclusively focuses his coverage on prospects and the developmental leagues.