Nashville Predators goaltender Pekka Rinne has suffered a significant injury in each of the past three seasons. During the shortened 48-game season in 2012-13, Rinne unwisely played through a lingering hip injury, which required hip arthroscopy in the offseason. In 2013-14, he missed 51 games because of an E. Coli infection in his surgically repaired hip. And last season, he missed eight games and the NHL's All-Star Game with a sprained knee.
Despite missing three weeks of action, Rinne's 64 starts ranked tied-for-seventh in the league. It is possible Rinne could have tied or beat his single-season starts record of 72 set in 2011-12 if he remained healthy. With that workload, it is reasonable to believe Rinne was tired at the tail-end of the regular season and playoffs. General manager David Poile blames it on pain rather than fatigue, but nevertheless, his stats took a huge dip due to being over-worked.
Before the injury, Rinne had a 29-6-2 record with a 1.96 goals-against average and a .931 save percentage, and after the injury, he was 12-11-4 with a 2.18 GAA and a .923 save percentage. His numbers were even worse in the playoffs, posting a 2.68 GAA and a .909 save percentage in six games.
In a season where the Predators have a realistic chance at winning the Stanley Cup for the first time in franchise history, the last thing the team needs is another significant injury suffered to its three-time Vezina Trophy finalist. In an effort to prevent that from happening, Nashville should look to control Rinne's workload this season.
From Adam Vingan of The Tennessean:
"I think a lot of it goes to the scheduling and where we're at, how Pekka's feeling, how the team's playing," Predators coach Peter Laviolette said recently. "There's a lot that factors into it. I don't think we're going to go into it and say we want Pekka to play 62 games this year. He'll probably be in that ballpark."

"To me there's no number," [Rinne] said. "There's no right number. I think it's all about what's the situation, how you feel, how's your health, but the No. 1 thing is how you are playing. I still have to play well and earn my minutes."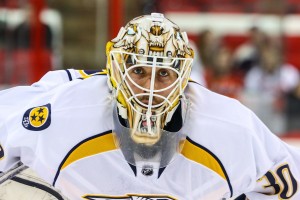 Other than health, the most significant factor in assessing Rinne's playing time this season is the efficiency of Carter Hutton as his backup. After Hutton impressively posted a 20-11-4 record with a 2.62 GAA and a .910 save percentage in his rookie season, he was disappointingly mediocre last year, going 6-7-4 with a 2.61 GAA and a .902 save percentage.
Hutton, 29, is in the final year of a two-year, $1.45 million contract with the Predators and will need to replicate his rookie stat line if he wants another NHL deal. If he does that, Nashville's net will be in safe hands, even if Rinne is observing from the bench.
A chunk of Hutton's starts will come when the Predators have back-to-back games. Nashville is slated for six back-to-backs this season.
A safe number of starts for Rinne to assure his freshness for the postseason would range anywhere between 60-65 games. Anything more than 65 is a risk which may not equal a high reward.
Colin Fitts is a Nashville Predators staff writer for The Hockey Writers. You can follow Colin on Twitter, @FittsTHW, and e-mail him at 22fitts@gmail.com.
Colin Fitts is a Nashville Predators staff writer and is a credentialed media member of the Chicago Wolves. From Nashville, Tennessee, Colin majors in journalism and public relations at Columbia College Chicago. Follow him on Twitter, @FittsTHW. Email: 22fitts [at] gmail [dot] com.