Dream big. That's what Hall of Fame defenseman Al MacInnis told a young Steven Lorentz. Actually – he wrote it right on Stevie's stick. For many, a dream is merely an aspiration. As described, a dream is simply an unrealistic or self-deluding fantasy, many of which end up unrealized in the end. For Lorentz, his dream was to one day be an NHL hockey player (which, let's be honest, we all dreamed of as kids). And now, his dream is on the verge of becoming a permanent reality.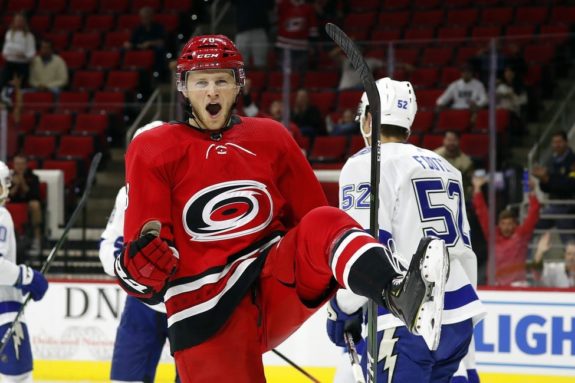 His journey from Waterloo, Ontario, to becoming a fan-favorite on the brink of a breakout opportunity with the NHL's Carolina Hurricanes has been a life-long process. As the saying goes, you can't build anything without a strong foundation, and for Lorentz, that foundation has always been his family. They've been there for him through every sacrifice, and have helped him overcome every obstacle along the way. We'll get into that, as well as his entire journey to get to where he is now. Let's get started.
Early Life
In a way, Lorentz and I actually have something in common. No – I'm not a talented professional hockey player – but I am also the only boy in my family, among a crowded group of sisters (four). For Steven, on the other hand, he's the lone boy among three sisters, and they've played a pivotal role in his overall development as both a player and as a person. 
According to his sister Jamie, who graciously took the time to speak with me for this article, Steven started skating at the age of two and was already playing hockey just a year later. His parents, Mark and Karon, realized that he could be something special when he started his first year of organized minor hockey at the age of five. There were four local teams in his age bracket that year, and normally, the kids would be randomly divided into the teams. But Lorentz was so far ahead of his peers competitively, that the four coaches held a "draft lottery" to determine which team would land him.
And when he wasn't on the ice, Lorentz was playing hockey at home, in the form of mini-sticks and practicing alongside his three sisters – Jamie, Stephanie and Jennifer. They acted as his teammates away from the rink.
"In terms of growing up, he just had [us], his three sisters," Jamie said. "So without any boys [in the family] to play with him, we had to step in. Lots of pucks to the ankles, more hours of playing mini sticks than I could dream of counting … all the fun stuff."
Along the way, maybe unknowingly, Jamie even got caught in the "developing-an-NHLer" lifestyle:
"I ate chicken and steak for breakfest [with Steven] and I didn't realize it was weird until I got older and my friends told me that it wasn't normal." she said.
For Steven, there have been no bigger supporters for him than his family, who've been there with him every step of the way. They were just as dedicated to fulfilling his potential as he was, and they all made sacrifices for him along the way.
"Growing up, we were always, ALWAYS on the road," said Jamie. "[we all] sacrificed our time, but my sisters and I had just as much fun as [him]. He always makes sure to express his gratitude for all of our contributions to his dream."
Road to Getting Drafted
It's safe to say that Lorentz has made a habit of persevering after being overlooked. At the age of 15, during a season where he scored 47 points in 56 games for the Waterloo Wolves U16 AAA team, he wasn't even sure if he was going to be drafted into the OHL:
"I wasn't a very big kid [back then], only 5-foot-9 at the time," said Lorentz. "Peterborough was the only team that called me that whole season and it was back in January so I figured they'd forgotten [about me]."
However, as history suggests: they didn't. The Peterborough Petes ended up selecting Lorentz in the 12th round, 226th overall in the 2012 OHL Entry Draft. In the end, only 25 of the 225 players selected before him played more OHL games than he did, and he reflected on his career progression after his OHL career in 2017:
"If you want to pursue anything, especially once you get into your later teen years and become a young adult you have to have a passion for what you're doing," Lorentz said. "I think a lot of kids end up not being super successful because everything comes easy for them early on, but when things get tough and you have to work for them they fall off the map. I had a passion for this the whole way through and I loved every moment. I think being a 12th round pick was the best thing that ever happened to me."

– Steven Lorentz, in 2017.
His passion didn't always lead to immediate results, however. In his first year of NHL draft eligibility in 2014, Lorentz wasn't selected. But he didn't let the disappointment of going undrafted slow him down. The following year in the OHL, he showed real progression. He doubled his point totals, he continued to emerge as a strong 200-foot player, and most importantly he got bigger. Despite all of that, for the second straight year, he wasn't ranked among the Top 210 North American skaters by NHL Central Scouting in their final draft rankings.
But all Lorentz needed was one team to believe in him. He finally received that belief when the Hurricanes selected him in the 7th and final round (186th overall) of the 2015 NHL Entry Draft. Recently, the Canes' assistant general manager, Darren Yorke, who was involved with making the pick, shed some light on their reasoning to select him: 
"I think at times, players that go through a draft [unselected] never really get the respect they deserve. Players obviously develop at different times, and with Steven the second time through his draft year, we saw a player who kept on getting better year in and year out," Yorke said. "The biggest driver in his game is his compete. The hockey sense, the skills, they were all getting better than his peers at a faster rate."

– Darren Yorke.
He also got bigger than everyone. Currently, Canes have Lorentz listed as 6-foot-4 and 206 pounds, and his size is evident when he's on the ice. It's about more than just being large though. At his size, he can really skate and he's got quite a high gear when he gets moving. He welcomes contact. He finishes his checks and engages physically. He's a smart, confident player in all three zones, and can chip in offensively thanks to a sharp release and accurate shot. He's an extremely determined kid, and always looking for ways to improve his game:
"I remember a lot of weird phases that he was instructed to do — and he always stuck with them," his sister Jamie explained. "At one point, he had to eat like 12 meals a day. Quinoa in EVERYTHING — peanut butter sandwiches, salads, smoothies, cereal, pasta…. I cringe at the thought of it on his behalf."
Quinoa? Sounds like a tough sell to a young kid growing up, wouldn't you say?
"He even used to bring apples to the movie theatre."

– Jamie Lorentz.
Knocking on the NHL's Door
Fast forward all the way to today. Lorentz is now 24 years old, and currently a member of the Canes' taxi squad. Just two weeks ago, he made his NHL debut, and just last week recorded his first NHL point. His success and growth at every level of hockey have now made it impossible for teams to overlook him any further. Now it's just about making an impression, and his personality has already started rubbing off on his coach, Rod Brind'Amour:
"You talk to the guy, and you come away with a smile on your face. He's just happy to be alive, happy to have this opportunity to play in the NHL," Brind'Amour said. "He wants to contribute. He doesn't just want to check off the list that he played a game in the NHL. He wants to do something special. You root for guys like that."

– Rod Brind'Amour
Though he's not on the current roster with the team getting healthy once again after COVID complications, there are arguments to be made that he should be. The Canes have gone 4-1-0 with him in their line-up thus far and, visually, he's certainly outplayed other players that are currently in the same role as him. Regardless, with a number of their bottom-six forwards set to be free agents this summer, the Canes as a whole have to be excited about Lorentz as both a current, and future piece. He's shown he has the talent to play at the NHL level and is already noticeably impacting games.
While he won't ever be a player that's going to wreak havoc on the scoresheet, Lorentz can bring serious winning intangibles to a group. He just routinely makes efficient, smart plays that earn him his coach's trust, and will surely earn him a solidified NHL spot in the near future. In his first five games for the team, he's already emerged as a favorite among Caniacs. It's partially thanks to his exciting, hard-nosed playing style, but the fanbase has also realized how genuinely great of a kid he seems to be:
"It's cliché, but if you do all the right things, then things tend to fall into place," he said. "I was so fortunate that the Canes did take a chance on me in the seventh round the year after my draft year. An opportunity is an opportunity. I didn't really look at it as being a seventh-round pick and being on the outside looking in. I just tried to enjoy every day being a player who got the opportunity to be drafted in the NHL, go to NHL camps and learn from some of the best players in the world."

– Steven Lorentz
Unfortunately for Lorentz, with COVID-19 seriously impacting both the NHL and the world in general, he was unable to have his family attend his first NHL game. When he was young, I think it's safe to assume that he didn't imagine his debut game being in an empty building without his loved ones there, but I doubt he's one to complain. He got the opportunity he wanted. And that's all you can really ask for, especially after seeing his long, winding road finally end up at his treasured destination.
Meanwhile, nearly 1,200 kilometers away – in his home of Waterloo, Lorentz's family couldn't possibly be any happier for him. Together, they watched Steven play his first NHL game, and in his second game watched him record his first NHL point. After over 20 years of sacrifices and hope from all of them, to finally see it all paying off and to watch Steven living out his dream was a magical moment for the Lorentz clan. Including Isabella – who's supposedly his #1 fan.
"[His biggest fan is], realistically, our dog Isabella.," Jamie said. "She's a little shitzu, she's 13. My parents snuck her into every one of his minor hockey games, and brought her to the hotels [when travelling]. She has a jersey for every team he's played for. My brother is truly obsessed with her, and she loves nobody the way she loves him. It sounds strange, but anyone who knows them would agree!"

– Jamie Lorentz
As someone who's followed Canes' prospects closely for over a decade, I'm not sure I've come across an easier kid to root for than Lorentz. Beyond just that, I'm not sure I've seen a player progress quite as far as he has; from where he started to where he's ended up. Admittedly, I had no idea who he was when the Canes drafted him, and never really took notice of him until his electric playoff performance with Peterborough in 2017.
To put his ascension in perspective, statistics show that only 10% of seventh-round picks make it to the NHL. Historically, since moving to Raleigh in 1997, he's officially the only seventh-round pick (out of 22 selections) by the team to record a single point for the Hurricanes, and only the second (along with Brody Sutter) to even play a game for them. He's overcome all forms of adversity, proved all of his doubters wrong, and has excelled at every level. The only thing he has left to conquer is to win his spot in the NHL, and, based on his track record, I would not bet against him.
---
---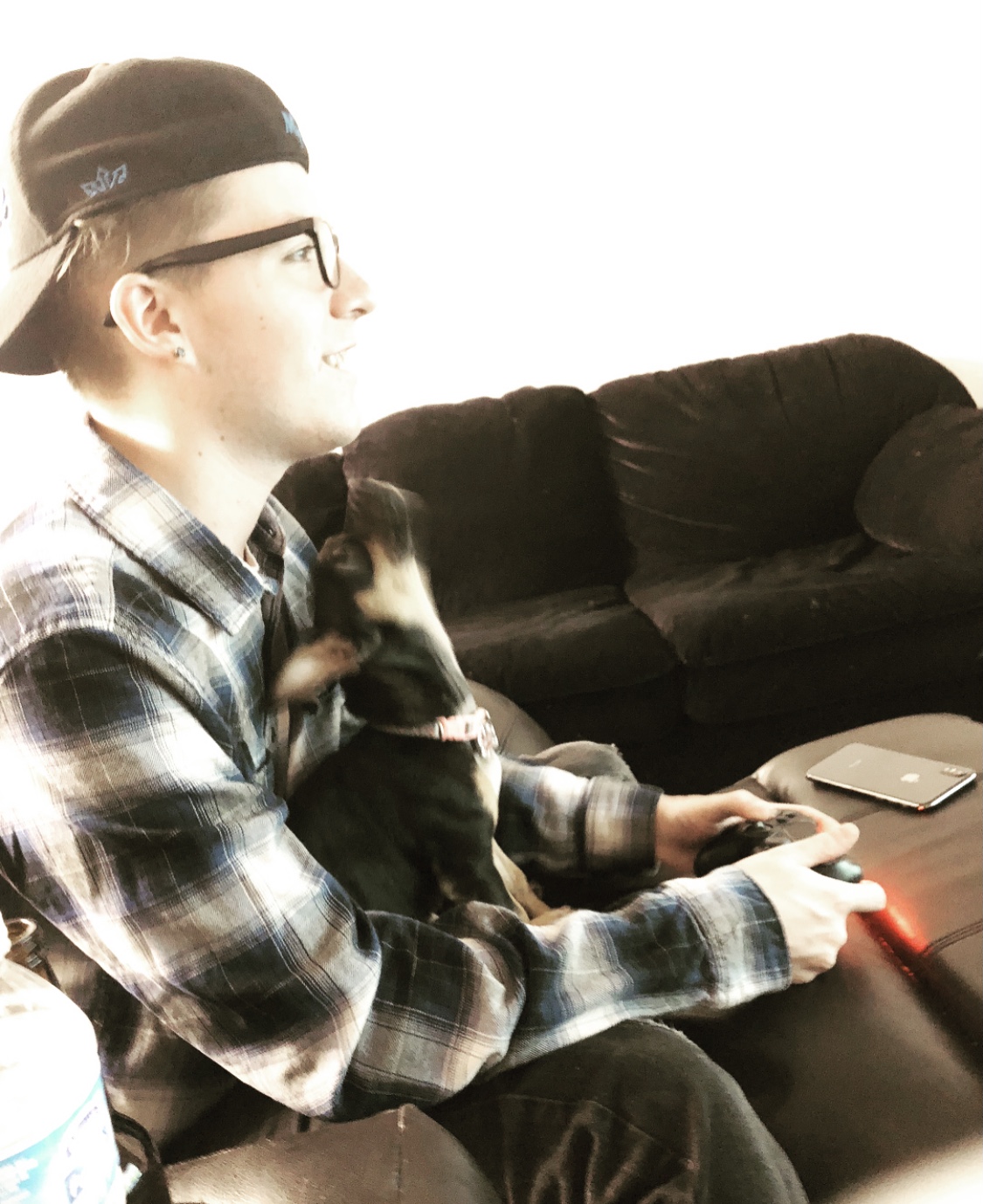 Carolina Hurricanes writer. 23 years old. Ottawa, Canada. Prospect geek, hockey nerd.