"I'm proud to announce from the London Knights, Mitch Marner."
Those were the words spoken by Toronto Maple Leafs co-interim general manager Mark Hunter when he stepped up to the podium at the 2015 NHL Entry Draft.
Yeah, it's already been that long. No, I can't believe it either.
Related: Maple Leafs Sign Joe Thornton to 1-Year Deal
Following in the footsteps of William Nylander's No. 8 selection at the 2014 Draft, fourth-overall Marner marked a clear change in direction for the Leafs and their drafting philosophy: Find skill first, worry about size later. One can certainly debate whether the team was able to maintain that process consistently, at least during Hunter's tenure, with questionable choices like 6-foot-5 defencemen Keaton Middleton and Nicolas Mattinen coming the following year. Still, it's undeniable that the seeds of change had been planted.
And perhaps no draft pick was more emblematic of that change than 61st overall Jeremy Bracco.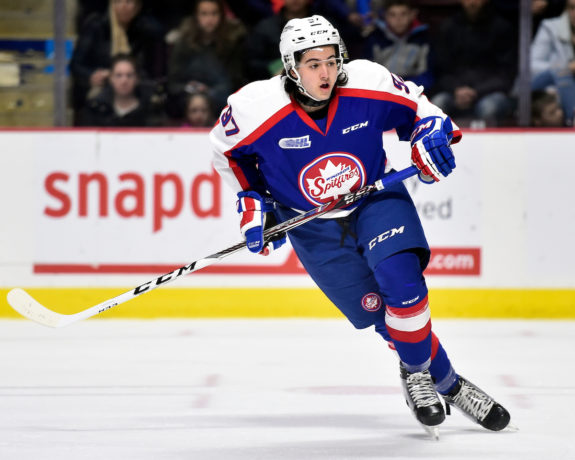 The crafty playmaker stood at just 5-foot-10 and about 170 pounds at the time of the draft, but the Maple Leafs were impressed enough by his passing, vision, and unique edgework to select him in the second round. With 69 points over 58 games in two years with the United States National Team Development Program (USNTDP), Bracco clearly had some offensive touch, and the Maple Leafs believed he could one day play in the NHL.
Now, a little over five years since that draft, we know that Bracco won't be making his NHL debut in the blue and white. Last week the team decided not to extend a qualifying offer to the 23-year-old, making him an unrestricted free agent (UFA).
With news breaking on Oct. 16 that Bracco has signed a one-year deal with the Carolina Hurricanes, it's clear that the door on his NHL career hasn't shut just yet. But with all that skill and promise, you've got to wonder what exactly went wrong with Bracco's career in Toronto.
Bracco Failed to Separate Himself at the OHL Level
As an American, Bracco had a bit of a different route through junior hockey. He was drafted as a prospect from the USNTDP system and initially intended to play for Boston College, where he actually suited up for five games in 2015. However, he eventually made the decision to move to the Ontario Hockey League (OHL), perhaps at the behest of the Maple Leafs.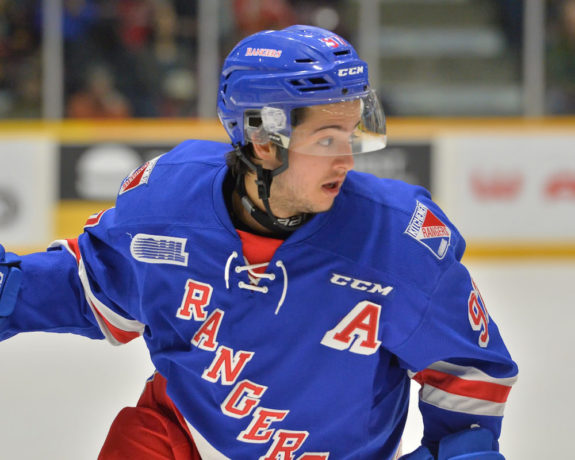 In his rookie season, the 18-year-old Bracco put up a solid 64 points in 49 games for the Kitchener Rangers. Respectable numbers for sure, but let's consider a few points for perspective.
One, the OHL is a notoriously weak league for defence and goaltending, so Bracco's pace of 1.3 points per game was not necessarily all that impressive, especially for an 18-year-old in his draft-plus-one season. And two, Bracco was competing directly with undersized Maple Leafs draft picks in Marner and even fifth-round pick Dmytro Timashov. Marner put up an earth-shattering 116 points in 57 games for the Knights, while even Timashov blew Bracco's numbers out of the water with nearly 1.5 points per game in the Quebec Major Junior Hockey League (QMJHL).
Related: Maple Leafs Become Chapter in Vesey's Puzzling Career
Now don't get me wrong — it's not like Bracco wasn't successful at the OHL level. Rather, he didn't dominate at the level you would expect or hope for a second-round pick. And if he couldn't dominate against teenagers, how would the undersized winger ever be able to compete with the better, faster, stronger pros at the NHL level?
Bracco saw a slight uptick in production in his draft-plus-two year, scoring 83 points in 57 games — a 1.45 point-per-game pace. But by this point, Marner was already playing for the Maple Leafs, scoring 61 points and quarterbacking their top power-play unit.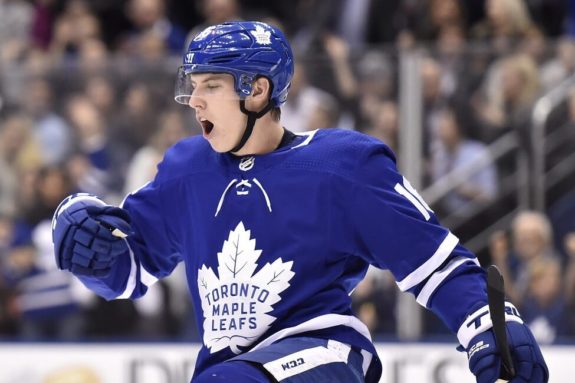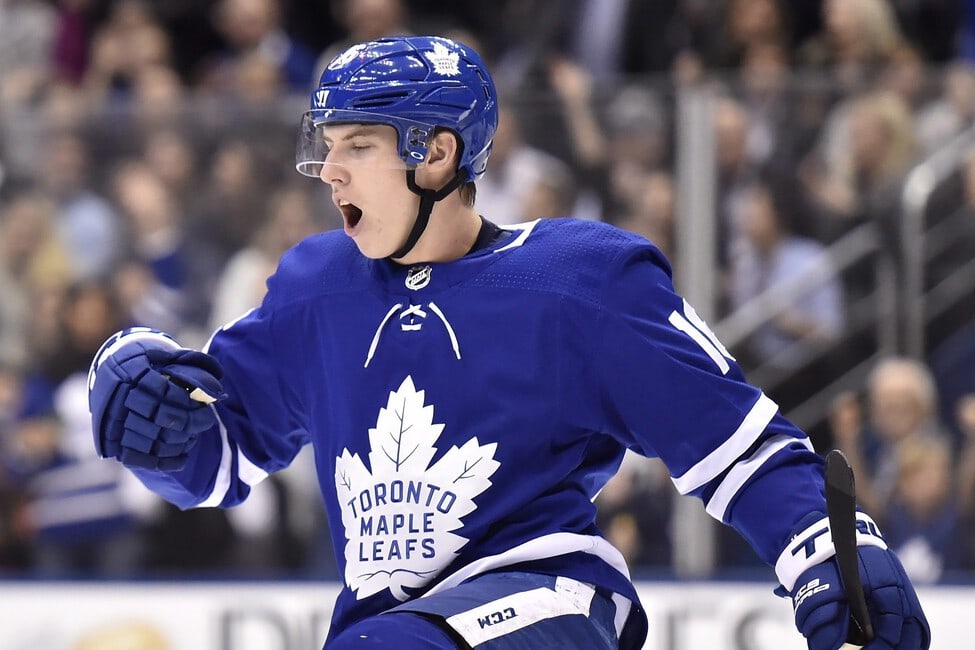 Just 20 years of age at the end of the 2016-17 season, Bracco was still a legitimate prospect. At the same time, you had to begin to question his ceiling and likelihood of reaching his potential. Would his shot, skating, and two-way play ever improve enough to make it in the NHL?
Bracco's Rise and Fall in the AHL
Following his relatively successful OHL career, Bracco made the jump to the Toronto Marlies of the AHL for the 2017-18 season. As one of the youngest players on the team, the Freeport, NY-native had a hard time getting into the lineup as he found himself in the press box for 11 of the team's first 18 games. He eventually found his groove though, suiting up in 50 of the Marlies' 76 games and tallying 32 points along the way.
Related: Maple Leafs Draft Skill and Smarts in Amirov With 15th Pick
But while Bracco was still figuring things out, his peers were seemingly passing him by. Marner was once again lighting up the NHL with the Maple Leafs, while Timashov was already in his second season with the Marlies, playing full-time and gaining the trust of the coaching staff. Bracco was beginning to cement his reputation as more of a one-dimensional playmaker and power-play specialist. He would have to become truly elite at his specific skillset in order to ever make it to the show.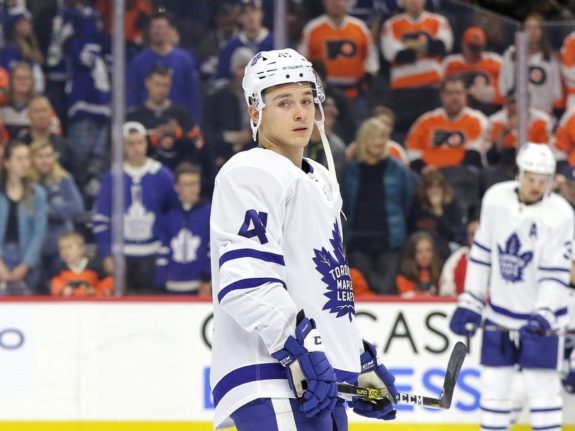 Bracco seemingly took the challenge to heart and came out on fire in the 2018-19 season, torching the AHL with 22 goals and 79 points in 75 games. But despite the eye-popping box score numbers, there were still huge questions about his overall game.
For one, 39 of his points — almost exactly half — came on the power play. That's obviously a valuable skill, but the Maple Leafs already had Marner as their right-handed power-play quarterback, and Bracco's relative inability to produce at five-on-five was slightly worrying. Secondly, Bracco's goal totals were boosted by an unsustainable shooting rate of over 17 percent — double his rate from the previous year.
Related: Brodie Signing Makes Maple Leafs Defence a Strength
Couple these underlying worries with his weak defensive game and you've got a power-play specialist that can really only fit into an NHL lineup on a scoring line in sheltered minutes. For a team as deep and talented up front as the Maple Leafs, the fit just didn't seem to be there. And the fact that the team had not yet called him up for even one game suggested that Bracco was way down on the organization's depth charts.
Nevertheless, Bracco kept working. He reportedly skipped summer vacation to train at the Maple Leafs' practice facility along with veteran Jason Spezza, setting himself up to be in excellent shape for camp. But despite all the hard work, the Maple Leafs passed him up again. Bracco wasn't in the team's opening night lineup last October, and over the course of the season he saw six other Marlies forwards get called up to the NHL before him.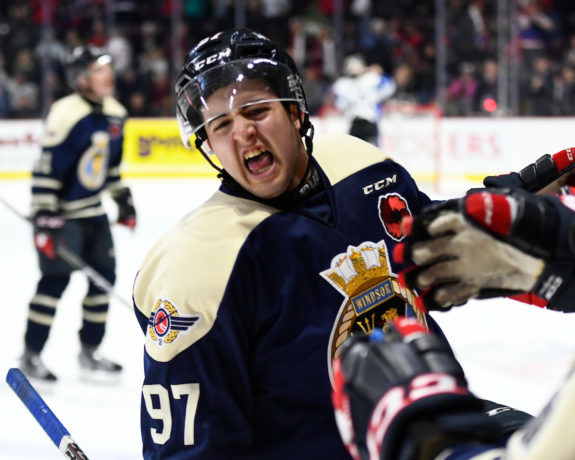 With the writing now on the wall, everything seemed to fall apart for Bracco. His production tailed off as he scored just four goals and 34 points in 44 games for the Marlies in 2019-20. And everything came to a boil in December when Bracco told the organization that he'd like a change of scenery. The Leafs obviously never found a trading partner, but the 23-year-old winger will now get a fresh start with the Hurricanes organization.
By all accounts, Bracco is a hard working, fun-loving guy that teammates enjoy being around, so it's a shame he was never able to reach that next level in Toronto. He certainly has the talent to one day contribute in the NHL, and he may finally get that opportunity in Carolina.
---
---
Chris Faria is a contributor for The Hockey Writers with a focus on the Toronto Maple Leafs. A hockey player and self-proclaimed analytics nerd, his work aims to combine both stats and a deep knowledge of the game. He is currently pursuing a graduate diploma in sports journalism at Centennial College in Toronto.