That's how newly-minted Toronto Maple Leafs general manager Kyle Dubas confidently replied to SportsNet's Elliott Friedman when asked recently if the Leafs will be able to retain just-acquired superstar John Tavares and their trio of young studs in Auston Matthews, Mitchell Marner and William Nylander.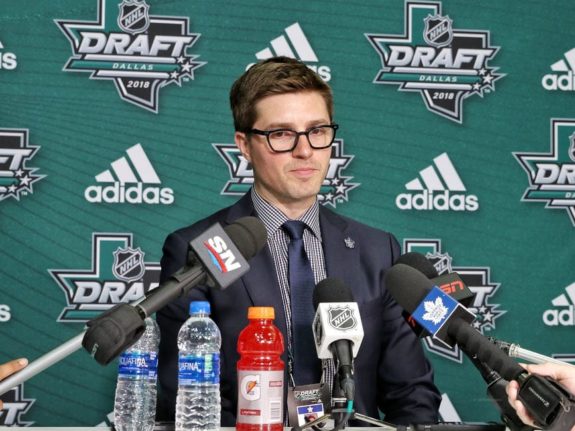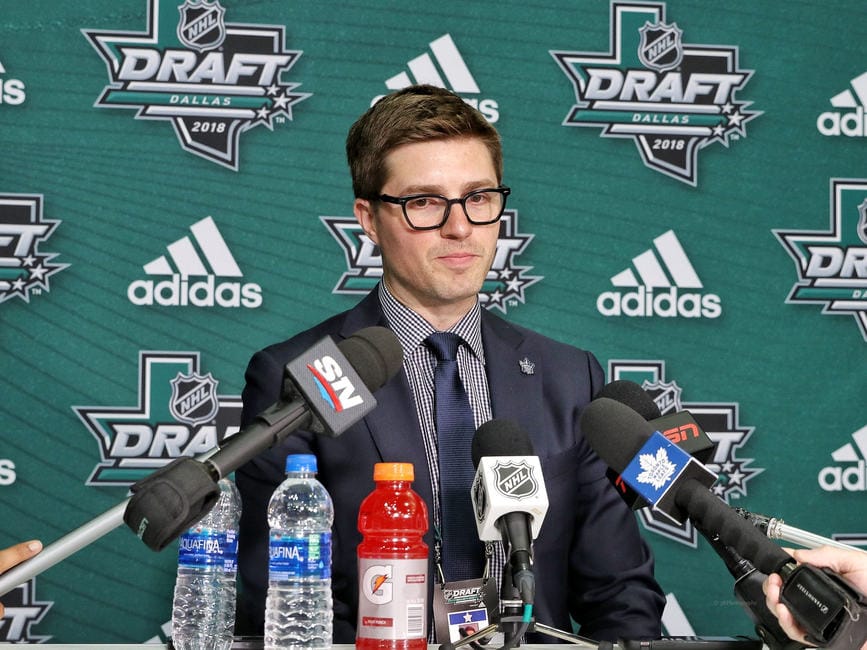 It was the kind of statement expected of and befitting a GM still wet behind the ears, designed to quell the fear of the Blue and White Nation that they will not be able to meet the financial demands of the three blossoming talents who are soon to finish their entry-level contracts (ELC). It was also the kind of statement that cannot possibly be true if the Leafs expect to compete for Lord Stanley's Cup.
This Season's Maple Leafs' Roster So Far
Nylander and the Forwards
The Leafs have some big contracts right now and will have more soon. The biggest belongs to the summer addition, all-star John "JT" Tavares. While James Van Riemsdyk with his 36 goals and contract that turned out to be $7 million per annum is gone, the Mississauga native Tavares signed for a cap hit of $11 million per season. That makes JT the highest paid second-line player in the history of the league.
Twenty-year veteran Patrick Marleau still has two more years on his contract at $6.25 million per season. And the Leafs are still responsible for two more years at $5.3 million for Nathan Horton who is listed as long-term injured reserve.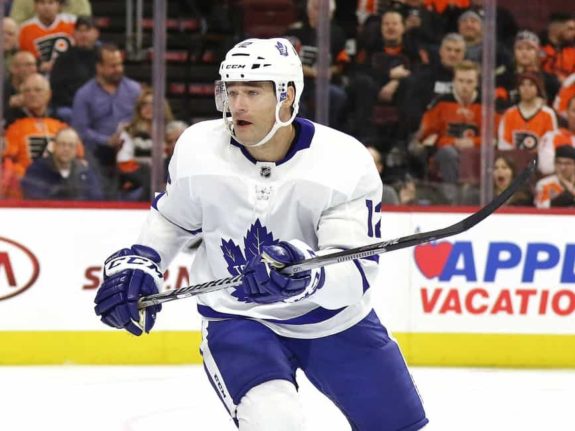 Going into the 2018-19 season, Dubas is paying the Leaf forward corps just $39.7 million, 49.9% of the $79.5 million salary cap. These numbers, which do not include a projection for the only currently unsigned player, Nylander, leave a lot of cap money available this season.
Nylander was tied for 78th in goals, 44th in points and had a very respectable 0.75 points-per-game average for the duration of his ELC. The right wing, originally from Calgary, is young, fast and skilled. With the acquisition of Tavares, his numbers will only increase. Nylander's stats line up with those of Ryan O'Reilly, Henrik Zetterberg, Filip Forsberg, Sean Monahan and Logan Couture. Using these players' contracts and others in the same ballpark as a guide, Nylander should expect to command between $6 million and $7.5 million per year for a relatively long period. Without looking beyond this season, Dubas can afford him at this price range.
The Woeful Defense
Signing Nylander is one of two issues to address moving into the new campaign. The other is the dreadful defense. Morgan Reilly leads a group that can only charitably be called inexperienced and unreliable. There is no true NHL caliber No. 1 – and arguably no true No. 2. While the team tied for 11th in goals against (232) last season, it was a sore camouflaged by the forwards' prolific scoring.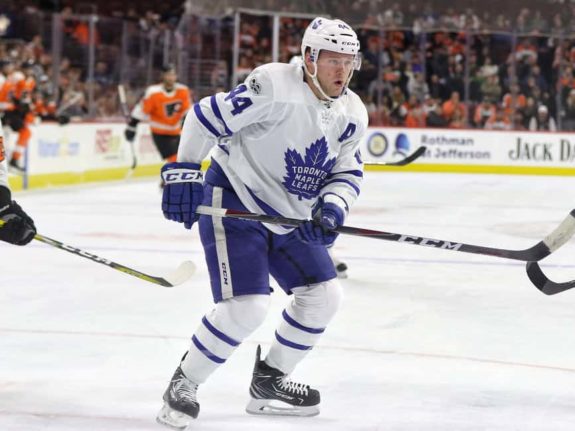 The Leafs will have to improve upon their impressive goal differential (plus-45, fifth best in the league) in order to tread water in the standings, let alone improve in playoff result. And the tandem of Frederik Andersen and Curtis McElhinney will have to repeat or improve on their combined .920 save percentage and 2.69 goals against average from last year. Dubas has little choice but to make an attempt to bring in some talented blue-liners. This will be a monumental task as he will have to consider next season's salary cap implications.
Related: Maple Leafs' Dubas Is No Revolutionary
Next Season's Roster
After this season, Dubas will have to contend with five RFA forwards; Matthews, Marner, Kasperi Kapanen, all coming off the ELCs, plus Josh Leivo and Andreas Johnsson. Newly inked Tyler Ennis will be a UFA. Additionally, two of the team's best defensemen, 28-year-old Jake Gardiner and 37-year-old Ron Hainsey, will be UFAs. Connor Carrick will be an RFA. These nine contract changes allow for a lot of options but also a lot of anxiety. All will be looking for pay increases. Since Dubas' proclamation about keeping the talent, the abacus beads must be getting a lot of polish.
Auston Matthews is sixth in the league in scoring since his four-goal debut back in 2016. He's 34th in points and 33rd in points per game. Matthews' ability to fill the net puts him in some rarefied company, all making top dollar: Evgeni Malkin, Sidney Crosby, Nikita Kucherov, and Vladimir Tarasenko. His agent will be eyeing the Connor McDavid precedent of $12.5 million per season and the Jack Eichel contract of $10 million per season. And with JT making $11 million per season behind him on the depth chart, Dubas is going to have to offer at least that sum to Matthews, if not more, with significant term.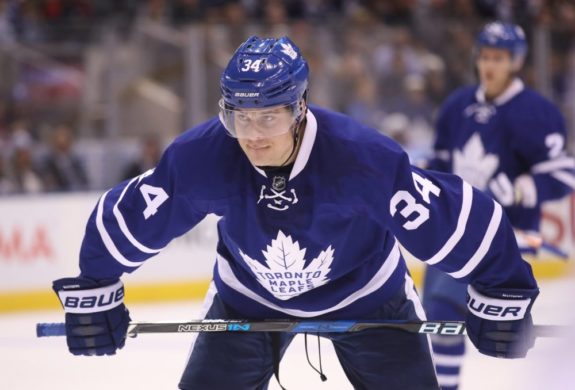 Marner's case is even more interesting. In his two seasons to date, Marner has been the Leafs most consistent producer. And he was their best player in last year's post-season. Although tied for 89th in goals since his first game, he is 35th in points, just one behind Matthews. He's 53rd in points per game at 0.82. This type of production puts him in the same vicinity as Ryan Getzlaf, Joe Pavelski, Sasha Barkov, Vince Trochek and, his teammate, Matthews. Welcome to the $8.5-9.5 million per season neighborhood, Mr. Marner.
Granted that Dubas has some kind of accounting magic to keep the other free agent spots filled at current numbers, the 2019-20 edition of the Blue and White will conservatively feature Matthews at $11.25 million, Tavares at $11 million, Marner at $9 million, Nylander at $6.5 million, and Marleau at $6.25 million. That's $44 million tied up in five players, none of whom are a defenseman or goaltender.
Team Comparisons to Cup Contenders
Of course, teams will likely pay more than 50% of the cap up front because there are more players at forward than at the other positions. Each club must have a minimum of 18 skaters plus two goalies. Most clubs carry the maximum allowed, 23 players, which includes 14 forwards, seven defensemen and two goalies. A balanced team will spend about 60% of the cap on their forwards as they represent 60% of the roster spots. Variations occur when teams pay extra to veterans with elite level talent and when they are able to get young, recently drafted players signed at low, league-limited entry contracts.
Salary projections like the one above put the Leafs significantly into uncharted territory. Excluding the Vegas Golden Knights due to their unique situation as a nascent entity, the five Cup Finalists over the last three years lay a blueprint for how money can and should be allocated in the salary cap era. The 2017-18 champion Capitals spent 59.8% of their cap allowance on their forward corps. The two versions of the Penguins had similar numbers; paying 59.0% and 66.7% to their forwards. The 2016-17 Predators and the 2015-16 Sharks allocated 47.8% and 53.2%. Of these five squads who played for the Cup, only one chose to spend over the 60% mark on offense meaning that their general managers thought it wise to save some money up front to assure that they had extra money to pay for a quality defense.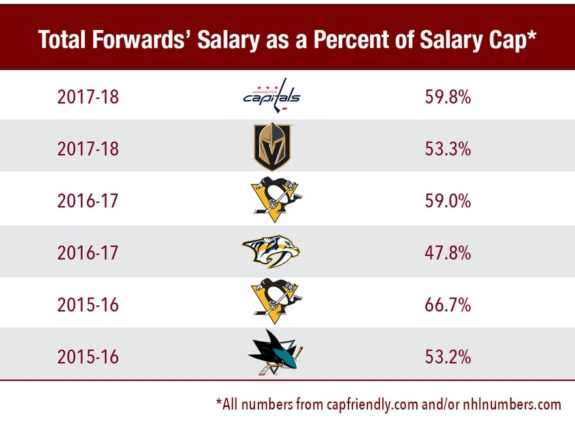 As previously mentioned, going into this season, Dubas' Leafs are spending 49.9% of the cap on their forward corps. These numbers don't mean much without Nylander's new deal.
For 2019-20 the cap will go up to $81 million if it stays on the same track that it has been on for the last several years. Putting together this new, higher salary cap with the projected values of the new contracts that Dubas will have to pay in order to keep the gang together, the team will be paying their group of forwards a whopping 76%. Perhaps more.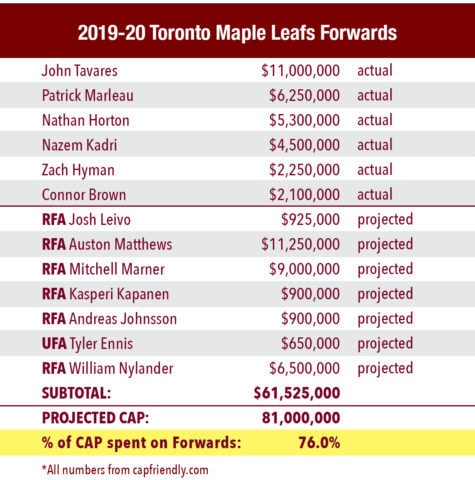 Dubious Dubas
As much as fans of the Leafs want to believe Dubas when he made the claim that all of the team's talent will be retained, he can't and he won't. There is no way that a team can compete with just 24.8% of the cap to spend on the blue line and the goal crease. In terms of actual dollars, 24.8% equals about $20 million. In goal, Frederik Andersen gets $5 million. His back-up, McElhinney will be an UFA. Whether the Leafs re-sign him or bring in another goalie to give the team a chance to win the 20-30 games that Andersen doesn't play, that goalie will likely cost at least $1.5 million.
That leaves $13.5 million to pay seven blue-line roster spots. Morgan Rielly, Nikita Zaitsev and Travis Dermott (who will be an RFA and expect a big raise) are the three defensemen signed through the end of the 2019-20 season. The three of them will receive a combined $10.3 million. That means that without big shake-up, Dubas will have approximately $2.1 million to sign FOUR defensemen.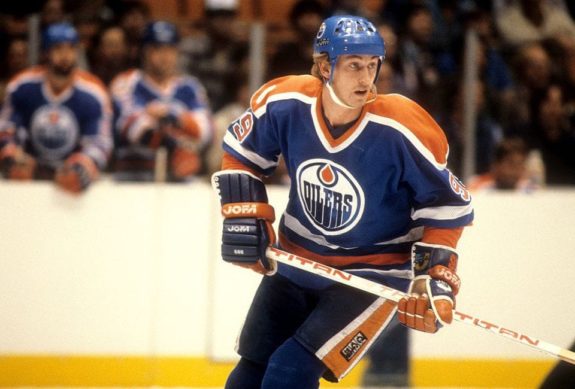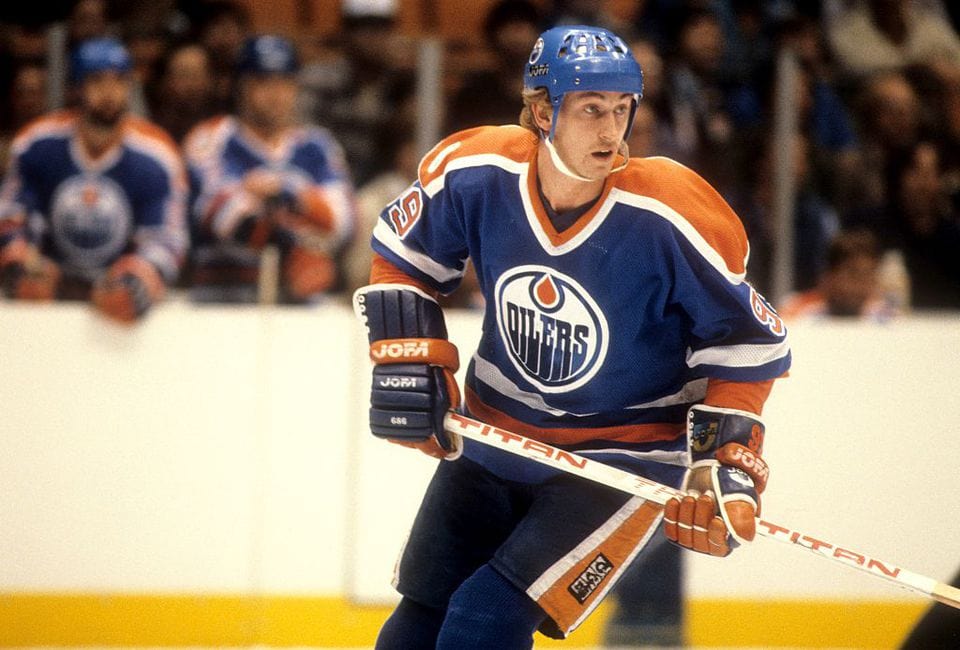 Unless the team is going to outscore the wildly entertaining Oilers of the 1980s when Grant Fuhr was winning three-quarters of his games despite a GAA approaching 4.00, Dubas must find a trading partner to bring in some quality defensemen. He doesn't have enough time to continuously draft and develop from within in order to keep every other contract low enough to round out a legitimate, sustainable Cup contender. That means that some of the top end offense will have to depart.
Keep them all? Dubas can't. And he won't.
*All numbers from capfriendly.com and/or nhlnumbers.com.
Jeff has been covering the NHL for over a decade for various sites. He's been with The Hockey Writers as a lead Sabres writer three years, while also writing a satire column called "Off the Crossbar."