In this edition of Toronto Maple Leafs News & Rumors, I'm going to focus on three players who, over the past week, have had an incredible three-game series against the Ottawa Senators. Those players are Auston Matthews, Mitch Marner, and newcomer Joe Thornton.
Related: Maple Leafs' Jack Campbell Is a Teammate You Want on the Roster
Although there are other players worthy of note, these three players form the Maple Leafs' Top Line of a very powerful offensive unit and together have built a kind of chemistry that bodes well for the team going forward throughout the rest of the 2020-21 season. Hence, their accomplishments this week are worth discussing all by themselves.
Player One: Auston Matthews: Every Time We Think He Can't Get Better, He Does
Auston Matthews' Totals For the Week
During Monday's 6-5 overtime loss to the Senators, Matthews played 22:24 minutes and scored two goals and an assist. During Wednesday's 2-1 win, he scored a goal and played 23:48 minutes. And, during the 7-3 victory he scored two goals and two assists, but he played "only" 16:49 during that game.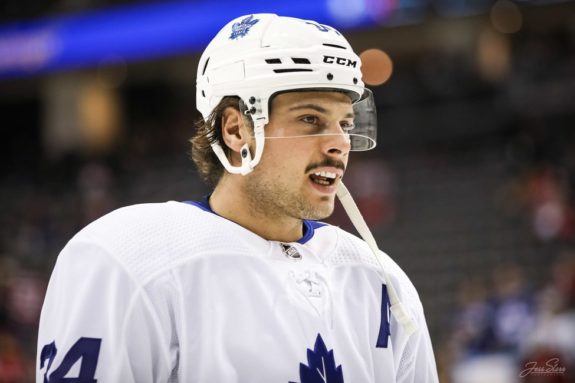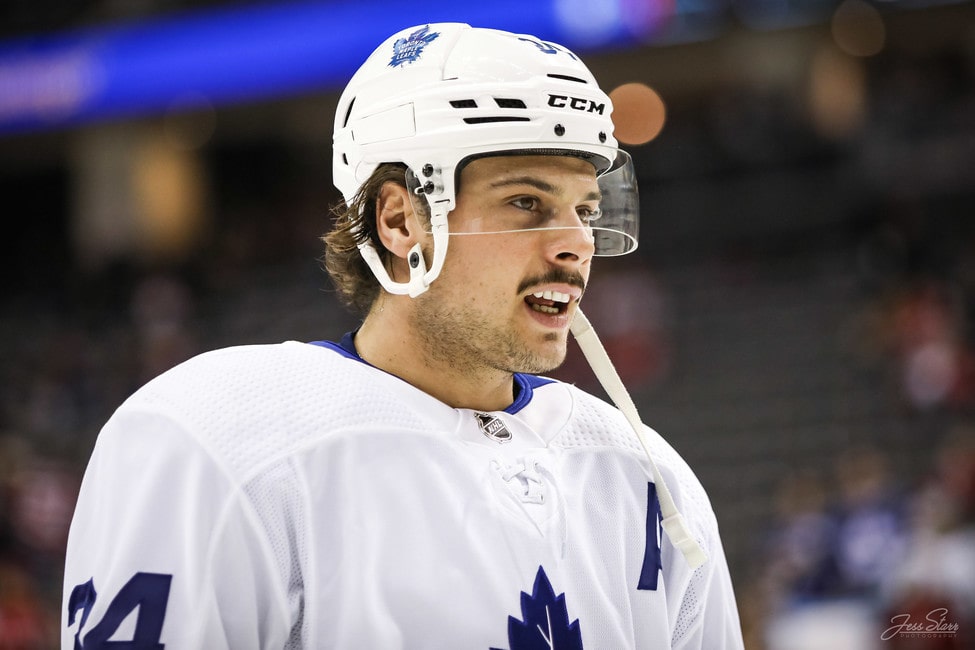 Matthews has been incredible all season. On Thursday night he opened with a power-play goal halfway through the first period and then he added his second goal with just under 30 seconds remaining in the period. Finally, the 23-year-old center assisted on Mitch Marner's goal and William Nylander's goal in the second period.
Matthews now has at least a point in 15 straight games and he's scored in every game this season except the second game. That puts him just three games away from tying the franchise record.
Related: Esposito: The Trade That Shaped the Boston Bruins
He now sits with 16 goals and 25 points in 17 games. It would be difficult for a case to be made that he isn't the best goal-scorer currently playing in the NHL. He certainly should receive consideration for the Hart Trophy if his scoring production continues.
In addition, Matthews has made great strides playing well in both ends of the ice. His ability to catch players from behind and steal pucks from them is reminding longtime hockey fans of the great Pavel Datsyuk.
Player Two: Joe Thornton: Building on a Three-game, Six-point Streak
Joe Thornton's Totals For the Week
During Monday's loss to the Senators, Thornton played 16:41 minutes and scored a goal and an assist. During Wednesday's 2-1 win, he scored an assist and played 18:15 minutes. And, during the 7-3 victory he scored a goal and two assists, but he played 15:21 during that game.
This week marked Thornton's return to the Maple Leafs' lineup after the 41-year-old broke ribs almost a month ago against the Edmonton Oilers. Prior to his first game back on Monday, Thornton had only scored two points in his first five games with his new team.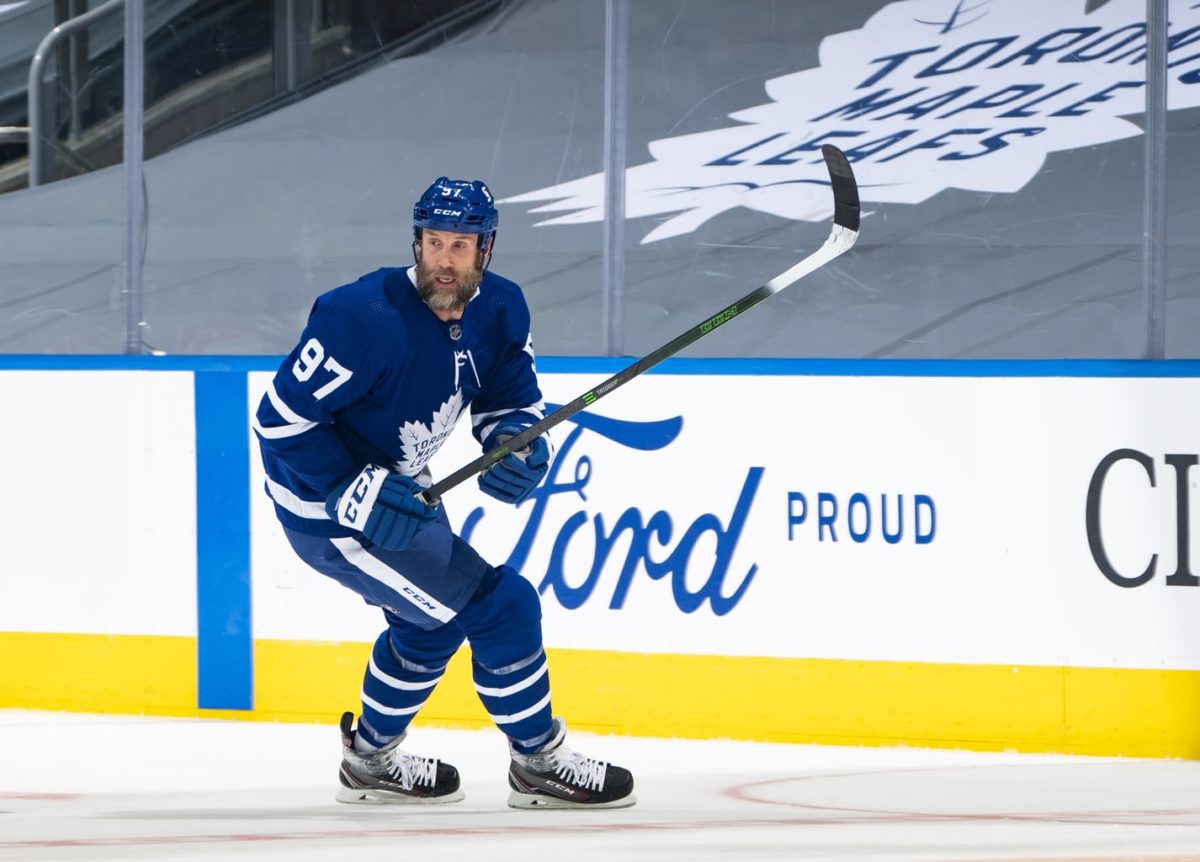 This week things changed. In the three games he's played since returning from his injury, Thornton has recorded six points (two goals and four assists). Part of the reason he's on fire is that he's built chemistry with both Marner and Matthews. In a skating contest, he wouldn't be able keep up with those two young players; but, although it helps to skate like the wind, winning hockey games isn't about how quick one skates it's about how much your team scores.
Related: Kiira Dosdall-Arena Is a Forever Riveter
Thornton helps his team score by mixing skill, experience, and hockey smarts. His shifts are sometimes long for a 41-year-old veteran. In part, he's learned how to conserve energy. The result is Thornton's best season since 2015-16 when he was a point-a-game player with 82 points in 82 San Jose Sharks' games.
Player Three: Mitch Marner: Scores Four Points in Thursday's Game
Mitch Marner's Totals For the Week
During Monday's 6-5 overtime loss to the Senators, Marner played 23:51 minutes and registered an assist. During Wednesday's 2-1 win, he played 23:27 minutes but missed the score sheet, which doesn't happen very often. And, during the 7-3 victory he scored a goal and added three assists, playing 18:56 during that game.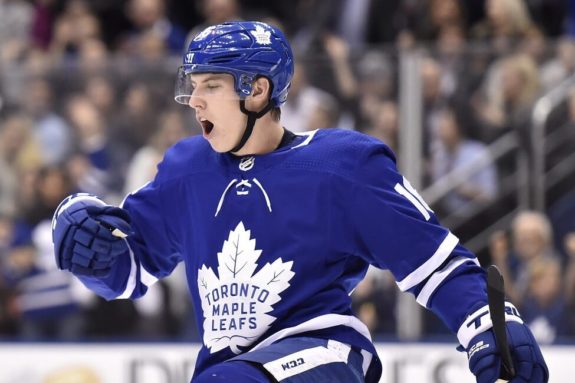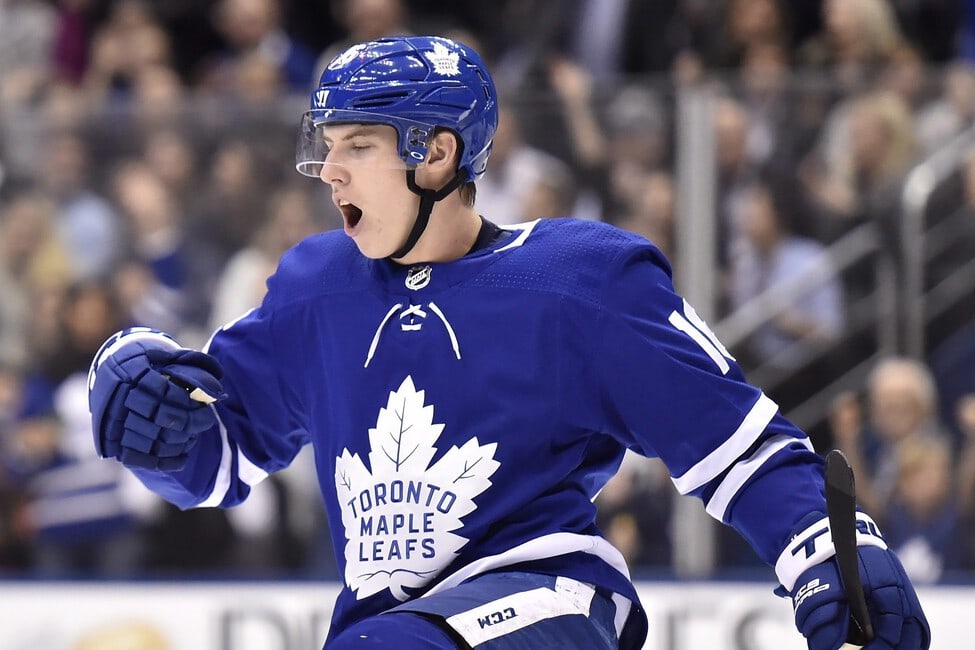 In short, Marner's an elite playmaker who's currently sitting third in NHL scoring after the Edmonton Oilers' Connor McDavid and his sidekick Leon Draisaitl. He has totalled eight goals and 19 assists (for 27 points) in 18 games during the 2020-21 season. Perhaps most amazing is that Marner leads all NHL forwards in time on ice per game at 22:47 minutes.
During the 2018-19 season, which was Marner's best, he averaged 1.15 points-per-game. This season he's on his best pace at 1.5 points-per-game, which seems almost incredible.
Hoping This First-Line Magic Can Continue
Together these three members of the Maple Leafs' top line are having quite a season. It might not be the most traditional top line in the NHL but it's really one for the ages.
Related: Maple Leafs News & Rumors: Andersen, Thornton, Matthews & Lessons
Maple Leafs' fans can only hope that the Matthews, Thornton, and Marner top line remains as productive as it currently is. That would spell a great season for the Maple Leafs.
---
---
The Old Prof (Jim Parsons, Sr.) taught for more than 40 years in the Faculty of Education at the University of Alberta. He's a Canadian boy, who has two degrees from the University of Kentucky and a doctorate from the University of Texas. He is now retired on Vancouver Island, where he lives with his family. His hobbies include playing with his hockey cards and simply being a sports fan – hockey, the Toronto Raptors, and CFL football (thinks Ricky Ray personifies how a professional athlete should act).
If you wonder why he doesn't use his real name, it's because his son – who's also Jim Parsons – wrote for The Hockey Writers first and asked Jim Sr. to use another name so readers wouldn't confuse their work.
Because Jim Sr. had worked in China, he adopted the Mandarin word for teacher (老師). The first character lǎo (老) means "old," and the second character shī (師) means "teacher." The literal translation of lǎoshī is "old teacher." That became his pen name. Today, other than writing for The Hockey Writers, he teaches graduate students research design at several Canadian universities.
He looks forward to sharing his insights about the Toronto Maple Leafs and about how sports engages life more fully. His Twitter address is https://twitter.com/TheOldProf