In this edition of Toronto Maple Leafs News & Rumors, I'll look at some of the events occurring around the team including a note about William Nylander's benching for the last 8:45 in the third period Saturday. I'll also share a trade rumor that didn't go anywhere. I'll share the story about how Jumbo Joe Thornton got his nickname. Finally, I'll comment upon Travis Boyd's play with the team and the role he fills.
Item One: William Nylander Was Benched for the Last Part of the Game
As games go, the Maple Leafs victory over the Montreal Canadiens seemed to stay true to the goals that the Maple Leafs had been trying to reach all season long. The Maple Leafs' stars played well; and, as a result, the team emerged with a 5-3 road victory over the Montreal Canadiens.
Related: Maple Leafs Nylander Is Giddy About Simmonds' Partnership
Everything seemed to go well, except for one small thing. During the third period of the game, enigmatic Maple Leafs' forward William Nylander was benched by head coach Sheldon Keefe. Apparently, Keefe wasn't that happy with Nylander's defensive game and wanted to send him a message.
Nylander has five goals and nine assists (for 14 points) in 19 games this season; however, he has only scored a goal and an assist during his past eight games.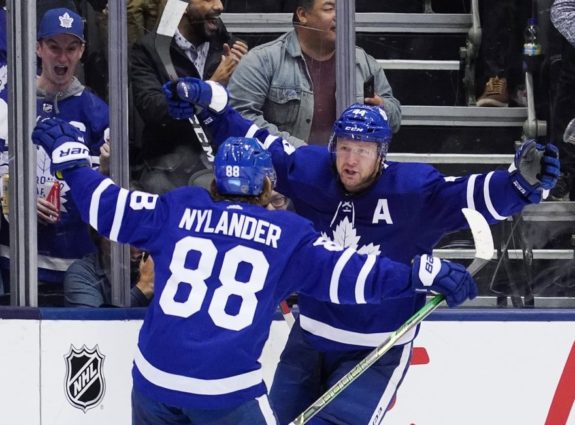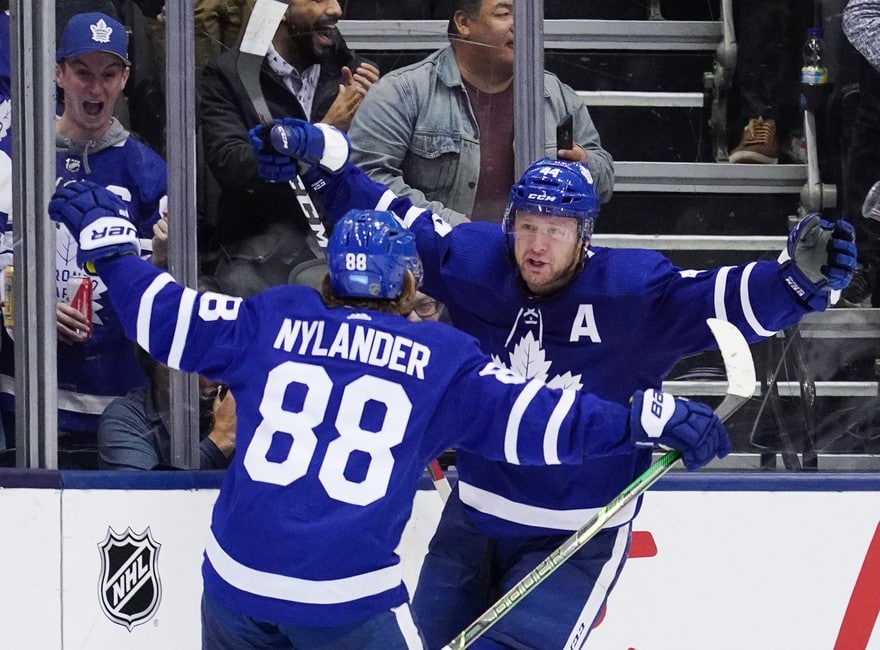 Keefe was specific that his issue with Nylander was localized to a particular point during the game. Keefe noted that, "I thought both tonight and last game he's had a lot of really good stretches where he's got good legs and he looks real dangerous, like he's ready to break out."
However, Keefe noted that he didn't like some of the things that happened when his team took the lead and particularly pointed at the second period. However, Keefe added that "in the third period we really got it going the way we wanted to, and I didn't think Willy matched that."
It's not like Keefe hasn't disciplined Nylander before. In fact, Maple Leafs fans might recall that, within a few weeks of Keefe assuming the role of Maple Leafs' head coach, he also benched Nylander. The date was Dec. 21, 2019, and the team was playing the Detroit Red Wings. During that game, Keefe benched both Nylander and former Maple Leafs' Kasperi Kapanen. In Nylander's case, it came after a two-goal game just prior; however, he was "uninvolved on the backcheck." (from "Leafs bench Nylander and Kapanen in win over Red Wings, Mark Zwolinski, Toronto Star, 21/12/19).
Related: Maple Leafs' Forgotten Ones: Tom Barrasso
After that 2019 game, Nylander went on a nice scoring run. One can only assume that, back in 2019, Nylander took the criticism and sucked it up. He picked up his game; and, through early January 2020, he scored 13 goals in the 16 games immediately after his benching. One has to believe that Keefe recalls that event and hopes for a similar outcome.
Item Two: Did the Maple Leafs Turn Down a Trade for Defenseman MacKenzie Weegar Last Season?
Over the past week, the Maple Leafs seem to be hearing social media criticism for a trade they didn't make but apparently might have. It seems that Sportsnet's Jeff Marek and Elliotte Friedman brought up a ghost from the past when they shared their insights that the Maple Leafs had a chance to trade for the Florida Panthers' talented 27-year-old defenseman MacKenzie Weegar.
According to Marek and Friedman a trade was apparently being discussed between the Maple Leafs and the Panthers where the Panthers would trade Weegar to the Maple Leafs for Travis Dermott and Andreas Johnsson. As Marek and Friedman noted, Maple Leafs' general manager Kyle Dubas nixed it.
Interestingly, Weegar signed a contract with the Panthers and is playing well. For those who aren't following the Panthers, they're off to a great start in the 2020-21 season and in 16 games have a record of 11-3-2 record. Weegar has been part of that success.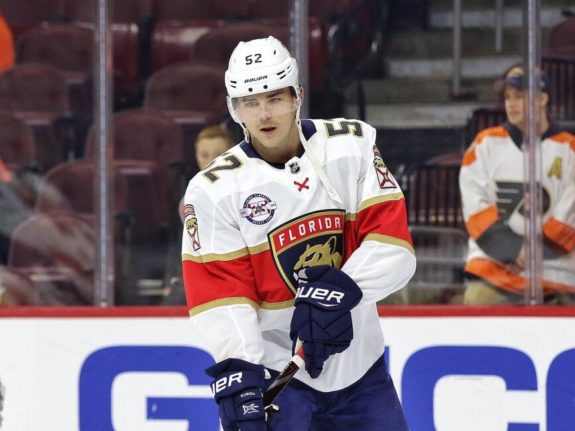 Although I'm happy enough with how the team's roster has turned out, Maple Leafs' fans might have a point to suggest that Johnsson was traded for Joey Anderson, who's only played one game with the team this season; and, Dermott might move to the new Seattle franchise in the expansion draft and remains a bottom-pairing defenseman with the team.
What could have been, I suppose.
Item Three: How Did Jumbo Joe Thornton Get His Nickname?
I thought I'd share the story about how the Maple Leafs' Joe Thornton got his nickname "Jumbo Joe." Certainly, it helps that Thornton is one large man, who stands 6-foot-4 and weighs 220 pounds. However, most of the story has to do with where Thornton grew up and the unique history of his birthplace.
Related: Alexander Mogilny: The Great Russian Enigma
In an article in the Boston Globe that's now more than 10 years old but updated in 2019, prior to the the Boston Bruins drafting Thornton first overall during the 1997 NHL Entry Draft, Boston Globe sports writer Kevin Paul Dupont did some research about where the nickname came from. (from "Revisiting the Jumbo Joe Thornton nickname, and possibly his last game at the Garden," Matt Porter, Boston Globe, 29/10/19).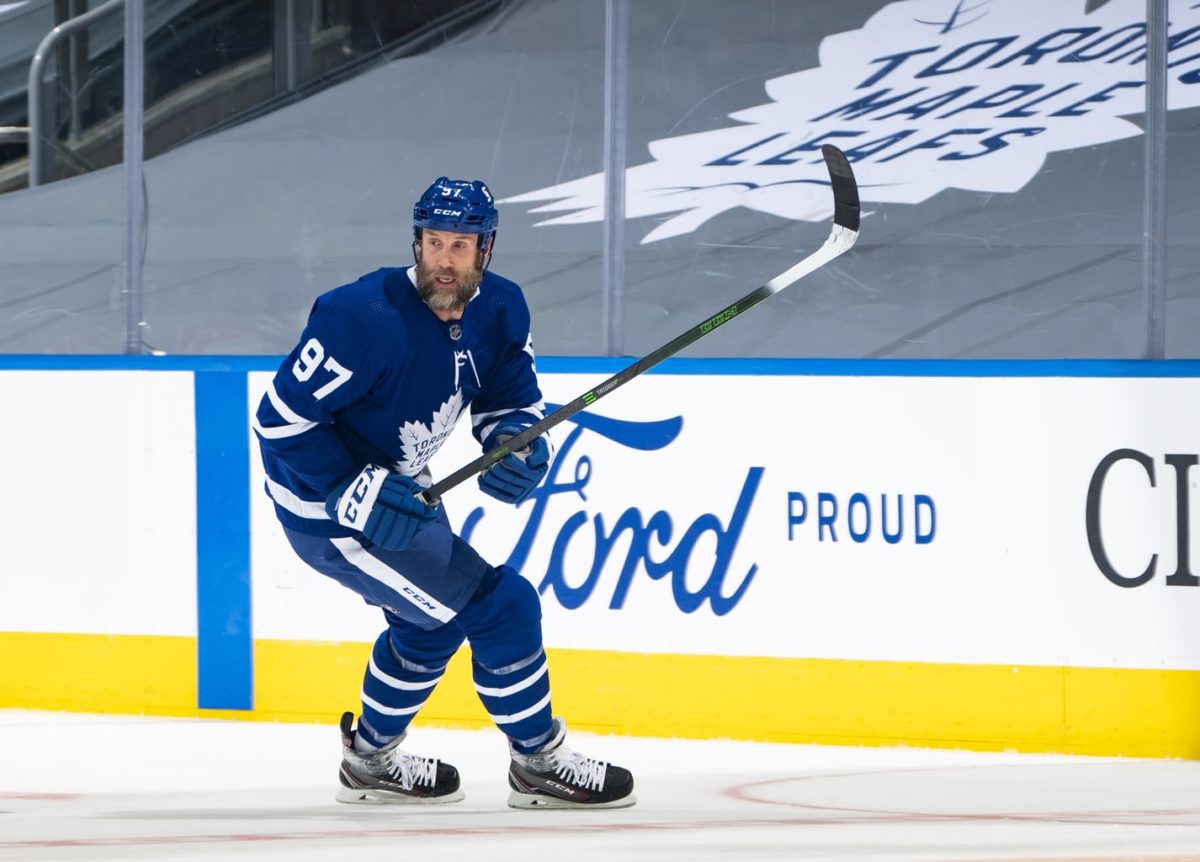 The story has to do with circus history and the fact that Jumbo the Elephant, who was a "star" with the Ringling Brothers and Barnum & Bailey Circus during the 1880s actually died in Thornton's hometown of St. Thomas, Ontario. In 1995, the town erected a statue of the Jumbo elephant a hundred years after his death in 1885. When Thornton was drafted by the Bruins, because of his hometown's statue and Thornton's size, the nickname emerged and stuck.
Item Four: Travis Boyd Filling Thornton's Space Well
Travis Boyd is one of those depth forwards who come to the Maple Leafs' roster with some NHL experience. Last season, Boyd scored three goals and 10 points during 24 games with the Washington Capitals. However, he holds an interesting spot on the team this season.
Boyd's doing his best to take advantage of the extra minutes that Auston Matthews and Mitch Marner skate that their first-line partner Thornton doesn't. For example, Thornton skated just over 14 minutes and both Matthews and Marner over 20 minutes against the Canadiens. During the game, Boyd scored a power-play goal last night on a good feed from Thornton.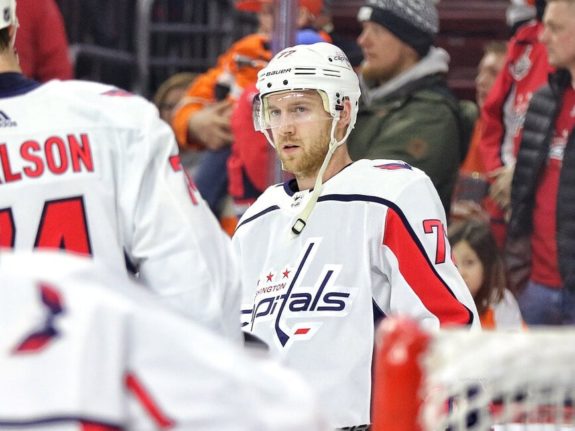 From what I've seen, Boyd's done a nice job taking Thornton's place when Jumbo Joe's given a shift off. He's doing well in that role and making the most of his 11 minutes or so a game.
What's Next for the Maple Leafs?
The Maple Leafs play the Calgary Flames on Monday night in Toronto. I wonder if there will be any lasting impacts of the Jack Campbell injury that occurred when the two teams last played.
Related: Maple Leafs' Jack Campbell Is a Teammate You Want on the Roster
Campbell was part of the Maple Leafs' practice on Sunday and noted that, while he isn't quite ready to return, that the practice was a "big step" towards returning. It will be good to see him back on the bench or in goal.
---
---
The Old Prof (Jim Parsons, Sr.) taught for more than 40 years in the Faculty of Education at the University of Alberta. He's a Canadian boy, who has two degrees from the University of Kentucky and a doctorate from the University of Texas. He is now retired on Vancouver Island, where he lives with his family. His hobbies include playing with his hockey cards and simply being a sports fan – hockey, the Toronto Raptors, and CFL football (thinks Ricky Ray personifies how a professional athlete should act).
If you wonder why he doesn't use his real name, it's because his son – who's also Jim Parsons – wrote for The Hockey Writers first and asked Jim Sr. to use another name so readers wouldn't confuse their work.
Because Jim Sr. had worked in China, he adopted the Mandarin word for teacher (老師). The first character lǎo (老) means "old," and the second character shī (師) means "teacher." The literal translation of lǎoshī is "old teacher." That became his pen name. Today, other than writing for The Hockey Writers, he teaches graduate students research design at several Canadian universities.
He looks forward to sharing his insights about the Toronto Maple Leafs and about how sports engages life more fully. His Twitter address is https://twitter.com/TheOldProf