The Toronto Maple Leafs' Wayne Simmonds left Saturday's game against the Vancouver Canucks early when the puck hit his hand on a clearing attempt. He wasn't able to finish the game. On Sunday, the worst prognosis was realized when Elliotte Friedman reported that Simmonds could be out for up to six weeks after his injury was assessed.
Related: Maple Leafs Nylander Is Giddy About Simmonds' Partnership
That's neither good news for the Maple Leafs nor for Simmonds. Simmonds was just beginning to have what looked to be an outstanding season for his hometown team. At the point of the injury, he'd scored five goals in 12 games and his play on the ice had been invaluable.
Although he began the season as a bottom-six forward and a power-play specialist working so well with Auston Matthews and Mitch Marner, he had quickly moved up the lineup; and, for one game, he had been a member of the team's top-six forward unit.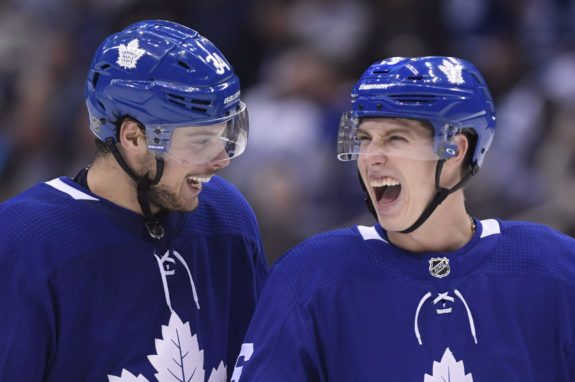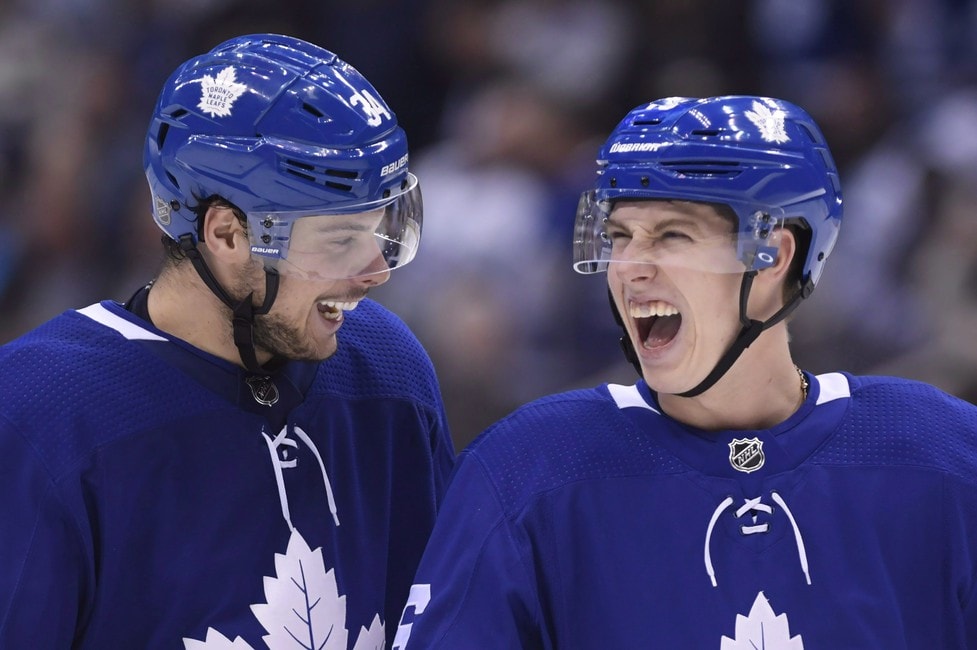 In this post, I want to do two things. First I want to chronicle Simmonds' brief history coming to the Maple Leafs and the start of what seemed like a return-to-greatness season. Second, I want to share what Simmonds means to his two young linemates – Matthews and Marner – in their own words.
Simmonds Comes to the Maple Leafs
Maple Leafs' fans first heard the news on Oct. 9, when hockey insider Pierre LeBrun and others reported that the Maple Leafs had signed Simmonds to a one-year contract worth $1.5 million (the contract had a full no-move clause). Simmonds had signed with his hometown team in what was announced to be a bottom-six forward role.
Although once one of the premier power forwards in the game, during the 2019-20 season he had scored only eight goals and 17 assists (for 25 points) in 68 games split between the New Jersey Devils and the Buffalo Sabres.
Simmonds Attached Himself to the Maple Leafs Early
It obviously didn't take Simmonds long to become a part of the Maple Leafs' team. By December, he had already been working out with other team members at the team's practice facilities. During those workouts, Simmonds had caught Marner's attention.
In a Sportsnet article on Dec. 15, written after Marner had been interviewed on Tim and Sid, Marner – his main job that day was to speak about Joe Thornton's signing with the team – at the end of the interview, Marner began to talk more about Simmonds' coming to the team.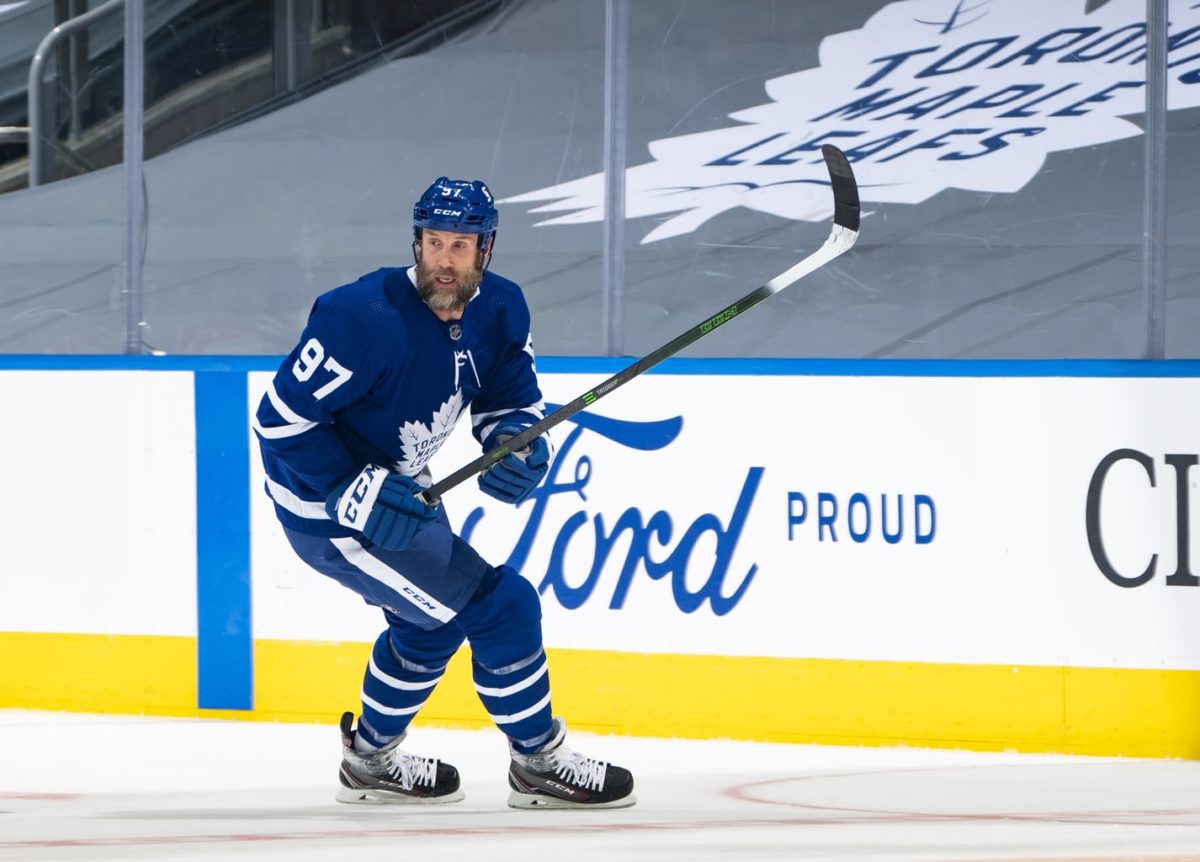 Marner said, "I think he's hungry, he wants to prove to everyone that he's still the player that he is. I've been seeing him on the ice recently, and he's been looking like a beast out there."
Then Marner added, forecasting what would become obvious during the season, "I've been watching him on the half-wall, down low, when he's got that puck and it's hard to get it off him. He's a big man and he can control that puck and around the net — he doesn't miss the net very often — it's pretty impressive to watch."
Simmonds Was Excited to Join the Maple Leafs
In early January, Simmonds was interviewed by The Globe and Mail and reported that he was excited to contribute to the Maple Leafs as the 2020-21 season unfolded. Once again, the article reiterated that Simmonds would be playing on the team's fourth line with Jason Spezza and Alexander Barbanov; however, he's also probably see second-unit power-play time. As always, Simmonds was lauded for the "much-needed" grit veteran presence he would bring to the team.
Simmonds noted then, "The talent level on the Leafs is unbelievable. I think it is second to none in the league, and I think what I bring complements that very well." (from "Wayne Simmonds excited to add grit to Leafs, Marty Klinkenberg, The Globe and Mail, 08/01/21).
Simmonds revealed that he had "signed in Toronto knowing there is a great team and a good possibility to win. That is all you want as a hockey player. Just to be a piece of the puzzle, and hopefully bring a championship to Toronto, is what it is all about."
Within a Week, Simmonds Showed His Fight Against the Montreal Canadiens
Then came the first game of the Maple Leafs' season against their Original 6 rival the Montreal Canadiens. During the second period, the Maple Leafs had fallen into a 3-1 hole and Simmonds decided to take the fight to the Canadiens. He challenged the Canadiens' Ben Chiarot and the two tussled.
Although I'm not old-school enough to suggest that such things are motivational, in this case the Maple Leafs fought back to eventually win the game 5-4 during overtime.
Simmonds' Maple Leafs' teammate John Tavares weighed in to suggest that "The intensity, the attitude and the engagement from him shift in and shift out and being involved physically, being around the puck, skating, moving his feet and being hard to play against, all those intangibles … it's a great message for the group and it's what we're looking for." (from "LEAFS SNAPSHOTS: Revamped Senators will be a much tougher out in Battle of Ontario," Terry Koshan, Toronto Sun, 15/01/21).
Simmonds Began to Score and Didn't Quit
Simmonds scored his first Maple Leafs' goal against the Calgary Flames on Jan. 24. It was a power-play goal that gave his team a 2-1 lead in the second period. It was, in a way, an odd goal that came when his attempt to pass the puck through the crease bounced off his own skate and past the goalie into the net. Such is the chaos in front of the net when Simmonds takes up residence there.
Interesting, that was a milestone goal for Simmonds – the 500th point of his NHL career and his 100th career power-play goal. Although Simmonds hadn't scored during the team's first six games, after that point he began to score more regularly. During his most recent game and, sadly, his last game for six weeks, Simmonds scored twice in the win over the Canucks. He had looked as if he'd gotten his confidence and his old-time skills back.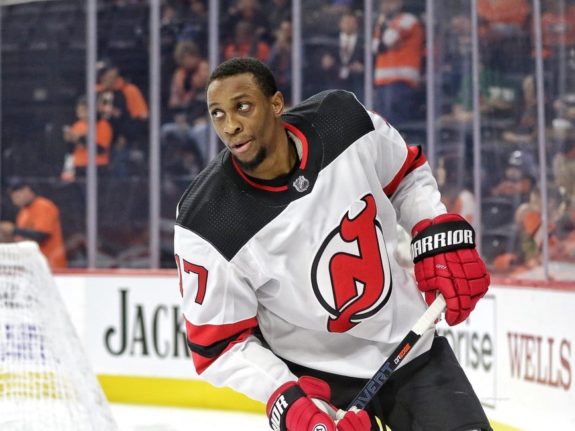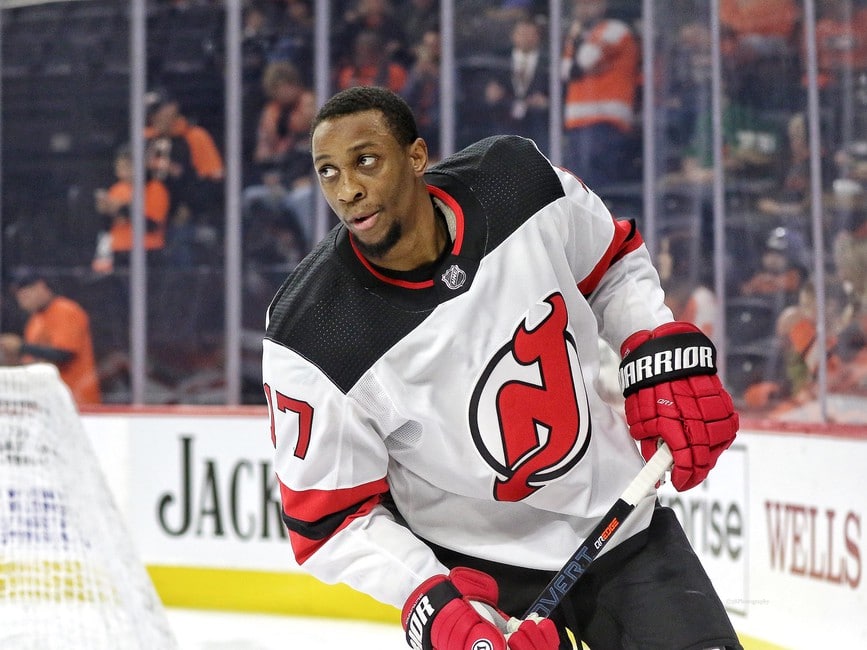 That was Simmonds' first two-goal game in almost an entire calendar year. His last had been Feb. 13, 2020, when he scored twice against the Detroit Red Wings during a time he was playing with the New Jersey Devils. If his first multi-point game with Toronto was a coming-out party, the celebration didn't last long.
Wayne Simmonds Impact on Matthews and Marner – in Their Own Words
Prior to knowing the extent of his hand injury, both Matthews and Marner had been interviewed about what Simmonds meant to the Maple Leafs generally and to them personally. Both heaped praise on Simmonds, who they believed had made a massive impact to the Maple Leafs both on and off the ice.
What's Next for Simmonds?
I've been impressed with Simmonds' value to the team. He's both a skilled player and a fearless warrior. He erected such a wall on the power play that it was impossible for the goalie to see around him. As well, his hand-eye coordination and the havoc he created in the crease were worth noting. When it comes to the front of the net especially, he clearly made a big impact.
Related: Maple Leafs Seeing in Spezza What Babcock Never Could
Simmonds will likely be back before the end of March, so we'll see him again. In the meantime, I trust the Maple Leafs have the skill level to cover for him in the short term. Still, I'm certain both Matthews and Marner will miss him.
There's no doubt Zach Hyman is more than an adequate first-line partner, but he's not Wayne Simmonds.
---
---
The Old Prof (Jim Parsons, Sr.) taught for more than 40 years in the Faculty of Education at the University of Alberta. He's a Canadian boy, who has two degrees from the University of Kentucky and a doctorate from the University of Texas. He is now retired on Vancouver Island, where he lives with his family. His hobbies include playing with his hockey cards and simply being a sports fan – hockey, the Toronto Raptors, and CFL football (thinks Ricky Ray personifies how a professional athlete should act).
If you wonder why he doesn't use his real name, it's because his son – who's also Jim Parsons – wrote for The Hockey Writers first and asked Jim Sr. to use another name so readers wouldn't confuse their work.
Because Jim Sr. had worked in China, he adopted the Mandarin word for teacher (老師). The first character lǎo (老) means "old," and the second character shī (師) means "teacher." The literal translation of lǎoshī is "old teacher." That became his pen name. Today, other than writing for The Hockey Writers, he teaches graduate students research design at several Canadian universities.
He looks forward to sharing his insights about the Toronto Maple Leafs and about how sports engages life more fully. His Twitter address is https://twitter.com/TheOldProf