When the Nashville Predators acquired Ryan Hartman from the Chicago Blackhawks at last season's trade deadline for prospect Victor Ejdsell and two draft picks, it was met with mixed reactions. Second City Hockey, a Blackhawks blog, referred to the trade as an offer the Blackhawks couldn't refuse. On the Forecheck, a Predators blog, categorized the deal as an investment, not a rental. Former THW writer George Matarangas simply asked if Hartman even improved the Predators.
Trade: #Preds acquire winger Ryan Hartman from #Blackhawks. https://t.co/hYQiR1DGcg

— Nashville Predators (@PredsNHL) February 26, 2018
Regardless of what fans or writers thought at the time, the deal was never a slam dunk for either team. Even now, after Hartman has played in 48 games with the Predators, it still isn't clear whether the trade was a good move by GM David Poile. That's to be expected as Hartman is a middle-six forward and the team gave up three assets to acquire him. It is my goal to determine whether the trade looks better, worse, or is still murky from a Predators' perspective, given the benefit of hindsight.
Reviewing the Trade
Before making conclusions about the value each team received in the trade and, ultimately, which team won the deal, the trade itself must be looked into. There were multiple pieces going both ways and each individual piece could impact how the trade is viewed moving forward.
Who is Ryan Hartman?
Hartman is a 24-year-old winger whom the Blackhawks drafted in the first round of the 2013 Draft. Despite being American, he played his junior hockey with the now-defunct Plymouth Whalers of the OHL. In his draft year, he scored 60 points in 56 games and averaged 1.05 points-per-game (P/G) in his OHL career. Although he was called up to the NHL for brief stints in 2014-15 and 2015-16, his first full season was in 2016-17 when he netted a career-high 19 goals, along with 31 points, in 76 games.
Last season, in 78 games split between the Blackhawks and Predators, he matched the 31 points he had as a rookie. He is a gritty player who averaged just under two penalty minutes per game in the AHL and OHL and has averaged just under one penalty minute per NHL game. He is capable of playing in all situations and zones, is tenacious on the forecheck while devoted to backchecking, is strong and difficult to move off the puck, and has high hockey intelligence.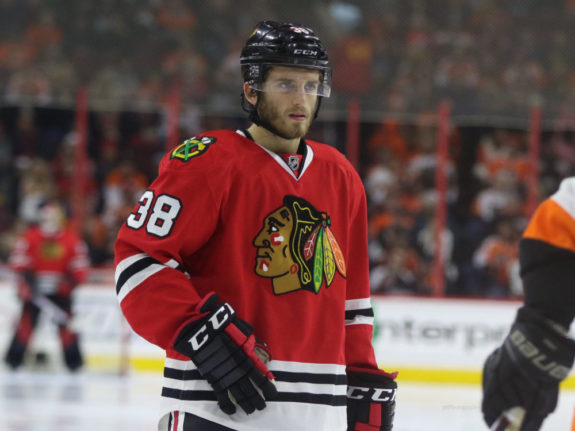 Following the trade, Hartman appeared in 21 regular season games with the Predators with three goals and three assists, well below the scoring rates he had in his Blackhawks career. In nine playoff games, he added two goals and an assist. He's off to a great start in 2018-19 with seven goals and 11 points in 27 games. He's also averaging 13:55 of ice time and is shooting 14.6 percent, both career highs.
Those offensive totals have been reached with averages of 1.12 goals-per-60 and 1.76 points-per-60 in all situations, both second-best of his career. He's also generating 7.66 shots-per-60 and 7.82 scoring chances per-60 at the second-highest rates of his career and 3.19 high danger chances per-60, the third-highest. And while he's been known as somewhat reckless throughout his career, his 1.44 penalties taken per-60 are the lowest of his career while his 2.08 drawn penalties per-60 are second-highest.
At five-on-five, he has mostly played with Nick Bonino and Calle Jarnkrok with over 75 shared minutes. When they are together, the team's control of shots and scoring chances regresses compared to when Hartman is playing with different linemates. It's a similar situation with Hartman's second-most common linemates, Bonino and Colton Sissons, as Hartman improves the line's metrics. However, what's interesting is that Bonino brings down both lines by the largest margin.
Who is Victor Ejdsell?
Ejdsell is a 6-foot-5, 214-pound Swedish forward who went undrafted and the Predators signed him to an entry-level contract in May 2017 after being pursued by the Predators, Blackhawks, and Detroit Red Wings. He played in Sweden in the SHL and Allsvenskan leagues prior to arriving in North America, averaging .51 P/G in the SHL and .99 P/G in the Allsvenskan.
Following his trade to the Blackhawks, he joined the team after his season ended in Sweden and played six games with the NHL club and five with Chicago's AHL affiliate, the Rockford IceHogs. He finished with one point for each club. He also played in 13 AHL playoff games and totaled seven goals and 12 points. Now 23 years old, Ejdsell entered the season with promise and has four goals and 11 points in 22 games so far.
He is known as an excellent shooter who doesn't need volume to score as evident by the seven goals on 19 shots he had in last season's postseason with Rockford. While that 36.8 shooting percentage is unsustainable, his accuracy and release were two aspects that scouts complimented prior to the Predators signing him. He also uses his frame to stave off opponents and can protect the puck well. However, despite his size, he is still a plus skater and has soft hands that make him an asset around the net.
The Results of the Draft Picks
The first round pick that went to the Blackhawks became the 27th overall selection after the Predators were ousted by the Winnipeg Jets in the second round of the playoffs. Chicago used that pick to select defenseman Nicolas Beaudin of the QMJHL's Drummondville Voltigeurs. He is a left-shot blueliner who, at 5-foot-11 and 174 pounds, is slightly undersized.
In 2017-18, his draft year, he finished with 69 points, second on his team and tied for second among league defensemen. He was also named to the second all-star team. He added another 11 points in 10 playoff games.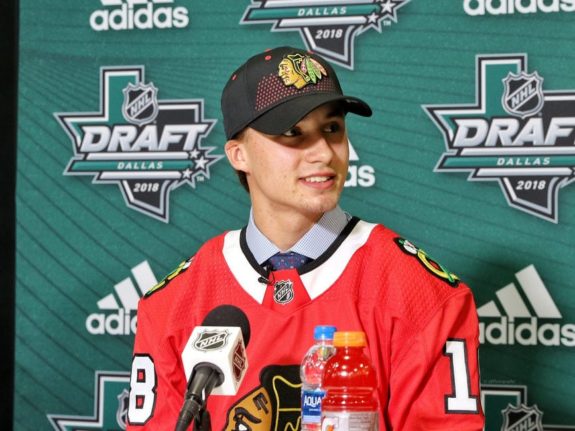 This season, he's off to an even better start with 19 points in 17 games and is third on the team in points-per-game. He is a strong skater but has room for improvement and is at-home quarterbacking a power play with his creativity and vision standing out. His lack of size can cause problems for him and he lacks gap control in one-on-one situations. These are reasons he wasn't expected to go in the first round as none of TSN, Sportsnet, or NHL.com had him as a first rounder.
The other pick the Blackhawks received, a fourth rounder, yielded Philipp Kurashev, a center who plays for the Quebec Ramparts of the QMJHL. He was second on the team last season with 60 points in 59 games, with 28 occurring on the man advantage. He also won 53.1 percent of his draws. In six postseason games, he added another five points. This season he is first on the team with 41 points, including 19 on the power play, in 30 games and is winning 53.8 percent of faceoffs.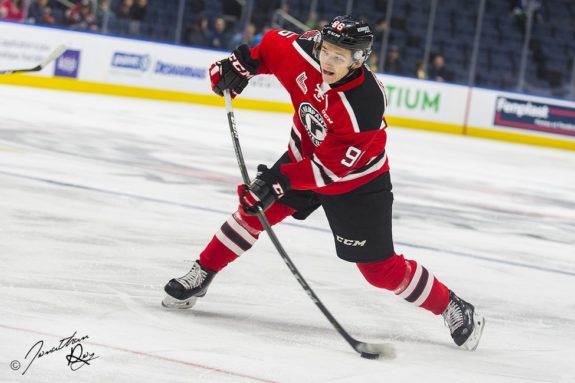 In addition to Hartman, the Predators received a fifth round pick that they used on defenseman Spencer Stastney from the U.S. National Team Development Program. In 78 games last season, he finished with three goals and 43 points. He also represented the United States at the U-18 World Championships and totaled five points in seven games.
Stastney is in his freshman season at the University of Notre Dame and is currently pointless in 15 games. Ahead of the draft, scouting reports complimented his ability to play a sound two-way game and recognized his breakout skills. He is undersized and won't be close to NHL-ready for another three or four years.
Were There Any Alternatives?
The Predators acquired Hartman in an effort to add depth scoring despite finishing the season with the league's seventh-best offense. However, there was reason to add depth as the team had just two 60-point players. Only the New Jersey Devils had fewer such players and qualified for the postseason. Add to that the fact that Predators defensemen represented 29.8 percent of all points scored while the Tampa Bay Lightning, with the league's number one offense, had 23.3 percent of its points scored by blueliners, and Nashville needed forward help.
Other Trade Options
The Predators also seemed to want a player who was more than a playoff rental and could be on the roster multiple seasons. But, had they not been driven to land a controllable player, better options were available. Some of the bigger name players dealt at the 2018 Trade Deadline were Evander Kane, Paul Stastny, and Rick Nash.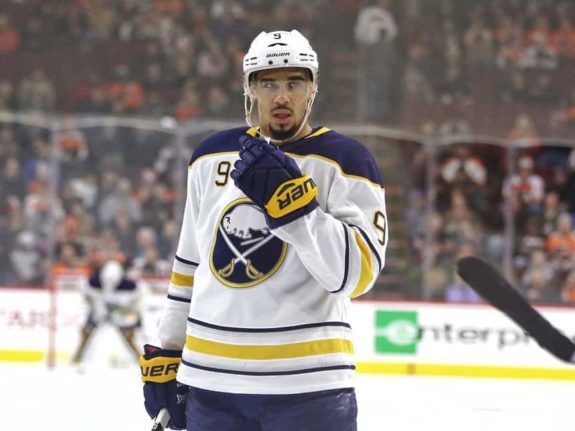 Kane yielded the Buffalo Sabres two draft picks, including a conditional first and a prospect and had 14 points in 17 games after the trade. Stastny fetched a first, a conditional fourth, and a prospect and had 13 points in 19 games after he switched teams. Finally, Nash brought back a prospect, two roster players, first and seventh round picks and totaled six points in 11 games following his trade to the Boston Bruins.
Lesser-known players like Pat Maroon and Michael Grabner were worth a second or third round pick and a prospect. Both players were more productive with the Devils, their new team, than Hartman was with the Predators. Every one of those players was acquired for a value equal to or less than what the Predators gave up for Hartman.
All but Grabner had higher scoring rates following their trades than Hartman did. Of course all of those players were also free agents at season's end, and only Kane re-signed with his new team, so they weren't exactly what the Predators were seeking, but they did prove more valuable.
Couldn't They Have Just Signed a Free Agent This Offseason?
Last season was the final year of Hartman's entry-level contract. He and the Predators agreed to a one-year, $875,000 deal this summer and he has three more years until he becomes an unrestricted free agent. He signed what was essentially a prove-it contract despite being offered a multi-year deal from Poile. So essentially, the Predators acquired the equivalent of a free agent who signed a one-year deal in the offseason, except that they have the right to retain him for at least the next three seasons.
That means the Predators could have signed someone with a cap hit matching or less than Hartman's. Take Alex Chiasson, for example. He is a 28-year-old who had nine goals and 18 points and helped the Washington Capitals win the Stanley Cup last season. This past offseason, the Edmonton Oilers signed him to a one-year, $650,000 contract and all that he's done is score 11 goals, including three on the man advantage, and 13 points.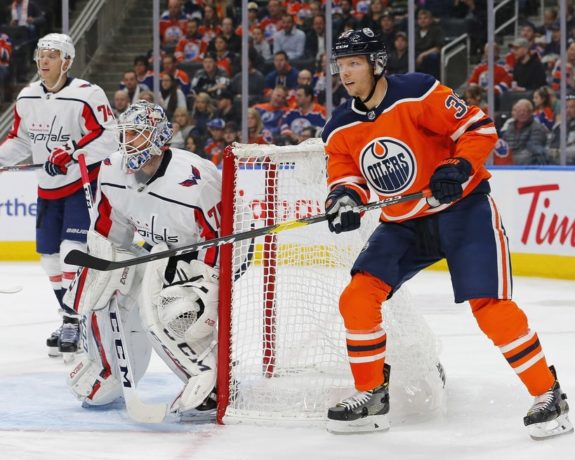 Of course he is shooting a league-leading 34.4 percent, but his three power play goals would tie for Predators' lead. Chiasson may be playing above his talent level, but the fact remains that he's been more productive than Hartman in fewer games and has a smaller cap hit.
Did They Have Prospects to Fill the Need?
Anytime the Predators' need for offense is brought up, the first player pointed to is Eeli Tolvanen, their 19-year-old prospect recently called-up to the NHL. He tore up the KHL and international tournaments last season and looks to be a future NHL star, but he wouldn't have worked in place of Hartman last season because he hadn't arrived in North America yet.
Related: Predators Need Tolvanen While Arvidsson is Out
Behind him, the Predators could have turned to other prospects, including Ejdsell himself. With 11 points in 22 AHL games this season, he looks to be near NHL-ready and his size would have thrived in a middle-six role.
Other prospects who could have worked include Anthony Richard with 12 points in 21 games, Emil Pettersson with 10 points in 24 games but led the team in scoring last season, and Yakov Trenin with eight points in 24 games in his second AHL season. Realistically, the only prospect who would have sufficiently filled Hartman's role was Ejdsell, but even he wasn't ready to produce in the NHL at the levels Hartman did last season or has this season.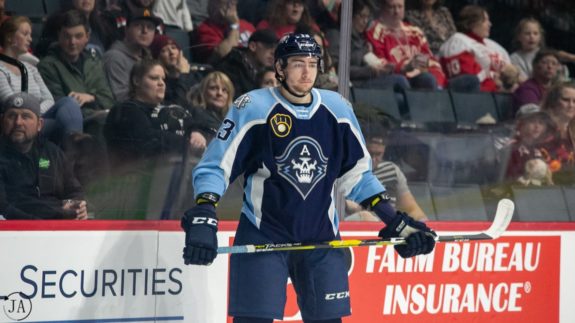 Good or Bad Trade with Benefit of Hindsight?
The reasons for this being a good move for the Predators are pretty straightforward. They received a cost-controlled player not yet in his prime as opposed to giving up similar assets for a playoff rental. He is currently having the best season of his career while playing in an increased role. He was a proven NHL talent with 27 goals and 57 points to his name prior to the trade and not a prospect with potential.
On the other hand, Ejdsell, the main asset going back to Chicago, is a legitimate prospect with upside and could develop into a long-term top-six forward. That doesn't include Beaudin, who has already improved since he was drafted and looks to have a future as an NHL defenseman. Kurashev, the fourth rounder, is also emerging into a serious prospect and is lighting up the QMJHL, admittedly a league with high-scoring rates, but it still shows how productive he is.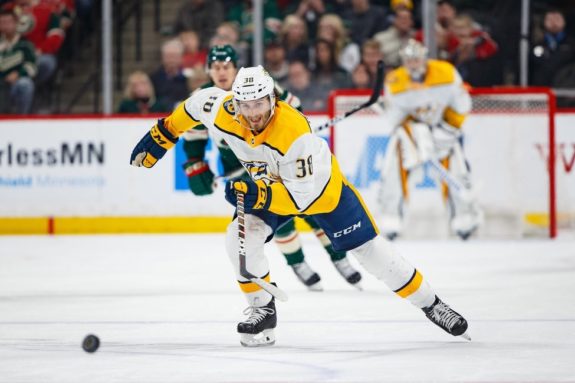 Meanwhile, Stastney may never develop into an NHL player and is at least three more seasons away from joining the Predators. Had Nashville held onto the draft picks, there were numerous players taken after the Beaudin pick who could help the Predators' farm system, including defenseman Rasmus Sandin and forwards Joe Veleno, Jonatan Berggren, and Serron Noel.
The truth is that making an accurate assessment on this trade will take several years. Prospects involved in the deal need time to develop. The question of whether Hartman continues his upward trajectory is important. Plus, there's his contract situation in coming years and what a long-term deal with him looks like. So for now it still looks like a toss-up. I enjoy hearing from readers, what are your thoughts on the Hartman trade? Let me know in the comments below.
*All stats came from Hockey-Reference, Elite Prospects, and Natural Stat Trick
My name is Kyle, and I'm the content manager of The Hockey Writers. I joined THW in Oct. 2017 and am always striving to bring you the best hockey coverage possible. You can email me directly at kyle@thehockeywriters.com.