Rankings:
Minnesota
Boston College
Boston University
Wisconsin
Harvard
North Dakota
Cornell
Clarkson
Minnesota Duluth
Quinnipiac
Game of the Week
#6 North Dakota (4-2-0) at #1 Minnesota (5-0-1), Fri. 10/24 at 7 p.m. CST & Sat. 10/25 at 4 p.m. CST
The Gophers retook the No. 1 ranking in both national polls after sweeping Wisconsin on the road, and return home for two more big WCHA tilts against North Dakota. After a questionable opening period in a tie against Minnesota Duluth last week, Minnesota came out much better for the start of the series against the Badgers, riding a 3-1 first-period lead to victory. The Gophers will again be looking to establish the pace and get a few goals scored early, in hopes of taking UND out of the game. Wisconsin found a few holes in Minnesota's defense last week, and North Dakota, though not the most dominant offensive team, has been dangerous off the rush. The Gophers will need to limit UND's opportunities in transition as well as their own defensive breakdowns to prevent those chances.
It's another border rivalry when No. 9 North Dakota visits Ridder Arena this week: http://t.co/3TfFJIUAKO #Gophers pic.twitter.com/bmOrlQ2Yk7

— Minnesota Women's Hockey (@GopherWHockey) October 22, 2014
The Badgers' defense was pretty successful against Minnesota, and North Dakota will be playing to that same strength this weekend. They had some difficulty sustaining offensive pressure last week against Minnesota Duluth, but again, they've been able to create chances off the rush all season so far. They'll need to be more opportunistic against the Gophers and make sure they take advantage of those chances. UND will also be looking to dictate things from the back-end; they'll need to control things from their own blue line and through the neutral zone even if they can't create constant offensive pressure. They'll need strong goaltending from Shelby Amsley-Benzie as well, which shouldn't be much of a problem if she sticks to current form, with a .968 save percentage and 0.75 goals-against average.
Top-10 Teams in Action
#7 Cornell at #2 Boston College, Fri. 10/24 @ 2 p.m. EST & Sat. 10/25 @ 2 p.m. EST
#3 Boston University at Maine, Fri. 10/24 @ 2 p.m. EST & Sat. 10/25 @ 2 p.m. EST; Northeastern at #3 University, Tues. 10/28 @ 7 p.m. EST
#4 Wisconsin at Bemidji State, Fri. 10/24 @ 7 p.m. CST & Sat. 10/25 @ 4 p.m. CST
Syracuse at #8 Clarkson, Fri. 10/24 @ 3 p.m. EST; #8 Clarkson at Syracuse, Sat. 10/25 @ 3 p.m. EST; St. Lawrence at #8 Clarkson, Tues. 10/28 @ 7 p.m. EST
Lindenwood at #9 Minnesota Duluth, Sat. 10/25 @ 3 p.m. CST & Sun. 10/26 @ 3 p.m. CST
#10 Quinnipiac at New Hampshire, Fri. 10/24 @ 7 p.m. EST
What to Watch For
Robert Morris will host Northeastern for a series between two teams who have struggled to meet expectations so far. This is the Huskies' fourth-straight CHA opponent; they've gone 1-1-2 so far against Syracuse, RIT, and Mercyhurst. The Colonials stumble back home for the series, having fallen to 2-6-0 after being swept handily by St. Lawrence last week. They'll be looking for a good performance in goal this weekend, as Jessica Dodds has lost full control of the starting role and Courtney Vinet hasn't completely stepped up yet either. Northeastern will be looking to see some more scoring out of their veterans; Kendall Coyne has produced but Paige Savage and Hayley Masters have been a bit quiet so far. The Huskies will also take on Boston University on Tuesday night, and the Terriers are rolling after sweeping Clarkson on the road.
Things have gone a bit sour for the Golden Knights after that sweep, though it's far from time to panic. BU is an experienced team with several established veterans, while Clarkson is still looking to find its identity this year. They'll face Syracuse in a home-and-home this weekend before hosting St. Lawrence on Tuesday. Shea Tiley is a more than viable option in goal, but the Golden Knights will want to see her make those saves at key points in games. The defense in front of her has to be better, too, and Clarkson needs to do a better job of generating higher-quality chances so they can capitalize when they have momentum, something that I think they lacked in the series against the Terriers.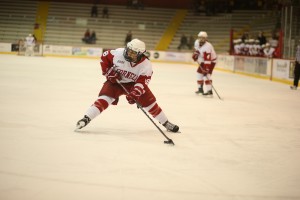 Cornell opens the 2014-15 season with a very tough road series against Boston College. The Eagles have been dominant in all four games so far; they're outshooting opponents by an average of 20.75 shots per game, and haven't given up more than 21 shots in a game. The Big Red's offense, though, is by far the best they'll have faced to this point, so the challenge will be to outchance and outscore them, and to stay responsible defensively. Cornell is sure to be tested by Boston College's potent offense, and this series will give a good indication of where their defense and goaltending stands moving forward.
Wisconsin and Bemidji State were both swept last weekend after starting the year off undefeated, and they'll meet in Bemidji this week for a series. The Badgers are still heavily favored, but it'd be huge for the Beavers if they could rebound and pick up a big upset win here. Wisconsin did well sticking to their game against the Gophers last week; they'll want to do more of the same this weekend, albeit with much better results. The Beavers will try and hold down a strong defense, while taking advantage of the opportunities they get.They'll also be looking for a strong performance in goal; the five goals they gave up to Ohio State last Friday night are an outlier so far, but Brittni Mowat and Erin Deters will be tested frequently by this Wisconsin offense.
Gabriella Fundaro also covers the women's game over at her own website, At Even Strength.
Gabriella is now in her third season of covering NCAA and international women's hockey for The Hockey Writers. She is the founding editor of At Even Strength, a website dedicated to providing full-time coverage and analysis of women's hockey. She is currently working towards a degree in Communication at the University of North Dakota, and is also interning with UND Athletic Media Relations. She can be reached on Twitter (@gabfun) or via e-mail (gfundaro10 [at] gmail [dot] com).