Rankings:
Boston College
Minnesota
Wisconsin
Boston University
Harvard
Clarkson
Quinnipiac
North Dakota
Minnesota Duluth
Cornell
The Round-Up
1. Boston College Eagles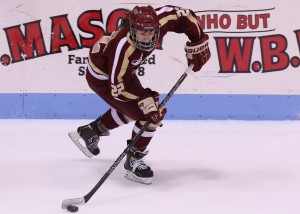 The Eagles have so far done everything possible to assert themselves as the country's No. 1 team. They lead the country in goal differential per game with 3.9, as well as in shots on goal. They also lead in shots on goal per game, with 39.90. Despite missing time while competing with Team USA at the 4 Nations Cup, junior forward Alex Carpenter is tied for the national scoring lead with 19 points in just eight games. Even with five top players out of the line-up on Saturday, Boston College cruised to a 6-1 victory over Northeastern, and then defeated Vermont on Sunday, 4-2. The Eagles' shot differential against UVM was their lowest of the season so far, and they still outshot the Catamounts by 10. They've given up very little defensively while their offense continues to roll.
2. Minnesota Golden Gophers
Minnesota was off this week with 4 Nations going on, but last weekend, they lost five of six points to Bemidji State while at home. The first game ended in a 2-2 tie, with the Beavers taking the extra point in the shootout; they then went on to defeat the Gophers, 1-0, to hand them their first loss of the season. Minnesota has been a bit up and down this year, much more so than in recent seasons, with this obviously being the biggest down in a long time. It's the first time the Gophers have lost a series since Jan. 28-29, 2011, against Wisconsin. The WCHA is always very competitive from top to bottom, and there's plenty of time for Minnesota to get back on track, but for right now, they seem to have come back down to earth.
3. Wisconsin Badgers
The Badgers were also off this week, but earned a tie and a win on the road two weeks ago against North Dakota. In the first game, they jumped out to a 2-0 lead over UND in the first period, but gave up the game's next three goals and found themselves facing a 3-2 deficit at the end of the game. Senior forward Brittany Ammerman knotted the score up with just 40 seconds left in regulation. On Saturday, Wisconsin quickly responded to a North Dakota goal in the second period, with Ammerman again tying things up, and the Badgers went on to take the win, 3-2. They were missing several notable players up front, with Blayre Turnbull and Emily Clark gone for the whole series and Annie Pankowski out for Saturday's game. When it comes to offensive depth and efficiency, Wisconsin rounds out the top three in the country, and they've been very good on the other side of the puck as well.
Only two more days until it's gameday against @MSUWomensHockey! #Badgers pic.twitter.com/s9TGsdrSH4

— Wisconsin Hockey (@BadgerWHockey) November 11, 2014
4. Boston University Terriers
The Terriers haven't been too consistent over the past couple of weeks; they've shown glimpses of being a really, really good team but there have also been several letdowns. They defeated New Hampshire, 4-2, last Saturday, and then tied Yale this weekend, 4-4; they followed that up with a 6-3 loss to Northeastern. The Huskies are a rival club who were desperate for a big win, but the BU couldn't stop them from starting to run away with it with a 4-1 lead. Special teams were one positive against Yale; the Terriers scored twice on the power play while Rebecca Russo and Kayla Tutino both added shorthanded tallies. They have looked dominant in flashes but so far it's that inconsistency as a whole that's separating them from the teams ahead of them nationally.
5. Harvard Crimson
The Crimson played their first games of the season two weeks ago, beating Rensselaer, 4-1, and Union, 5-2. They looked really good in both games, outshooting the Engineers 30-13 and the Dutchwomen 29-9. Harvard was without Emerance Maschmeyer in the series, who was prepping for the 4 Nations Cup with Team Canada, but the defense held up with little trouble, which is an encouraging sign. Junior forward Miye D'Oench had an excellent start to the season, scoring four goals and five points in the the two games. Rookie forward Karly Heffernan also had a good first weekend, notching a goal and two assists in the win over Union.
6. Clarkson Golden Knights
Clarkson last saw action two weeks ago, when it recorded wins against both Brown and Yale. The Golden Knights defeated the Bears, 5-1, before slipping by the Bulldogs with a 2-1 win on the road. Rookie defenseman Savannah Harmon continued to play well, even in the absence of #1 blue-liner  Erin Ambrose, scoring two goals and two assists in the weekend series. Sustaining consistent pressure and scoring has probably been the biggest issue for Clarkson so far, but the team has shown an ability to put up numbers on a few different occasions, and overall those ups and downs are starting to level out. The Golden Knights have had some losses to make up for defensively, and so far they've coped; they'll be looking to really settle in now over the next few weeks.
It's up and running! Check out CWH blog, #MomentswithMercer. Keep up with what's going on with the girls all season! http://t.co/ZJLIKZX2gG

— Clarkson Womens Hockey (@ClarksonWHockey) November 11, 2014
7. Quinnipiac Bobcats
Besides Boston College, the Bobcats are the only remaining undefeated team besides some Ivy League schools, who've played much fewer games to date. With wins two weeks ago over Colgate and Cornell, Quinnipiac improved to a 7-0-1 record. The Bobcats have given up very little defensively and goaltender Chelsea Laden has been there to stop almost all of the rest. Their offense has also been impressively efficient, racking shot totals while a number of different forwards take turns finding the back of the net. They've been able to rely on Taylar Cianfarano, Nicole Brown, and Nicole Connery, while veterans Shiann Darkangelo and Erica Uden Johansson still haven't really broken out this year. Quinnipiac's 3-0 win over Cornell was its first-ever shutout win over the the Big Red in program history, but they don't want to get ahead of themselves;  they've still got a lot of work to do and a lot to prove.
8. University of North Dakota
UND has had a shaky start to the season and, after a series against Wisconsin last week, the team is now on a five-game winless streak. After trailing 2-0 in the first period on the first night, North Dakota responded well and came back to take a 3-2 lead before yielding the tying goal with under a minute remaining in regulation. UND then fell to the Badgers the next afternoon, 3-2. North Dakota has had spurts of good play over these past five games, and has dominated for stretches, but the team has had trouble consistently creating dangerous scoring chances, and sustaining offensive zone time. UND has talent to produce, but right now it's a matter of carrying play from shift to shift and winning battles and races to the puck.
9. Minnesota Duluth
The Bulldogs have looked very competitive this year, and have had little issue taking care of weaker teams, as shown in their last series against Minnesota State two weeks ago. Minnesota Duluth swept the Mavericks with a 3-0 win and a 6-3 win. The Bulldogs were dominant all weekend, and outshot Minnesota State 62-15 in the first win, which included a 28-0 margin in the third period. It's clear that Minnesota Duluth has plenty of talent, but has yet to truly show that it can carry the play against a top team. They've improved in that area as the season's gone on, and had a really good showing against Minnesota, but the Bulldogs still have to prove that they can control things against another competitive team for an entire weekend.
10. Cornell Big Red
To say that Cornell is in some disarray to start the year could be an understatement. After games against Boston College, Princeton, and Quinnipiac, the Big Red are now 0-4, which matches the number of losses they had all of last season. They were upset by the Tigers two weeks ago, 5-4, and then were shutout by the Bobcats, 3-0. Cornell was without star forwards Jillian Saulnier and Brianne Jenner in both games, but wasn't the case for the first series against Boston College, in which the Big Red also fell flat. The offense should improve with Jenner and Saulnier back in the line-up, but if they don't see any improvements defensively, they're going to have a lot to make up for scoring-wise.
Tonight we met our little sisters from the Tompkins Girls Hockey Association! #RoseCeremony pic.twitter.com/fHTzrKFlwv

— Cornell W Hockey (@CornellWHockey) November 12, 2014
Three Stars
1. Brittni Mowat, Sophomore, Goaltender, Bemidji State: There is one big reason why the Beavers took five of six points from the Gophers, and that was the play of Mowat in net. She made 47 saves to push Bemidji State to a shootout win, then stopped all 36 shots she faced to shut out Minnesota.
2. Kate Leary, Senior, Forward, Boston College: With three forwards and two defensemen missing against Northeastern this past week, the veteran stepped up with a two-goal outing, and then scored twice more the following afternoon against Vermont.
3. Courtney Pensavalle, Freshman, Forward, Yale: The rookie came up big in the Bulldogs' tie against Boston University, scoring two goals and three points in the game.
Top Play
Canada faced the United States in the 2014 4 Nations Cup title game on Saturday, and went on to win gold thanks to Brianne Jenner's winner in the shootout.
https://vine.co/v/OelK6ra3ubT
Gabriella is now in her third season of covering NCAA and international women's hockey for The Hockey Writers. She is the founding editor of At Even Strength, a website dedicated to providing full-time coverage and analysis of women's hockey. She is currently working towards a degree in Communication at the University of North Dakota, and is also interning with UND Athletic Media Relations. She can be reached on Twitter (@gabfun) or via e-mail (gfundaro10 [at] gmail [dot] com).