Rankings:
Boston College
Minnesota
Wisconsin
Quinnipiac
Clarkson
Boston University
Harvard
Bemidji State
Minnesota Duluth
St. Lawrence
The Round-Up
1. Boston College Eagles
Boston College has so far done a great job of separating itself from every other team in the country, though Minnesota and Wisconsin are certainly keeping it close. What really separates the Eagles from even those two clubs is how few setbacks they've suffered, and how infrequently they've really been stalled by any opponent. Since tying St. Lawrence in the third game of the season, they've won 12 games in a row and now hold a 14-0-1 record on the year. No one has really had an answer for Boston College's offense; besides in those two games against the Saints, the Eagles have scored at least four goals in every outing. Their defense, too, has been pretty remarkable, as they have yet to give up more than two goals in a game this year and have only given up one in the last five games.
The Eagles are one victory away from tying the longest winning streak in program history (13 games: 11/16/12 – 1/18/13) #WeAreBC

— BC Women's Hockey (@BC_WHockey) November 26, 2014
2. Minnesota Golden Gophers
The Gophers have responded well since tying with and then losing to Bemidji State a few weeks ago, winning all five games since then. They swept Ohio State and Minnesota State the past two weekends in convincing fashion, and on Monday night defeated St. Cloud State, 5-0. Even with what we could call an uncharacteristically shaky start (relatively speaking), Minnesota has only given up three goals twice this season; in 13 other games, it has given up two or less. The Gophers are still clearly a dominant team, but what Boston College holds over them right now is consistent showings from its offense; they've faced strong teams but the Eagles right now are producing at a rate that's clearly tops in the country.
3. Wisconsin Badgers
Wisconsin has also had a very good past couple of weeks. The Badgers scored 16 times in their series against Minnesota State two weeks ago, and then picked up another sweep this past week against St. Cloud State with 4-0 and 3-0 wins. In those last four games, the lowest shots on goal total Wisconsin accumulated was 44; the highest was 67, in the 8-2 win against the Mavericks. The Badgers' offense is extremely well-rounded, and when playing at their best, could easily compete with Boston College. Senior Blayre Turnbull has been very involved; she's leading the team in points per game with 1.42, and classmates Karley Sylvester and Brittany Ammerman are right behind her with 1.40 and 1.38, respectively.
Tic tac toe, the #Badgers third goal in a row against St. Cloud State on Saturday: http://t.co/l5ibkSvD5m

— Wisconsin Hockey (@BadgerWHockey) November 25, 2014
4. Quinnipiac Bobcats
The Bobcats continued their excellent start to the year over the past couple of weeks, and remain undefeated with a 10-0-2 record. They picked up a big win over Clarkson this weekend, 1-0, for their 10th victory in a row, and held the Golden Knights' offense in check, giving up just 15 shots on goal. The following afternoon, Quinnipiac was about nine minutes away from suffering its first loss of the year to St. Lawrence, but Nicole Connery scored to help the Bobcats earn a 2-2 tie. Quinnipiac has relied more and more on its defense of late; as of now, Taylar Cianfarano is the team's lone point-per-game player, but Nicole Connery has been excellent all year as well and Emma Woods has stepped up.
5. Clarkson Golden Knights
Clarkson looked really strong going into Friday night's match-up against the Bobcats, but the offense fell a little flat against Quinnipiac's defense, which I think was a bit disappointing for the team. The Golden Knights picked it up again against Princeton the following afternoon, winning, 3-2, and the 1-0 loss to the Bobcats broke a seven-game unbeaten streak. They've come a long way since getting swept by the Terriers on home ice in October, but while their top players have produced against top teams, I think they could still take that next step and really dominate in those tightly-contested games.
6. Boston University Terriers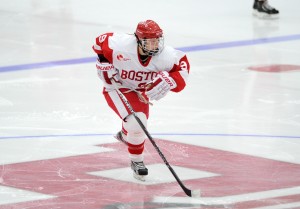 Since having Marie-Philip Poulin back in the line-up, the Terriers have been solid, sweeping Connecticut two weeks ago and picking up a tie against Harvard this weekend before routing New Hampshire, 6-2. In that 1-1 tie with the Crimson, BU played very well, outshooting them by 19. The Terriers' defense gave up little, and Sarah Lefort is playing really well right now, with 21 points in 14 games on the season to lead the Boston University offense. The Terriers still need to show some consistency; they really have yet to turn in one fairly lengthy stretch of winning hockey. Victoria Hanson has yielded more than two goals only once this season, in a 6-3 loss to Northeastern, so it seems they've settled on an answer in goal for right now.
7. Harvard Crimson
After a quick 2-0 start to the year just before the Four Nations break, things are looking a little shaky for Harvard right now. The Crimson are winless in their last three games, which is hardly anything to panic about this early on, but there are some questions that need answering. Two weeks ago, they tied Clarkson, 2-2, and then fell to St. Lawrence, 5-4; this past weekend, they tied BU, 1-1. Harvard's offense has struggled to dominate with consistent pressure, and the team has relied on goaltender Emerance Maschmeyer a fair bit. Again, it's only been a handful of games so far, but the Crimson haven't really backed up their preseason ranking at No. 1 in the ECAC; the pieces are certainly there, however.
8. Bemidji State Beavers
After defeating Minnesota on the road, the Beavers continued their great start to the year with a sweep at home over North Dakota when they last saw game action two weeks ago. Bemidji State pulled off a 4-1 win in the first game and capped it off with a 2-1 win the following afternoon. The Beavers have been very opportunistic this season and that showed in that series, but they've also relied on a very tight defense to win games, and it's worked so far. They don't drive possession, and they seem content with that, so long as they own the middle of the ice and pack it in in front of the net. Brittni Mowat is playing lights-out in goal, and veteran forwards Kaitlyn Tougas, Stephanie Anderson, Kristin Huber, and Alexandra Citrowske have all been reliable as go-to players up front.
.@BeaverWoHockey is ranked No. 10 in today's http://t.co/dXca8QFRkw Poll: http://t.co/sW1jTpnrfU pic.twitter.com/S6mZAY0pVG

— Bemidji St. Beavers (@BSUBeavers) November 24, 2014
9. Minnesota Duluth Bulldogs
The Bulldogs have looked fairly dominant for a while now, and in the last two weeks have swept St. Cloud State and, this past weekend, Cornell, earning 7-2 and 2-0 wins over the Big Red. Sophomore forward Ashleigh Brykaliuk has quietly been excellent this year, with 18 points in nine games, and Zoe Hickel, Jenna McParland, and Lara Stalder have all been big producers as well. Minnesota Duluth has been playing well for weeks now, but the Bulldogs are in a pretty interesting situation. They hold a 10-4-2 record and are one of seven teams in the country with double-digit ones, but they haven't beaten a team with a winning record. Minnesota Duluth has a high ceiling and that's bound to change, but for right now, they still have something to prove against top teams.
10. St. Lawrence Saints
There are a couple of teams that could find themselves in this spot, most notably the 13-2-1 Mercyhurst Lakers, but to this point, I think the Saints have had more good outings against quality teams. In the past two weeks, St. Lawrence earned a 2-1 win over Dartmouth, a 5-4 overtime win over Harvard, a 7-3 victory against Princeton, and a 2-2 tie with Quinnipiac. The Saints also have a tie against BC and a win against Clarkson this year. Rookie forward Kennedy Marchment has been a very nice addition to the club as a point-per-game player, and sophomore defenseman Kristen Padalis looks to be in the midst of a solid breakout year with eight points in 14 games. Carmen MacDonald is always a difficult goaltender to face, and beyond that, Jenna Marks, Kayla Raniwsky, and Brooke Webster have all come through with production.
Three Stars
1. Alex Carpenter, Junior, Forward, Boston College: It's about time to single out Carpenter some credit for the enormous year she's having. She leads the country with 15 goals, 15 assists, and 30 points in just 12 games so far, and over the past two weeks, she's posted six goals and 11 points in four games.
2. Kendall Coyne, Junior, Forward, Northeastern: The Huskies have struggled, but they've been fighting their way back of late, and Coyne has been the driving force behind all that, as she's really done for her entire career at Northeastern. In the past four games, she's got four goals and seven points, and is averaging 9.75 shots on goal.
3. Jenna Marks, Junior, Forward, St. Lawrence: Marks is producing at better than a point-per-game clip, with 16 points in 14 games, and she's been an integral part of the team's success all year. Over the past four games, she's posted four goals and three assists for seven points.
Top Play
Typical Kendall Coyne: bursting out of neutral ice with the puck and beating the last defender with a nice move before stashing it home.
Gabriella is now in her third season of covering NCAA and international women's hockey for The Hockey Writers. She is the founding editor of At Even Strength, a website dedicated to providing full-time coverage and analysis of women's hockey. She is currently working towards a degree in Communication at the University of North Dakota, and is also interning with UND Athletic Media Relations. She can be reached on Twitter (@gabfun) or via e-mail (gfundaro10 [at] gmail [dot] com).