Last season, the Pittsburgh Penguins were faced with a very difficult choice, what do with their goaltenders given the impending expansion draft. Their ability to only protect one goaltender forced general manager Jim Rutherford to make a tough and gutsy call to expose franchise netminder Marc-Andre Fleury.
Pittsburgh was the only NHL city for whom Fleury had played and the Penguins were the team that drafted him first overall in the 2003 Entry Draft. The 32-year-old goaltender had played 691 games with the Penguins and won a franchise-record 375 of those games. He was not only a fan favorite but one of the top goaltenders in the league throughout his 13 seasons in Pittsburgh, despite some unsteady play.
Given the emergence of the young Matt Murray, the Penguins were forced to part with a franchise centrepiece in order to remain competitive for the foreseeable future. This decision, while tough and taxing, was necessary. The Penguins needed to become younger and, more importantly, cheaper in net given how they had allocated their salary cap to a star-studded lineup.
So far, the move seems to have worked out for both Fleury and the Penguins. Murray has not had his best season but one can argue that his struggles aren't personal but come down to team performance. Sure, Murray has been far from perfect this season but overall he has put his team in a position to compete on most nights and given his age, it is to be expected that he will be inconsistent at times.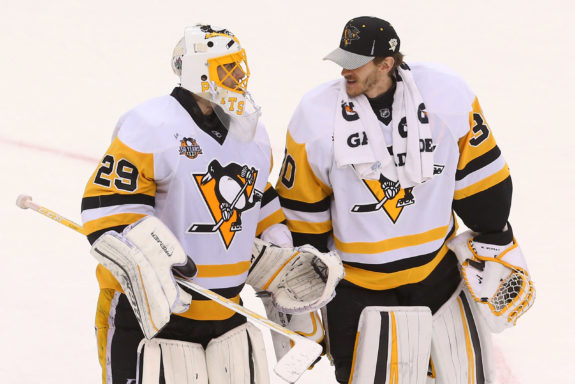 How the Penguins Dealt with Fleury's Absence
Prior to the start of the season, the Penguins went out and signed veteran backup Antti Niemi. In three games, Niemi posted a .797 save percentage and a 7.50 goals-against average. Suffice it to say, the experiment ended quickly and Niemi was waived and has since moved between multiple NHL teams.
Enter Tristan Jarry.
For quite some time, Pittsburgh's second-round pick in the 2013 NHL entry draft was heralded by many as the "goaltender of the future." However, Murray took the American league by storm and never looked back making Jarry an afterthought.
The best NHL teams have a solid starting goaltender with a stable backup who can step in and play in big moments. Jarry did not plan to be Murray's backup, but he is a year younger and was thrust into the role because of Niemi's lackluster play. He has responded fantastically with a .923 save percentage and a 2.33 goals-against average.
A few years ago, I spoke with scouts and some members of the Penguins organization and no one expected Murray to set almost every major record in the AHL. They all saw some flaws in his game and thought he might struggle to transition to the NHL without proper coaching. The same can be said about Jarry, except those same hockey operations individuals were even more skeptical of Jarry and his play in junior and the AHL.
What this means is that the Penguins scouting department has done their due diligence. Scouts are often the unknown heroes that make or break trades and push their general managers to keep a prospect when everyone else suggests a trade. The Penguins' scouting and development departments have done a phenomenal job at continuing to have faith in their prospects and now the team is seeing the rewards of their efforts.
Michael Pityk is an analyst who has written for numerous sites since beginning his professional career. He's acted as a credentialed member of the media for the Philadelphia Phillies, Philadelphia Flyers, Pittsburgh Pirates and the Pittsburgh Penguins. His work has been featured in Sports Illustrated, The Sports Journal, MSN, PensLabyrinth, Montreal Hockey Talk, ESPN Pittsburgh, The Hockey Writers, Todays SlapShot and The Bleacher Report. He formerly was the editor of Pens Labyrinth and an analyst for The Sports Journal. Michael presently acts as an NHL Analyst for The Hockey Writers