Work ethic, failure to compete, chasing the game and lack of commitment. Various Pittsburgh Penguins used all of these explanations when discussing what happened in Newark during an embarrassing 4-0 loss to the Devils on Saturday night. Following that contest, the Penguins retreated to a players-only meeting in the dressing room to address those concerns amongst each other. No coaches. No management. No media. This is what has become of a Penguins' season that was once filled with immense hope and excitement.
Evgeni Malkin was one of the louder voices heard in that meeting. And, Malkin was quite candid with media as well once the locker room was opened for access.
"We're not playing right, We're not working hard. I know it's tough right now. We're mad at each other. We need to stop, look in the mirror and start working. We're not working."
Malkin is right. They aren't working. And, to be blunt, the entire situation in Pittsburgh right now simply isn't working. I find it hard to believe that I'm typing these words considering the Penguins have won 7 of 10 but still, something isn't right with this group. The Penguins were riding high after a comeback victory over the Montreal Canadiens last Wednesday, only to drop consecutive games in a back-to-back situation vs. the Columbus Blue Jackets and New Jersey Devils. Furthering their struggles from one season ago, the Penguins can't seem to put together a full 60-minute effort against fellow Metropolitan Division teams.
I recently discussed that this team could actually be for real. They were finding ways to win and picking up each other's slack as needed en route to an impressive stretch of victories, which somewhat covered up for the dismal 0-3 start they experienced in early October. The issue though, is that they didn't look particularly good in those victories and if it weren't for stellar goaltending, we'd likely be having a completely different conversation right now. At this point it's safe to say that change will likely happen and it could very well be with the coaching staff.
Mike Johnston Back on the Hot Seat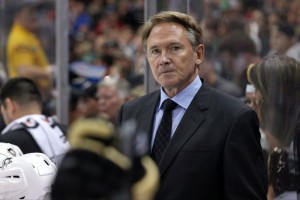 Jim Rutherford and the Pittsburgh Penguins front office will have a big decision to make. Is Mike Johnston the right man for the job in Pittsburgh? Rutherford recently seemed reserved and unwilling to give Johnston and his staff praise when speaking with Josh Yohe of DKonPittsburghSports.Com, despite their recent success and winning streak. While the team was able to put together some victories, it's very possible that it was only delaying the inevitable. There needs to be accountability for what's occurring and whether or not you agree the onus is fully on Johnston, you can't fire all the players.
Pittsburgh's power play has been the biggest surprise so far in 2015-16 and not in a good way. A group that is packed with elite talent like Sidney Crosby, Evgeni Malkin, Phil Kessel and Kris Letang somehow can't find a way to score goals. There was an expectation of growing pains and a slow start while Kessel found his fit with this group but at this point, we're past that. The only answer this coaching staff has implemented so far is to separate Malkin and Crosby on the top unit. Essentially, the thought is that removing your most productive forward from a unit that can't score would spark something. Yes, you read that correctly.
Surprisingly, it's unclear who is actually running the power play for the Penguins. While most teams are transparent with the assignments of their coaching staff, this group has resorted to finger-pointing with Tocchet, originally hired as the power play coach, denying that he is the one responsible for this group. If he isn't, does that mean that Johnston is running the show on special teams as well? Maybe Agnew's role was increased and he's handling both the penalty kill and power play now? Whoever it is, they're creating a very frustrating situation for one of their biggest stars. I stand by my tweet below…
That being said… My hot fiery take for the evening is that if I'm Malkin, I'm considering a trade request if MJ is in Pitt for the long haul

— Mike Necciai (@Michael29Angelo) November 15, 2015
The Pittsburgh Penguins Have Reached a Crossroads
It's decision time in Pittsburgh. When it comes to job terminations the dominos normally fall in the order of coaching staff followed by management. This situation is a catch 22 for GM's as they're normally firing a coach to turn a team around and save their own job but at the same time, they're shortening their leash since they become next on the totem pole. After the outing in Newark on Saturday night, this staff needs to evaluate where they are and pick which direction the Penguins are headed before it's too late.
I've been a supporter of Johnston and wanted to see him get a fair shake this season after dealing with so many injuries in 2014-15. So far, he hasn't passed the test. My main issue with him is personnel decisions and the lack of identity this team has. He wants to play a defensive system but lacks the appropriate blue-liners to do so. He made some adjustments that include more involvement from the forwards in the defensive zone but he's doing so at the cost of offense. The Penguins are built to outscore opponents and right now, they're one of the lowest scoring teams in the league. And, with all of the emphasis on a defensive game, they aren't good in that aspect either.
Johnston's critics have long said that he's in over his head in the NHL. Has the rest of the league figured him out? It's hard to imagine a scenario in which he's able to hang on in Pittsburgh for much longer. But, most of what has happened this season would have been hard to imagine just a few short weeks ago, so we'll have to wait and see which road the Penguins take from here.
Pittsburgh Penguins writer for TheHockeyWriters.Com and PittsburghHockeyNow.Com. Youth hockey coach, and student of the game.