Part of having a well-run hockey organization not only includes having a winning professional team, but also boasting an elite group of prospects in the system. Those prospects usually span from the AHL squad all the way to the most recent draft picks. The Pittsburgh Penguins have had success at the NHL level in recent years, but the development system has lacked in comparison.
That being said, however, there are still plenty of players in the current prospect pool who are considered 'untouchable' and shouldn't find themselves in trade talks any time soon. They are players who are bright spots in the organization who are likely to one day make their NHL debuts with the Penguins.
The following is a list of Penguins prospects who, for the time being, are seen as "untouchable" players and will be growing into NHL hopefuls in the Pittsburgh system.
Untouchables
The group of guys who have been highly touted by management, and are NHL bound with some steady growth.
Pierre-Olivier Joseph
The first prospect who won't be shown the door is Pierre-Olivier Joseph. The top defensive prospect came to Pittsburgh as part of the Phil Kessel trade with the Arizona Coyotes. Ever since arriving, Joseph has been spoken very highly of by everyone in the organization. During his first season with the Wilkes-Barre/Scranton Penguins, he played in 52 games and scored 17 points.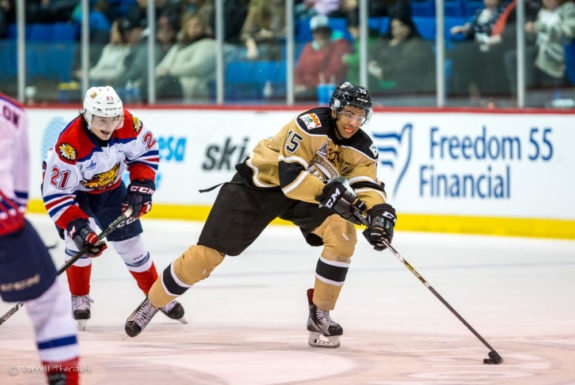 Joseph is 21 years old, putting him in as the oldest untouchable prospect in the Penguins' system, and the closest to the NHL. The former first-round draft pick spent five seasons in the QMJHL with the Charlottetown Islanders before making his AHL debut in 2019. While in Charlottetown, Joseph played in 235 games and posted 140 points; the Islanders reached the playoffs in four of those five seasons.
A huge influx of defensemen has all but eliminated Joseph's chances of making an opening night roster, but it is widely expected he will make his NHL debut at some point during the 2020-21 season. For a defenseman, offensive numbers aren't the biggest focus, but Joseph could mold into a great two-way D-man for the club.
Sam Poulin
Joseph sits as the only untouchable prospect from the blue-line, next comes a forward Pens fans have heard a lot about. Sam Poulin would have been in a real fight to crack the Penguins' NHL lineup had it not been for the acquisitions of multiple depth forwards. Unfortunately, Poulin is slide-eligible and won't be able to play with the AHL team. Barring any major decisions to be made by the NHL, like expanding rosters, it's either the NHL or back to the QMJHL for him.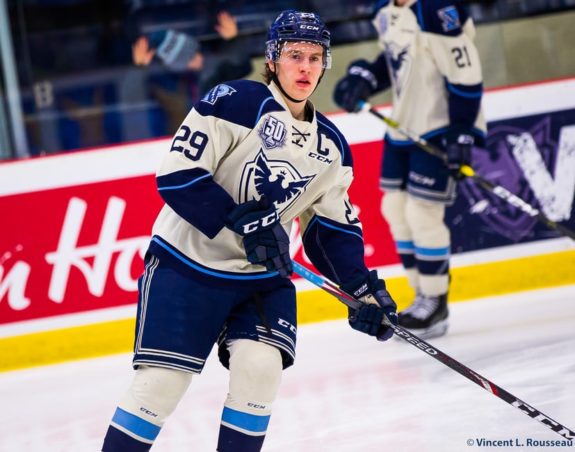 Speaking of the QMJHL, Poulin has played the last three seasons with the Sherbrooke Phoenix. In those seasons he has been a top producer, scoring 77 goals, 121 assists, for 198 points in 168 games. In 21 career QMJHL playoff games, he has 20 points.
Poulin and Joseph were picked to be black aces on the Penguins' squad heading into the Toronto bubble for the 2020 Playoffs. They may not have played, but it shows how highly the organization thinks of them as players, especially in Poulin's case since he was playing with his junior team.
The Penguins and Poulin have shared a unique connection over the years. Former Penguins' goaltender Jocelyn Thibault is not only Sherbrooke's general manager, but he is also Poulin's godfather. Thibault played with Poulin's father, Patrick, with the Montreal Canadiens.
The QMJHL has begun their 2020-21 season despite the ongoing COVID-19 pandemic. So far this junior season, Poulin has scored two goals and an assist in the first three games.
Nathan Legare
Another 19-year-old with a slide-eligible contract, Nathan Legare is rumored to have one of the hardest shots in the Penguins organization. Despite experiencing setbacks during the 2019-20 season, it is very likely management wants to see how far Legare can progress. An NHL debut in the upcoming season is highly unlikely, but it is much more likely he will be able to take a step forward in progression.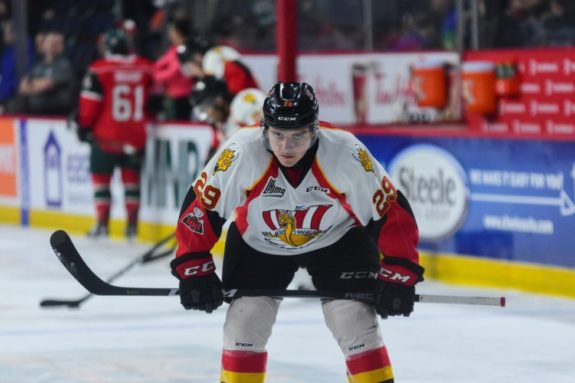 Legare played the previous three seasons with Baie-Comeau Drakkar of the QMJHL, and has been a high-level point producer. In his three seasons, Legare has scored 187 points (90 goals) in 191 games.
During the 2019 NHL preseason, Legare made his name known in Pittsburgh, picking up a multi-goal game against the Columbus Blue Jackets. Shortly after, he found himself signing an entry-level contract with the Penguins.
The 2019-20 season was considered a setback for Lagare and it was not because of his offensive play. The setback came from his play on the opposite side of the puck, as he finished the season with a minus-24, a career-low by 20.
During the current 2020-21 QMJHL season, Legare has posted two goals, three assists, for five points in four games played.
Middle Ground
While the first group of players are the team's top prospects and are for sure going to be seen in Penguins' uniform sooner or later, anything is possible with Jim Rutherford making moves, leaving this group, or party of one, in the air. He should be looked at as an untouchable prospect, but Rutherford could feel trade-happy with him.
Kasper Bjorkqvist
Drafted in 2016, Kasper Bjorkqvist spent three seasons with Providence College in the NCAA. Standing at 6-foot-1, Bjrokqvist plays a disciplined game and focuses on improving his numbers while helping the team win.
During his NCAA tenure, Bjorkqvist played in 112 games, scored 36 goals, and tallied 26 assists, for a total of 62 points. His disciplined play is easily seen in his penalty numbers. He has never crossed more than 20 penalty minutes in a season, and it's that kind of play that earned him the role of captain for Providence.
A knee injury put Bjorkqvist on the shelf for six months in November, causing him to miss all but six games of the 2019-20 AHL season. Since recovering from surgery, he has been loaned to KooKoo of the Finish Liiga for the 2020-21 season. In eight games played, he leads the team with nine points.
The Newbies
This is a group of college players who are new to the organization and still need to be given a fair shake to grow as players in front of management. Unless a pretty impressive trade offer hits the table, these players will most likely be considered untouchable until they hit the ice with the Penguins organization.
Cameron Lee
The Western Michigan University (WMU) defenseman is an interesting case, Cameron Lee is 23 years old and the eldest of the new college signings. During his time at WMU, Lee worked as a puck-moving defender. In 137 games, he marked 67 of his 85 points as assists.
After going undrafted, Lee signed a two-year contract with the Penguins in March, just after the pause of play. The Penguins are looking forward to seeing how this defenseman can grow into his game.
The nephew of former NHL goalie Jean-Sebastien Giguere, Lee is a fantastic puck-mover who has a bright future ahead of him, it just might take time to reach his full potential.
While not a European product, Lee has joined HC Slovan Bratislava of the Slovakian Extraliiga to start the 2020-21 season. He has not yet seen ice time, it looks like he is bound to make his professional hockey debut while in Slovakia.
Josh Maniscalco
From the oldest to the youngest college pick-up, Josh Maniscalco played the last two seasons with the Arizona State Sun Devils. Another puck-moving defenseman, Maniscalco collected 37 assists in 71 games in his NCAA career and played alongside Penguins' co-owner Mario Lemieux's son, Austin. Maniscalco went undrafted in his draft year but had caught the eye of NHL prospects.
With a lot of room to grow, the Penguins took a shot and signed Maniscalco to a three-year entry-level contract. His offensive-minded style should be a perfect fit with the Penguins when his number is called for the NHL.
Maniscalco is penned to begin next season with the WBS Penguins, and that is where his progression into an NHL regular will begin.
Drew O'Connor
The only forward on this portion of the list, Drew O'Connor played two seasons with Dartmouth College. In 65 games, the power forward scored 38 goals and 21 assists, for 59 points.
O'Connor, standing at 6-foot-3-inches and 190 pounds, still has room to grow and fill out his frame. If given a certain type of coaching and skill set, this is a player that could be shaped to fit the hole left by the departure of Patric Hornqvist – a stout net-front presence that can be a thorn in the side of opposing goalies and defenders.
It is hard to gauge when O'Connor could make it to the NHL, the 2020-21 season seems very unlikely for more than just reasons of a pandemic. Rutherford has made a habit of signing depth forwards this offseason, and he might not be done. Sooner rather than later, expect to hear O'Connor's name begin to leak into conversations of reaching the NHL.
No matter what way you look at it, every player on this list is important to the future of the Penguins organization. If they make strides in their growth on the ice, then they will be valuable contributors and part of a new youthful focus. If they progress slower or take steps in the wrong direction, then they are still young enough that they can be traded away for a different project.
It would take a real miracle (or tragedy if injuries pile up again) for most of these names to reach the NHL in the upcoming season, but they are prospects and still need their time to marinate in the system. In the coming years, it will be time for the Penguins to start focusing and utilizing the youth in the organization. When that time comes, assuming a positive growth, these are the players that will deserve the most attention.
---
---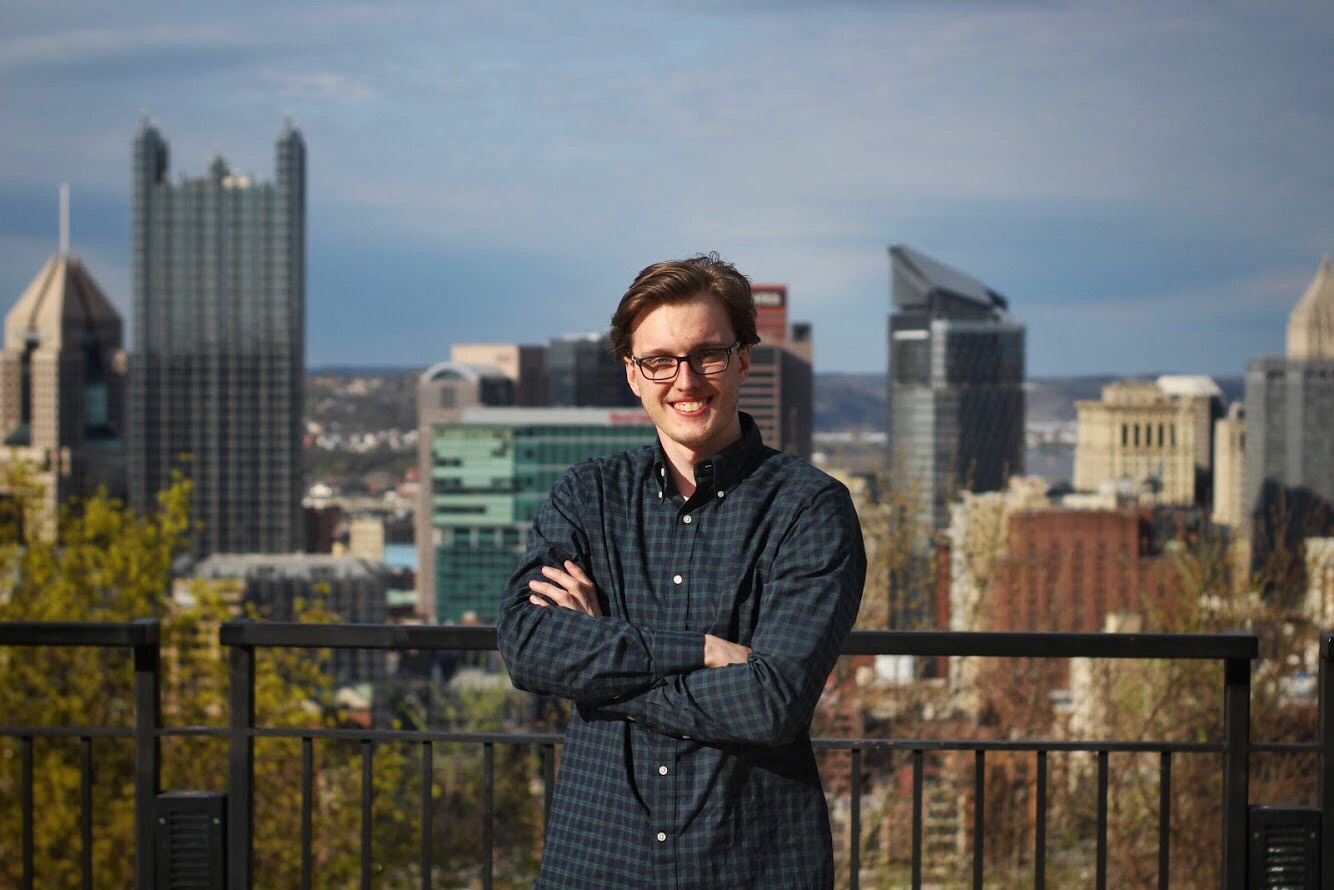 Nick Horwat is a graduate of Point Park University and was born and raised in Pittsburgh. A lifelong Penguins fan that has been watching and going to games for as long as he can remember.