Since the New York Rangers opened their season with a stomach-turning 4-0 beating at the hands of the New York Islanders, the reality of it seems to be settling in now. Despite the long-awaited arrival of both first-round draft pick Alexis Lafreniere and defensive talent K'Andre Miller, last night's shutout eclipses that excitement. 
The Rangers should know what to expect heading into tomorrow's game, but they should have known last night too. The Islanders are a systematic team they play predictable but exceedingly successful hockey. They are smart, relentless, and protective. 
The "short-term memory" approach has to be a lasting theme for this young club. They cannot go into a series with Carolina comfortable based on their regular-season sweep last season – the qualifying Stanley Cup round last summer is an example of that. They cannot face the Islanders with the reassuring knowledge they toppled Long Island last season with three wins in four games. They cannot go into tomorrow's game with this disappointment hanging above them — it goes both ways. Good or bad, they need to go into each game with a fresh memory.
Yes – the Rangers had several factors working against them. Like the rest of the league, the team did not have a preseason to lean into. Veteran Mika Zibanejad recently dealt with the virus, remembrance of last season's brutal elimination, several news faces, and a much-altered team dynamic were all present factors. Feel free to include several highly questionable calls by the officials to add to it.
Main Concerns for the Rangers
Where to begin? Faceoff losses, pointless penalties, big names went invisible, their weak penalty kill ability… The defense, in general, was incoherent. The list of shaky areas from last night's match goes on and on.
Too much of their game was reminiscent of their 2019-20 regular season, and even more so, their postseason look in the bubble. For a team the Rangers are going to meet many more times, they will need to find a way to overpower them. That won't happen when they aren't generating scoring chances. 
One way to generate a chance is off a faceoff win. The Blueshirts have not been strong on the dot for several seasons now, but this is one weak spot that perpetually haunts them. It is painfully clear the team needs to become more aggressive on the faceoff and in general. The Isles were not shy stealing the puck off the Rangers' sticks. Even still, scoring chances are tough to accomplish when the opponent controlled the puck for the large majority of the game.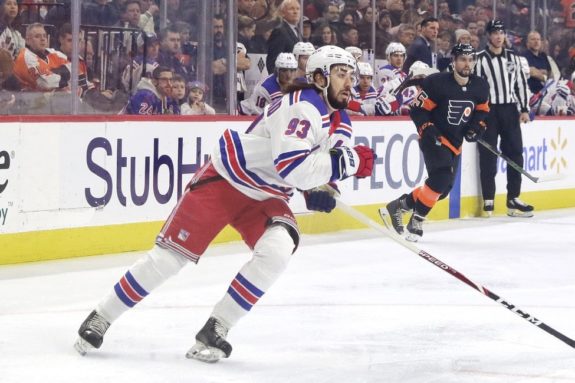 The Rangers were sent to the penalty box eight times last night. Among the trivial penalties was one too many men call and unsportsmanlike conduct calls. An unsteadily defensive team handing a highly opportunistic, seasoned team the man-advantage is begging for a goal-against, and that is what happened. Two of the Isles' goals came while they were on the power play.
Meanwhile, team leaders and talent like Artemi Panarin, Chris Kreider, and Zibanejad went undetectable at times. The experienced players did not come ready to play. They somehow opted to return to their elimination-worthy performances.
"I thought we went back to doing some of things we were doing in the bubble," stated head coach David Quinn (From 'Rangers should be ashamed of this start', New York Post, 1/14/2021). With as skillful a squad as the Rangers are, this makes the shutout all the more frustrating. However, no singular area of the organization should attract the most blame, yet.
On the Bright Side
First and foremost, it has only been one game. Though it was a rough one game, arguably, each young player had better moments. 19-year-old Kaapo Kakko had his ups and downs, but given it has been one game, the focus should be on his upside. He could legitimately have the chops to be Jesper Fast's replacement one day.
Additionally, coach Quinn concurred Lafreniere seemed confident enough on the big New York stage. Despite how many more times Miller was tested compared to Lafreniere, he fared just fine as well. Though nerves (understandably) visibly impacted the defenseman more, he has time to sink into his physical style.
Filip Chytil, Julien Gauthier, and Pavel Buchnevich looked on the up, too. Buchnevich, who had a strong camp, seemed able to translate that over against the Islanders. Chytil, another young gun, put on an encouraging performance. Gauthier enjoyed the spotlight as he was one of the more solid performers too.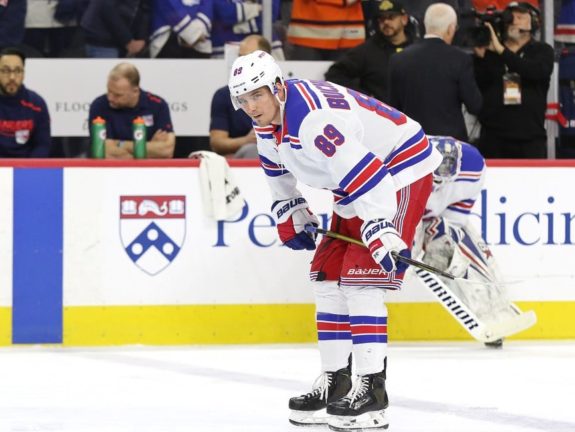 Goaltender Alexandar Georgiev gets the call tomorrow, and it will be a great opportunity to prove himself. Although the highly talented Igor Shesterkin found his groove as the game went on, Georgiev did very well against the Isles last season – he was put in for each meeting. Saturday's start could be the start of a tear for the 24-year-old netminder.
As the coaching staff sorts out the goaltending situation, Georgiev could make a real case for working themselves into a near even tandem. 
Hopefully, the Rangers can figure out how to avoid exploitation of their errors in Saturday's game. If they can avoid falling victim to their sloppy style and put the Islanders' defense to the test, then a somewhat better result can be expected. But it's not going to get much easier from there. 
It is much too soon for any rash, long-term decisions. Patience has long been a part of the Rangers' narrative and will continue to be. Tough outcomes are to be expected with this young group. They need to learn from the result of each game, but not allow the last game as a reason to start flat, or play comfortable. 
---
---
Rachel is a graduate of the University of Pittsburgh. She can be followed on Twitter @RachelNHL.