The New York Rangers came into the season with much anticipation. However, things haven't gone as planned and if they don't watch out, things can get away from them quickly – they might even find themselves at the bottom of the newly formed East Division at the end of the 56-game schedule.
Filip Chytil Out 4 to 6 Weeks
Breaking news out of the Rangers is that Filip Chytil is going to be out four to six weeks. Chytil has been one of the few bright spots for the Rangers. He notched two goals and an assist thus far in the first five games as a third-line center. He's also done a lot of the little things that have made head coach David Quinn and his teammates take notice.
The 21-year-old center, who would have played in his 150th career game on Tuesday against the Buffalo Sabres, also has a plus-three rating and logged more ice time than anticipated so far. It appeared like he was ready to have a breakout campaign before he collided with Pittsburgh Penguins forward Evan Rodrigues. It's uncertain the exact nature of the injury except that it's "an upper-body injury."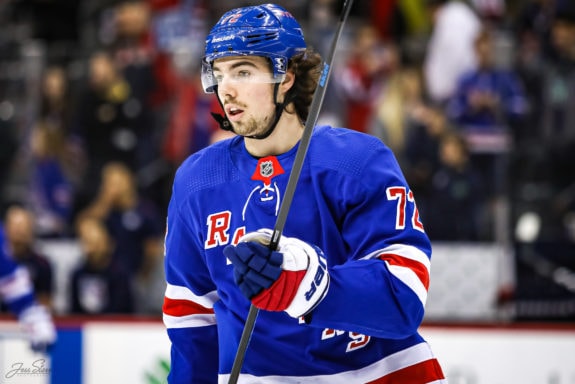 Larry Brooks of the NY Post speculates that it may be a left hand or wrist injury ("Rangers scrambling to replace Filip Chytil after crushing injury update", NY Post, 1/26/21). Brooks was referring to the fact that the Rangers' medical trainer Jim Ramsey was tending to Chytil's left hand or wrist after the injury occurred midway through the second period of Sunday night's game. Chytil's injury will make way for Brett Howden to move up to center the third line. Howden, the big-bodied center from Alberta, had this to say before tonight's game against the Buffalo Sabres.
Rangers head coach David Quinn spoke about Chytil's injury and what the roster might look like in his pre-game presser. "It's really disappointing, I feel for Phil [Filip] big-time as everybody has talked about, he certainly was getting off to a really good start," Quinn said. "We all were watching the player that we feel he's capable of being kind of evolve, and really a tough blow for him personally and a tough blow for our team." In reference to what the lineup would look like tonight and moving forward, Quinn said, "We are gonna make some moves today, I'd rather hold off on telling you what that's gonna be, so, there is gonna be a different look to our lineup obviously tonight."
The First Five
The first five games of the shortened 2020-21 NHL season are in the books for the Rangers and the results haven't been great, but they haven't been horrible either. With the exception of pretty much being run out of the building against the New York Islanders on opening night, the Rangers have bounced back with some solid play. They returned the favor to the Isles in the second game and lost by one in the next three contests.
When asked by Bruce Beck of local NBC 4 about the three straight one-goal losses, Quinn replied, "It's really timely play. We've done a lot of good things, we feel good about our overall game, but winning and losing in this level usually comes down to one play at a key time and unfortunately, we haven't made'em." Quinn went on to say, "We feel like we're really close, but enough about talking about it, you gotta go out and do it." He finished by saying, "At the end of the day it's about winning and losing and we just haven't won enough up to this point."
There have been a few players who've somewhat stood out so far for the Blueshirts. Those players would be – along with Chytil – Adam Fox, Jacob Trouba, Artemi Panarin and even rookie K 'Andre Miller, who is a plus-six. Panarin is leading the Rangers in scoring with six points. However, that's not great for someone with his pedigree and it definitely isn't on par with last season's splits.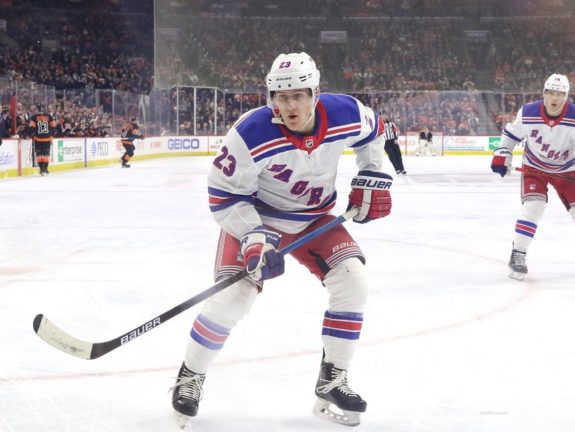 On the other end of that, players like Tony DeAngelo, Jack Johnson (who's a minus-four) and both netminders haven't quite kept up their end of the bargain, especially Igor Shesterkin. Shesterkin's started three games and lost all of them. His save percentage (SV%) is .888. Alexandar Georgiev's SV% is .907. The two have a goals-against average (GAA) of 2.98 and 2.40 respectively. With the exception of Shesterkin's SV%, these stats aren't horrible. However, they aren't what either of the goalies expects of themselves, or what the team is expecting out of them either.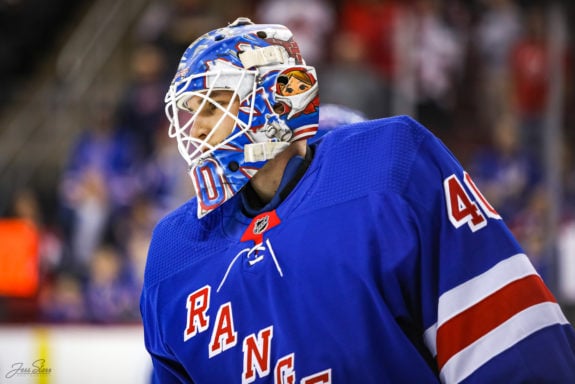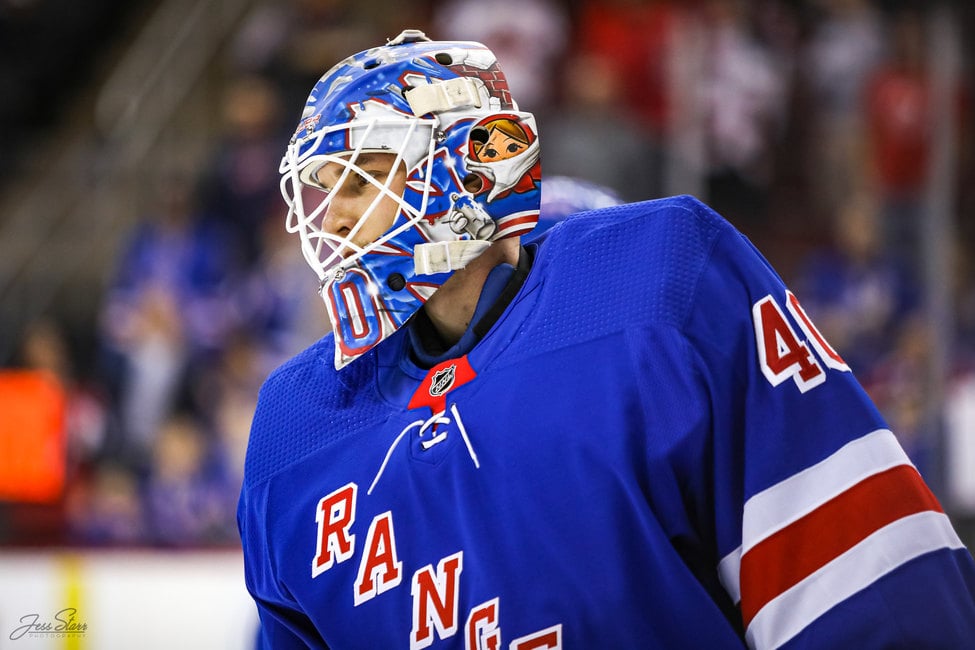 Mika Zibanejad and Chris Kreider, the front runners to be the next Rangers captain, and Ryan Strome haven't played very well either. The three have a combined six points and are a combined minus-six in the first five games. That's unacceptable for guys who all had career years last season. Plus, Zibanejad and Kreider are supposed to be taking a bigger leadership role with this young team.
What's Next?
Well, the Rangers lost another one by a goal to the Sabres on Tuesday night. They had a power-play during the last minute and a half but couldn't cash in to take it to overtime. Things need to turn around fast or they'll find themselves in the cellar of the East Division when it's all said and done. They have a rematch with the Sabres on Thursday and they need to flip the switch and keep it flipped from here on in if they don't want the season to go by the wayside.
*On a side note, Tuesday was Wayne Gretzky, who played his final hockey game in a Rangers uniform's 60th birthday. Happy Birthday to The Great One.
---
---
Scott Blair is an author and journalist from Los Angeles, CA, by way of Detroit, MI.  Uniquely diverse experiences have shaped Scott's life in both of those places he calls home.  He is now traveling the world, learning and growing as a human and a writer.  He was a professional hockey player and then turned to the arts, becoming an actor for about 15 years.  His passions turned to poetry, prose, politics, and journalism when he got tired of the Hollywood machine and what it represents. Scott is available for interviews and welcomes questions and topic ideas.