It was eerie to see Madison Square Garden, the World's Most Famous Arena, empty for so long. The last time fans were allowed in the building, they were treated to a disappointing 6-4 loss at the hands of the New Jersey Devils on March 7, 2020. But on Friday, the Rangers welcomed fans back to MSG in a big way, with a dominant 6-2 win over the Mass Mutual East-leading Boston Bruins.
Simply put, the fans seemed to energize the Rangers, who came out skating from the jump, manhandling a physical Bruins team up and down the ice. In fact, that physicality contributed to the Blueshirts' first goal, as Julien Gauthier out-muscled the defender and ripped a shot past goaltender Tuuka Rask. The goal was officially credited to Phil Di Giuseppe, who was parked in front of Rask, tipping the puck past him for his first this season.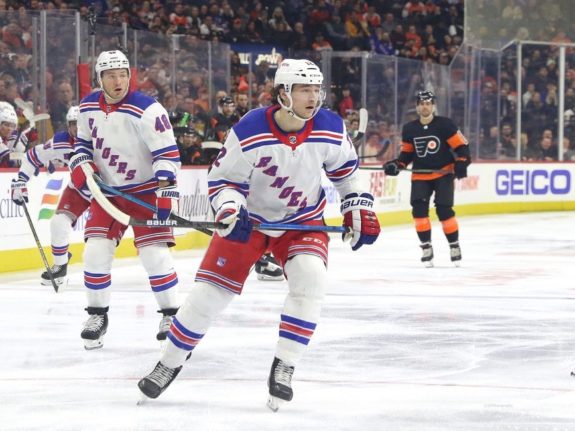 The Rangers' goal song has never sounded so good, with a 10-percent-capacity crowd singing along with jubilation. Despite the brilliant effort by Gauthier, it was Alexis Lafreniere who stood out. He intercepted a pass, blazed through the offensive zone, chipping a backhand past Rask before getting denied by the crossbar.
He was hungry for the puck, creating chances all game with an aggressiveness that resulted in his first NHL assist, a beautiful cross-ice seam pass to Ryan Strome, who deposited the puck into the net. The shot was perfect, giving Strome his first of three points on the night, but everyone was awed by the beautiful feed, and rightly so. Per Hockey Stat Cards, Lafreniere finished the night with the fourth-highest game score of 2.19, trailing only Strome, Ryan Lindgren and David Pastrnak.
Lafreniere has progressively looked comfortable and had a coming-out party in front of MSG fans.
Dictating Play in the Final 40 Minutes
Part of the Rangers' struggles early this season has been their inability to hold a lead, or they collapse in one of the final two frames. They remedied those issues on Friday by keeping their feet on the gas, dictating the play throughout the second period, before jumping on the Bruins again early in the third.
This was a 1-0 game after 20 minutes, with both teams getting chances in the opening frame. Yet it was the Rangers who pushed the play in the second, kicking things off at the 2:32 mark with the Strome tally. Bruins captain Patrice Bergeron answered just 1:30 later off a slick passing play, but the beaten-up Rangers were unfazed. They added two more in the second (Colin Blackwell & Chris Kreider) before coming out on fire in the third, scoring two times in the first four minutes (Pavel Buchnevich & Jonny Brodzinski).
This was the first time the Rangers thoroughly put a team away since they beat the New York Islanders 5-0 in the second game this season. But this one felt even better, perhaps because there were fans in the building or because of how crisp the Rangers came out of the gate each period. It was a sight for sore eyes watching the team pour it on, something we grew accustomed to last season but have yet to really see in 2020-21.
Both Blackwell and Kreider continued their strong seasons with goals late in the second. Blackwell tallied a redirect goal on the power play just 12 seconds before Kreider scored on a fortuitous bounce in front, continuing his campaign for captaincy as a leader both on and off the ice. Those markers gave the Rangers some separation, but their start to the third period is really what put this game away.
They were still hungry, playing on their toes instead of on their heels, something they have failed to do while holding the lead this season. Buchnevich's goal was beautiful, tapping a glorious feed from Adam Fox into a yawning cage. But Brodzinski stole the show with a diving finish that left fans speechless.
Set up by a great pass from Kevin Rooney, Brodzinski's brilliant solo effort put this game on ice, capping off what was a phenomenal effort in front of their fans for the first time in nearly a year.
Positives All Around
There were so many positives about Friday's 6-2 win that I haven't discussed Ryan Lindgren, K'Andre Miller, Adam Fox, or Alexandar Georgiev yet. Georgiev was solid, stopping 31 of 33 shots, although he wasn't called upon to make miraculous saves at any part of the match. He was bailed out by two posts but played superbly after a brief layoff.
The defense in front of him played well yet again, especially Lindgren, who had two assits to extend his point streak to three games. What stood out most about his performance was his physical presence, leveling Pastrnak in the first period, and getting involved physically throughout. Another gritty effort by a player whose name has become synonymous with toughness during his Rangers' tenure.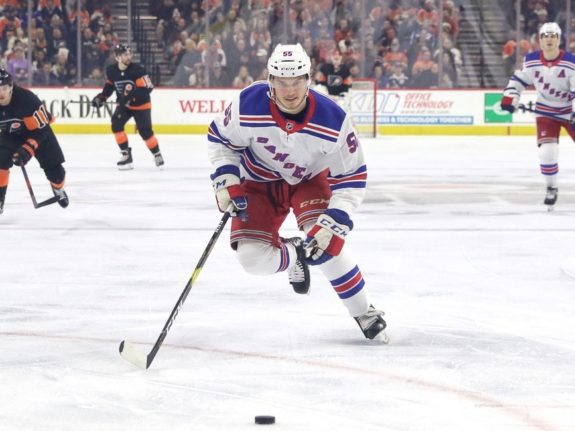 Miller returned to the lineup after a quick stint on the NHL's COVID-list and made an impact defensively right away. He proved again that he is mature beyond his years with his play in front of the net, breaking up quality scoring chances and recovering nicely on the rare occasions when he was beaten. He solidifies this defensive group and has not even come close to his ceiling, a terrifying thought for the rest of the league.
Of course, Fox is the number one defenseman the Rangers have missed since trading Ryan McDonagh to the Tampa Bay Lightning. He is agile and reliable, contributing two assists offensively in this massive win. Fox continues to be a thrill to watch, making Jeff Gorton look like a genius for going out and ensuring his demands to play for the Rangers were met.
There were a lot of positives heading into this original-six clash with the fans re-entering MSG, and that positivity carried through to the final buzzer and onto the subways as those in attendance made their journeys home. It was a dominant performance – one that was needed – and with Filip Chytil and Kaapo Kakko getting close to a return, there is still hope on Broadway.
---
---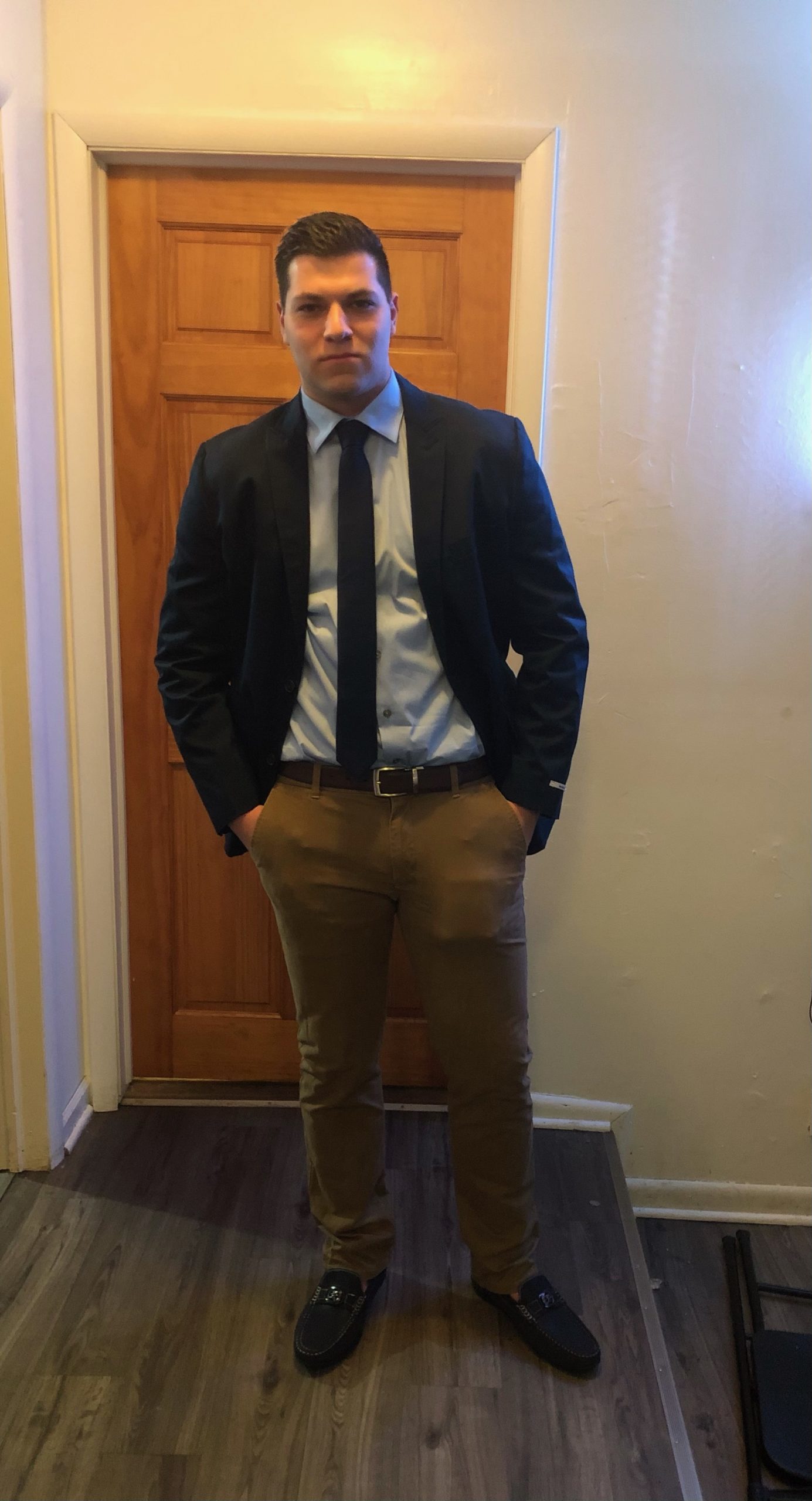 Brendan Azoff is a THW contributor and podcast host dedicated to covering the New York Rangers. His passion for hockey started when he first laced up the skates at three, growing into his love for writing and talking about the greatest sport in the world. His podcast, The Backcheck, breaks down the Rangers, Islanders, and NHL news and can be found on The Hockey Writers Podcast Network and Belly Up Sports. Brendan has been writing about the Rangers and the NHL for over two years, with his content also found on Puck Prose, Blue Line Station, and E2G Sports. If you want to connect with Brendan and stay up-to-date on his posts, follow him on Twitter. He is always available for content ideas and interviews, don't be afraid to ask!