Monday night's game for the Nashville Predators was different as Pekka Rinne wasn't the starter after a layoff and while healthy. Nashville rewarded Carter Hutton and his recent hot streak with a second straight start Monday night against the Dallas Stars.
The Predators played well, but a few late errors cost them a 3-2 overtime decision to their Central Division rival. However, Hutton did make 29 saves and made some good ones to get Nashville the overtime "loser point."
The main storyline is why Rinne sat a critical game against a possible playoff opponent. The main argument has been the Finn has not been the same goalie that consistently is one of the top five best in the league, but another reason to rest him for the upcoming playoff push.
Rinne has been a workhorse for many seasons when healthy, but this extended break is what the Finnish netminder needs. He struggled in the 4-3 overtime loss to the Tampa Bay Lightning on Feb. 12, and Hutton's last three starts allowed coach Peter Laviolette to ride the hot hand.
Pekka Rinne and His Plentiful Workload
It's no secret that the Predators' fate rests on Rinne's shoulders. Last year was a revival year for him after coming back from a hip infection. He rounded into his old self with some excellent play for Finland at the 2014 IIHF World Championships, where he was the most valuable player.
He then carried Nashville to a fast start last season before injuries and workload slowed the team down before its first-round exit to the eventual Stanley Cup champion Chicago Blackhawks.
General manager David Poile said Rinne would play 55-60 games when asked in the offseason. It's common for him 6'5" goalie to play that many games in a season, and he's played as many as 73 regular season games as well as 10 playoff matchups in the 2011-12 season.
RELATED: Pekka Rinne Destined to Continue Heavy Workload Next Season
He played in 64 games last season as well as all six playoff games against Chicago. That amount of hockey adds up and wears down even the most capable goalies in the league.
As of Feb. 17, the three-time Vezina Trophy nominee holds a 2.57 goals against average and is 13th among the 19 goalies with at least 35 starts. His .902 save percentage is at the bottom of those rankings.
He's shown stretches of being his old self – like he did during the Western Canada road trip before the All-Star Game. However, this is not the top five goalie that Predators fans they've seen.
Rest is the Best
Another goalie that faced a similar situation with a high work rate is New York Rangers goalie Henrik Lundqvist. "The King" has often been leaned on heavily like Rinne has in the best. Last year, Lundqvist went down after suffering a throat injury.
Many experts pegged the Rangers for a fall when Cam Talbot stepped into the crease, but they managed to stay afloat and eventually earned the Presidents' Trophy. When Lundqvist returned, he looked refreshed and not worn down the way he usually looks at the end of most seasons.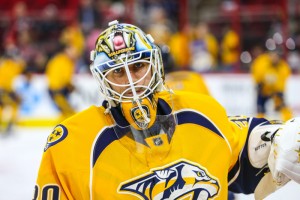 Rinne will still play most of the games, but maybe playing Hutton a few more times. Fellow Predators writer Colin Fitts made the case to give the backup some more games. Prior to the loss to the Stars, Hutton had won his last three starts and blanked the Atlantic Division Florida Panthers on Feb. 13.
Nashville should implement a two-goalie rotation where Laviolette goes with the hot hand on a nightly basis. Not only does it give the Predators the best opportunity to win on a game-by-game basis, but it will also push Rinne to be better.
RELATED: Carter Hutton Deserves More Starts
Many have maligned Hutton and say he's just holding a place under Marek Mazanec or Juuse Saros is ready to become one of the goalies on the future. However, Hutton is 6-2-2 with a 2.17 goals against average and .922 save percentage this season. The Thunder Bay, Ontario native has been more than just a placeholder for the Predators.
The Verdict
Let's make it clear that I don't wish for Hutton to usurp Rinne as the Preds' number one goalie. I know that some will say that Rinne is not the same goalie. Sportsnet's Elliotte Friedman thinks that general manager David Poile should try to go after an experienced backup to push the longtime number one.
Nashville's playoff hopes will live and die with Rinne. Hutton has played well, but they won't ride him in the postseason. It's all on Rinne, but a bit of a break may help him get himself back together.
What do you think? Leave your thoughts in the comments below.
Dan Mount is a Nashville Predators staff writer for The Hockey Writers. You can follow him on Twitter, @DanMountSports.
Covered hockey since attending SUNY Oswego in Upstate New York in the early 2000s. Has written about college, major junior and professional hockey for the last five years.
Resides in Watertown, NY.