When the New York Rangers acquired Ryan Lindgren at the 2018 trade deadline, he was only a small part of the blockbuster deal that sent Rick Nash to the Boston Bruins for Ryan Spooner (who eventually turned into Ryan Strome), half of Matt Belesky's contract, a first-round pick in 2018 (which was then packaged to the Ottawa Senators to move up in the draft for another young defenseman named K'Andre Miller) and a seventh-round pick in 2019. Lindgren was still playing at the University of Minnesota at the time and expectations were low. Three years later, he has become a valuable member of the Rangers' blue line, playing top pairing minutes. 
Lindgren was selected by the Bruins 49th overall in the 2016 Draft as a solid stay-at-home defenseman. He was never known for his offense but for having strong defensive instincts and for playing a very hard-nosed and physical game. He had NHL upside, but it was a far cry from where he is right now. 
Lindgren Took Some Time to Hit His Stride
Lindgren saw professional action after he was traded to New York. He played 10 AHL games after his college season, scoring two goals and two assists, and he also had a short five-game stint in the NHL in 2018-19 (from 'Rangers call up a top prospect hoping to aid struggling defense,' New York Post, January 14, 2019), where he failed to produce a point and was a minus-6. He didn't have much of an impact and was subsequently sent back to the AHL, where he posted 12 assists in 65 games in his first full season of professional hockey.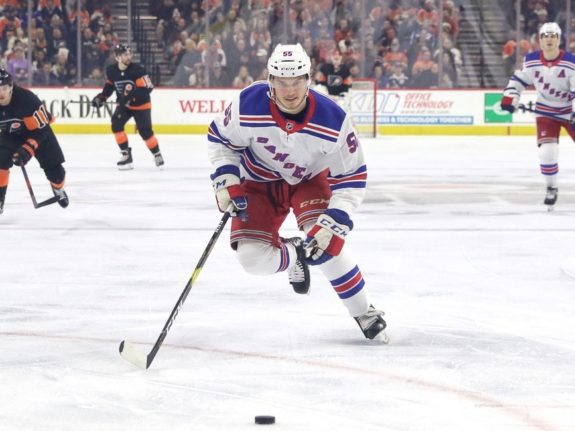 Lindgren then started the 2019-20 season in the AHL but was called up after nine games. He never looked back and solidified his spot in the Rangers' lineup. He had one goal and 13 assists in 60 games, hardly remarkable, but it is solid production from a stay-at-home rookie who was 21 for most of the season. He formed a strong defensive pair with fellow rookie Adam Fox, and the two have emerged as the team's top pairing.
Lindgren's Importance to the Rangers
This season, Lindgren is the best left-handed defenseman on the Rangers. That is subject to change in a few years as Miller continues his development, but until that happens, Lindgren is the go-to man on the left side. He and Fox have been tasked with containing the opposition's top lines, and they have been fantastic through the first third of the season. They have played 327 minutes together, and have only been on the ice for nine goals against. Lindgren has also been averaging three more minutes of ice time than in his rookie campaign, going from 16:34 to 19:34.
Lindgren has displayed his toughness already in his short career. In almost every game, he gets bloodied or bruised. No matter how many times he gets stitched up on the sidelines, he gets back in the game as if nothing happened. Heart cannot be taught, but Lindgren has plenty of it. Coupled with his willingness to play a physical, in-your-face game, he has made it very tough to play against him. Last season, he drew some ire from Bruins winger Brad Marchand for his gritty game.
Lindgren has also improved his offense to be even more effective. He is tied for fourth on the team with nine assists and sixth on the team in points. He has yet to register a goal, but the Rangers appreciate his contributions to the scoresheet. He has also been hot recently, with five of his assists scored in the last five games. He won't keep up that scoring pace, but the added offense is a good sign. He won't make highlight-reel plays, but he will make the right play which is all the Rangers can ask of him.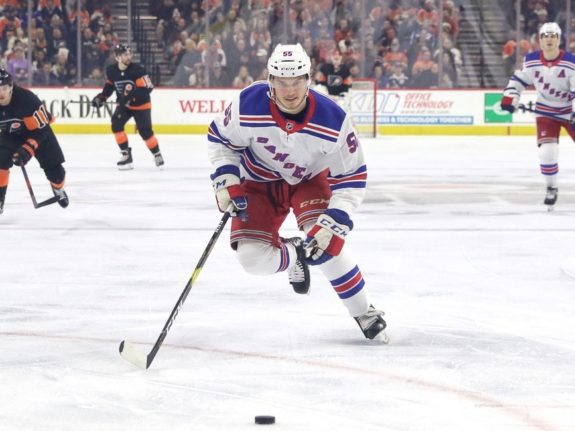 At only 23 years old, Lindgren still has plenty of room to grow into an even more complete defenseman. His game has improved each season since he was traded to the Rangers, going from an AHL player to a reliable NHLer. If you told a Rangers fan three years ago that the best part of the Nash trade was going to be Lindgren, they wouldn't have believed you. Yet, Lindgren has already become a big part of the team and should remain so for many seasons to come.
---
---
Currently a writer for the New York Rangers, University of New Hampshire alumn