Another game, another loss for the Buffalo Sabres — or rather, another 5-2 loss. Buffalo's 5-2 defeat to the Pittsburgh Penguins on Thursday was their ninth in a row and the fourth in the last five games that came by a final score of 5-2.
Sitting at the bottom of the NHL's basement with a record of 6-15-4 and 16 points, the Sabres' 2020-21 campaign has been an unmitigated disaster from start to finish. Everything that could go wrong has gone wrong, and it seems like the front office is just delaying the inevitable by keeping head coach Ralph Krueger around.
If there's any silver lining to this dumpster fire of a season, it's that it gives the team the opportunity to take some chances. At this point, what do they have to lose?
Here are a few suggestions for how the Sabres can experiment over the rest of the season.
Go Crazy With the Lines
The Sabres have used a seemingly endless array of line combinations this season. This has been a result of both injuries and poor play. The problem is that Krueger has rarely found any combinations of lines that have produced results.
With the season going down the drain, why not really mix things up? Why not try Casey Mittelstadt, who boasts a 53.9 expected goals for percentage (xGF%), per Natural Stat Trick, on the first line? Why not put Victor Olofsson, who has just a 44.6 xGF%, on the fourth line to try to breathe some life into Cody Eakin and Kyle Okposo, who have one goal and seven points between them? Why not put Taylor Hall, Jeff Skinner, and Curtis Lazar, three of the best skaters on the team, on the same line and see what happens?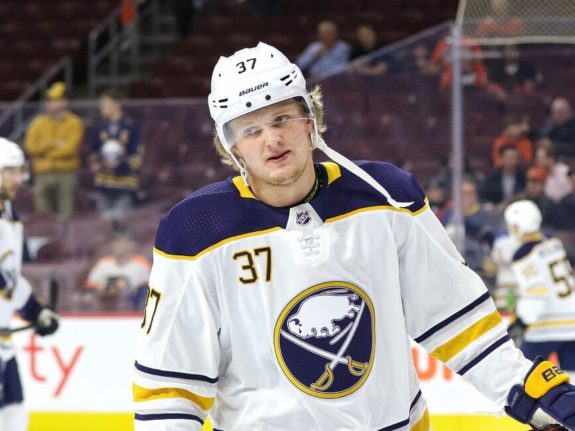 Things can't possibly get worse than they are (one would hope), so Krueger really doesn't have any reason to not try some new things with the lineup, especially now with Jack Eichel and possibly Dylan Cozens out for multiple games.
Listen to Any and All Trade Offers
The questions surrounding the 2021 Trade Deadline have less to do with who might be traded but more with how certain trades might happen logistically. Depending on the locations of the teams involved in a deal, players may have to quarantine before joining their new clubs. This could mean more deals getting done before the deadline. It could also mean that hardly any deals get done at all.
Regardless, Buffalo general manager Kevyn Adams needs to be glued to his phone in the coming weeks ready to entertain any and all trade offers. The Sabres have a bevy of impending unrestricted free agents, including big names like Hall, Eric Staal, and Brandon Montour.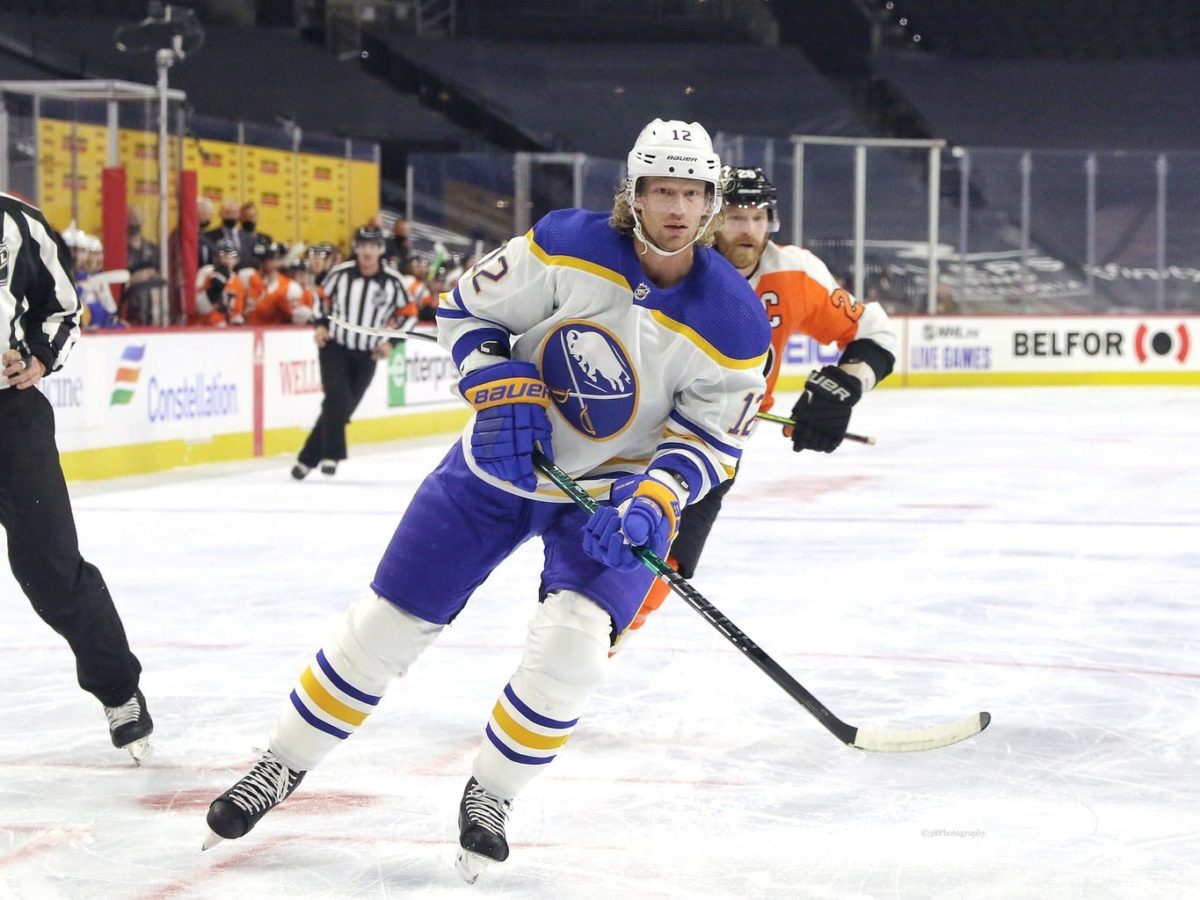 Hall would obviously net the biggest return, but his $8 million salary is going to be hard for any team to swallow, even if the Sabres agree to pay half of it. Staal might be the more intriguing option. The 36-year-old has struggled mightily in his debut season in Buffalo (10 points in 25 games and a minus-14 rating), but as a veteran with a history of production in search of another Stanley Cup, he could be attractive to a number of contenders as a middle-six forward option.
Other pending UFAs like Tobias Rieder and Riley Sheahan might not net much more than a draft pick, but both have played well enough to spark interest for teams looking for depth up front.
If Krueger ends up lasting the rest of the season, then it seems inevitable that the Sabres will be busy at the trade deadline; Adams can't afford to do nothing if the coach doesn't change.
Don't Be Shy About Calling Up Players From Rochester
While the Sabres' season is currently residing in the toilet, their farm team is faring significantly better. Entering Friday, the Rochester Americans were 6-3-0-1 on the season and had earned points in three straight games.
If the Sabres do indeed become a seller at the trade deadline, it will provide opportunities for some of the youngsters who have been performing well in the AHL.
The player that most have their eye on is Finnish forward Arttu Ruotsalainen. After tearing up the Liiga, the 23-year-old has continued his strong play in North America, sitting at eight points in 10 games for the Amerks. Ruotsalainen would provide an immediate upgrade to Buffalo's current bottom-six while stirring up some excitement among fans who want to see what he can do on the big stage.
He shouldn't be the only call-up, though. Defensemen Mattias Samuelsson and Oskari Laaksonen both have six points in 10 games, while forwards Jean-Sebastien Dea and Steven Fogarty lead the Amerks in points (12) and goals (eight), respectively. Even top goalie prospect Ukko-Pekka Luukkonen, who has been up-and-down with a .904 save percentage and 3.19 goals against average, would arguably be an upgrade over the struggling Jonas Johansson.
It's past time for ineffective veterans like Okposo, Eakin, and Matt Irwin to spend some time in the press box and give the kids a shot to see what they can do.
With the season beyond saving, wins and losses no longer matter for the Sabres. At this point, it would behoove them to finish with the best draft lottery odds they can get. What matters now is seeing what they have in some of their young prospects and figuring out who's worth keeping and who needs to find a role elsewhere. It's the only way this franchise can possibly take the first step towards ending this relentless nightmare.
---
---
Born and raised in Buffalo, NY, Nick has a Bachelor's degree in history from Boston University and a Master's degree in journalism from Syracuse University. He interned at Little League International where he covered the Little League Baseball World Series. Nick then spent over three years as a newspaper sports reporter and editor at the Bradford Era in Bradford, PA and the Daily Freeman in Kingston, NY. He is currently living in Buffalo where he is still holding out hope for a Bills Super Bowl and/or Sabres Stanley Cup.