Colorful hockey nicknames are an integral part of the game's history. They're as much a part of hockey as the blue line. You're given one early by your mite's coach only later to be called something else by your teammates.

Your mom may not want to know what your teammates call you, so you let her give you another one that only she and your grandma knows. Over the years, some of those nicknames have trickled down to the ears of fans.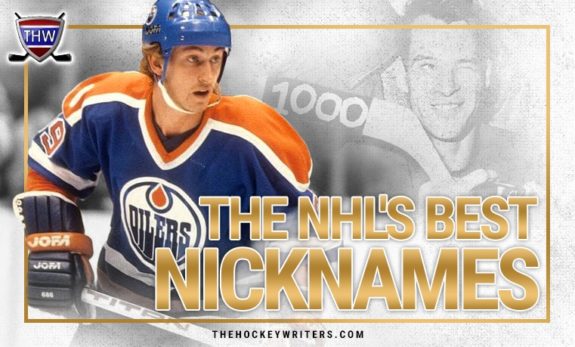 Here is a comprehensive list of some of the best ones. It's not a list of the best players, but a list of the best nicknames. It's not enough to be called "Red" if a player was a redhead. The list gives honors originality and distinctiveness. Since there are so many, we categorized them into three categories – insulting, comical, and endearing, just to make sure we got all of our bases covered.
Endearing Nicknames
Wayne "The Great One" Gretzky
The Great One is a fitting nickname for arguably the greatest hockey player of all time. Gretzky's impressive list of statistics and individual accolades can be seen here. He re-wrote the record books and owned or shared 61 marks when he retired. Off the ice, he was the ultimate ambassador of hockey, unselfishly doing what's best for the sport and for the communities that he's been a part of.
"Super Mario" Lemieux
The most dynamic player in Pittsburgh Penguins history and one of the greatest players in the history of the NHL. Had Mario Lemieux's career not been cut short by injury, he may have challenged many of Wayne Gretzky's career scoring records. He led the Pens to a pair of Stanley Cups as a player (1991 and 1992) and another as the owner. Lemieux made his NHL debut when the popular Super Mario video game was introduced and became only the third rookie to score 100 points.
Gordie "Mr. Hockey" Howe
When your nickname is synonymous with the sport itself, you know you've made an impact on the game. Howe is one of the top three greatest all-around players the game has ever seen. He began his legendary 34-year playing career in Detroit in 1946 and didn't retire as an active player until 1980 when he was 52-years-old, holding nearly every meaningful scoring record in NHL history.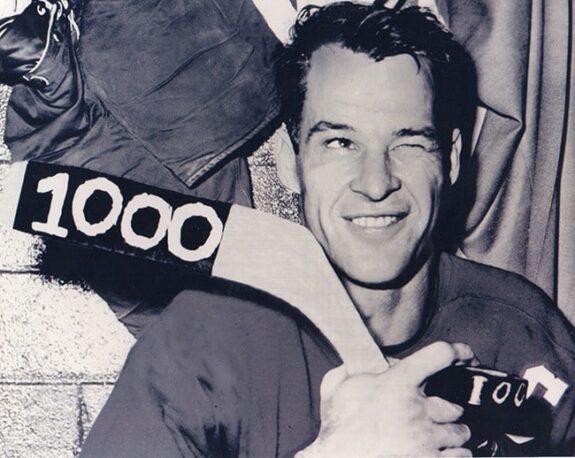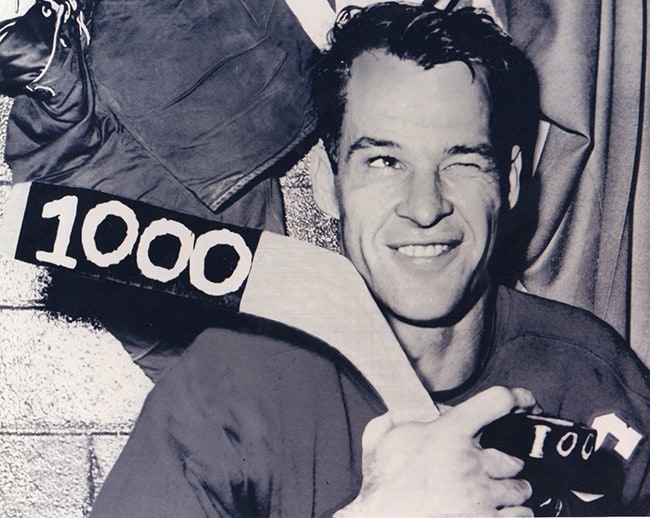 Gordie Howe had a lot of nicknames during his impressive 34-year hockey career. He was called Power, Mr. All-Star, The King of Hockey, The Legend, No. 9, The Great Gordie, and even Elbows but it would be Mr. Hockey that he will be referred to as in the history books. Before Gretzky, Howe was known as the greatest hockey player to have played the game.
Mark "Moose" "Messiah" Messier
Mark Messier won six Stanley Cup championships and finished his NHL career as the NHL's second all-time leading scorer. His size, strength and punishing, physical style of play earned him the nickname "Moose." He later became known as "The Messiah" when he helped end the New York Rangers' 50-year playoff drought and delivered a Stanley Cup to New York City in 1994.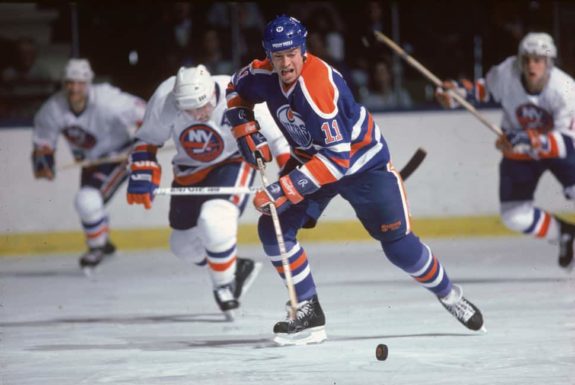 Bernie "Boom Boom" Geoffrion
The Montreal Canadiens were a dynasty in the 1950s and much of their success was due to Geoffrion. He was one of the pioneers of the slap shot and earned his nickname while playing junior hockey. Sportswriter Charlie Boire penned the moniker for the sound of Geoffrion's stick hitting the puck quickly "Boom" followed by the shot hitting the rink's boards "Boom."
Sid "The Kid" Crosby
The baby-faced phenom made his NHL debut in 2005 as an 18-year-old. Sidney Crosby's "aww, shucks" demeanor, scoring success, and scraggly beard during playoffs contributed to his moniker. He's the youngest captain to lead his team to the Stanley Cup, the youngest player (18) to tally 100 points in a season and 200 in a career (19), and the youngest league scoring champion (19).
Joe "Mr. Clutch" Sakic
Joe Sakic has scored a lot of goals in his career including eight overtime playoff goals earning him the nickname, "Mr. Clutch." (from 'Super Joe Sakic was sensational in big games,' Denver Post, 11/10/2018)
Peter "The Great" Forsberg
To say Peter Forsberg was an incredible player would be an understatement. Even though injuries limited him to only 708 games, when he was on the ice he only knew how to give 110%. He was also versatile in that he could do it all. He was a big hitter, a big playmaker, and could dazzle with highlight-reel goals. His opponents both feared him and respected him.
Until the end, even though his body said no more, Forsberg pushed himself to the edge to his very last game in which he finished befittingly in a Colorado Avalanche uniform.
Pavel "Magic Man" "Houdini" Datsyuk
The Sverdlovsk native is known for his abilities to dangle defenders and juke helpless goaltenders out of their jocks. In his time with the Detroit Red Wings, Pavel Datsyuk often leaves hockey fans in awe.
Comical Hockey Nicknames
Don "Grapes" Cherry
Grapes is a former coach of the Boston Bruins and Colorado Rockies, but is best known for his loud, retina-incinerating suits and blunt, acerbic opinions as a broadcaster on a 'Coaches Corner' segment during "Hockey Night in Canada."He earned his nickname during his playing days as a minor league defenseman.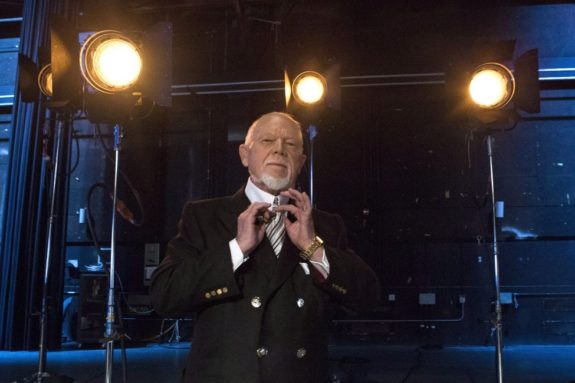 It's based on the cliché sour grapes, since Cherry only made it to the NHL for one game.
Dustin "Penncakes" Penner
Dustin Penner had the choice of making up a story to cover for his back spasm injury but luckily for everyone he decided to own up and admit to how he really got hurt. While getting ready to dive into a stack of pancakes, he threw out his back and was forced to hobble his way to team doctors for treatment. Fans continue to enjoy reminding Penner of this injury and even Penner has turned it into an opportunity to raise money for charity.
Marc-Edouard "Pickles" Vlasic
On the ice, Marc-Edouard Vlasic is cool as a cucumber. But sharing a last name with Vlasic Pickles founder Frank Vlasic meant Pickles would be his chosen name and not cucumber.
Ron "Nuts" Tugnutt
On March 21, 1991, Ron Tuggnutt stopped 70 of 73 shots to help the Quebec Nordiques earn a point in a tie-game with the Boston Bruins. Those 70 stops are not only a modern-day record for most saves in a non-loss regular-season game but it is also nuts. However, that is not how he earned his nickname as teammates just liked to refer to him with a shortened version of his last name.
Pat "Little Ball of Hate" Verbeek
Similarly, Pat Verbeek was dubbed the "Little Ball of Hate" by Glenn Healy. To this day, Verbeek speaks fondly of his given name. "There's something about it I liked. It spoke to that I wasn't an easy player to play against," said Verbeek in an interview after his career finished.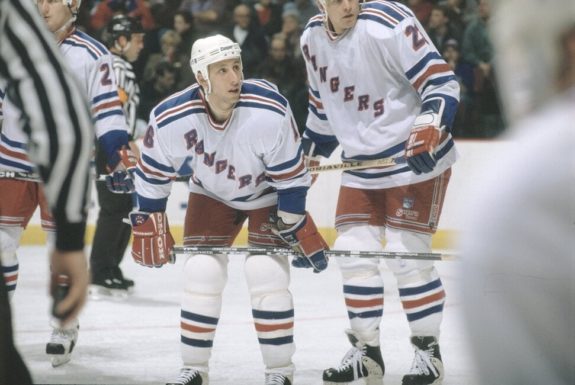 Peter "Ned Flanders" Budaj
Peter Budaj has played for two NHL teams in his nine-year career. The native Slovakian, a devout Christian, consistently has a picture of cartoon character Ned Flanders painted onto his playing masks.
Ilya "Mr. Universe" Bryzgalov
HBO did everyone a favor when they made Ilya Bryzgalov a main focal point of one of their Road to the Winter Classic series. The fervent Russian goaltender is most famous for his deep and insightful thoughts about the universe thus earning him the tag of Mr. Universe. His teammates thought he was loony. He's seriously cracked and out there.
Insulting Nicknames
Ken "The Rat" Linseman
Ken Linseman not only looked like a rodent, he played like one as well. Hall of Famer Bobby Clarke thought Linseman's hunched, scuttling skating style reminded him of a rat. The agitator was even known for biting the chin of an opponent while playing junior hockey. Linseman played 13 seasons in the NHL for the Flyers, Oilers, Bruins and Maple Leafs. He is known as one of the dirtiest players to ever play the game.
Jeff "The Justin Bieber of Hockey" Skinner
Are you a grown man with a babyface? Well, Jeff Skinner is. It also doesn't help that upon his arrival in Carolina every teenage girl started swooning at the young star causing his captain to comment how "it has a Justin Bieber-type feel to it."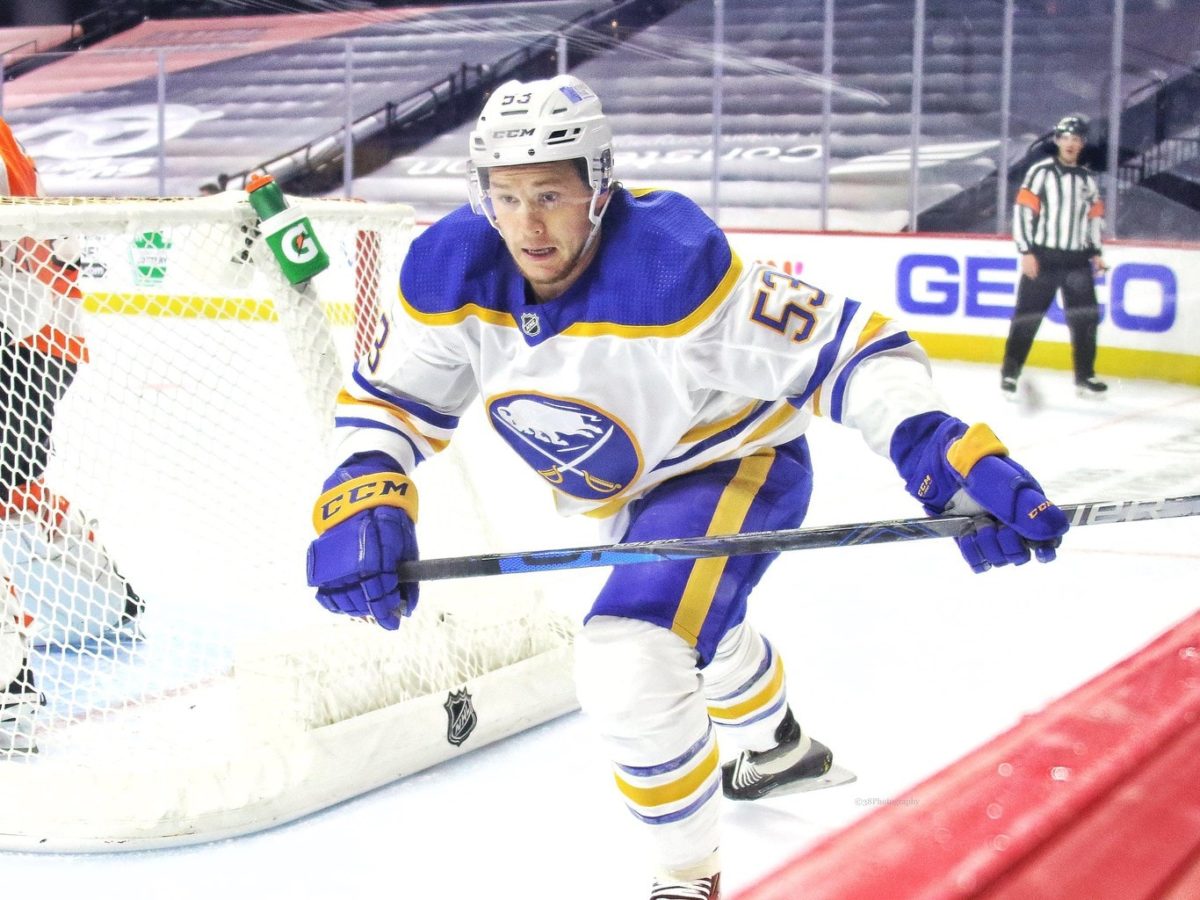 Brent "The Other One" Gretzky
Brent Gretzky played 13 NHL games and only scored one goal. His famous brother, Wayne, dubbed "The Great One," played 1,487 games and scored 2,857 points. Brent can still tell people that he is one-half of the NHL record for most combined points by two brothers.
Goalie Nicknames
Dominik "The Dominator" Hasek
Dominik Hasek's style was as unorthodox as any goalie that's played the game. His acrobatic saves and rubbery limbs often had him flailing and flopping all over. But it worked. He was one of the NHL's best at the position for most of his 15 seasons, winning two Stanley Cups, six Vezina Trophies and two Hart Trophies as league MVP. He dominated games earning him the nickname "The Dominator."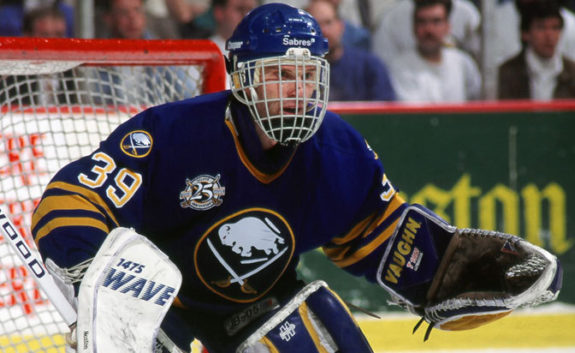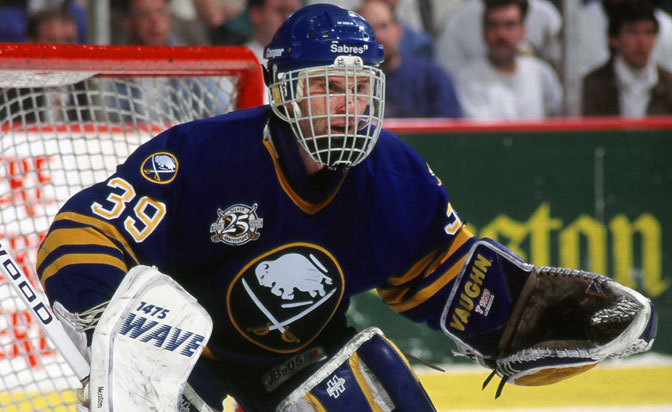 Georges "The Chicoutimi Cucumber" Vezina
Georges Vezina was a Montreal icon, playing goalie for the Canadiens in the game's early days. The trophy annually awarded to the league's best goaltender now bears his name. As a player, he was exceptionally composed and reserved. His name came from the small town in Quebec where he lived (Chicoutimi) and the fact that writers said he was "cool as a cucumber."
Lorne "Gump" Worsley
Worsley was a Hall-of-Fame goalie who won 335 games for the Rangers, Canadiens and North Stars from 1952 to 1974, winning four Stanley Cups. He earned his moniker when a friend noticed his hair stood straight up like the comic strip character, Andy Gump.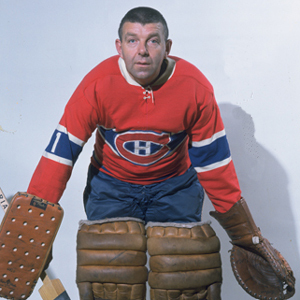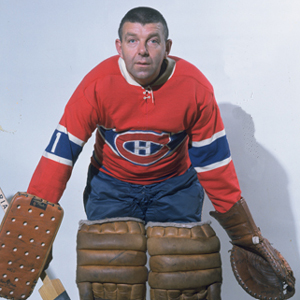 The moniker stuck after Worsley listed it on a form while signing on with a junior team. Worsley was one of the last goalies in the NHL to play without a mask and one of the great quipsters in hockey history. Once, a reporter asked him which team gave him the most trouble. "The Rangers," Worsley answered with a straight face, naming his own team.
Curtis "Cujo" Joseph
Curtis Joseph was one of the better goalies of his era, playing for seven different NHL teams from 1989 to 2009. His style was unorthodox, but somehow he made it work, winning more than 100 career playoff games and appearing in several All-Star games. His nickname came from the big dog in the horror novel by Stephen King, which matched the first two letters of his first and last name. Cujo's mask featured the teeth of a vicious dog for most of his NHL career.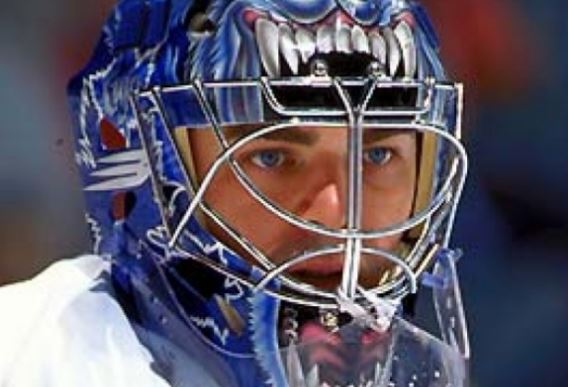 Nikolai "The Bulin Wall" Khabibulin
Khabibulin, a Russian goaltender, was nicknamed after the Berlin Wall–a nearly impenetrable structure, being he was so tough to score on during his prime. In 2004, he backstopped the Tampa Bay Lightning to the Stanley Cup. Fittingly, the artwork on his mask is based on the classic Pink Floyd album "The Wall."
Gary "Bones" Bromley
Bromley tended goal for the Sabres and Canucks from 1973 to 1981. He's remembered most for his mask, which looked like a skull and reflected Bromley's nickname: Bones. As scary as the mask was, Bromley was actually just an average goaltender.
Glenn "Chico" Resch
Resch earned his nickname when playing with the New York Islanders in the mid-'70s. He looked a lot like actor Freddie Prinze who starred in the sitcom "Chico and the Man." He was one of the first goalies to paint his mask, putting a map of Long Island and an "NY" on his face.
Frank "Mr. Zero" Brimsek
Brimsek was a goaltender for the Bruins in the NHL's early years. He earned his nickname as a rookie in 1938-39 by posting scoreless streaks of 231 minutes 54 seconds and 220 minutes 24 seconds en route to 10 shutouts and a Stanley Cup.
Andre "Red Light" Racicot
A career .880 save percentage and 3.50 goals-against average, earned Racicot one of the most brutal sports nicknames of all time for a goalie.
Henrik "The King" Lundqvist
Henrik Lundqvist represented his country, Sweden, for many years before jumping the pond and joining the NHL. Sweden's three-crown emblem is often used as a symbol of authority by the Swedish government, but other less formal examples exist such as the Swedish national men's ice hockey team, which wears three crowns on their shirts.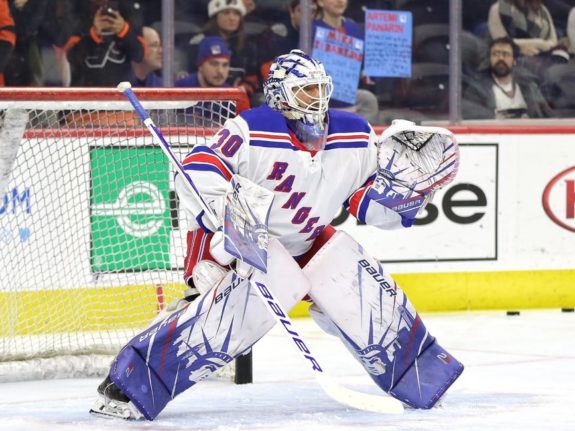 They are often called "Three Crowns." The crowns, along with his sensational play during his rookie season, earned him his nickname from the New York media and Rangers fans.
Felix "The Cat" Potvin
Potvin's first name and cat-like reflexes made this famous cartoon's name a natural.
Tony "O" Esposito
Esposito's "O" followed the Blackhawks star everywhere he went. It had not as much to do with his name as it did with his propensity for shutting out his opponents.
Steve "The Puck Goes Inski" Buzinski
Buzinski once allowed 33 goals in four games and 55 in nine so it's easy to see why he didn't last long in the National Hockey League. He will also go down in history as the goalie who Maurice Richard scored his first goal against.
Eddie "The Eagle" / "Crazy Eddie" Belfour
Belfour wore an eagle on his mask because he admired their majesty and aggression. However, his fiery, unpredictable personality earned him his other nickname. He led the Blackhawks to the Stanley Cup Final in 1992 and later won a Cup in 1999 with the Dallas Stars.
Enforcers & Physical Trait Nicknames
Derek "The Boogie Man" Boogaard
Boogard played nearly his entire career with Minnesota. Teammates and fans affectionately called the hulking, 6-7, 260-pound enforcer "The Boogie Man" while opponents feared going toe-to-toe with him. Sadly, Boogaard died of an accidental overdose of medication and alcohol in 2011.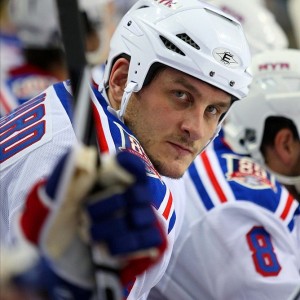 Wendel "Captain Crunch" Clark
This Leafs captain loved to crunch opponents into the boards.
Dave "The Hammer" Schultz
Schultz was a powerhouse heavyweight fighter. His hands were like hammers when he dropped the gloves, breaking his opponent's face with every punch. The enforcer's fists were a key element to the Philadelphia Flyers 'Broad Street Bullies' that won two straight Stanley Cups in 1974 and 1975. He still holds the NHL record for most penalty minutes in a season with 472 set back in 1974-75.
Dave "Tiger" Williams
Williams was as tough as hockey players come. He ranks as the NHL's all-time penalty minutes leader, with 3,966 minutes. He didn't always use his fists to destroy opponents, sometimes he used his shot… he scored 35 goals in 1980-81. For his goal celebrations, he often would ride his stick like a witch on a broomstick, drawing cackles from fans.
Dave "Cementhead" Semenko
The tough cookie is best known for being Wayne Gretzky's personal bodyguard. He is likely one of the only enforcers to ever play on the first line in the NHL.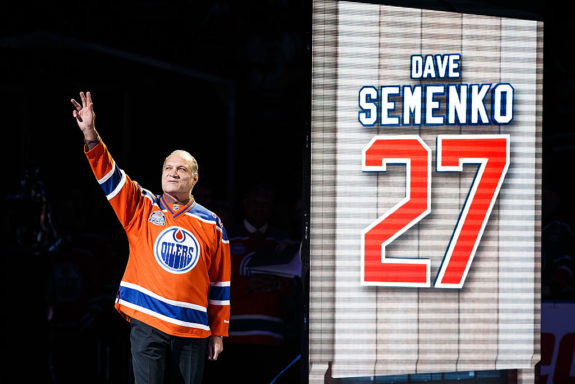 Stu "The Grim Reaper" Grimson
At 6-foot-5, Grimson was a menacing presence, doling out ferocious hits and punishing fists while using his stick like a scythe. He was one of the NHL's most feared enforcers of the 1990s. If he dropped the gloves, it was over.
Frank "Seldom" Beaton
A tough-as-nails enforcer, Beaton's NHL career lasted only 25 games. Originally, his nickname was Frank "Never" Beaton, but after losing a few fights, the nickname was changed to "Seldom."
Johan "Mule" Franzen
The 6-3, 220-pound, Detroit Red Wings' forward played a rugged style and was dubbed "a mule" by teammates. A beast of a player who was difficult to move.
Jerry "King Kong" Korab
At 6'3″, 218 pounds, Korab seemed to just tower over many of his opponents. The defenseman reached the Stanley Cup Final three times in his first five years in the league (1971, 1973 and 1975) but lost all three times.
Larry "Big Bird" Robinson
Larry Robinson, at 6-5 and 225 pounds, reminded his teammates of the Sesame Street character. The Montreal Canadiens Hall-of-Fame defenseman was both big and strong, anchoring their defense for nearly two decades.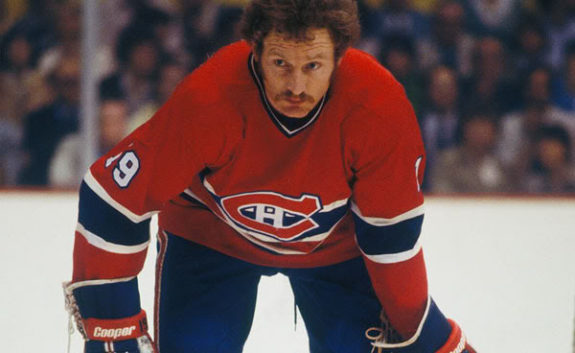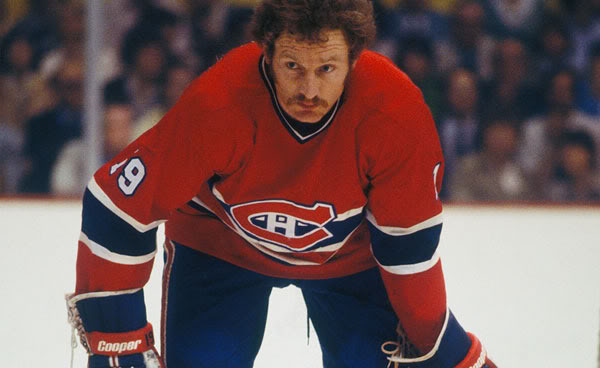 Nicklas "The Perfect Human" Lidstrom
"We call him the Perfect Human," Niklas Kronwall told ESPN. "And there's a reason for it. Whatever he does, he seems to do perfectly, so I think that's a pretty good nickname."
Speedster Nicknames
Bobby Hull "The Golden Jet"
Bobby Hull's blazing speed and head of blond locks earned him his nickname. He was the best goal scorer of his generation (the 1960s), scoring 50 or more goals five times in 13 seasons The left winger, with one of the fastest slapshots in the game, scored 610 goals during his NHL career and another 303 goals for the Winnipeg Jets of the WHA.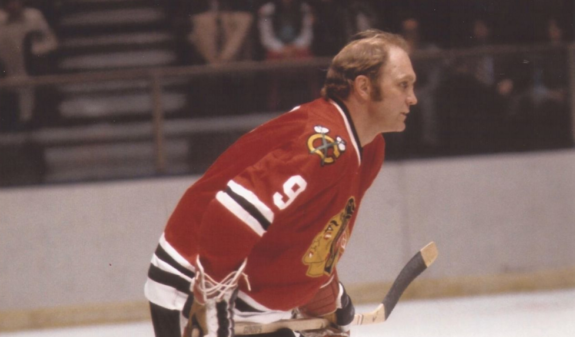 Howie Morenz "The Stratford Streak"
Howie Morenz dominated the NHL in the 1920s and 30s. During his 14-year career, Morenz became the NHL's first superstar, winning two scoring titles, three MVP awards and three Stanley Cups. He was nicknamed "The Stratford Streak" for his speed. In 1937, he suffered a broken leg in a game and was told he would never play hockey again. He died of complications from the injury, although many claimed he died of a broken heart.
Pavel Bure "The Russian Rocket"
Bure earned his nickname for his nationality and his sheer speed. He was one of the league's best goal scorers in the 1990s, tallying back-to-back 60-goal seasons in 1992-93 and 1993-94. Bure had five seasons of 50 or more goals before knee injuries slowed him down and forced him to retire at the age of 32. He finished his career with 437 goals in 702 NHL games.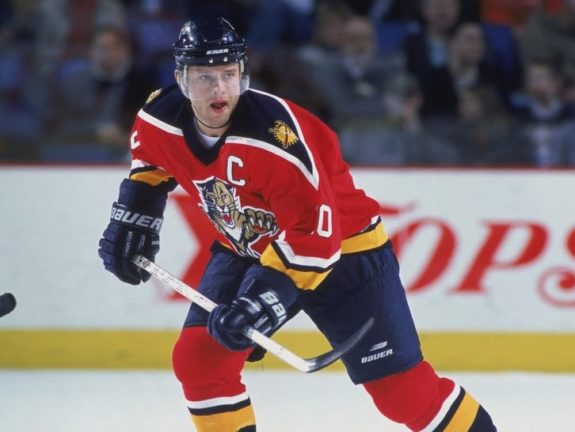 Teemu Selanne "The Finnish Flash"
Teemu Selanne burst onto the NHL scene, scoring a rookie-record 76 goals for the Winnipeg Jets in the 1992-92 season. In 1,341 NHL games, Selanne scored 663 goals and totaled 1,406 points. He won three goal-scoring titles and one Stanley Cup in his NHL career. He was inducted into the Hockey Hall of Fame in 2017. As one of the elite goal scorers of the "Dead Puck Era, he became known as "The Finnish Flash" for his country of origin, speed and gifted offensive skills.
Yvan "The Roadrunner" Cournoyer
A writer dubbed Cournoyer the "Montreal Roadrunner" because he was only 5-foot-7 and had blazing speed. The winger was a flashy, reliable scorer who topped 20 goals for 12 straight seasons en route to winning ten Stanley Cups.
Maurice "The Rocket" Richard
This Canadiens' Hall of Famer got his name in 1942 after teammate Ray Getliffe said Richard skated like a rocket. Montreal Gazette sportswriter, Dink Carroll, heard the comment and began using the name in his stories. Richard was unquestionably the best goal scorer of his era. The original rocket, he scored 544 career goals and was the NHL's all-time leader at the time of his retirement in 1960. He was a fierce competitor, winning eight Stanley Cups with the Habs. Today, the league's leading goal scorer is awarded the Rocket Richard Trophy in his honor.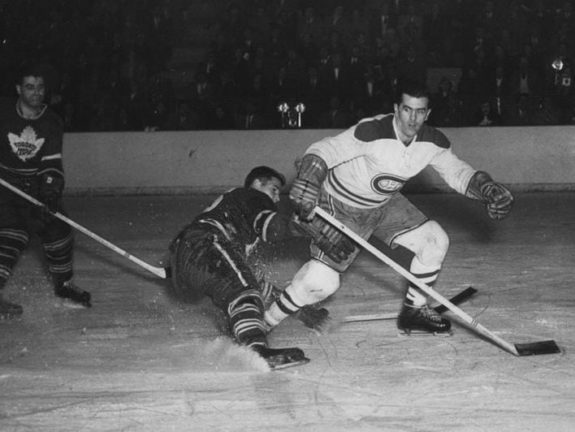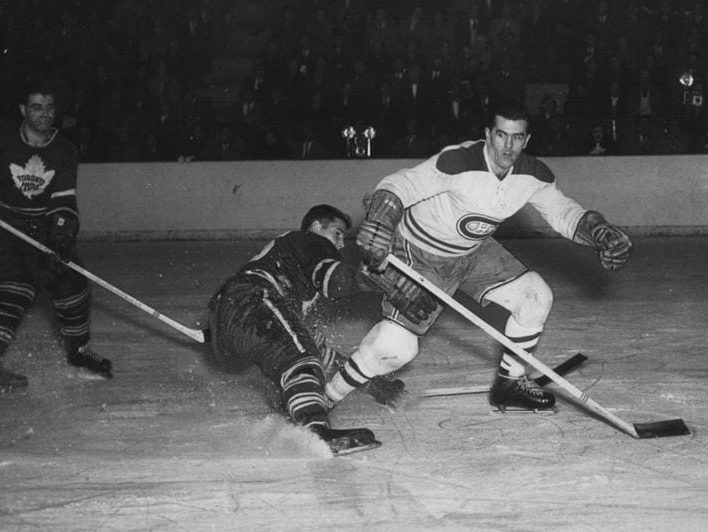 Maurice Richard was the first player to score 50 goals in 50 games in addition to being the first to reach 500 goals. Originally called "The Comet," Montreal media outlets decided "The Rocket" was a better description of his speedy and determined style of play.
Henri "The Pocket Rocket" Richard
Henri Richard was 15 years younger than his brother Maurice and didn't play in the NHL until the tail end of his brother's career. At 5-foot-7 and 160 pounds, he was three inches shorter and 20 pounds lighter than his famous sibling. He spent his entire 20-season career with the Canadiens, winning the Stanley Cup a record 11 times as a player. He finished his career with 1,046 points in a career that started in 1955 and ended in 1975.
Miscellaneous Nicknames
Hector "Toe" Blake
There's nothing hockey-related about this one. Blake's little sister had trouble pronouncing his name and referred to him as "Hectoe" as a kid. Toe coached the Canadiens to eight Stanley Cups.
"Lucky" Luc Robitaille
Luc Robitaille was drafted with the 171st pick in the 1984 NHL Draft. Scouts dissed his shot and his skating ability. He was "lucky" enough to retire as the highest-scoring left winger in league history. He was a sniper, scoring 40 of more goals eight times, reaching 50 twice and 60 once.
Danny "Tickets" Gare
Gare told all his buddies in Nelson, British Columbia, that if he made the Sabres team and played in Vancouver, they could all come down. Sure enough, Gare made a lineup and paid for tickets for eight busloads of friends and family to go to the game. Later, in Buffalo, he was constantly giving his allotted two tickets to different people. Teammate, Larry Carriere, started calling Gare "tickets" and it stuck.
Guy Lafleur "The Flower" / "Le Demon Blond"
Just seeing the legendary Canadiens' name conjures up images of him speeding down the wing with his hair flowing behind him. The popular winger's nickname was a natural, as the French word "fleur" means flower. Lafleur was an elite goal scorer who won five Stanley Cups with Montreal in the '70s, including four straight from 1976-79.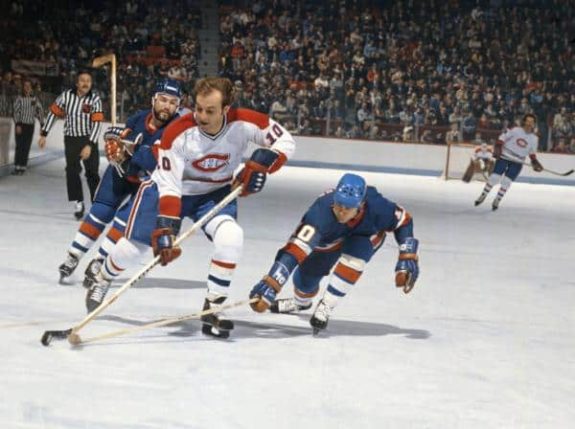 Fred "The Fog" Shero
Shero coached the Flyers Broad Street Bullies to Stanley Cups in 1974 and 1975. He's also known for his famous directive to his players, "Take the shortest route to the puck-carrier and arrive in ill humor."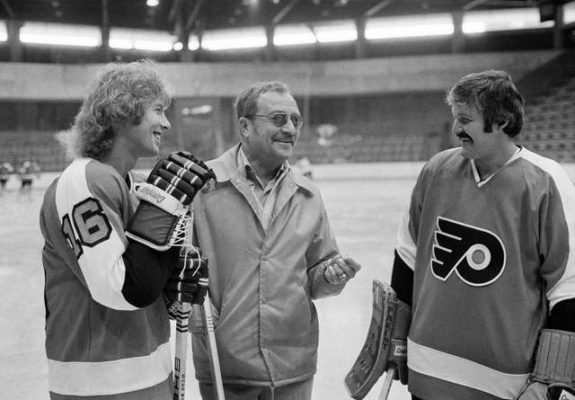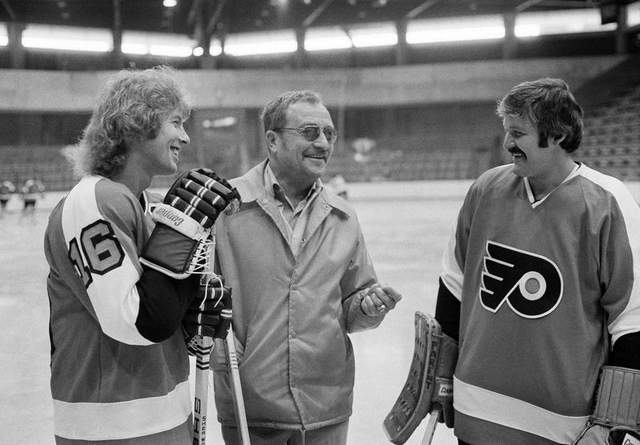 The Hall-of-Fame coach was so often lost in thought that he seemed to be in a fog. Then there also the time in Atlanta, when he left the arena through a door with no re-entry and became locked outside prior to the post-game press conference. At the press conference, no one knew where Shero was and reporters unsuccessfully searched the arena for him.
George "Punch" Imlach
Imlach was accidentally knocked out by an elbow to the head during a senior league game. Once he woke up, the dazed Imlach tried to punch his team's trainer, who was merely trying to help him out. While Imlach never lived down the incident or play in the NHL, he later guided the Maple Leafs to the playoffs 10 times in 11 seasons, winning four Stanley Cups.
Al "Radar" Arbour
The only guy in the league who wore glasses on the ice (hence his bookish nickname "Radar" that was given to him by Jack Adams, his coach in Detroit. Adams called him a "blind-eyed, CinemaScope, radar, sonuvabitch." His likeness to the character Radar O'Reilly" from the movie and television show M*A*S*H also helps.
Honorable Mention:
Ken "Wolfman" Morrow – Note the beard of this Isles defenseman from the early '80s.
"Little Joe" Pavelski – He earned his name from Sharks announcer Randy Hahn, a reference to Pavelski's teammate and San Jose's superstar "Jumbo Joe."
"Jumbo" Joe Thornton – San Jose Sharks power forward.
Johnathan "Captain Serious" Toews – The steely-eyed captain is all about winning.
Igor "The Professor" Larionov – He was a professor on the ice and looked like one off it.
Glen "Slats" Sather – he earned the nickname "Slats" because of his gritty style of play.
Gary "The Iron Man" Unger – Set an NHL record by playing 914 consecutive games in the regular season between Fe. 24, 1968 and Dec. 21, 1979.
Eddie "The Entertainer" Shack – widely known for his entertaining style of play and his second career as a TV pitchman.
Jason "The Mayor of Pominville" – According to play-by-by legend, Rick Jeanneret, every time Pommer scores, the population of Pominville goes up by one.
Terry "Taz" O'Reilly – short for the Tasmanian Devil and his nonstop hustle and effort on every shift.
Roger "Captain Video" Neilson – The head coach used technology to analyze hockey games and to correct his players from making similar mistakes.
* originally published Jan. 2018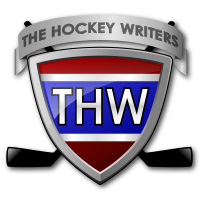 The archives of THW contain over 40,000 posts on all things hockey. We aim to share with you some of the gems we've published over the years.