by Jas Faulkner, senior correspondent
In spite of the presence of professional hockey in Nashville since the Johnson Administration, there is still the nagging thought among some hockey purists that a city at the northernmost part of the tropics is simply not the place for anyone to lace up and face off.  Even if people did play hockey, it would be the odd set of boys from up north.  Not…girls.  Surely no native girlchild hailing from the sunkissed city known more for its whine and twang would ever entertain the thought of a slapshot.
Time for a reality check, people.  Those delicate flowers of Southern femininity can skate and shoot as good and their dads, their brothers and yes, their moms. Talk to their parents and you'll find girls who pore over every copy of USA Hockey and dream of wearing collegiate and olympic sweaters.  Their dream vacations are to arenas all over North America and to cities north of the 49th Parallel that beckon every true fan of the game the way a pic-a-nic basket calls to Yogi and BooBoo.
On select Sunday afternoons, the Nashville Youth Hockey League Girls' Program offers free afternoons of clinics so girls from the Middle Tennessee area can try on the mufti and see if hockey is for them.  For a few hours, the rink is crowded with league regulars, volunteers and newcomers who have watched Shea and Ryan and Jordin and Jerred and are ready to try this hockey thing out for themselves.  Yeah, they know who Blake Geoffrion is, thanks. They also know who Manon Rheaume is and what they want is to see if they can be the next Nashville phenom to make the guys in suits holding IPads take notice and start tapping stats back to the home office.
In Centennial Sportsplex's A-Rink, the decibel level is somewhere between a middle school cafeteria at noon and pep rally.  Shouts to teammates, whistles and instructions from volunteer coaches mingle with the sounds of blades scraping along on the ice and pucks hitting the dasherboards.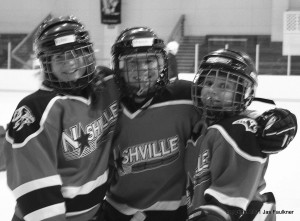 Amidst of the splendid chaos of happy, excited girls…
 Kilby Baron talks about what it's like to be a part of one of the lesser known branches ofNashville's ice sports family tree.  

"Most people still think of hockey as a boy's game.  The girls who get out here play with just as much determination as the guys. What we want to do with the open sessions is give girls who have never thought about playing a chance to try it out and see if this is for them.  It still amazes me how people don't know we're here.

There was a guy here to play hockey and he came in and saw us out there and he was looking at us like, 'What's going on?'  It turns out he's been playing hockey here for a while and had no idea we were around.   He told me he has a seven year old.  I told him, 'If you're here playing hockey, then she should be here playing hockey.'"
Baron is one of the many parents who volunteers as a coach and advisor for the NYHL's Girls' 7-14 program. He tells this story with equal parts sly amusement and missionary zeal. As a dad and someone for whom hockey is like breathing, getting kids on the ice is one of the things he does best.  Standing in the walkway that runs the length of Nashville's Centennial Sportsplex Rink A, he joins the chorus of coaches who offer encouraging words to each child as they walk to the counter to check in their skates.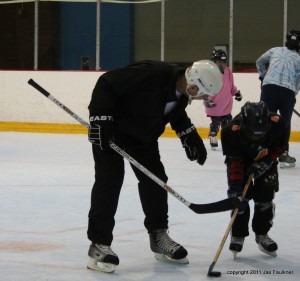 "You did great out there!" Coach Jeff Dahl says to a tween who has spent her first session on the ice.
The girl nods shyly and smiles.
"Are you going to come back?" he asks.
Her smile gets bigger and she nods.
"I want to," she says.
Her mother, who has been chatting up program coordinator Barbara Fay, wants her to come back, too.  Like many parents, she is finding that her enthusiasm for hockey goes beyond watching the pros at work.  The little girl who takes those tentative first steps on to the ice at the beginning of the session will often begin that transition to the young athlete in the making who steps back through the gate two hours later.
This isn't your Dad's pickup game…
 At the entrance to the rink area, Barbara Fay hands flyers and posters to prospective hockey parents.  Each parent who approaches Fay initially does so with a question about the program.  She engages them fully, giving them nothing less than her undivided attention.  Talk about the nuts and bolts of league participation soon turns to friendly chatter about that person's love of the game. In spite of the fact that at times the intense contact seems to come nonstop, Fay's enthusiasm and energy never wavers.
According to Fay, the latest public session should open some doors both for the girls who are discovering the sport and for the team itself.
 "It's crazy because even though we are specifically a program for girls, we are still a part of the Nashville Youth Hockey League and play games against boys teams and mixed teams. We've been here since 2004.Originally we were focused more on girls' travel teams.  We would be pulling together girls from different areas to make up those teams on a high competitive level.

 "The last couple of years we started noticing, especially with the change in the economy, that people were still looking for a chance for their girls to play but they just weren't getting into the sport.  So now we have this gap.  That's when we started focusing our attention on bringing girls into it at a younger age, at a lower experience level and working on their development. The emphasis for this group is less on travel.  The travel girls will find each other."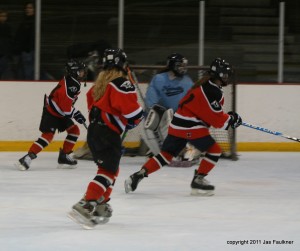 There is no shortage of volunteers on the ice, many of them parents who attended the Predators-sponsored certification clinics.  Stationed around the rink, they take the girls through skating drills and teach them the finer points of puck handling.
"We don't limit the number of volunteers," Fay said.  "There are guys here who have played hockey forever and now their daughters want to play.  Or there are sisters who have come to games and practices with their brothers and now it's their turn."
Is it a surprise to parents when they find out that their little girl loves to put on a pair of shoulder pads, pick up a stick and try to imitate Shea Weber's slap shot?
Fay smiles as she answers, "There is a common theme.  'I didn't know they could do this or I didn't know they wanted to do this.'  They try soccer and they try basketball and it never quite fits.  Then they come in here and it's so different.  They feel like 'This is it!' and they're home."
"There's something about playing hockey that has a different effect on you than anything else you can play."  NYHL coach and Girls' Program Chair Khalie Al Kahlel takes a moment to hide a soccer ball from some over-zealous future forwards and reflect on what girls can take away from strapping on a pair of skates.
"I do a lot of extreme sports, rock climbing, things like that.  Hockey is so different.  When you're out there, your contact with the floor is on blades, you're hitting the puck with a stick.  The indirect nature of how you move everything makes it a completely different kind of game on a mental and physical level.  In some ways it's just you moving fast and all the while there's this sense of being sort of contained even when you're fully engaged as part of a team. It means that you have to have a strong sense of who you are and what you're doing. You absolutely have to develop your confidence in order to play."

 
But it might have been your Mama's game!
Susan Ray-Sabourin and Chris Scholer stand rinkside, watching as their daughters play a short scrimmage match at the end of the round of drills. Both were members of the now-defunct NWIHL (Nashville Women's Ice Hockey League).  For the last few years, all that has remained of the women's league has been a few pictures, the shared memories of late night games and scattered fragments of websites.
One of the mothers nods towards the tangle of girls scrabbling for the puck.  "My daughter is wearing my old jersey."  Some of these girls saw their mothers out here playing when they were little.
"The rink is like a second home for my daughter, " says Scholer, "It was inevitable that she would play.  Hannah seems to have a genuine love of the sport. However, I'm not sure how much of our involvement directly encouraged her to play. She really likes the novelty of being a girl who plays hockey in a boy-dominated sport. I guess she figured she might as well have fun WITH us on the ice instead of sitting on the sidelines watching us have fun. I think it really helped that her mom played too."
Sue Karber, who has dedicated much of her professional life to working with children was also a part of the NWIHL.  Basketball was her original game of choice, but spending time in the NWIHL helped her fall in love with hockey.
Like many people involved with the NYHL, she benefitted from Predators-sponsored training programs and found a new outlet for her dedication to bettering the lives of children and her love of the game.
"I used to be a special education teacher and a basketball and softball coach and I love working with kids, especially with sports.  A friend of mine's husband is a coach for the mites and he told me about the Preds Coaching Symposium last September because I was interested in getting involved with the NYHL.  I came to the Symposium and got hooked up with Kilby, who's the girls coach and he invited me out to help.  So I assisted with the girls squirt team last year and am really looking forward to this year.  I've been doing the GOAL program for about a year as well.  There are a growing number of girls who are signing up for it which is very exciting.
I volunteer because I love the game of hockey, I love working with kids and I believe in what sports can do for the overall well-being and development of kids.  I also strongly believe in the positive youth development model which encourages caring relationships and opportunities for participation/contribution — both of which working with the girls hockey team provides."
Welcome to Generation Girl!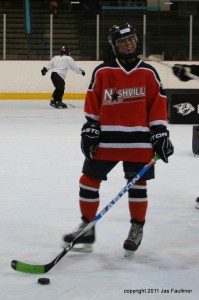 A stack of  posters bearing that legend features images of young women playing in the NCAA and members of Team USA smiling as they hold up their medals. Given to each girl as a token -or maybe a totem- for inspiration, it also helps brand the program as part of the network of USA Hockey. (www.usahockey.com )  The advantage to affiliation with USA hockey includes the security of knowing that the league meets their standards and other perks such as insurance and sports development opportunities that come with being part of a larger organization.
The organization is a good fit for the program, giving the volunteers added institutional support and promoting participation in hockey for all ages and levels.  Volunteer coach Jeff Dahl echoes the philosophy promoted by USAH.
"Parents should let their kids give it a try.  I think they will see something in their daughters they haven't seen before. As a parent that it's great to see my daughter gain confidence and a feeling of accomplishment
Every kid should feel that and we want to give every girl who really wants to be here a chance to get on the ice.  We'll do whatever it takes to get them here."
Wendy Piper, and her daughter, Molly, don't mind spreading the word wherever they go. "Most people are quite surprised at the program here.  We were in Canada this summer and a lot of people we spoke with were amazed that children in Nashville play hockey.  And, they play well  I might add.  It's so great to see Blake Geoffrion in the NHL.  We are proud to always say that we are in the program he came from.  Some of the girls made posters, wore their NYHL jerseys and went down to the glass before the game when Blake made his NHL debut.  It was a proud moment for them."
Jas Faulkner is a minimally socialised writer and artist who lives and works in Nashville, Tennessee. She hearts her attitude problem.