It has not been an easy year for Chris Kunitz, who seems to finally be on the downside of his career. I was a big defender of his and believed that his early season foot injury in 2013-14 was the reason for his slowed production. As time has passed, it's becoming clear that the 36-year old forward cannot produce at a high level anymore.
The Pittsbrugh Penguins are reportedly listening to offers for wings David Perron and Chris Kuntiz. While it's no secret why either of them would be eligible for a trade, it's time the Penguins pull the trigger on getting Kunitz out of Pittsburgh. You can look at his advanced metrics alongside Sidney Crosby and see that he plays well with him, but his hands are just gone. In 33 games this season, Kunitz has just 12 points (four goals, eight assists), is a +9 skater and has been shooting at 6.6% the lowest mark of his career since his rookie season.
Penguins Need to Trade Chris Kunitz Now
How is it time to sell high on a veteran wing who's clearly lost his luster? Well looking at the Penguins last 10 games and Kunitz surprisingly has nine points in that time, but only one of them is a goal.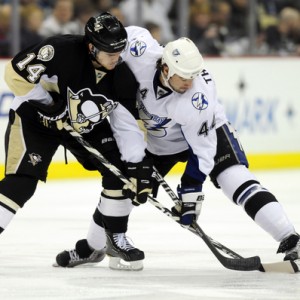 Before you think that Kunitz is undesirable around the league, there are a lot of teams that still respect and would like to add a player like him. He battles as hard as anyone does on the forecheck and knows how to skate with stars. Kunitz will provide a team with a veteran presence and scoring depth because while he's not the point-per-game player he used to be, he can still occasionally score.
Perhaps the biggest reason that the Penguins should look to trade Kunitz is his age and high cap hit of $3.85 million per season. I've talked with a lot of people around the league and they all have differing opinions of the Penguins, but there's a constant theme, no one agrees with the Penguins current cap structure. They have too much money invested in too few players and the ones they have simply aren't producing.
Are the Penguins one top-four defender away from competing in the playoffs? I don't think so, but it's a step in the right direction for the struggling franchise.
Kunitz wouldn't return a top-four defender by himself, but he certainly could be part of the package to acquire one. He's had a great career and was an incredible find for the Penguins back in 2009.
Don't think that Kunitz and his high cap hit are un-tradeable. Just look at what general manager was able to do last week when he actually traded Rob Scuderi to the Chicago Blackhawks. Kunitz is on the decline and his value won't be any higher than it is right now, it's time for Rutherford to pull the trigger and say goodbye to another fan favorite.
Thanks for reading! Feel free to leave your comments below or tweet me anytime @MPityk_PIT
Michael Pityk is an analyst who has written for numerous sites since beginning his professional career. He's acted as a credentialed member of the media for the Philadelphia Phillies, Philadelphia Flyers, Pittsburgh Pirates and the Pittsburgh Penguins. His work has been featured in Sports Illustrated, The Sports Journal, MSN, PensLabyrinth, Montreal Hockey Talk, ESPN Pittsburgh, The Hockey Writers, Todays SlapShot and The Bleacher Report. He formerly was the editor of Pens Labyrinth and an analyst for The Sports Journal. Michael presently acts as an NHL Analyst for The Hockey Writers