So, you've been a Chicago Blackhawks fan long enough to remember how far away from winning a Stanley Cup they seemed to be prior to capturing three in a six-year span through the 2010s? That's a good start, but it's not going to be enough. We at The Hocker Writers dig deep with our coverage and this quiz is no different.
As a member of the Original Six, their past presents a plethora of trivia-worthy material. This is beyond asking what year Chicago entered the league, who their leading producer of all-time is, or which goalie has the most wins in franchise history. Those are too easy and do little to help you proclaim Blackhawks' bragging rights.
RELATED – Blackhawks All-Time Playoff Roster
Sit back, learn a few things, and have fun. We hope you enjoy the read, too. Be sure to keep track of your selections along the way and use our answer key at the end of the article to see how you did, along with what your results say about you as a fan.
Game On!
1) How long did it take Bill Mosienko to score the fastest hat trick in league history?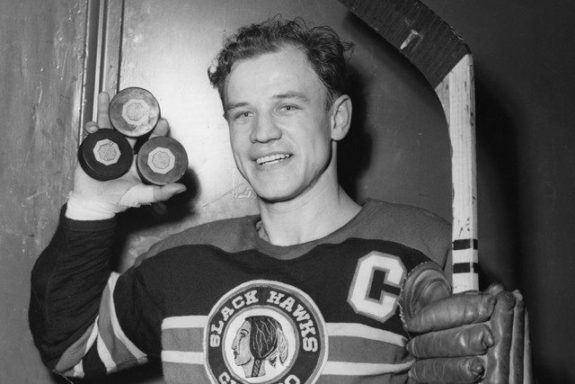 A. 43 seconds
B. 21 seconds
C. 36 seconds
D. 19 seconds
2) Which Hall of Famer does not have their number retired by the franchise?
A. Denis Savard
B. Pierre Pilote
C. Doug Wilson
D. Glenn Hall
3) How many playoff games did Chicago require in 2013 to capture that year's Stanley Cup?
A. 24
B. 25
C. 22
D. 23
4) Who holds the record for most all-time regular season penalty minutes with the Blackhawks?
A. Bob Probert
B. Chris Chelios
C. Al Secord
D. Keith Magnuson
5) How many times have the Blackhawks finished a season with a points percentage of over .700?
A. 0
B. 3
C. 1
D. 2
6) Who are the only two Chicago players to earn a team record seven points in a single game?
A. Grant Mulvey/Max Bentley
B. Bernie Nicholls/Grant Mulvey
C. Jeremy Roenick/Steve Larmer
D. Max Bentley/Bobby Hull
7) How many All-Star appearances did Patrick Kane make between 2015-2020?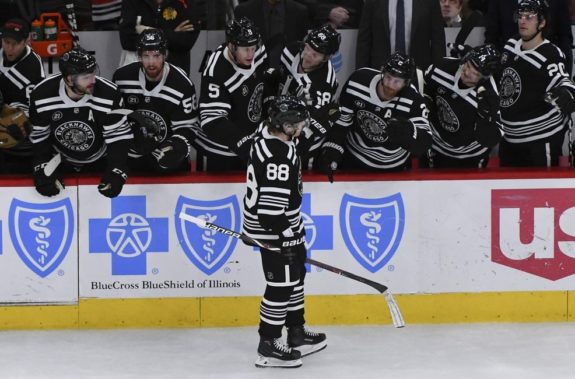 A. 6
B. 3
C. 5
D. 4
8) Which Original Six franchise has Chicago faced the least amount of times in the regular season?
A. Toronto Maple Leafs
B. Boston Bruins
C. Montreal Canadiens
D. New York Rangers
9) How many Blackhawks' coaches have earned over 200 non-playoff wins behind their bench?
A. 2
B. 3
C. 1
D. 4
10) Against which team has Jonathan Toews scored the most regular season goals?
A. Dallas Stars
B. Nashville Predators
C. St. Louis Blues
D. Colorado Avalanche
11) How many times has Chicago won the Presidents' Trophy for finishing in first place overall?
A. 2
B. 1
C. 5
D. 4
12) Who holds the record for most points in a single season by a Blackhawk?
A. Bobby Hull
B. Denis Savard
C. Patrick Kane
D. Jeremy Roenick
13) How many 40-goal campaigns did Stan Mikita have?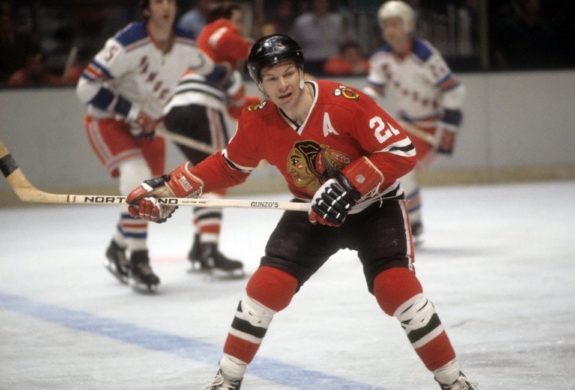 A. 1
B. 4
C. 3
D. 2
14) Who was the only Chicago coach to win the Jack Adams Award as best in the league?
A. Billy Reay
B. Orval Tessier
C. Joel Quenneville
D. Mike Keenan
15) How many games were part of the Blackhawks' longest point streak?
A. 30
B. 23
C. 29
D. 35
16) Which goalie set the mark for most games played in one season with the organization?
A. Glenn Hall
B. Ed Belfour
C. Frank Brimsek
D. Tony Esposito
17) How many different athletes have scored 50 or more goals in a Chicago sweater?
A. 5
B. 2
C. 7
D. 3
18) Who was the oldest player to ever captain the team?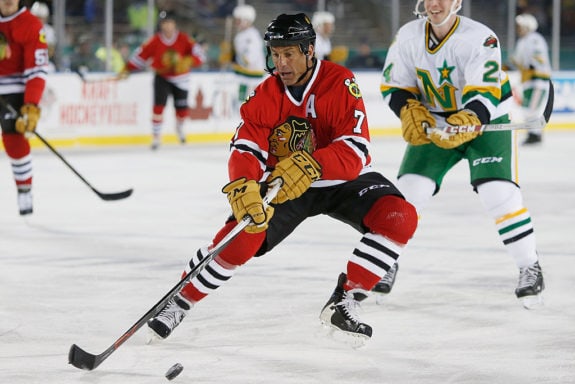 A. Doug Gilmour
B. Chris Chelios
C. Dick Irvin
D. Helge Bostrom
19) What is the highest number of goals the Blackhawks have ever accumulated in a single season?
A. 351
B. 374
C. 346
D. 338
20) Which of the following teams is the only one with an affiliation to the Chicago Blackhawks?
A. Wisconsin Badgers
B. Chicago Wolves
C. Indy Fuel
D. Saginaw Spirit
21) How many saves did Al Rollins make to set Chicago's bar for most in one game?
A. 57
B. 68
C. 62
D. 59
22) Who holds the title for points by a rookie with the Blackhawks?
A. Steve Larmer
B. Artemi Panarin
C. Ed Olczyk
D. Jeremy Roenick
23) How many shutouts did Tony Esposito accumulate to set the NHL's single-season record?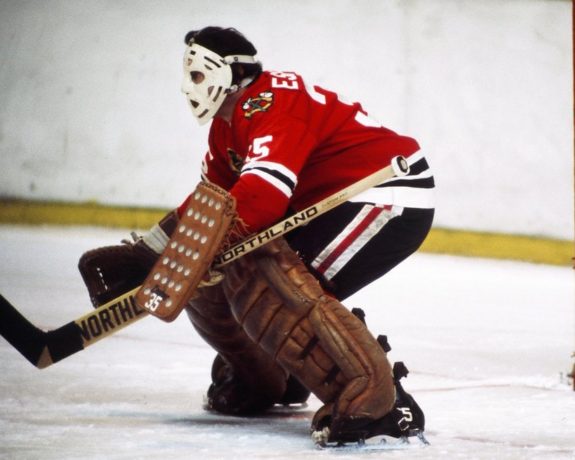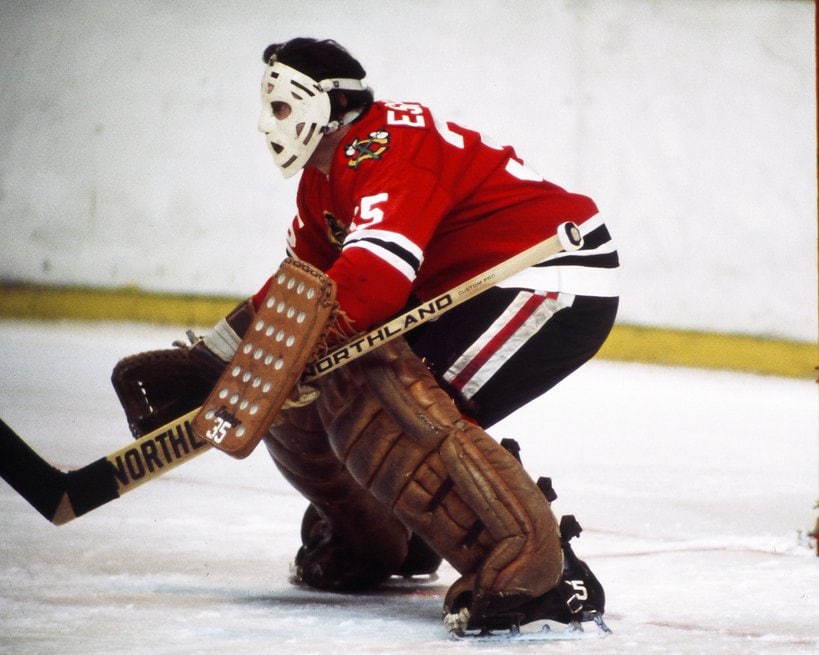 A. 14
B. 17
C. 12
D. 15
24) Who was their opponent, when Chicago scored their most ever goals in an individual game?
A. Hartford Whalers
B. Philadelphia Flyers
C. Detroit Red Wings
D. Minnesota North Stars
25) In which year did the franchise change their name from Black Hawks to Blackhawks?
A. 1982
B. 1979
C. 1986
D. 1973
Check Your Work
We're trusting that you've made it this far only after attempting to answer every question above. If that's not the case, you don't deserve to see the answers. Please either complete those you skipped or close your browser at this point.
Great, since you've made it this far that means you have a set of 25 choices to verify. While we anticipate that you're confident with your selections, we're also banking on the fact that you definitely failed at some of these.
Answers & Explanations
1) B. 21 seconds
On March 23, 1952, Mosienko scored three goals in a 21-second span during the third period en route to a 7-6 comeback victory over the New York Rangers.
2) C. Doug Wilson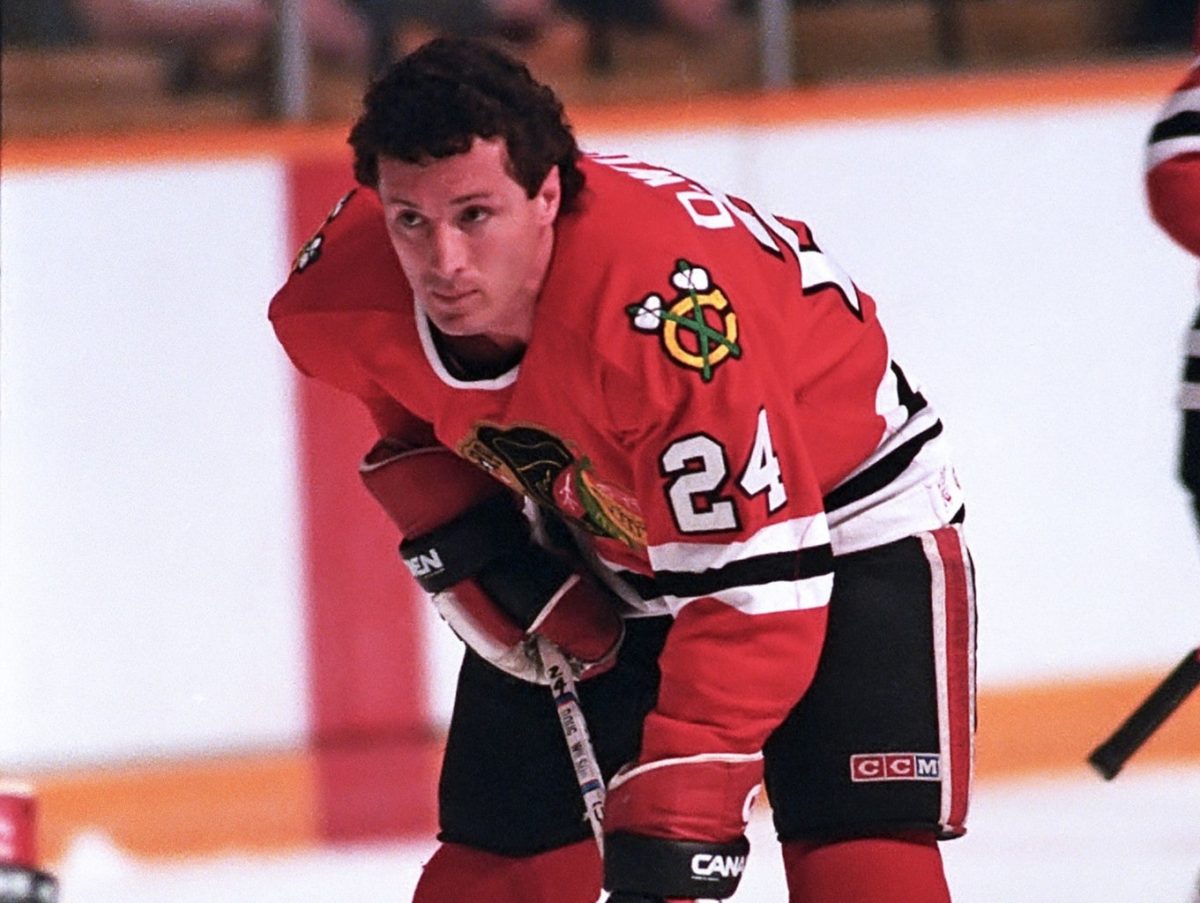 Despite being elected into the Hockey Hall of Fame in 2020, Wilson's 24 isn't currently one of the seven such banners that line Chicago's rafters.
3) D. 23
Chicago won their rounds against the Minnesota Wild (4-1), Detroit Red Wings (4-3), Los Angeles Kings (4-1), and Boston Bruins (4-2), on their way to capturing the 2013 Stanley Cup.
4) B. Chris Chelios
Through 664 regular season games with the Blackhawks, Chelios accumulated 1,495 penalty minutes for an average of at least one minor per contest.
5) C. 1
Chicago's points percentage of .802 in 2012-13 was the highest throughout the league that year and the only time they've surpassed .700 in club history.
6) A. Grant Mulvey/Max Bentley
Mulvey accumulated five goals and two assists on February 3, 1982, facing the St. Louis Blues; Bentley scored five and assisted on two against the New York Rangers on January 28, 1943.
7) A. 6
Kane has participated in nine All-Star games since entering the league in 2007-08, including all six between 2015-2020 (2015, 2016, 2017, 2018, 2019, 2020).
8) C. Montreal Canadiens
As of the end of the 2019-20 calendar, the Blackhawks and Montreal Canadiens had faced each other 568 times throughout the regular season.
9) A. 2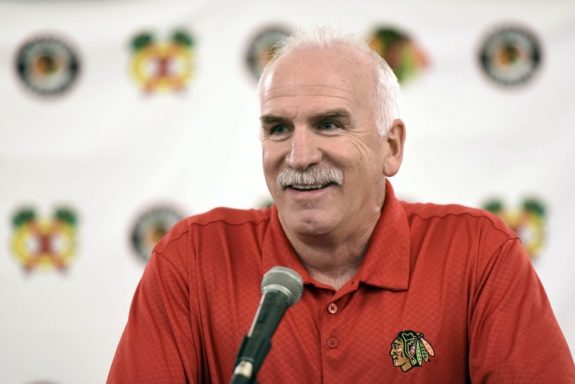 Of their 38 coaches in franchise history, only Billy Reay (516) and Joel Quenneville (452) earned over 200 non-postseason wins, with Bob Pulford just shy of the milestone (185).
10) D. Colorado Avalanche
By the end of the 2019-20 campaign, Toews had faced each of the Dallas Stars, Nashville Predators, and St. Louis Blues more times than the Avalanche, yet his 22 goals in their 49 meetings are his most against any opponent.
11) A. 2
The Presidents' Trophy has only been awarded since 1986, to the team that finishes the season with the best overall record, with the Blackhawks having earned it twice in that span — 1991 and 2013.
12) B. Denis Savard
Savard not only achieved the best single-season production in franchise history, he currently owns the top four spots on that list with 131 (1987-88), 121 (1982-83), 119 (1981-82), and 116 (1985-86).
13) A. 1
Five of Mikita's 22 seasons in Chicago saw him earn at least 35 goals or more, including two where he hit 39, yet he only achieved the 40-goal mark once.
14) B. Orval Tessier
Tessier is currently the sole coach in club history to have won the Jack Adams Award, following his 1982-83 record of 47-23-10 during his first of three years behind their bench.
15) A. 30
Chicago accumulated a record of 24-0-6, during an unbeaten in regulation streak that began near the conclusion of the 2011-12 season and ran through half of the shortened 2012-13 campaign.
16) B. Ed Belfour
Hall's record of 502 consecutive appearances spanned multiple seasons, none of which saw him play as many as the 74 Belfour participated in during 1990-91 alone.
17) D. 3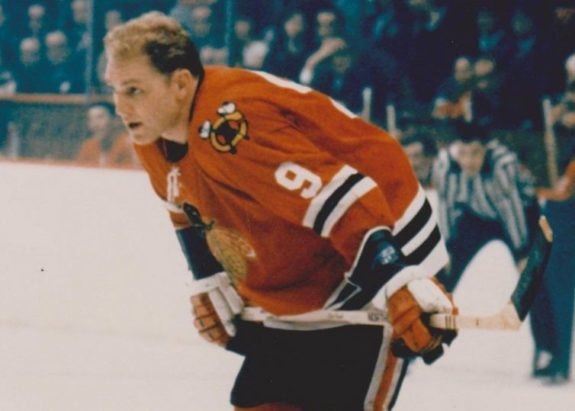 While Patrick Kane still has time ahead of him to achieve the feat, only Bobby Hull, Al Secord, and Jeremy Roenick have reached the milestone in a Blackhawks uniform.
18) D. Helge Bostrom
Bostrom played four seasons with the Blackhawks and was 39 years old when he captained the team throughout the 1932-33 campaign.
19) A. 351
Chicago's 351 goals scored through 1985-86 was third highest in the league that year, behind the Edmonton Oilers (426) and Calgary Flames (354), and is the most they've ever achieved in a single season.
20) C. Indy Fuel
The Blackhawks have both an AHL and ECHL affiliate, with the former being the Rockford IceHogs and the latter is the Fuel.
21) D. 59
Rollins owns the top two spots on the team's list of most saves in a single game, with the 59 of 62 he stopped during a 3-2 loss to the Boston Bruins on December 13, 1956, leading the way.
22) A. Stever Larmer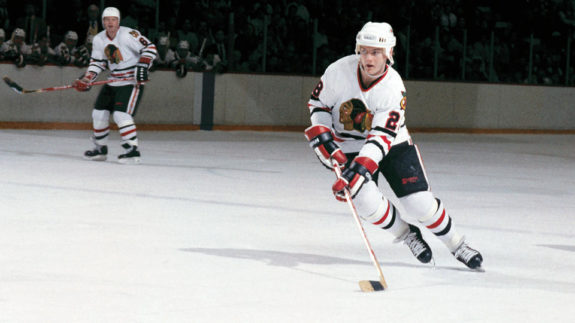 Larmer's 90 points through 1982-83, which was also enough to earn him the Calder Memorial Trophy that year, still stands alone as most by a Blackhawks' rookie.
23) D. 15
What makes Esposito's record-setting 15 shutouts through 1969-70 even more impressive, is that it was his rookie season with the Blackhawks.
24) B. Philadelphia Flyers
On January 30, 1969, the Blackhawks scored the most they ever have in a single game during a 12-0 shutout victory over the Flyers.
25) C. 1986
Prior to the 1986-87 season, while reviewing franchise records, someone noticed Chicago's team name was actually one word on their original league paperwork and it changed from that point forward.
What Your Score Says About You
| | | |
| --- | --- | --- |
| Score | Percentage | What It Means |
| 0 | 0% | You had to Google what the Original Six is. |
| 1-5 | 4%-20% | You didn't realize the team existed before 2010. |
| 6-12 | 24%-48% | You think Showtime is a local cinema. |
| 13-19 | 52%-76% | You still can't believe they got swept in 1992. |
| 20-24 | 80%-96% | You are almost as serious about this team as Toews. |
| 25 | 100% | You cheated and real fans are better than that. |
Hopefully, you've enjoyed the challenge while elevating your level of Blackhawks knowledge. Be sure to share this with that friend who thinks they know all there is to know about this team, so they can be reminded that they absolutely do not. Don't forget to let us know how you did, in the comments section below.
RELATED – Corey Crawford's Retirement Leaves Legacy With Blackhawks
And feel free to brag about your new trivia skills — you've earned it.
Blackhawks Banter
Join our crew at The Hockey Writers as we debate and discuss all things Blackhawks every Monday night at 8:00 p.m. EST/7:00 p.m. CST. Tune in live on our YouTube Channel and follow our Facebook Page so you're always in the know.
Think you can stump our knowledgeable team? Tag us on Twitter with your best attempt and be sure to include #BlackhawksBanter. We might even read your question during an upcoming episode.
---
---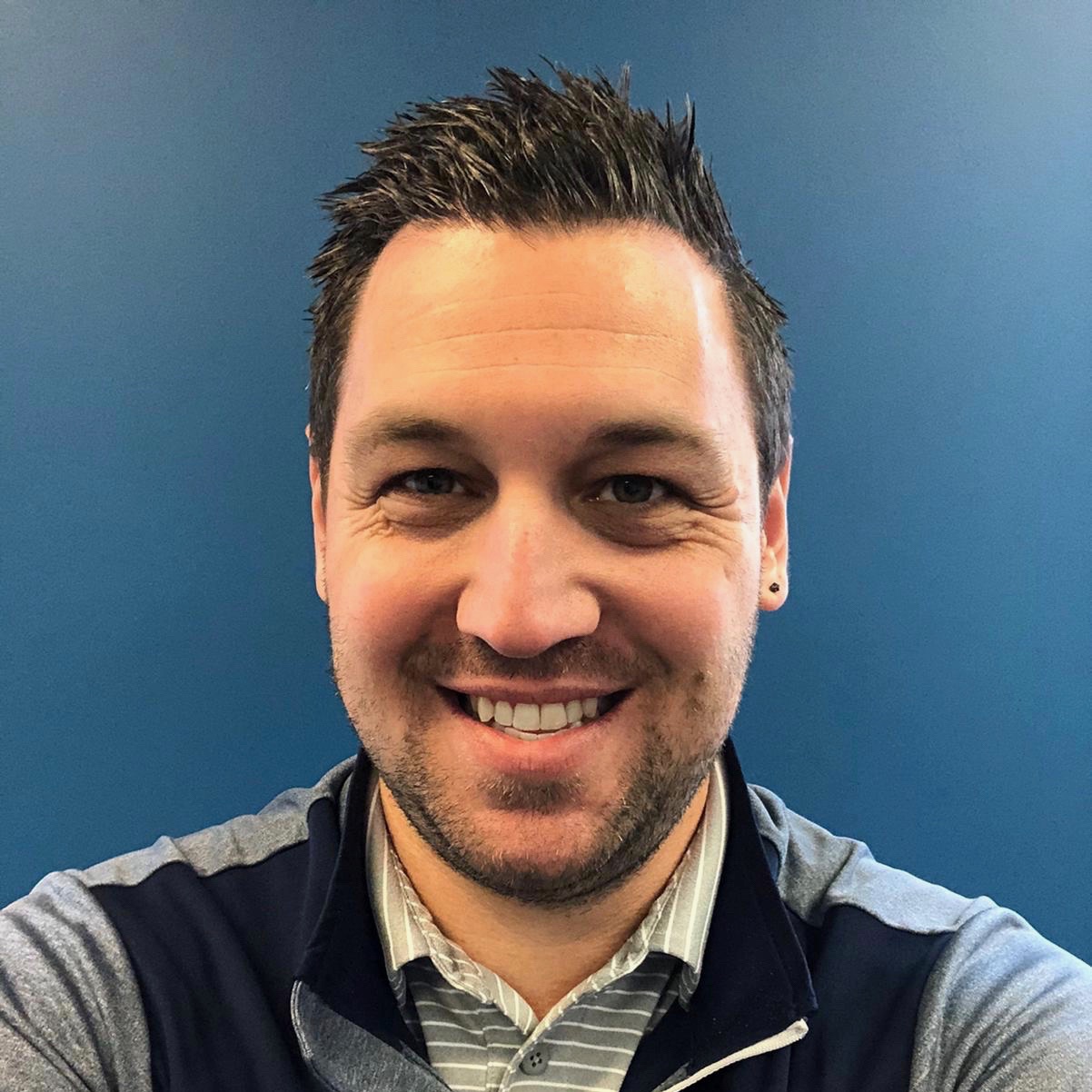 Freelance thinker, paying too much attention to digital aesthetic. Oxford comma enthusiast. Spider-Man supporter. Sports fan, with two favourite hockey teams. If the Blackhawks and Maple Leafs ever meet in the Stanley Cup Final, you can find me wherever they're playing that night.
Find me and more of my work at mralwayswrite.com and find me at @MrAlwaysWrite.