This article was originally written in August, 2015. Updated in 2020.
In 2005-06, a 25-year-old native of Moose Factory, Ontario, one of the most northern settlements in the Province located at the base of Hudson Bay, shattered expectations and won the Rocket Richard Trophy as the NHL's leading goal scorer.
Four year later, he had played in his last NHL game.
In case you remain unaware of who this player is, it is none other than the 6-foot, 200-pound Jonathan Cheechoo, a veteran of seven NHL seasons and over 400 games played.

In most cases, players talented enough to win such a prestigious trophy typically enjoy long, prosperous NHL careers. However, in Cheechoo's case, a once-promising career quickly deteriorated, forcing Cheechoo to leave North America in pursuit of a new career in professional hockey.
Before we explore where Cheechoo is now, it is important to first examine his past in order to understand exactly how he arrived at his current situation.
Cheechoo's Junior Career
Selected by the Belleville Bulls in the 1997 Ontario Hockey League (OHL) entry draft, Cheechoo enjoyed an incredibly strong junior hockey career.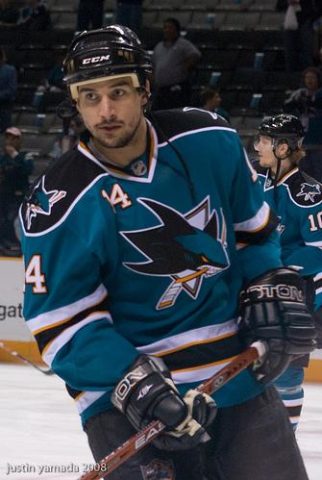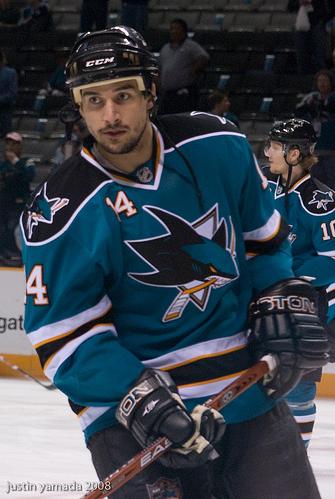 In his first season with the Bulls, Cheechoo was a prime offensive threat, scoring 31 goals and adding 45 assists, with his 76 points good for third best on the team. Following his solid rookie season, Cheechoo was selected 29th overall in the 1998 NHL Draft by the San Jose Sharks, who at the time were heavily criticized for selecting Cheechoo so early.
Following his NHL Draft selection, Cheechoo showed continued improvement in the 1998-99 season, netting 35 goals and 47 assists – an 82-point total, which was again third best on the roster. Further, in the playoffs, Cheechoo scored 15 goals in a mere 21 games, while he added an additional 15 assists for 30 points, four goals of which were scored in Game 7 of the OHL Championship, securing a 9-2 Bulls victory.
In his final OHL season in 1999-00, Cheechoo was again an elite offensive threat, leading the Bulls in goals (45), as well as in points (91). He also amassed 102 minutes in penalties, indicating his physical style of play, a nature which unfortunately led to it's fair share of injuries.
With 193 games, 111 goals, 138 assists and 249 points under his belt, Cheechoo's incredibly successful junior career had come to an end, and it became time for Cheechoo to begin his professional hockey career.
Cheechoo's Professional Career
In 2000-01, Cheechoo officially began his professional hockey career, starting his first season with the Kentucky Thoroughblades, the Sharks' American Hockey League (AHL) affiliate at the time.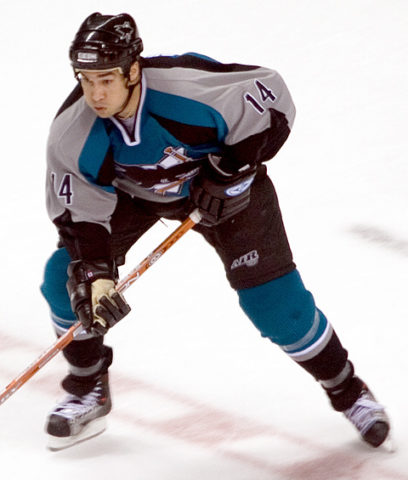 In his first professional season, Cheechoo did not disappoint, carrying over his junior success into the AHL game, scoring 32 goals and 66 points across 75 games. Despite this success, Cheechoo saw little ice-time in the playoffs and was often a healthy scratch.
In 2001-02, the Sharks' AHL affiliate was relocated to Cleveland as the Barons. Cheechoo continued his strong play, accumulating 21 goals and 46 points in 53 games, although a leg injury shortened Cheechoo's strong season.
Come 2002-03, after an additional nine games with the Barons, Cheechoo was promoted to the NHL by the Sharks. In his rookie season, Cheechoo played 66 games, scoring nine goals and seven assists for a total of 16 points, having played limited minutes primarily on the team's third and fourth lines.
However, in 2003-04, Cheechoo enjoyed a breakout season. Thanks largely in part to an intense offseason workout plan, which focused strictly on adding additional size and strength, Cheechoo scored 28 goals with the Sharks, a total that tied him for the team lead with Patrick Marleau.
In the lockout season, Cheechoo played 20 games with HV71 Jonkoping of the Swedish Elite League, scoring five goals.
Cheechoo and the Arrival of Joe Thornton
On Nov. 30, 2005, the Sharks pulled off a massive trade, one that is arguably one of the worst in NHL history. Fortunately for the Sharks, this trade was horrendous for the Boston Bruins and fantastic for them, as they landed a young, big-bodied, franchise center ice-man in Joe Thornton, who turned out to be a consistent offensive producer and exceptional playmaker.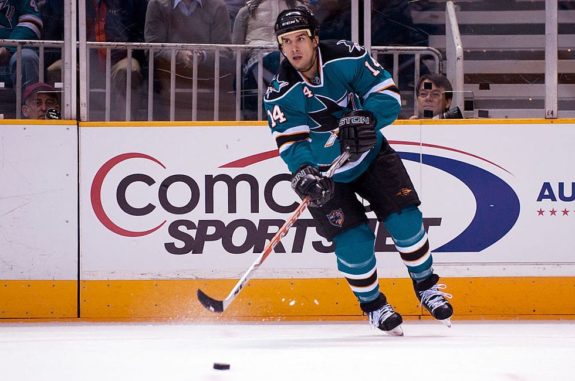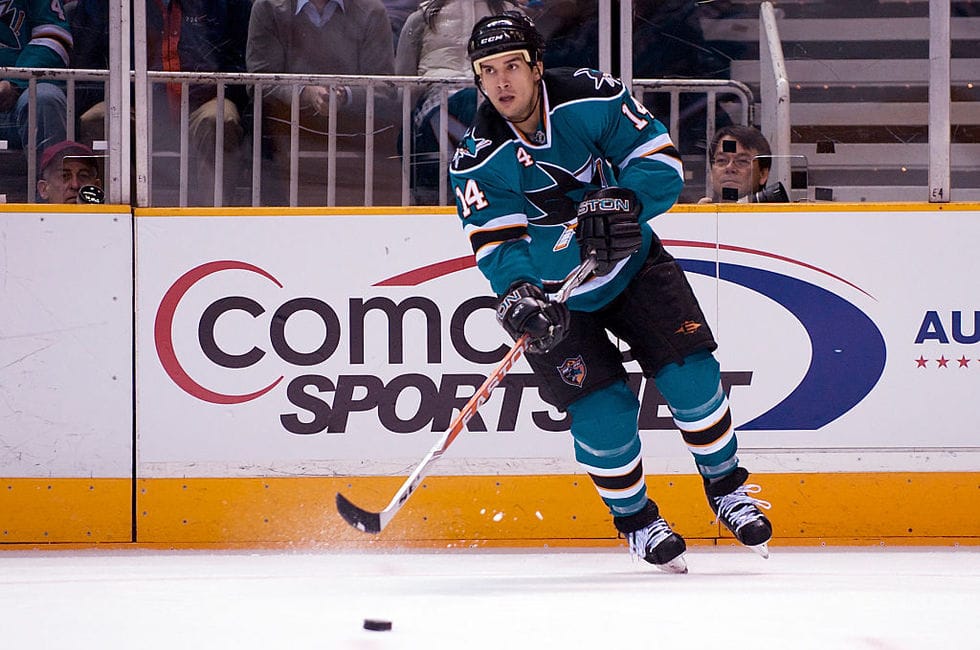 Paired with the incredible game-changing skills of Thornton, Cheechoo's production soared to new and incredible heights. In his first season alongside Thornton, Cheechoo netted an amazing 56 goals, capturing the Rocket Richard Trophy as the NHL leader in goals scored, while Thornton amassed 72 assists in only 58 games played with the Sharks, and 92 for the entire season.
However, following this fantastic year, Cheechoo's production began to slip despite still producing solid numbers.
In 2006-07, Cheechoo scored 37 goals and 69 points, very good production despite a small decline. However, in 2007-08, Cheechoo's game began to decline at a greater rate, scoring 23 goals and a mere 37 points; this is offense unlike that which he had produced just two seasons prior.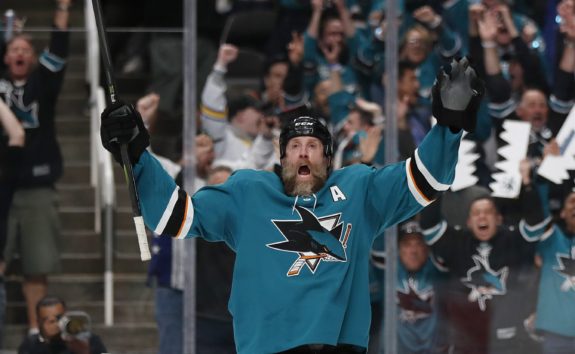 Then, in 2008-09, Cheechoo managed to score a dismal 12 goals and 29 points with the Sharks, a mark which was good for just 11th overall on the team. Following his steady decline from superstar status to third liner, the Sharks subsequently packaged Cheechoo off to Ottawa, a mere three seasons removed from winning the Rocket Richard.
Given a fresh start in Ottawa, Cheechoo failed to return to the form he displayed in 2005-06, completing yet another highly disappointing season of just five goals and 14 points. As a result, the Senators demoted Cheechoo to the AHL, where he did not fare much better.
A Return to Form
Having been waived by the Senators, Cheechoo played three consecutive seasons in the AHL, one with each of the Sharks, St. Louis Blues and Edmonton Oilers' minor league affiliates, where he began to find success once again.
In those three AHL seasons ranging from 2010 to 2013, Cheechoo scored 56 goals, 79 assists and 135 points in 160 total games, production similar to his offensive output at the NHL level.
As a result, Cheechoo packed his bags and headed East when an opportunity in the Kontinental Hockey League (KHL) presented itself.
Cheechoo's KHL Career
Cheechoo wrapped up his professional career with two more seasons in the KHL. He would finish second in scoring for Minsk in 2015-16 by tallying 16 goals, 22 assists and 38 points in 54 games. The team, however, would fall just short of making the playoffs.
You may also like:
In 2016 Cheechoo signed a one-year deal with Slovan Bratislava, a Slovakia-based team that briefly played in the KHL. He led the club in assists with 26 in 60 games. Cheechoo finished second in scoring for Bratislava (14-26-40) and was selected to the 2017 KHL All-Star game. Unfortunately, Bratislava would fail to make the postseason as well.
And that would be it.
A Hockey Career to Remember
Cheechoo's 17-season would finally come to a close. He would officially announce his retirement on Mar. 6, 2018 at the age of 37 – only a few months shy of his 38th birthday. The San Jose Sharks would honor Cheechoo and his career prior to a game against the Calgary Flames later that month.
In total, Cheechoo played 501 regular season games in the NHL. He generated totals of 170 goals, 135 assists and 305 points. He still holds Sharks' records for goals in a season (56), power play goals in a season(24), hat-tricks in a season (5) and hat-tricks in a career (9).
Cheechoo goes down in the annals of hockey history as one of the finest players to have come from a remote area of Canada. He will also forever hold the distinction of being an NHL 50-goal scorer – a title held by very few.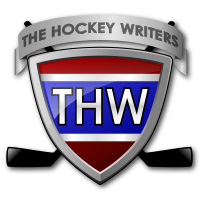 The archives of THW contain over 40,000 posts on all things hockey. We aim to share with you some of the gems we've published over the years.