Until 2018, the Winnipeg Jets had never missed a first-round pick (since relocation) and had never picked so late in the second round. We knew the NHL Entry Draft in Dallas was going to be a telling one for the Jets, and the story is that the team knows what it's doing.
Often lauded for their success with early picks, the Jets' scouting staff had to sit on their hands until pick number 60 this year. While they weren't going to find an instant impact player at that spot, there were some intriguing projects.
General manager Kevin Cheveldayoff and company have long been praised for assembling a deep team, with the praise all the more poignant this year. You can't add depth without later picks, and the Jets proved they can still make some solid choices.
Jets didn't draft until pick 60 but were still able to snag this guy. pic.twitter.com/RHUe9xG2q5

— John Malloy (@JMall95) June 23, 2018
The Jets kicked off their draft with David Gustafsson. Some scouts, Corey Pronman for instance, did not care for this pick. Others, like Scott Wheeler, loved it. Canucks Army's Ryan Biech had an intensely detailed breakdown of his season. 
Gustafsson was followed by more shrewd picks. Third-round pick Nathan Smith, might have left some Jets fans scratching their heads, but the words "over-ager from the USHL" should conjure up good images. Considering the Jets pulled both Tucker Poolman and Mason Appleton out of the USHL as nineteen-year-olds, it's obvious they hope for more of the same from Smith and it would be unwise to bet against them at this point.
Left Handed Defensemen
The left side on defense is the position of greatest organizational concern for the Jets and that was before Tobias Enstrom announced his impending departure. It's unlikely to find one-stop fixes in the middle of the fifth round, where the Jets picked, but they landed two solid options on defense nonetheless. Declan Chisholm and Giovanni Vallati are both decent-sized prospects with some offensive talent.
Quick notes about the #NHLJets two fifth round picks — left-handed defenceman Declan Chisholm and Giovanni Vallati: pic.twitter.com/hlQjGsHdZL

— Scott Billeck (@ScottBilleck) June 23, 2018
As Scott Billeck points out, both were taken after their projected ranking. Chisholm has one of the best names in the draft but on a more relevant note, his 20 points in 47 games are nothing to sneeze at. He wasn't totally unsupported on a poor Petes team, but he was his team's second-leading defensive scorer and was asked to do more than most 2000-born players. He's already playing big minutes as an 18-year-old, which is promising.
Vallati had the opposite problem. Well supported on a third-place Kitchener team, that included Jets first-round pick, Logan Stanley, he still managed to finish second in team scoring by a defenseman. His play next year on what will be a far younger Rangers team will be telling.
Both players have good 6-foot-1 frames on which to build, so size shouldn't be a deal-breaking issue here.
The rise of Canadian Junior A as a viable breeding ground for prospects lends credibility to the seventh-round selection, Austin Wong. By all accounts Wong is a terror to play against at that level, hitting like a truck and piling up points. It's hard to find a comparable to Wong with the AJHL still relatively young at producing prospects. That said, four years at Harvard and another year in Okotoks will prove if he can build on a solid foundation.
None of the players the Jets picked will likely see action any time soon. That's just fine, as patience is a virtue with later round picks anyhow.
Jets Stand Pat on Cap Space
The Jets have made their desire to keep Paul Stastny public. What's equally public is that they'll need to shed salary to do so. The draft seemed a perfect time to trade away some contracts, but management held their ground. We've discussed the reasons why Tyler Myers would make a good trade candidate. As of this writing, he is still a Jet. The venerable Elliotte Friedman has suggested Steve Mason might be moved instead.
No player was moved at the draft, and some Jets fans weren't too pleased. The team's impending cap crunch is no secret, and they've got a ton of RFAs to re-sign. After tending qualifying offers on June 25, Winnipeg has a summer's worth of work ahead of them.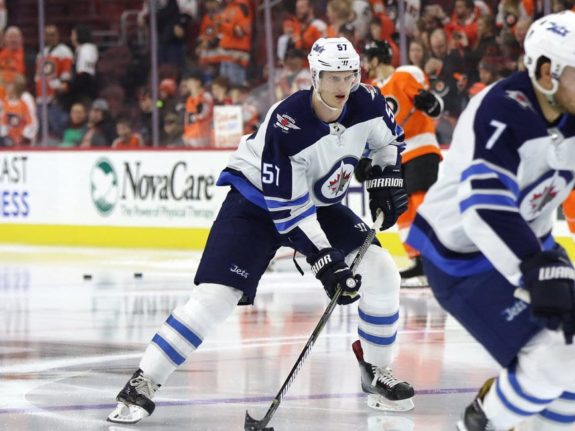 With that in mind, however, the Jets are not under tremendous pressure to make a deal immediately. They can temporarily be over the cap limit, and Myers and/or Mason might be better moved after free agency when teams who failed to fill holes start looking for other options.
All in all, the Jets didn't have as many tools at their disposal as they're used to having on draft day. This was the moment for their highly-respected scouting staff to show off what they could do in a tough situation. They've pulled out good players in late rounds before, but have always had high picks as an insulator. This time, they had no such buffer. While it's too early to pin a passing grade on this draft class, early returns look pretty good. The Jets scouting staff can, for now, call the 2018 Draft a qualified success.
A long time hockey fan and player from Winnipeg, Manitoba. Play-by-play man with the SJHL's Estevan Bruins. Graduate of Red River College's Creative Communications program with a major in journalism. Former PxP man for the University of Manitoba Bisons. Lover of all things Jets and Avs related and always looking for a good hockey debate.