The 2020-21 NHL season is going to be a weird one. From the schedule to the divisional realignment (and renaming and sponsored naming!) to intra-divisional play to the new playoff format, it's all just, well, weird. And some of that weirdness favors teams that can platoon two excellent goalies, like the Columbus Blue Jackets.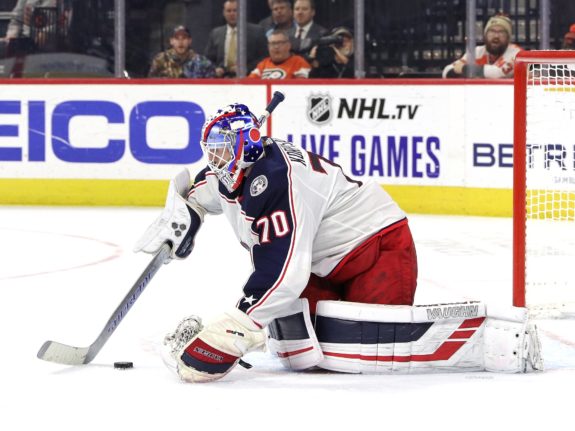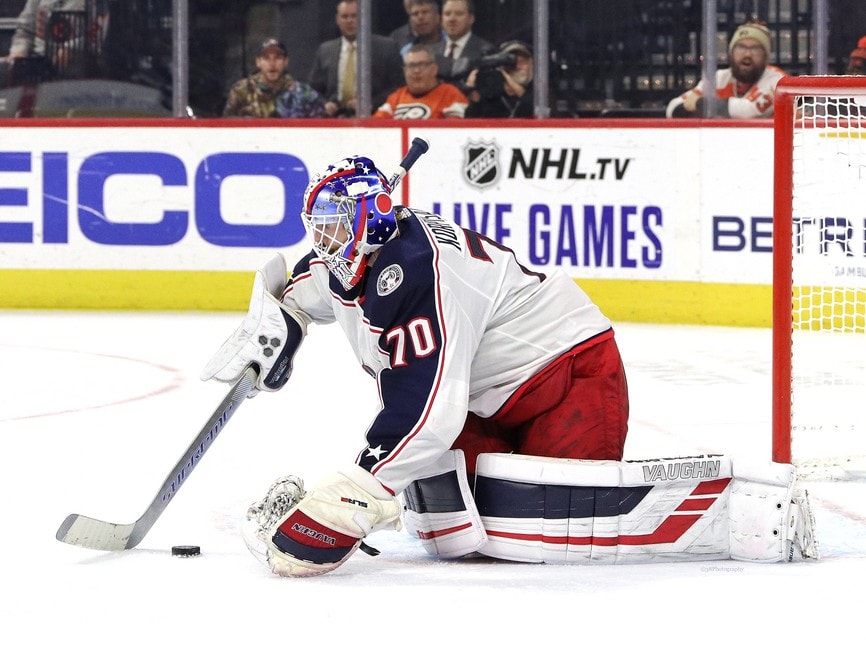 Some teams may rely heavily on one goaltender, giving only spot duty to the backup. It's possible that coach John Tortorella may do the same with the Blue Jackets – giving the majority of the starts to either Joonas Korpisalo or Elvis Merzlikins. Perhaps he'll ride the "hot hand" and keep starting one goalie until he hits a rough spot. But having two capable goalies, either of whom can grab the net and run with it, will definitely be a plus for Columbus in 2020-21.
The Blue Jackets 2020-21 Schedule
Columbus is scheduled to play back-to-back games only eight times during the season. That's 16 of 56 games that are part of back-to-backs, or 29% of the season. Let's compare that to the previous three seasons:
2017-18: 17 pairs of back-to-back games; 34 of 82 games, 41%.
2018-19: 16 sets of back-to-back games; 32 of 82, 39%.
2019-20: The original schedule, which was interrupted by the COVID pandemic, had the Blue Jackets playing 16 back-to-backs (32 of 82 games, 39%). The team actually played 14 sets of back-to-back games, 28 of 70 games (40%).
Interestingly, the 2020-21 schedule has Columbus playing back-to-back games at home twice, but five times on the road. If you're doing the math, that's seven. That eighth back-to-back? The Blue Jackets play at home against the Florida Panthers on Jan. 28 and play the next night in Chicago against the Blackhawks. Ouch!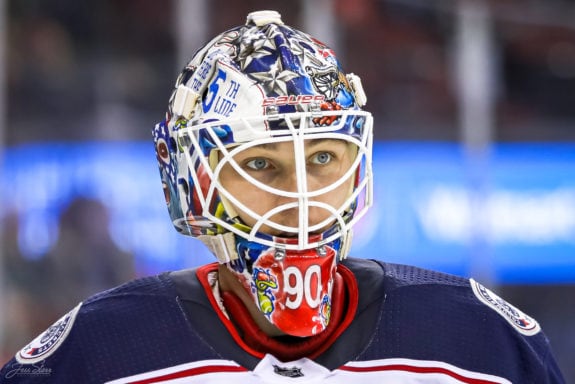 The club may opt to head from Columbus to Chicago after the Thursday night game rather than traveling the morning of the Friday night game. Here's an interesting idea: how about sending one of the three goalies and perhaps a couple of the taxi squad members ahead to Chicago a day or two early? They'd be rested and ready to go, regardless of when the rest of the team travels. 
Related: Blue Jackets Find Favor With Their Schedule
In addition to the back-to-back games on the schedule, Columbus will have one day off between games some 35 times during the 2020-21 schedule. Fifteen of those "off" days will involve travel. The club may elect to travel after a game and have a full day off before the next game, or they may choose to use that day off for travel. Of the 20 single days off with no between-city travel, 12 are at home and eight are in hotels on the road.
A Goalie Tandem for the Blue Jackets
Of the 17 back-to-backs during the 2017-18 season, the same goalie started six times and different goalies started 11 times. In 2018-19, the same goalie started six back-to-backs and goalies alternated 10 times. In the injury-plagued 2019-20 season, a goalie played back-to-back games only four of 14 times. (Notably, all four of rookie Matiss Kivlenieks's starts were either the first or second game of back-to-backs).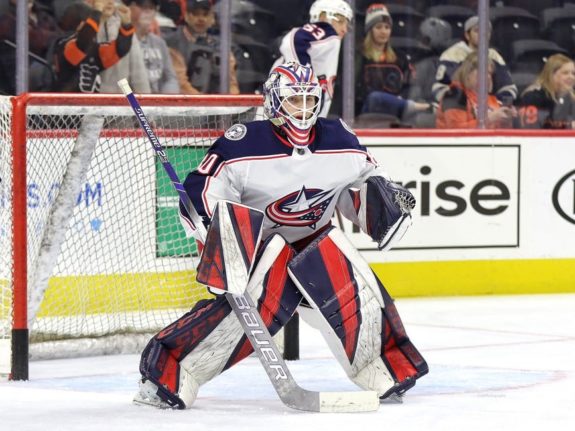 So, over the past three seasons, Tortorella and the Blue Jackets have alternated goalies in back-to-back situations almost two-thirds of the time (31 of 47 scheduled back-to-backs, 66%). But does that actually project for the 2020-21 season? I'll say "No." Remember that in 2017-18 and 2018-19 Sergei Bobrovsky was the undisputed No. 1 goalie, appearing in 127 games. Korpisalo played in just 45 games over the two seasons. And, as I mentioned, during the 2019-20 season injuries played a part in which goalies were available when. As it eventually sorted out, Korpisalo appeared in 37 games, Merzlikins in 33, and Kivlenieks in six.
In late December, Aaron Portzline of The Athletic had a one-on-one chat with Tortorella. Aaron asked Torts if he had a No. 1 goalie in mind. Here's the answer:
No. I have two really good goalies. I'm not even sure if we can start calling these guys a No. 1 this season. We have a really good tandem. It's another question mark in my head. We play 56 games in such a short span of time. You're going to have to use your tandem. I'm very excited about our two guys. I think we need to take that out of the conversation for now, the "Who's your No. 1 goalie?" I don't think that should be a question about these two. It's the tandem and who may run with it for a week or so and maybe take more time. It's a tandem, for me, right now.

–Aaron Portline, "John Tortorella Q&A: On the need for more scoring, trusting his goalies and more," The Athletic, Dec. 22, 2020
However, not everyone is of the same mind, not even at The Athletic. A few weeks later, Aaron's colleague, Craig Custance spoke with general managers and coaches from around the league. He found a consensus that differed:
In a condensed season, like 2020-21, having a starting goalie who can handle a heavy workload will be more important than ever. We'll hear a lot publicly about two-goalie systems and the importance of having a strong backup, but when push comes to shove, it's going to be about No. 1. There's just too much on the line in each game.
I'll side with Torts and say a tandem (or at least two goaltenders, either of whom can be a No. 1) is a great situation for the Blue Jackets. Especially if one or the other gets hurt.
I think it would be inaccurate to say that Korpisalo and Merzlikins are "injury prone," but both spent chunks of last season on the injured-reserve list. But injuries could be a factor. Should one goalie go down, will the Blue Jackets try to ride the other until a tandem can be re-established, or will Kivlenieks get some starts? Again, let's remember the compressed nature of the schedule, with back-to-back games and one-day-off travel time.
Familiarity Breeds Contempt (or At Least Knowledge of Your Opponent)
The "Discover™" Central Division, in addition to the Blue Jackets, will include the Carolina Hurricanes, Blackhawks, Dallas Stars, Detroit Red Wings, Florida Panthers, Nashville Predators, and Tampa Bay Lightning. With strictly intra-divisional play for the 2020-21 regular season (and first two rounds of the playoffs), these are the only teams the Blue Jackets will play against. And they'll play each eight times during the regular season.
Related: Blue Jackets Could Compete Better in New Central Division
The Blue Jackets moved to the Eastern Conference prior to the 2013-14 season. Since then, they have typically (I mean "not counting 2019-20") played divisional rival Carolina four times each year, conference mates Detroit, Florida, and Tampa Bay three times each, and inter-conference rivals Chicago and Nashville twice. (And, of course, the Blue Jackets have met the Lightning in postseason play twice for nine additional games.)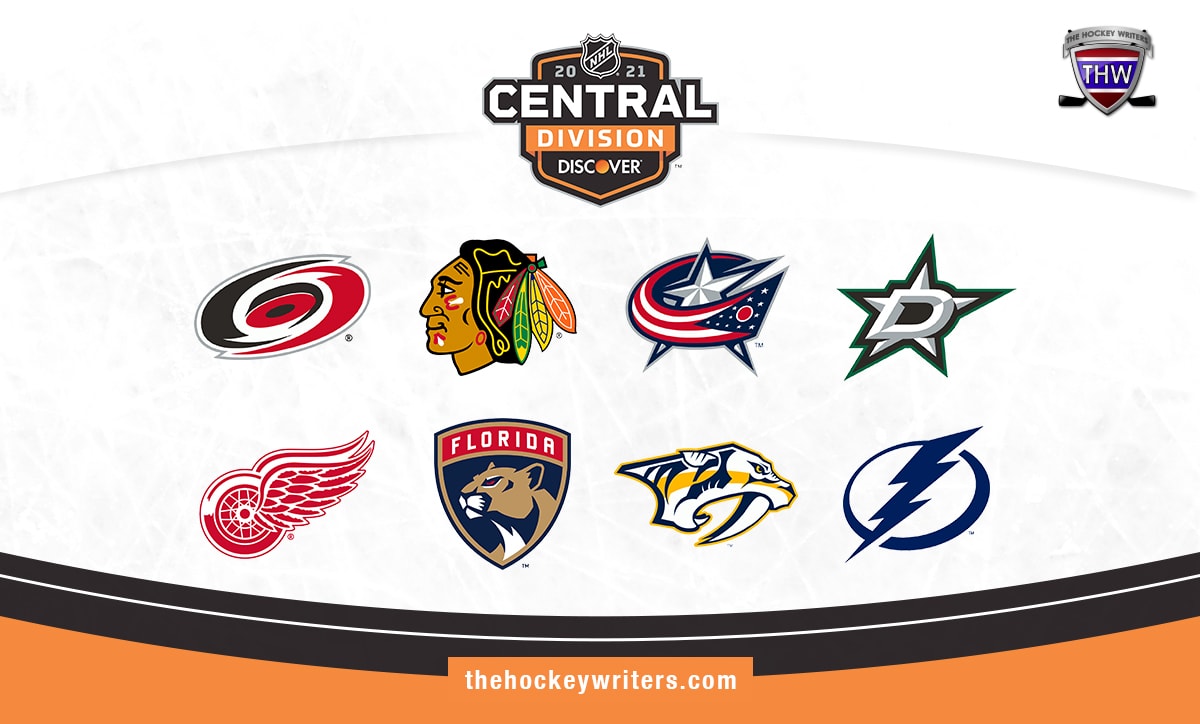 With the new alignment and schedule, teams will get to know each other much better than during any post-expansion season. And, perhaps more importantly, teams will get to know the opposing goalies quickly and thoroughly. They'll learn any particular tendency a goalie has, such as opening the five-hole when moving side-to-side or dropping his glove on shots from the blue line.
While I'm not saying that a rookie goalie can't be coached during the season and work on any weakness in his game, I am saying that between the compressed schedule (with its inherent lack of practice days) and intra-divisional play, it'll be tough.
Let the Show Begin!
As the 2020-21 NHL season plays out, we'll see if the Blue Jackets alternate goalies, stick with a single goalie as long as he's finding success, or crown a true #1 goaltender. With the number of back-to-back games and single days between games, I expect that we'll see lots of both Korpisalo and Merzlikins. If the injury bug strikes (again), Kivlenieks could get a good number of starts. Regardless, having a pair of goalies who can each carry a heavy load when necessary is a definite advantage for the Blue Jackets as they start the 2020-21 season
---
---
Pete Bauer is both a hockey fan and player. As a columnist for The Hockey Writers.com, he covers the Columbus Blue Jackets, NCAA hockey, and NHL trends, statistics, and history. He's considered the go-to guy for info on the NHL's Collective Bargaining Agreement with the NHL Players' Association and other hockey-related legal mumbo-jumbo. He's a frequent guest on a variety of podcasts.  You'll find all of his THW columns here. Pete is also the author of over a dozen books on photography, digital imaging, and graphics, including "Photoshop CC for Dummies."