A good owner is like a good stay-at-home defenceman: The less you hear his name, the better. Apparently, the owner of the Ottawa Senators, Eugene Melnyk, didn't get that memo.
Never one to shy away from the media, Melnyk was once again at it Wednesday as he responded to a plethora of topics related to him and his team. While his comments this time were, admittedly, much more reserved than normal, that is rarely the case, as Melnyk has become better known for the things he says than the things he does.
He is also notorious for being over-involved with his team and for having his fingerprints all over the roster in a way most owners do not – some fans have likened his ownership style to Dallas Cowboys owner Jerry Jones – and he has a laundry list of transgressions to match.
That kind of ownership can, and if we are to believe the latest story involving Kyle Turris, has made it difficult to conduct business. With the organization as a whole in a bit of a rebuilding phase off the ice as it progresses toward a move downtown, there seems no better time than the present for a rebuild at the top of the organization.
"Let's concentrate on some of the good things I do decide on — like bringing an Outdoor Game to Ottawa.

"Yes, that was my call — and with a financial guarantee! I guess people quickly forget." ~ Melnyk on sale rumours

— Graeme Nichols (@6thSens) December 14, 2017
Melnyk's Many Mishaps
As mentioned, there is no shortage of knocks against Melnyk – both reported and real – given his unfiltered, shoot-from-the-hip approach to addressing the media. Below are some of his most infamously outspoken moments.
Forensic Investigation
What makes the forensic investigation Melnyk launched to prove Matt Cooke intended to sever Karlsson's Achilles tendon so infamous is the negative attention it brought to the franchise. Already reeling from the loss of the reigning Norris Trophy winner, fans were also subjected to the embarrassment of Melnyk's vendetta.
There was no shortage of media attention surrounding the investigation – how often does an owner of a pro sports team hire a forensic team to provide proof of intent to injure? – but in the end, it was a lot of hype and not much else. The results were never released and Cooke, who had already been cleared by the NHL, faced no further discipline.
While it's admirable that an owner would go to such great lengths to get justice for one of his players, there's a line that doesn't need to be crossed and Melnyk blew right past it here. Let's also not forget that it was almost a year after the fact (Jan. 2014) when Melnyk launched this investigation into the Feb. 2013 incident.
Calling out Cameron
Back in March 2016, Melnyk, addressing the media, publicly called out head coach Dave Cameron and didn't hold back when assessing the team's play. In one of his more memorable comments, he described the decision to start rookie goalie Matt O'Connor in the home opener (from five months earlier) as "stupidity."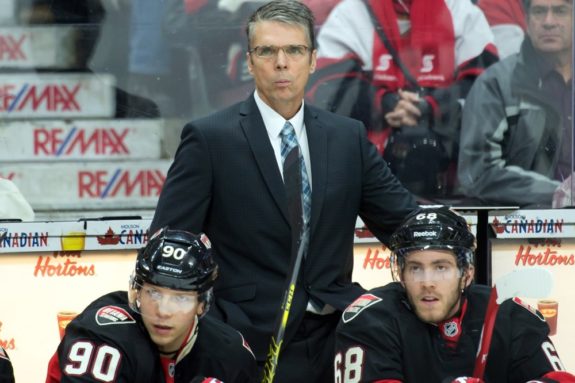 There was a lot wrong with this situation, but first and foremost was that Melnyk felt the need to publicly throw his coach under the bus when it could have been handled behind closed doors. Second is that, as with the Karlsson-Cooke incident, it took him months to respond to the incident in question.
But perhaps the biggest repercussion was the potential it had to affect personnel decisions. If you're a free agent coach looking for your next gig, knowing Melnyk has a propensity for using the media as his sounding board when things aren't going well with his team, how would that factor into your decision?
Crosby's Slash
In another incident involving the Penguins, when Sidney Crosby severed the tip of Marc Methot's finger last year, Melnyk was quick to vent his anger. Among his many rage-filled comments, Melnyk suggested Crosby should receive a suspension equal to the length of time Methot would be sidelined and called the Penguins' captain "a whiner."
Melnyk's comments drew the ire of Crosby's agent, Pat Brisson, who suggested Melnyk be fined for his comments, which were out of his purview as the owner of the Senators. Crosby also fired back, saying "[Melnyk] likes to hear himself talk."
For an owner to be so outspoken that anyone, let alone the arguably best player in the league, knows he has a tendency to run his mouth is not a good sign.
Turris Trade
"I think management wanted to sign me but that the owner didn't. And that was his decision," Turris said Wednesday with respect to his contract negotiations with the Senators.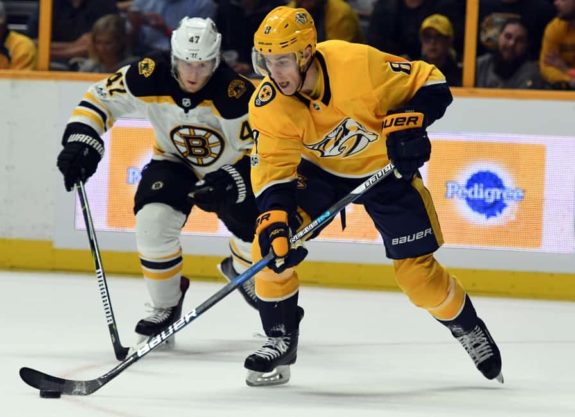 Whether or not that's true, Dorion came to the defence of his boss, saying "Everything hockey goes through me, not Mr. Melnyk." Turris's wife, Julie, reacted on Twitter to Dorion's statement by not-so-subtly hinting that she didn't agree.
Melnyk, too, responded to Turris's comments, echoing the sentiments of his general manager. "I can't remember ever overriding a Pierre Dorion decision," he told Postmedia.
As this is a case of he said-he said, it's tough to know who's telling the truth, but suffice it to say the optics aren't great. Especially as the team nears contract negotiations with Karlsson, Matt Duchene, Mark Stone and Derick Brassard, if it's true the owner exerts this much control over personnel decisions, Dorion's in for an interesting summer.
Olympics Participation
In March of this year, when the NHL'' participation in the Olympics was still a distant possibility, Melnyk caused a furor with some comments that once again involved his team's best player. He said he didn't want to send Karlsson to the Olympics for fear of his getting injured – an understandable position – but his follow-up comment was what really set Sens fans off.
"So I'm going to give Sweden my best player at the risk of him being injured, beating our Canadian team? That doesn't make sense. Maybe if it was a Canadian going to play for Canada – maybe," he told Sportsnet in an interview.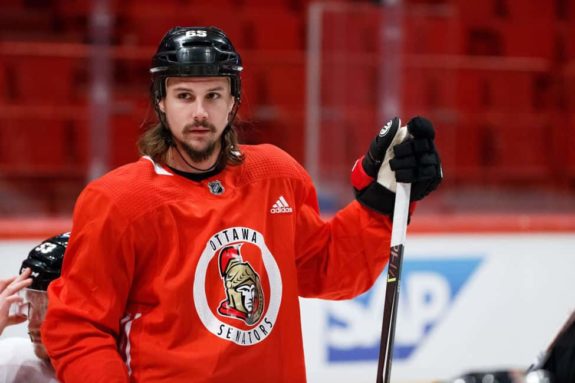 His comments caused many in the hockey world to suggest his fear of Karlsson getting injured wasn't as great as his fear of Canada losing a medal to a Karlsson-led Sweden. While that was only speculation, and only Melnyk can speak to the intent of his words, it was yet another comment that didn't go over well.
Duchene Negotiations
Finally, let us not forget the tension Melnyk caused when, as he is wont to do, he called out Colorado Avalanche GM Joe Sakic for his asking price for Duchene in February of this year. He called the situation "silly" and said, "I think it will be way too expensive [to make a trade]."
Fortunately for the Sens, they did eventually make that trade – although the payoff hasn't been as expected just yet – but making such statements isn't sound business strategy when you're trying to negotiate a deal. It worked out this time, but other GMs may hold similar comments against him in the future.
Budget Team
Rightly or wrongly, Melnyk has received a reputation in the city and around the league as a penny pincher who will do anything to save a couple bucks on expenses (contracts, trades, etc.). Perhaps one reason is his comment from 2013 when, despite ranking 26th in the NHL in payroll and coming in $8 million under the cap, Melnyk declared the team was "already over budget."
(Karlsson, for the record, labelled the Sens a budget team in 2016.)
It's difficult to know if or how often this limited budget has factored into contract negotiations, trades, etc., but one of the most high-profile incidents involved long-time Senators captain Daniel Alfredsson. Without expressing dollar figures, Melnyk told the Ottawa Citizen in 2013 that the team couldn't have afforded to give Alfredsson the money he was asking for and pay the price for a player such as Bobby Ryan.
As is common knowledge now, that situation ended with Alfredsson leaving for the Detroit Red Wings while the Senators landed Ryan in a trade not long after. In a surprising twist, the Sens are now one of the top spending teams in the league – the loaded contracts of Ryan and Dion Phaneuf play a big role – but there still seems to be a reluctance to spend.
Karlsson's Contract
Ah, Erik Karlsson's contract. The hottest of topics in Ottawa these days. That he commented on it during a stretch in which the Sens eventually lost 12 of 13 games only exacerbated the speculation that the captain might want out and sent shivers down the collective spine of the Senators' fan base.
More worrisome than his comments, which, realistically, weren't all that controversial – Karlsson is a top-three player in the league and deserves to be paid as such – was Melnyk's response. According to multiple reports, Melnyk was very unhappy with Karlsson's alleged refusal to take a hometown discount.
Given that Karlsson's been playing on a hometown discount for the entirety of his current contract – he's the third-highest-paid player on the team behind Ryan and Phaneuf – Melnyk should be ecstatic he's been able to get this much out of his best player at considerably below market value.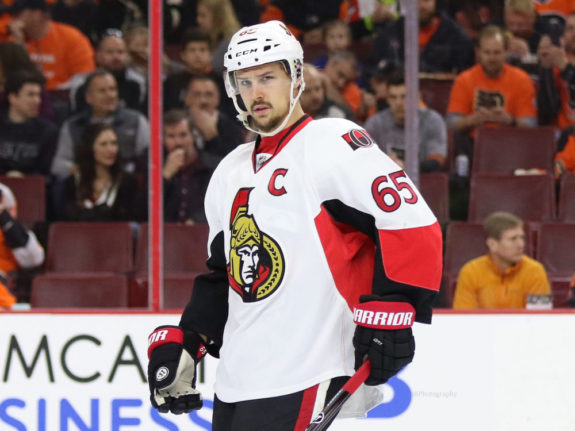 In the days immediately following Karlsson's original comments, rumours began to swirl as to what kind of the return the Sens could fetch in a trade, when they should make a deal, and what it would mean for the franchise. To put it bluntly: The Sens without Karlsson are barely worth watching, so trading him should be the last thing anyone considers.
If the two sides can't come to terms on a new contract and Melnyk's reluctance to give Karlsson what he's worth results in the superstar leaving town, you can bet backlash will be abundant and fierce. No amount of damage control and PR spin can tame the chaos that would result from his departure.
Refusal to Sell
All of the above – Melnyk's many outbursts, his desire to have a winning team but not spend like a winning team, and his recent treatment of his star players – leads to the ultimate issue: Eugene Melnyk does not want to sell this team. He reiterated as much in an email exchange with Postmedia late Wednesday.
"I am NOT selling the team – period," he wrote. "My kids (had) first call on the franchise long ago."
Perhaps that is the greatest frustration of all. Not only is Melnyk not actively selling the team, but he appears to have zero interest in the idea altogether, as his comments about his kids getting the team suggest. But given his checkered past as owner of the team (there's even an ongoing lawsuit filed against him by a former employee), his stubbornness is, in a word, baffling.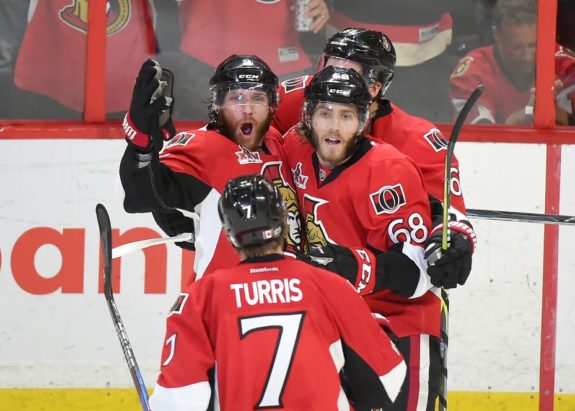 Despite Karlsson's efforts to calm the masses, the fact remains that his status with the team is more uncertain than anyone cares to admit. Whether he likes it or not, the blame for that slowly works its way up the ladder to Melnyk, who is ultimately responsible for signing the paycheques.
Melnyk's Legacy
Despite all of the facts and evidence that would suggest the opposite, Melnyk has a chance to leave at least something resembling a positive legacy if he gets out now. By many accounts, he is largely responsible for saving this franchise with his purchase in 2003, and his work to raise awareness for organ donation following his public plea in 2015 for a liver donor is admirable.
But he risks tarnishing what positive imagery remains of him in the city because he's too stubborn to get out of his own way. If he leads the franchise down a path that ultimately sees Karlsson leave town, the fan reaction might just be too much to ignore.
Andrew is a sports nerd extraordinaire. He holds an undergraduate degree in journalism, as well as a journalism diploma, and has been in the sports writing biz for the past four years (previously with Hooked on Hockey Magazine and SportsEh). He has experience covering junior hockey and the Women's World Hockey Championships in Ottawa. Feel free to reach him on Twitter @littelitaly93.