Hockey Hall of Fame Debates: Claude Lemieux. Many hockey purists are bristling from the title alone, let alone the notion. Before scoffing or writing it off, take a look at the facts behind the reasons for Lemieux's inclusion. The odds are stacked against him for sure and it does not help matters, so to speak, that two Detroit Red Wings – Scotty Bowman and Igor Larionov – are on the selection committee. Still, his numbers and accomplishments don't lie.
Lemieux Has Four Stanley Cups
Another Red Wing, Dino Ciccarelli, famously quipped, "I can't believe I shook this guy's friggin' hand after the game. That pisses me right off." The seething remark came after the notorious 1996 playoff series between Lemieux's Avalanche and the Red Wings. Lemieux hit Ciccarelli's teammate, Kris Draper, from behind and caused severe facial injuries. This incident sparked the great rivalry between the teams.
Notably, Ciccarelli was inducted into the Hockey Hall of Fame in 2010. Lemieux has not. Ciccarelli never won a Stanley Cup in a 19-year career and two trips to the Stanley Cup Finals. Lemieux won the coveted trophy four times. Ciccarelli's goal scoring (608) and point production (1,200) are ultimately what overshadow Lemieux. They played a similar amount of career games with Lemieux's 1,215 slightly less than Ciccarelli's 1,232.
2e série: #CH l'emporte 4-3 vs Whalers. But de Claude lemieux en prol. au 7e match. #Habs https://t.co/UmI6SbN8Fg pic.twitter.com/WSHL45jBAd

— FantômesCH (@FantomesCH) May 24, 2016
Is winning a championship what constitutes a great player? Lemieux's four Cups came in 1986 with Montreal, in 1995 and 2000 with the New Jersey Devils, and 1996 with the Colorado Avalanche. Like Ciccarelli, Hall of Famers, Gilbert Perreault, Jean Ratelle, Harry Howell, Norm Ullman, Peter Stastny, Michel Goulet, Bernie Federko and Cam Neely are among the many greats enshrined in the Hall who never won the Stanley Cup.
Looking at the Offensive Production
The counter argument is that all of the aforementioned players scored a ton more points than Lemieux. True, but there are multiple Hall of Fame inductees who also recorded less. By career's end, Lemieux tallied 379 goals in the regular season, 407 assists and 786 points in 1,215 games. Alone, perhaps these numbers are not traditionally induction-worthy, but they must count for something.
Hall of Famer Dick Duff was inducted in 2006. The winger played in the NHL from 1954 until 1972, and he saw action with the Toronto Maple Leafs, Montreal Canadiens, New York Rangers, Los Angeles Kings and Buffalo Sabres. While Duff won six Stanley Cups, he amassed 283 goals and 572 points in 1,030 games. Certainly not paltry numbers, but still much less than Lemieux's.
Other HHOFers Produced Less Than Lemieux
Even the generational gap argument against Lemieux does not fly in this case. For instance, no one could say, "When Duff played, the amount of scoring was considerably less than Lemieux's generation."
Even if that is the case, this argument is flawed. A comparable contemporary of Duff's is Norm Ullman who played in the NHL from 1955 until 1975. Ullman amassed 490 goals, 730 assists, and 1,229 points in 1,410 games. So, there is a player from Duff's own generation who produced a sizable amount of offense during that era.

Players in Duff's era produced career numbers that were comparable to players from the 1980s and 1990s. Players like Ullman prove that. Take nothing away from Duff, he was a great player. But Lemieux's offensive output still exceeds Duff's regardless of their generations.
Darren McCarty and Claude Lemieux meet with smiles, not punches #RedWings https://t.co/0eU520fOx9 pic.twitter.com/5wyfvQ3skz

— Red Wings Report (@redwings_fanly) March 23, 2017
Still not convinced? Take a look at New York Islander and Hall of Famer Clark Gillies. Both Gillies and Lemieux won the same amount of Stanley Cups and played in the NHL together for parts of three seasons. Lemieux scored 60 more goals, 29 more assists, and 89 more points than Gillies. Not to mention, Gillies never won a Conn Smythe Trophy.
Lemieux scored more goals than Adam Oates, Eric Lindros, Bernie Federko and Peter Forsberg, all of whom have been inducted.
Lemieux's Postseason Heroics
Speaking of the Conn Smythe, Lemieux truly distinguished himself in the postseason. His 80 career playoff goals rank ninth all-time. Those are more goals in the playoffs than Steve Yzerman, Bryan Trottier, Mario Lemieux, Denis Savard, or even "Mr. Hockey" Gordie Howe. The eight players ahead of Lemieux have all been inducted.
Three times in his career Lemieux hit double-digits in scoring in the postseason. He did so in 1986 with the Canadiens, 1995 with the Devils, and in 1997 with the Avalanche; he won the Stanley Cup two of those times.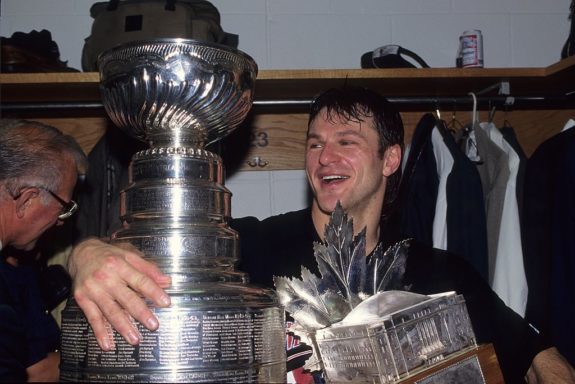 Arguably his finest postseason performance came in 1994-95 when he played a pivotal role in bringing the Devils their first Stanley Cup in franchise history. Lemieux scored 13 goals in 20 games as the Devils paraded the Cup around the Meadowlands. He was awarded the Conn Smythe as the most valuable player in the playoffs. Two of his 13 goals came in the Finals against the Red Wings, including the game-winning goal in Game 1.
Statistically, Lemieux's best postseason performance came in 1996-97 with the Avalanche. Though his biggest rival, the Red Wings, won the Cup that year, Lemieux exploded offensively. He repeated his 13 goal performance, but also chalked up 10 assists to be second (behind Joe Sakic) on the Avs' roster in points during those playoffs.
Lemieux's Other Postseason Accolades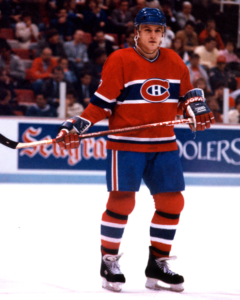 During the second half of Lemieux's playing career, it was believed that if you wanted to win a Cup you had to get Lemieux on your roster. That was proven when he won back-to-back Cups in 1995 and 1996 with two different teams.
The Devils traded for him in November 1999, his second stint with the club. The deal sent Brian Rolston out west to Colorado, while it brought New Jersey a second Stanley Cup and the final one of Lemieux's career. The winger, already known by then as "Pepe", scored the last four playoff goals of his career during that Cup run. In 23 games, he added six assists while hoisting the trophy for the last time.
In 2003, the Stars tried to see if Lemieux could weave some playoff magic one last time. The Stars gave up Scott Pellerin in January of that year in order to get Lemieux from the Phoenix Coyotes. The move was for naught, as the Stars lost to the Mighty Ducks of Anaheim, who made it to the Finals that year. In the process, Lemieux registered a lone assist in seven playoff games.
Capping off a Remarkable Playoff Career
Lemieux's final playoff game was in 2009, during a brief comeback with the San Jose Sharks at the age 43, though he had not played in the NHL for five years. He played in 18 regular season games for San Jose that year as well as one of their six playoff contests against Anaheim in an opening round loss. The final playoff game, the final NHL game of his career was on April 19th, 2009 in San Jose. Lemieux skated 12 shifts, delivered two hits, and put a shot on goal.
Lemieux's career plus/minus in the postseason is a plus-42, tied with Mark Messier and Brian Rafalski for 15th best in NHL history. His 529 penalty-minutes are third highest for a playoff career.
What Matters Most About Claude
When it comes down to it, the most telling statistic of all for Lemieux is this: the man scored 19 game-winning goals in his playoff career. That ties him with Joe Sakic for third all-time. Only Wayne Gretzky and Brett Hull scored more game-winners in the playoffs.
Hate Lemieux as much as you want. Hate him for his hit on Draper or for the way he played the game in general. Lemieux was a disturber and an agitator who never failed to get under the opposition's skin. No matter how you slice it, no one can deny that he created wins and championships and that makes him more than a character player on a great team.
To score the decisive goal in 19 playoff games is an impressive feat. He decided the outcome of hockey games when it mattered most. Save for three Hall of Famers, no other player in hockey's hallowed history accomplished what Lemieux did in that regard.
So Does Lemieux Get In?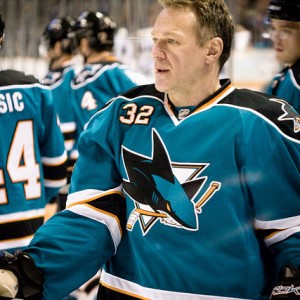 The likelihood of Lemieux being inducted into the Hall of Fame is rather slim. There is too much against him, including the fact that he has long been portrayed as a villain. When hockey fans think of Claude Lemieux, his accomplishments come secondary or tertiary to the perception of his character and the way he played hockey.
Saying that, the facts in his favor are real and tangible. Those 19 career game-winners will not be duplicated anytime soon, if at all. Four Stanley Cups in a career is especially difficult these days, although there are a handful of players closing in on that achievement.
Jaromir Jagr is two goals away from Lemieux's 80 and Patrick Marleau is back by 12. Could they reach Lemieux's playoff goal total and surpass it? Sure they could, but the stars would need to be aligned in their favor. Both players would need to make the playoffs now in their twilight years and capitalize in the process.
To add a little more flavor to the pot, Lemieux won a gold medal for Canada at the 1985 World Juniors, a gold at the 1987 Canada Cup, and a silver at the 1996 World Cup of Hockey. He has international successes also on his resume.
The takeaway from examining Lemieux's career is this: although he is unlikely to get into the Hockey Hall of Fame, it doesn't mean that he shouldn't.
General Manager of the Buffalo Beauts (NWHL). Hockey history writer "The Hockey Writers". Credentialed media for the NHL Combine and 2018 IIHF World Junior Championships in Buffalo, NY, USA. Born and raised in Buffalo, NY. Lifelong hockey fan for over 40 years. Proponent of the women's game.