Last night, the Toronto Maple Leafs beat the Ottawa Senators by a score of 7-3. The end result was probably expected; however, it was the third game in a row the two teams had played this week and the results hadn't been all that predictable.
Related: Maple Leafs' Keefe Tells Fans to Watch Out for Michael Hutchinson
On Monday evening, the Maple Leafs had taken a four-goal lead on the Senators; however, Ottawa came roaring back to win the game in overtime. On Wednesday night, the two teams played a tight game with the Maple Leafs winning ugly 2-1. Last night, the Maple Leafs played well for the entire game and seemed determined not to give away their lead like they had on Monday.
In general, the Maple Leafs are having a really strong season. However, even when the team is doing well, there always seems to be some critique. In a way, that's the nature of playing in a context where hockey matters and is a part of life in Toronto. In short, the fans care, and that has its good points and its bad points – mostly good, I would suggest.
Sub-plots in Last Night's 7-3 Maple Leafs Victory
One interesting sub-plot of last night's game was that three Maple Leafs players had come under public critique. One of those players was goalie Michael Hutchinson who, last season, was almost booed out of town. Most fans simply didn't trust Hutchinson to deliver as the team's backup goalie and couldn't wait for him to be gone. When the team shipped him to the Colorado Avalanche, there seemed to be a general sense of rejoicing.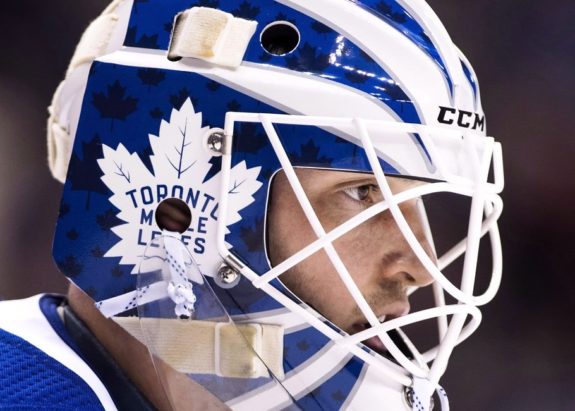 Two other players, both foundational to the team and not necessarily having poor seasons, had garnered critique because they hadn't "seemed" to have been playing well recently. One player was Maple Leafs' captain John Tavares, and the other was the polarizing young Swede William Nylander. Both, if you only looked at the score sheets, had been putting up decent numbers for the season – just not recently.
In this post, I'll want to take a look at what last night's game might have meant for these three players.
Item One: Michael Hutchinson Stops 34 of 37 shots to Earn His First Win of the Season
The biggest unknown in last night's game was how Michael Hutchinson would play in goal. The answer was that he did just fine. Hutchinson made 34 saves on 37 shots as the front-running Maple Leafs took the lead and didn't look back.
Related: Top 5 NHL Goaltenders of the 1950s
It was Hutchison's first start of the season, and he was replacing Maple Leafs' starter Frederik Andersen. Andersen had played 10 games in a row after the team's regular backup goalie Jack Campbell had been sidelined after suffering a leg injury against the Calgary Flames. In fact, the team gave Anderson the complete night off, dressing youngster Joseph Woll as the backup – just in case. He wasn't needed.
As Maple Leafs head coach Sheldon Keefe said after the game, "He was really strong, and he got better as the game wore on." (from 'They don't really stand a chance.' Auston Matthews and the Maple Leafs overpower the Senators from start to finish," Kevin McGran, St. Catherines Standard, 18/02/21).
Keefe added, "I think it probably helped him … in the first period (that) there was a lot of stuff from a distance that just allowed him to ease into the game. For a guy that hasn't played in a very long time, I thought the game set up pretty good for him, and he was solid for us."
In the end, Hutchinson did just what he was supposed to do. He goal-tended his team to two points, and he gave the North Division's busiest goalie a break. It was a solid performance for the formerly beleaguered Hutchinson. The Senators put 37 shots on net including 16 during the third period. For good measure, they also bounced a few off the posts. It wasn't that Hutchison wasn't busy.
After the Senators scored a first goal that Hutchinson could have stopped, he looked strong the rest of the way. Fortunately, as well, his teammates gave him a cushion to work with. That helped.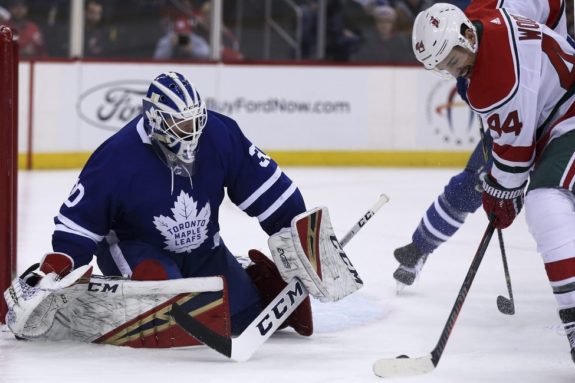 At least for one evening, Hutchison found some redemption. Last season couldn't have been easy for Hutchinson in Toronto. Although last night's game won't erase the memories of Hutchinson's past failures, it's something to build on.
From video I watched yesterday, it looks as if Campbell might be ready to return soon. If so, I'm not sure we'll see Hutchinson for a while. Last week, as I reported, coach Keefe had suggested Hutchinson was a different goalie after his playoff success with the Colorado Avalanche. Last night, Hutchison made his coach look good on that prediction.
Item Two: John Tavares Helps Silence Criticism with a Goal

The goal John Tavares scored on Thursday night was his first goal in seven games. Like line mate William Nylander, Tavares' play has been questioned this week by a number of sources. Although his defensive play has been stellar, his offensive play seemed to be a different story. Had his game stalled?
In a post this week, TSN's Mark Masters noted that Tavares had only scored one goal during the last 10 games, but noted that coach Keefe was being patient with his captain. A more critical perspective was taken by the Toronto Sun's sports writer Steve Simmons, who seems to have a penchant for pot stirring. Simmons didn't mince words when he spoke about Tavares and Nylander's second line with the Maple Leafs.
Related: NWHL's 2020 Draft Class was Exceptional in Lake Placid
Specifically, he noted that Nylander's "lack of impact in games has become a serious issue for the Leafs."
Then he added that Nylander was "not alone. The captain John Tavares, Nylander's centre on the Leafs' second line, the fifth-highest-paid player in the National Hockey League, is struggling alongside Nylander. Their line, even with new addition Zach Hyman, seems rather lost. (from "No second-line production? No real hope for the Maple Leafs, Steve Simmons, Toronto Sun, 16/02/21).
It's true that Tavares isn't scoring like Auston Matthews or Mitch Marner, but who is outside of the Edmonton Oliers' Connor McDavid and Leon Draisaitl? Still, Tavares has scored six goals and 10 assists (for 16 points) in 18 games. In addition, Tavares has now scored four points during his last five games.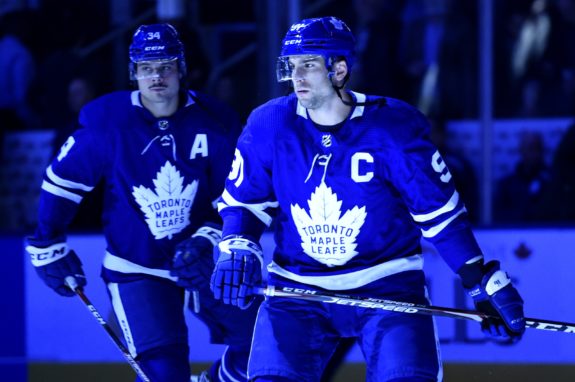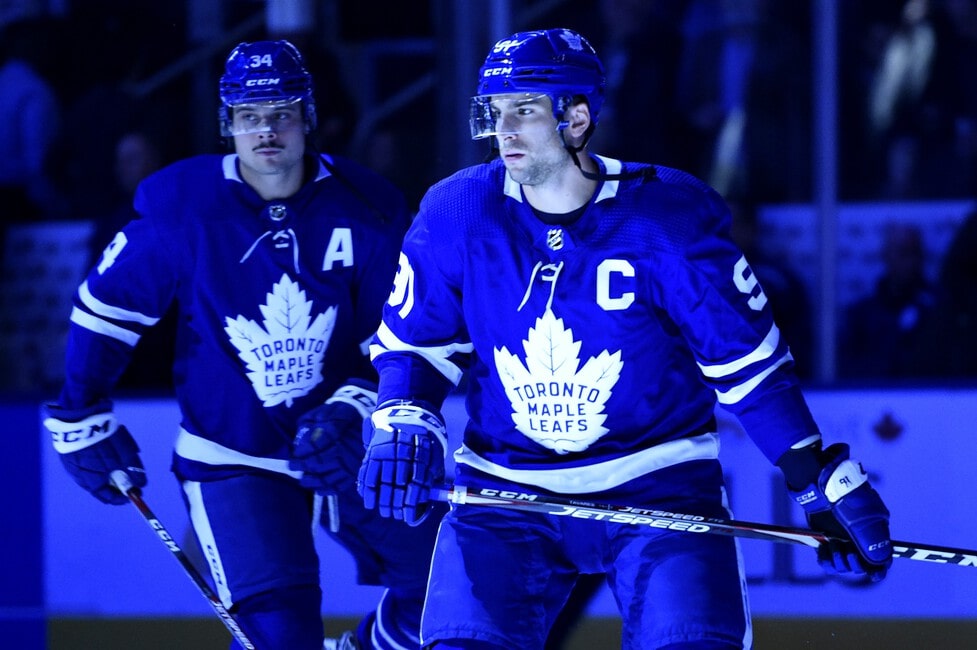 It isn't as if Tavares doesn't contribute to what's likely this season's NHL's deepest offense. The point here is that, although Tavares doesn't need my support, it's likely the goal he scored helped keep the wolves from the door for a while. From what I'm seeing on the ice, he's contributing well on the entire ice surface.
Item Three: William Nylander Snaps a Six-Game Point-Scoring Drought
William Nylander scored twice – a goal and an assist – in Thursday's 7-3 win over Ottawa. For Nylander, it had been a while since he hit the score sheet – six games to be exact. Similar to Tavares, perhaps a couple of points might keep the critics at bay – specifically Simmons' critique that Nylander was like a piece of Ikea furniture with a piece missing.
Although Simmons is a bit mean-spirited for my taste, he hasn't been alone in his criticism. Nylander seems to consistently face criticism about his poor play correlated to what seems like a huge salary. In addition, interestingly Nylander's seen as a player who tries to avoid physical play. Considering these critiques, even better that his power-play goal came from what's called the "dirty" area of the ice – in tight.
Related: Maple Leafs Nylander Needs Simmonds In the Lineup
Analytics, however, suggest that Nylander's quite effective from close in and critics who suggest that he only plays on the perimeter might have missed his game. Still, Nylander seems to be a streaky player who can run hot and cold. But he's talented, and lots of other NHL talents before him have also put up points in streaks. (from "William Nylander scoring a bunch from the dirty areas validates defenders and critics alike," Justin Bourne, The Athletic, 18/01/21).
For example, Alex Ovechkin is one of the best players in hockey, but he's also a streaky scorer. Here's hoping Nylander's starting one of those streaks.
Welcome to Playing Hockey in Toronto
The fact that Maple Leafs' players receive criticism it's nothing new to playing hockey in Toronto. It will probably always be the way it is for Maple Leafs' players. That's part of the joy and the pain of playing in one of the hottest hockey markets in the world.
Good luck to the Maple Leafs – and specifically to Hutchison, Tavares, and Nylander. As fans, we can always hope this is the year.
---
---
The Old Prof (Jim Parsons, Sr.) taught for more than 40 years in the Faculty of Education at the University of Alberta. He's a Canadian boy, who has two degrees from the University of Kentucky and a doctorate from the University of Texas. He is now retired on Vancouver Island, where he lives with his family. His hobbies include playing with his hockey cards and simply being a sports fan – hockey, the Toronto Raptors, and CFL football (thinks Ricky Ray personifies how a professional athlete should act).
If you wonder why he doesn't use his real name, it's because his son – who's also Jim Parsons – wrote for The Hockey Writers first and asked Jim Sr. to use another name so readers wouldn't confuse their work.
Because Jim Sr. had worked in China, he adopted the Mandarin word for teacher (老師). The first character lǎo (老) means "old," and the second character shī (師) means "teacher." The literal translation of lǎoshī is "old teacher." That became his pen name. Today, other than writing for The Hockey Writers, he teaches graduate students research design at several Canadian universities.
He looks forward to sharing his insights about the Toronto Maple Leafs and about how sports engages life more fully. His Twitter address is https://twitter.com/TheOldProf