General managers just don't make deals like they used to. Due to the choke-hold of the salary cap and deceivingly close playoff races, GMs around the league have become hesitant to pull the trigger on big time trades, settling instead for the shuffling of low-draft picks and prospects, much to the collective shrug of fans.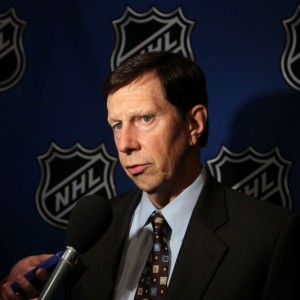 Nashville Predators general manager David Poile is no stranger to blockbuster trades. Known around the league for being a proactive GM, Poile has retooled his team on the fly through tough negotiations and smart signings. Thanks to Poile, within the past two years alone, the Predators have set the bar for making massive trades in a league that's normally too hesitant to do so.
Today, the Predators are reaping the benefits of Poile's handiwork, as they are preparing to face the St. Louis Blues in round 2 of the playoffs after a dominating series sweep over the Chicago Blackhawks.
Blockbuster #1: Jones for Johansen
Last season, the Predators were looking to capitalize on an impressive campaign the year before, in which they were back in the conversation in the Central Division thanks in part to recently-hired head coach Peter Laviolette's attacking brand of hockey, which provided some much-needed "jam" to the lineup. But as they learned in the opening round of the 2014-15 playoffs, they lacked the depth needed to compete against the top dogs like the Blackhawks.
On January 6, 2016, the Nashville Predators and the Columbus Bluejackets agreed to swap defenseman Seth Jones for center Ryan Johansen, in a mid-season old school trade of young superstars that you just don't see anymore.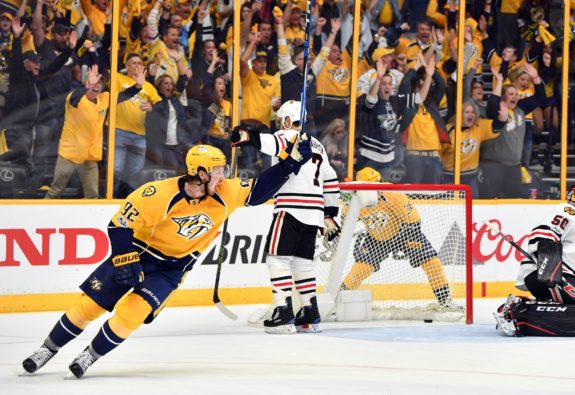 Johansen has flourished under Laviolette's system. Over one and a half seasons with the Predators, the 24-year-old center has accrued 95 points, including 22 goals, and now in the 2016-17 Stanley Cup Playoffs, he has become the superstar the Predators have been waiting for.
His 6 points led the team in their sweep of the top-seeded Blackhawks. Aside from the stat sheet, Johansen's style of play is noticeably more authoritative than it has ever been, as he is playing with an edge he seemed to lack during his early years in Columbus.
"This is why they traded for me, for this time right here and to be able to try and bring this organization and help this team get over the hump of just being a playoff team," Johansen said. "They want to be Stanley Cup contenders and Stanley Cup champs."
The Preds will look to Johansen and his linemates Viktor Arvidsson and Filip Forsberg to continue to set the tone in round 2 against the St. Louis Blues. The team will certainly need that line's offensive spark against a red-hot Jake Allen. If round 1 is any indication, Johansen is finally up to the task.
Blockbuster #2: Weber for Subban
This one was surprising as hell, but another mutually beneficial trade. After a disappointing loss to the eventual Western Conference champion San Jose Sharks in the 2nd round of the 2015-16 playoffs, the Predators dropped another blockbuster trade, striking a deal that sent beloved Predator captain and defenseman, Shea Weber, to the Montreal Canadiens in exchange for one of the NHL's most prominent young stars, defenseman P.K. Subban.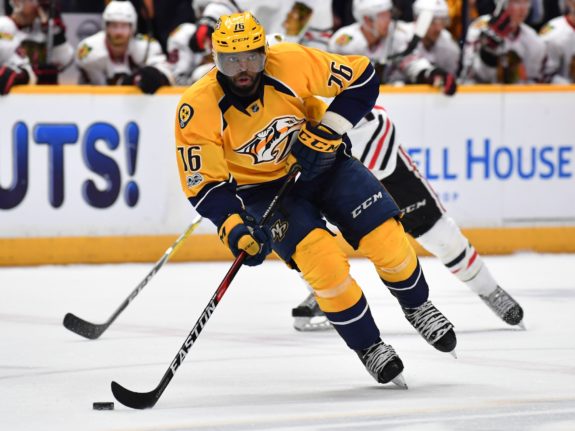 As rumblings of Subban's growing unhappiness in Montreal began to emerge, Poile pounced on the opportunity to get a young stud defenseman and a true-blue superstar on the blue line. While it wasn't easy for Preds fans to see Weber go, they embraced the incoming Subban pretty quickly.
Of course, scoring on your first shot on goal as a Predator helps. Since that goal, Subban's season has been a bit up and down, due to injuries and his adjustment to a new system (although, the guy ended up netting 40 points in 66 games), but now, the 27-year-old looks more comfortable on the blue line, leading the way at both ends of the ice.
Along with defense partner Mattias Ekholm, Subban has led a formidable Nashville defense, effectively shutting down the Blackhawks' top line in round 1. For any defense, this would be a daunting task, but Ekholm and Subban handled it brilliantly while still contributing on the offensive side of the puck like they did in Games 1 and 2. The Predators have found the speed and skill they have been looking for. Now all they need is a microphone.
During his first days as a Pred, Subban went to a downtown honky-tonk bar to sing Johnny Cash's "Folsom Prison Blues" to a crowd of lucky fans. "We win the Stanley Cup, then I'll sing every single that Johnny Cash has ever done," Subban said. Predators fans are hoping that Subban will be brushing up on his Johnny Cash catalogue come June.
Risk Reward?
At the time the deals went down, the two blockbuster trades were ultimately deemed mutually beneficial. As the initial shock wore off, hindsight has proven this to be true, as Jones and Weber had outstanding seasons for their new teams. Yet, with the Predators advancing in the playoffs while their trade partners are checking for tee times, it seems that Poile and his team are being rewarded for… well… doing their job.
Jeff Yerger covers the Nashville Predators for THW. He once accidentally drew on one of Henrik Lundqvist's suits (just don't tell Hank). He is also a sucker for IPAs and saxophone solos. Find him on Twitter @jyergs.