Funny game, hockey! Just when it looks bleak for the home team (the Toronto Maple Leafs), a recently coach-disciplined young forward (William Nylander) works his tail off in the dirty areas of the ice and beats home a score with a minute and a half left in regulation to push the game into overtime. He then scores the winner on a beautiful goal over an opponent (the Calgary Flames) that might have been outplayed but wasn't outworked.
Related: Maple Leafs Nylander Needs Simmonds In the Lineup
In the end, one unusual suspect (again Nylander) teamed up with one usual suspect (Auston Matthews – who's now third in the NHL scoring race) for the game-winner against a very-stubborn Flames' goalie David Rittich (who played out of this world great).
As Nylander said simply after the game where he scored his seventh goal of the season: "Nice to be able to score." Then Nylander added, "Finally."
In this edition of Maple Leafs News & Rumors, I'll offer some commentary about the game and what it might mean for the players involved. As well, I'll also suggest how tight I think this Maple Leafs' team might be because of Zach Hyman's proactive support for his teammate.
Item One: Michael Hutchinson Holds His Team in There
With Frederik Andersen still unable to play with a "lower-body injury," Michael Hutchinson once again started for the Maple Leafs on Wednesday against the Flames.
Hutchinson had lost on Monday night 3-0 when he gave up three goals on 33 shots and entered last night's game with a record of 1-1-0 a goals-against-average of .3.05 and a save percentage of .914. It was his second straight start.
In truth, Hutchinson's been playing better than Maple Leafs' fans thought he could. He wasn't nearly the team's biggest issue in Monday night's shutout loss. Last night, Hutchinson played well enough to keep his team in the game and allow them to come back for the win. He let in a single goal on 22 shots.
In truth, the Maple Leafs outplayed the Flames for most of the game, but they couldn't get a puck past Rittich until late in regulation when Nylander tied the game on a scramble with just over a minute left in the third period and Hutchinson pulled early for an extra attacker.
Hutchinson did what his team needed him to do, and they pulled out a win. The game improved his record to 2-1-0 and bettered his goals-against-average to 2.36 and his save percentage to .924. That's decent.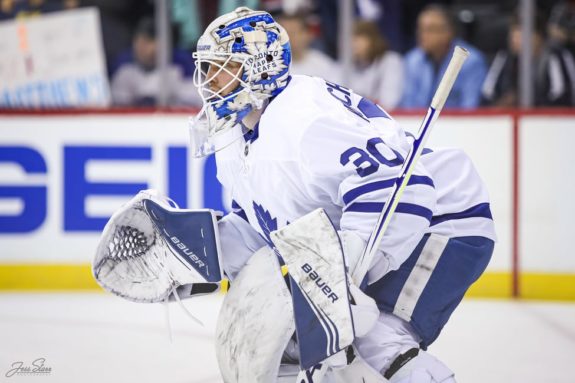 The 30-year-old will likely not win tough Maple Leafs' fans back, but he's performed much better than most expected in the two starts he's made since regular-starter Andersen went down with his injury. He's the guy until Andersen or regular-backup goalie Jack Campbell return to the active roster.
Item Two: William Nylander Breaks Goal-Scoring Drought with Two Goals
Nylander "finally" scored two goals in Wednesday's overtime win. The young Swedish forward had only scored a single goal in his last 10 games, so every Blue and White fan should offer a sigh of relief to see Nylander going again. It was good to see his production when Mitch Marner was held off the score sheet for a second straignt game. Nylander's totals now are seven goals and nine assists (for 16 points) in 21 games for the 2020-21 season.
Related: Howie Morenz: Hockey Royalty
Nylander was recently criticized on the front page of a Toronto daily newspaper before getting benched in the third period of a 5-3 victory over the Montreal Canadiens on Saturday. In fact, although he didn't score – no one did – in Monday's loss, coach Keefe obviously liked Nylander's level of compete because he skated him more than 22 minutes during the first Flames' game. It seems Nylander had pumped up his game after Keefe benched him.
As Nylander suggested in response to the criticism he's received, "It's kind of always been around me. I know I've underperformed and I know I can do better. I've got levels to get to where I want to be."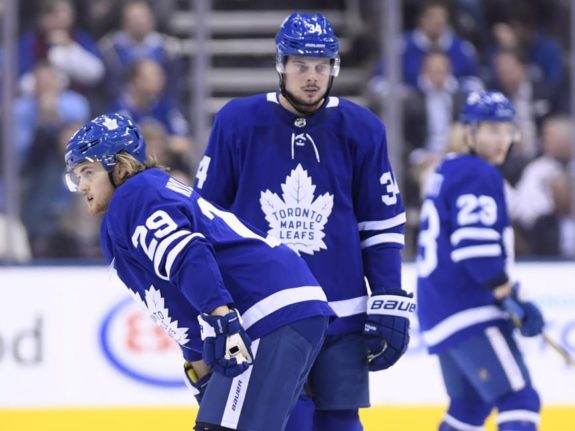 But on this one night, Nylander was the show for the Maple Leafs. His two goals almost single-handedly turned a 1-0 deficit into an amazingly fortuitous victory for the Maple Leafs. As it stands now, the 24-year-old Nylander now has three goals and an assist in his last four games after going six games without a single point.
Item Three: Why I Want Zach Hyman for My Friend
I am a Zach Hyman fan – big time. I even came to appreciate him more after last night's game than I did previously. Before I had liked his old-school work ethic on the ice and even that he was a children's author whose themes of the books was to never give up – old school there, too.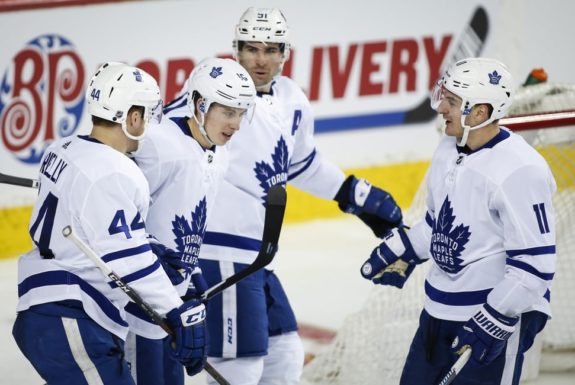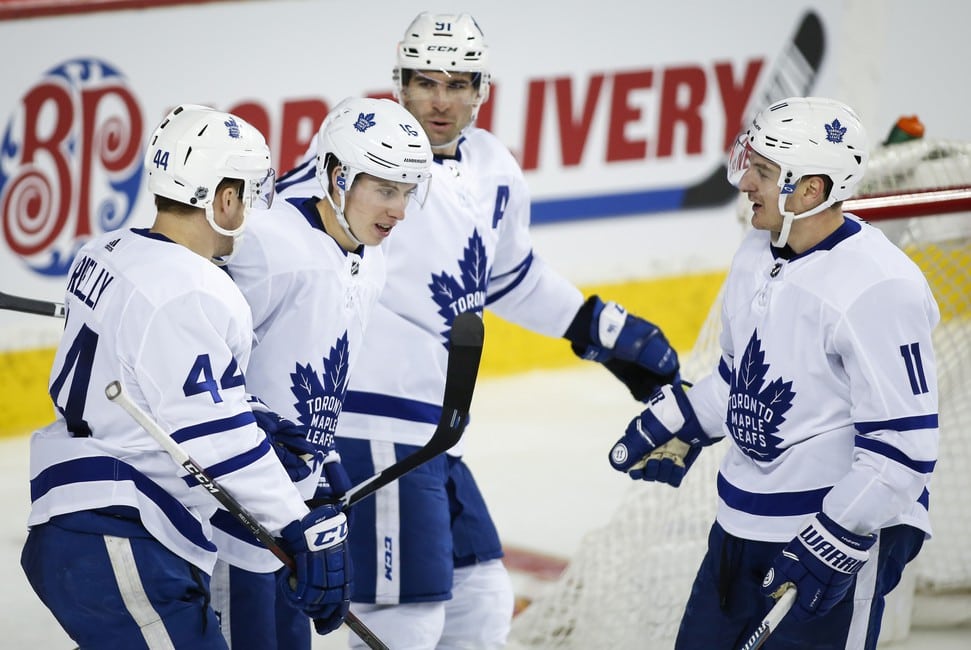 But after his teammate Nylander's solid game and winning goal last night, Hyman was one of the first players to stand up for his friend. He specifically noted that he wished "people on the outside" could see how hard Nylander worked when he's away from the public.
Related: Maple Leafs' Forgotten Ones: Tom Barrasso
Hyman noted, "You don't do the things he does away from the rink, and when people don't watch if you don't care and you don't love the game and you don't want to get better, you don't want to help your team win."
Hyman added, "He gets misunderstood a lot of the time. Guys in the locker room know how much he cares and how much he wants to win."
This wasn't the first time we've heard how hard Nylander works. During a podcast where Connor Carrick chatted with Connor Brown, Brown revealed that Nylander was "probably the most laid-back guy I've ever met in my entire life. But have you ever seen a guy on the ice more than him in your life? Right? I mean, he's on the ice 25 minutes before practice, stick-handling through pucks lined up."
Thanks to Hyman for having the back of his teammate. Even for those who aren't and won't become Nylander fans, anyone who knows team sports has to be pleased that this group of players has built a strong, supportive team who will stand up for – and ultimately play for – each other.
What's Next for the Maple Leafs?
The Maple Leafs have a few days off before they head into Edmonton to play the Oilers. What a great game that "could" be. I suggest "could" because the Oilers shut down the Maple Leafs in Toronto earlier in the season in what I thought was a boring game.
Related: Maple Leafs News & Rumors: Nylander, Weegar, Thornton & Boyd
However, to see Connor McDavid and Leon Draisaitl on the ice with Marner and Matthews is a treat for hockey fans. I'm wondering if the combination of McDavid (with 38 points) and Draisaitl (with 33 points) can be caught by Matthews (with 31 points) and Marner (with 30 points) for the highest-scoring teammates by the season's end.
It would be a tough quest for the Maple Leafs young stars, but is it possible?
---
---
The Old Prof (Jim Parsons, Sr.) taught for more than 40 years in the Faculty of Education at the University of Alberta. He's a Canadian boy, who has two degrees from the University of Kentucky and a doctorate from the University of Texas. He is now retired on Vancouver Island, where he lives with his family. His hobbies include playing with his hockey cards and simply being a sports fan – hockey, the Toronto Raptors, and CFL football (thinks Ricky Ray personifies how a professional athlete should act).
If you wonder why he doesn't use his real name, it's because his son – who's also Jim Parsons – wrote for The Hockey Writers first and asked Jim Sr. to use another name so readers wouldn't confuse their work.
Because Jim Sr. had worked in China, he adopted the Mandarin word for teacher (老師). The first character lǎo (老) means "old," and the second character shī (師) means "teacher." The literal translation of lǎoshī is "old teacher." That became his pen name. Today, other than writing for The Hockey Writers, he teaches graduate students research design at several Canadian universities.
He looks forward to sharing his insights about the Toronto Maple Leafs and about how sports engages life more fully. His Twitter address is https://twitter.com/TheOldProf